As time goes by we lose a lot of our flexibility. Even in this time, it feels good to know that you still have the willingness inside of you with your day to day activities. Shower chairs are another form to feel this way. We lose most of our stability at this age so performing a slippery task such as showering is a risky job.
Shower chairs help you maintain the support you need to wash neatly without the worry of injuring yourself falling down. The aged members in your family need the best shower chair for elderly the most as they are prone to these sorts of situations every day. We have gathered some of the finest shower chairs available in the market with all their pros & cons.
Preview
Editors Choice
Best Overall
Medical
Nice Pick
Title
Vaunn Tool-Free Assembly Adjustable Shower Chair Spa Bathtub Seat Bench with Removable Back
Bath Transfer Bench with Cutout Shower Seat, Deluxe All-Access Chair for Tub and Shower Transfers,...
Drive Medical RTL12505 Handicap Bathroom Bench with Back and Arms, White
Padded Shower Chair and Bath Chair with Armrests and Back, Comfortable Deluxe Shower Chair for...
Editors Choice
Preview
Title
Vaunn Tool-Free Assembly Adjustable Shower Chair Spa Bathtub Seat Bench with Removable Back
Best Overall
Preview
Title
Bath Transfer Bench with Cutout Shower Seat, Deluxe All-Access Chair for Tub and Shower Transfers,...
Medical
Preview
Title
Drive Medical RTL12505 Handicap Bathroom Bench with Back and Arms, White
Nice Pick
Preview
Title
Padded Shower Chair and Bath Chair with Armrests and Back, Comfortable Deluxe Shower Chair for...
Best Shower Chairs of 2021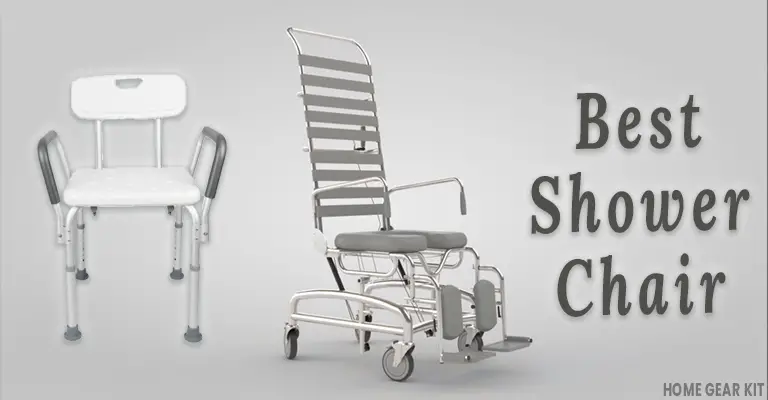 1. Medical Tool Shower Chair
In order to create a relaxing shower experience, Vaunn Medical has introduced its Medical Tool-Free Assembly Spa Bathtub Adjustable Shower Chair Seat Bench with Removable Back. It not only gives a safe solution to senior citizens with fall risk probabilities but it also gives them a worry-free shower.
It is a perfect solution for securely stepping into your bathtub. The heavy-duty anodized aluminum frame has a weight capacity of almost 300 lbs. It is lightweight, durable & corrosion-free. The best part is you can buy the preferable size you want at a very affordable rate.
Assembly instructions are to the point & absolutely tool-free. You can easily lift or move the chair using the built-in side handles. It weighs only 4 lbs. Without back support & 6 lbs. with it. The height can be adjusted according to your leg length.
The angled legs of the chair have skid rubber tips that make weight distribution more safe & stable while sitting down. 9.5″W x 12″ D high-density anti-bacterial polyethylene seat gives you more comfort than any other chairs. There are drainage holes on the seat that makes draining water more efficient reducing the risk of slippage.
Some may have trouble fitting this chair in their shower as it is too wide then traditional chair sizes. Some senior citizens weigh more than 250 lbs. Have found the chair wobbling a bit. The instructions should be written in more bog types older people have problems with their eye weight.
2. Nova Medical Product Bath Seat
If you need to take a shower with support, then the NOVA Shower and Bath Chair would be an excellent choice for you. The chair comes with both backs & arms for your full support. It's specially designed for those who are in the fall risk zone of their time.
The arms have non-slip rubber padding that allows you to get a good grip while you are trying to get up or sitting in position. There are also thick rubber capped feet to eliminate the risk of slippage and never let the tub get scratched. The feet are wider than some other chairs and very stable.
This heavy-duty plastic molded with aluminum framing is capable to support up to 300 lbs. The overall weight of the chair is almost 6.75 lbs. Of course, you can reduce the weight by removing the arms of the chair. The overall footprint of the chair can be adjusted according to your needs.
The cushioned seat is very comfortable. Small drainage holes are along with the whole sit so that you don't experience any sort of slippage on the surface. The back seat is strong and supports well.
The Nova medical chair requires no tools to assemble. Anyone can assemble or unassemble the whole thing in just minutes. They can be easily stored or even better to travel with if you need so.
The main problem with this chair is that if you have a small shower, it may not fit. Another point we have observed is that if you lean on one arm, there is a possibility of overturning the whole chair.
3. Medline Shower Chair
Medline has come up with its new shower chair specially designed for those who have a hard time getting out of the tub due to old age. It is fully equipped with an armrest & back support to give you a safe & comfortable showering experience day to day.
It is perfectly designed with an aluminum frame body for more sturdy support to your weight. The strong side arms provide the grip for an aged person or anyone who needs assistance for rising from the toilet or bathtub. Well constructed and very solid to make you feel secure on the chair.
The chair is capable of supporting up to 350 lbs. of weight. The assembly is tool-free so that anyone is able to set it up. The drainage holes on the seat allow all the water to pass through making your seat not slippery. The rubber hand grips on the arms allow a more confident grip without the tension of falling.
Lightweight but sturdy and does not slide around. You can carry the 7.13-pound chair with you on a journey. The adjustable height from 16 to 21 inches will allow you to personalize it. If you extend the legs for someone who is taller, it will get wider at the base because of the angle.
The main issue with this chair is that it is a little too wide for older tubs to fit in. People who weigh more than others have a shaky feel when they try to sit in the chair. It's as if they are going to fall at any moment.
4. Mecor Medical Shower Chair
Now we have an exclusive chair that is designed for people who are handicapped, disabled, or even old aged. Mecor has given some real effort in creating this assistance for people who really need it.
The initial body of the stool is made of high-quality polyethylene & heavy-duty aluminum legs are present to support it. Getting in & out of the tub couldn't get easier. At first, you have to sit on the bench placed on the outer side of the tub. Then you can slide yourself to the inner part of the tub gradually.
The legs of the chair are equipped with thick rubber capped feet to get rid of your worries of slippage. This strong chair is capable of supporting a weight capacity of 220 lbs. The support collar of the feet avoids slipping over the bathtub wall. The long and sturdy bench will give you a comfortable shower experience.
There are 10 different height options that allow you to set the level that you are comfortable with. The backrest can also be removed if you feel so. There is an armrest in order for anyone to use it as a support to get up from the chair. The drainage holes allow the water to pass by to avoid any slippery situations.
Though it is a great choice for those who have a risk of falling, you may have a hard time putting it in your tub as it's too wide. So it's better to measure the bathtub before buying it.
5. Best Shower Transfer Bench with Carousel Sliding Swivel Seat
Platinum Health Store has designed a sliding transfer bench that slides with ease, swivel, and lock and does not tip. Perfect for you if you have not someone to assist you to get in and out of the shower. Easy to lift in and out of the tub so other family members can take a shower.
Medical-grade, closed-cell molded polyurethane padding makes sure you are comfortable from all aspects. These materials will not absorb any water rather give you a warm & convenient touch. 5 minutes of a tool-less assembly is enough to set the Carousel up.
Here they have adapted a padded seat which is more comfortable than other plane seats we have encountered. The arm and backrests are also very comfortable and assist you to relax your body while sitting and rise from the chair.
The 360° degree swiveling seat makes the chair easy to use for anyone who is disbaled or old. The design gives a room much less than other traditional transfer chairs. The padded armrests can be raised or lowered as needed. They are the best tool to use as leverage for anyone to get into and out of the chair.
It slides with ease, can swivel and lock into place with the press of a button, and does not tip. It comes with a seat belt to make you feel extra secure.
Considering such a neat chair, it certainly comes at a high price tag. Some have also found that the buttons to release the chair are located in an awkward position right between the legs.
6. Best Bath Tub Transfer Bench with Cutout Shower Transfer Seat
This bath tub transfer bench is again introduced by Platinum Health Store. Works great for those who can not step over the high bathtub edge. Using the bench portion to sit on then slide over to the attached chair is very convenient for the aged and disabled or injured persons.
Perfect in a walk-in shower. Weighing only 11.65 pounds, it has a medical-grade rust-free aluminum chassis for long-term safety & stability. It is capable of bearing up to 400 lbs. which is more than enough for a shower bench.
There is a cut-out portion of the chair that can be removed if needed so for getting full access to the perineal region without any effort. The front bar of the removable part is also U shaped so that you have a more convenient reach to that part of the area. The opening allows you to reach your whole body if you can not stand or lean against the safety nail.
Triple modeled handholds ensure to reduce the risk of any slippage. These handholds give you leverage to get up carefully when you are finished. The height of the chair is easily adjustable to fit your tub and shower.
It comes in blue or gray color which will not be easily discolored and stained like white plastic ones. But the blue color stands out to those who are victim to impaired vision or dementia.
You need to make sure that this chair is well fit for the dimension of your showers. Otherwise, it would be a waste of money. Many have found that it gets wobbly with time.
7. Drive Medical Premium Series Shower Chair
This shower chair with both back & arms is presented by Drive Medical Store. It is built for those who need additional assistance in the shower. This mobile assistance will take care of you the whole time while you complete your shower & exit.
The dimension is perfect for any large size bathtubs, but you might feel congested with a regular-sized one. Lightweight and portable for the convenience of easy removal of the back, arms, and legs. Its visible height indicator makes the adjustment very quick and easy. It is supposed to bear up to 350 pounds.
The seat's height can be adjusted from 16 inches to 20.5 inches in preference to the height you are comfortable with. The seat of the drive medical is completely flat & has enough space to fit in. There are small drainage holes that allow all the water to pass by to eliminate any slippery conditions.
The rubber feet also play a vital role to keep the chair stable in its position. The sturdy handles allow you to easily get in & out of the tub without the risk of slipping off. It is great to leverage for those who have a hard time getting up from anywhere. The broad back support will allow you to relax your body over it during the shower.
If the legs are extended to full height, it may not seem sturdy enough. Those who have a greater weight should be careful using this as it can get wobbly when you try to get up. Not so heavy-duty like other chairs.
8. Moen DN7025 Adjustable Tub and Shower Seat
If you are just looking for a simple plain seat as a support in the shower, then this might be the perfect shower chair. Moen Store has innovated this decent shower assistance for those who are at risk of falling. It truly set the standard for reliability & simplicity.
High impact polyethylene built makes it a perfect surface to comfortably seat on. The legs can be adjusted according to your height. The higher you set the height, the wider the leg spacing gets. Aluminum legs are thick, supportive, and strong enough to accommodate 250+ pounds but light to move around.
The seat has a curved surface to accommodate the usual shape of the human backside. It also comes with drainage holes to keep the seat non-slippery. Rubber capped legs make sure that the chair is sturdy enough not to get slipped away from its position.
The lags are built with anodized aluminum so that it can easily balance your whole eight. One of the best parts about this chowder chair is that it has Moen lifetime warranty on any sort of defects or leaks or drips. Their assistance to any sort of defects is truly praiseworthy.
There is no additional support to the back & arms side. This is not a chair for any disabled person as they can't have any leverage to get up. It can be felt wobbly if you cannot put together correctly. Make sure that each of the legs is adjusted to the same height.
9. Best Shower Stool by Vive
If you are looking for a simple & economical shower chair, then the BathTub bench from Vive might be of interest to you. It provides great support to those who have problems balancing & has chronic fatigue issues. It can easily be carried from one room to another.
The construction of the chair is made of a corrosion-resistant aluminum frame. Because of the aluminum build, it has a lightweight feature but can support up to 250 pounds. Each of the legs is capped with anti-skid, non-slip rubbers to give you additional protection from any slippy conditions.
Has nice wide base support to evenly distribute your weight along with the seat. Very stable in any tub or shower and won't tip you over when you bend. The height of the chair can easily be adjusted within the range of 14 to 19.5 inches. It can easily fit inside any tub or shower.
The slight texture of the non-slippery seat ensures you a safe shower. But in case you feel like slipping you can put a washcloth or towel on it. The smooth rounded seat edge gives you a comfortable sitting.
But you might find the bare backside uncomfortable if you have limited back strength. There is also no armrest if you feel like needing help to get up from the chair. The surface might get slippery to sit on as there are no drainage holes to get rid of tall the water.
10. Platinum Health Shower Chair
For those who are looking to fit a shower chair in their small tub, Platinum Health Store has got your back. The whole chair is podded to give you maximum comfort in the showers. Armrests & back support is also included with this beautifully designed shower chair. You can also use it to sit in other places than only in a shower.
The overall structure of the chair is made with rust-free aluminum framing. The seat has polyethylene padding, making it smooth & comfortable to sit on. It will feel much warmer than traditional plastic. It can easily balance your whole weight equally to the whole surface.
The padded armrest can be used as excellent leverage to get on & out of the chair when needed. The back also has padded support when you want to lie back & enjoy. The feet have rubber grippers to conform to the wet tub. Very stable in any tub or shower and won't tip you over when you bend.
The slight texture of the non-slippery seat ensures you a safe shower. There is a groove that allows the water to flow off the seat. The height of the legs can easily be adjusted according to your needs. Lightweight so you can easily take it around the house.
Many users have complained that the seat was far too low for them even in the highest adjusted height. The surface of the chair can also become a bit slippery even for the front side grovel for the water.
How to Choose a Good Shower Chair
Chairs require inspection before you reach the final decision and it gets a couple of degrees more intense as shower chairs are concerned. Dozens of features are available nowadays and missing some questions worthiness. Here's how we'd like to judge and suggest.
Weight Capacity
A good chair will make sure that you feel secure and stable in the shower. If you have a physical disability due to aging problems or any injury or surgery, you will want the chair to support your body weight while taking a shower.
First of all, you should know it's weight capacity. If it has not the capacity to bear your weight, it can wobble or even break and thus it will rather cause greater danger than secure you from falling.
Stability
Before choosing a shower chair you have to make sure that it is sturdy enough to be stable on the wet bathtub wall or shower floor. Sometimes you will need to bend to shave your legs or wash the lower part. So you have to be sure if the chair is stable while bending.
Seat
The seat should be cozy for a comfortable shower. Chair with a padded seat, armrests, and back will give you more comfort. You may read about the most comfortable toilet bowl here.
The back part is necessary if you need back support due to back pain or weaknesses. It will allow you to relax your body while resting for tiredness or dizziness. The armrests are very useful to push yourself to get out of the chair without assistance.
If your condition is not much worse that you still have a balance to sit in and get out of the chair, you can choose the best shower chairs stools with no back and arm support at a low price. That will save both your purpose and money.
Legs
It will be safer if the legs of the chair are rubber capped. The rubber grip helps the legs to conform to the wet floor of the tub and prevent them from sliding around. Suction cups are another strong option in this regard. If the person in concern is lightweight then this would prevent any skidding whatsoever.
Size
Don't forget to measure your tub before buying a shower chair. The shower chairs are available in a variety of sizes. Choose the one that will fit within the dimensions of your bathtub or shower. If your shower or bathtub is small, you can look for the compact shower chairs or tools.
Wheeled and Swivel Chair
Wheeled and swivel chairs are great for taking you in and out of the shower or bathtub without assistance. It also allows you to move in the shower to get the things that you need.
Transfer Bath Chair
You can choose a transfer bath chair if you face difficulty in entering or exiting the bathtub. By it, you can sit on the bench then slide to the inner side of the tub.
Portability
You should also check whether the shower chair is portable or not. You can lift it out from the bathtub and carry it while traveling if it is lightweight and portable.
Frame
You can choose the aluminum framed chairs or plastic ones. Both models are sturdy enough to bear your weight. But the aluminum framed chairs are more costly than the plastic framed chairs.
Cleaning
You should also check whether it is easy to clean or not. Most of the chairs have enough drainage holes in the seats which allow them to drain the water automatically and prevent the seat from being slippery.
Height Adjustability
A shower chair has to be perfectly aligned according to your needs. But people's height differs a lot from age to gender. A low height chair would not be comfortable for a tall person. On the other hand, a tall chair would just be absurd to a short person.
That's why a shower chair needs to have height adjustability in a good range. The options for height would allow anyone to change the height according to their needs. This is more helpful when you have different people using the same shower chair.
Drainage Holes
Usually, most shower chairs have a curvy shape that goes according to the human body shape. So that means, the shower water can make this smooth surface slippery. The water can even puddle up in the middle making you uncomfortable.
In order to get rid of this water, shower chairs need to have small drainage holes that can clear the water. Some chairs have a tilted front right between the legs so that water doesn't have the chance to puddle up. Either way, you need to make sure that the shower chair can easily clear out the water.
Handle Grip
Handles are an important factor when you are looking to purchase a shower chair. Because elderly & disabled people have problems when they try to get into or out of the chair. They need proper leverage in order to do so.
Shower chairs need to be equipped with a strong & comfortable handle that provides this support to everyone. Padded grips help a lot in terms of comfort. Users can also use this as assistance when the surface of the shower feels slippery.
Shower Handle
Shower handles & chairs are like mac & cheese. Almost inseparable. That's why if your shower chair comes with a shower handle, then that would be very helpful as you won't need to purchase it.
Shower handles add extra safety for your loved ones. They can be attached to any smooth surface & the suction grips would do the rest. It acts as an added support for you when you need to get in & out of the shower.
Reversible Design
Regardless of how fancy the design of a shower chair is if it's not compatible with your bathroom, it's of no use. That being the case, reversible designs allow you to install the backrest & armrest in right or left.
Whether your shower has a left or right orientation won't matter anymore. Because during the assembly you can just fix the right orientation. If you are using it elsewhere, then you can reverse it if needed. This feature allows you to use the chair anywhere.
Easy No Tool Assembly
You need to understand that shower chairs are for the elderly, at risk of falling people. So, where they have difficulty in performing their showers, they sure will have a hard time assembling the whole thing. You won't always be around to help them.
On that account, it's best to go for a shower chair that requires a minimum effort. No use of tools should be required. Most parts should be pre-assembled so that you don't need to do a thing.
Anti Bacterial
No amount of cleaning would ensure that your shower is 100% bacteria-free. There are germs lurking everywhere if that is an elderly person's shower. Because they have minimal effort to clean the showers.
In this account, anti-bacterial seats ensure that the surface of the chair is hygienic to use. It keeps the seat sanitized & clean in order for anyone to safely use the shower chair without any worries.
Safety Belt
You can never be careful with someone who is in his late years or someone who is disabled. They have trouble performing simple tasks. If they are left alone in a slippery place such as the showers, then they are at risk of falling.
In order for you to be absolutely worry-free in this affair, the best shower chairs come with a safety belt. It not only provides added security & support for your loved ones but it also gives a more relaxing shower experience. Because they don't have to worry about the risk of falling at all.
People Also Ask
1. What is a transfer shower bench?
Ans: A transfer shower bench is a mobility bathroom device that you can use to sit on to get into a bathtub. The bench straddles the side of the tub. The user has to sit on the bench at first then slide from the outer to the inner side gradually.
2. What are some of the best transfer bench showers?
Ans: Some of the best transfer bench shower brands are- Platinum Health Transfer Bench Shower, Drive Medical Plastic Tub Transfer Bench, Med Mobile Bathtub Transfer Bench, Vive best Tub Transfer Bench, Moen Non-Slip Adjustable Transfer Bath, DMI Shower Tub Transfer Bench Chair.
3. What is the advantage of a Swivel Shower Chair?
Ans: The mobile swivel shower chair is for those who have trouble getting into the shower and moving around in the shower without assistance.
4. Why should I use a shower chair?
Ans: Using a shower chair helps you to increase safety in the shower by reducing the chance of falling. It provides a secure area in a slippery shower or bathtub.
5. Are they the same as bar stools?
Ans: No, they are different and cant be used as a bar stools.
5. Are our shower chairs light enough for carrying?
Ans: There are many lightweight and sturdy shower chairs that you can carry on your journey. You can remove the arm and backrests and just carry the chair easily.
Conclusion
Showers are meant to loosen you up for the day, to energize you & your thoughts. It should be the last place you are fearing off. That's why having a shower chair that makes you comfortable is so much important.
If you have a large tub space then the Medline shower chair would be great assistance to you. But for a bench seat shower chair then the Platinum transfer bench would be an excellent choice. You can take a look at the Carousel Sliding Transfer Bench, as it truly is a great design with outstanding features.
At the end of the day, you need to analyze yourself whether or not the chair is perfect for your shower or tub. Then you need to go for the specifics such as sturdiness, armrest, comfort & drainage holes.
You may also like to read –
best shower curtain rod of 2021
best shower curtain hooks that you are looking for