The shower chair is a proper solution for the aged or disabled person or anyone who have difficulty with standing in the shower by giving a secure place for bathing in the risky area of the bathroom. This article will help you to choose you a safe, effective and the best shower chair for you and your loved ones.
Best Shower Chairs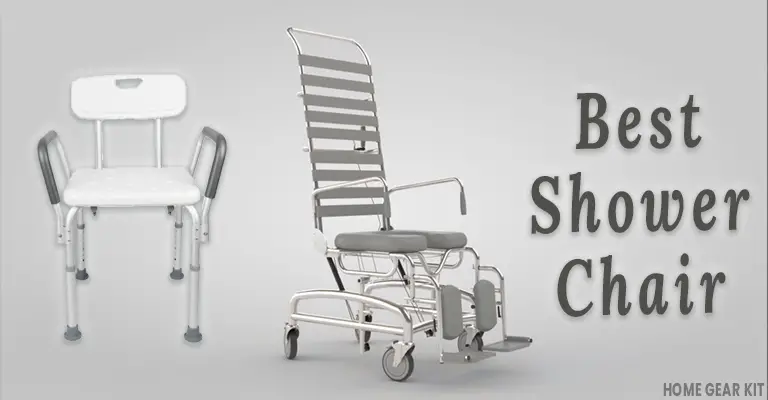 1.Medical Tool Shower Chai
A perfect solution for securely stepping into your bathtub. A sturdy chair with a large seat and back support at a very reasonable price. It will help you to securely step in and out the tub. Comes in different sizes, buy the one which fits your tub.
Assembly instruction is clear and easy to assemble. Lightweight so you can easily lift it in and out the tub. You can adjust the legs according to your height.
Feels stable while sitting or standing up. Doesn't slip. Will hold up to 300 lbs. Easy to clean and dries faster.
The rubber grippers on the legs conform to the tub very well. The arms provide a good grip and make it easy to push off and stand up. It has holes on both the sides of the seat so you can hook a hand shower faucet to it.
It is a bit large for the average shower. It is not bolted so it can be felt a little flimsy. But it will not slip.
2. Nova Medical Product Bath Seat
If you need to take a shower with support, it can be a good choice for you. The chair is sturdy with legs that are adjustable for your desired height.
The arms have non-slip rubber padding that allows you to get a good grip and the thick rubber capped feet does not slide and never let the tub get scratched. Feet are wider than some other chairs and very stable.
But if you have a small shower stall, it will not fit there. It only fits the regular size tub. Easy to handle and easy to clean. It does not rust.
The cushioned seat is very comfortable. The drain holes prevent the seat from being slippery. The back seat is strong and supports well. You can carry it while traveling with or without backing.
The entire seat is solid so an unsteady person isn't going to feel unsafe. But if you lean on one arm, the chair may overturn. So your weight should be perfectly centered while using the arms to get up.
3. Medline Shower Chair
Provides the support needed for an aged person or anyone who needs assistance for rising from the toilet or bathtub. Well constructed and very solid to make you feel secure on the chair.
Comes with padded arms and backrests which can be easily assembled or removed. But the armrests are essential for getting in and out of the chair. The seat has holes which allow the water to drain away so the seat does not get slippery.
Lightweight but sturdy and does not slide around. You can carry it with you on a journey. Will bear up to 300 lbs and you can adjust it to your height. If you extend the legs for someone who is taller, it will get wider at the base because of the angle.
The rustproof frame will be durable. The price is also very reasonable. So if you want a secure aid at a low budget you can go for it!
4. Mecor Medical Shower Chair
Great for the guys who are having a hard time getting in and out the tub due to old age and injury.
A perfectly designed seat which will allow you to transfer in and out the bathtub. At first, you have to sit on the bench placed on the outer side of the tub. Then you can slide yourself to the inner part of the tub gradually.
For a standard size bathtub, it will be certainly an efficient choice. But it may be too wide for small size bathtub and showers. Measure your bathtub before buying it.
The removable back and arms will allow you to use it according to your need. The support collar of the feet avoids slipping over the bathtub wall. The adjustable height will allow you to personalize it. The long and sturdy bench will give you a comfortable shower experience.
The drainage holes are effective for anti-slip seat surface which will keep you free from the tension of falling.
5. Carousel Sliding Transfer Bench with Swivel Seat
Perfect for you if you have not someone to assist you to get in and out of the shower. Slides with ease, swivel, and lock and does not tip. Easy to lift in and out the tub so other family members can take a shower.
The padded seat is more comfortable than the plain seat. The arm and backrests are also very comfortable and assist you to relax your body while sitting and rise from the chair.
It slides with ease, can swivel and lock into place with the press of a button and does not tip. Comes with a seat belt to make you feel extra secure.
Without concern or fear of toppling turn and slide into the middle of the tub. When finished, slide back over the tub.
The product is a bit pricey. But the quality, durability and the secure feeling are worth the money.
If you are on the fence thinking about buying it, do not hesitate. Buy it. It is wise to invest where your safety is concerned. Who knows it may protect you from getting injured again which would be more painful and costly.
6. Bath Transfer Bench with Cutout Shower Transfer Seat
Works great for those who can not step over the high bathtub edge. Using the bench portion to sit on then slide over to the attached chair is very convenient for the aged and disabled or injured persons.
The extra wide seat surface is very safe and comfortable. Comes with blue and pink color which will not be easily discolored and stained.
The removable cutout section and U-shaped frame allow for safe and complete full body bathing. The opening allows you to reach your whole body if you can not stand or lean against the safety nail.
Perfect in a walk in shower. Lightweight but sturdy and is supposed to bear up to 400 lbs. However, it is somewhat big in size to store it when not in use.
Therefore a perfect and safe way to get into and out of the tub at a very reasonable price.
7. Drive Medical Premium Series Shower Chair
Works great in a large bathtub. If you have a regular bathtub it might be a little congested. Lightweight and portable for the convenience of easy removal of the back, arms, and legs. Its visible height indicator makes the adjustment very quick and easy. It is supposed to bear up to 350 pounds.
The adjustable legs will allow you to bring the chair to a safe height for you to get in and out the tub while the broad seat and sturdy handles allow to manoeuvre into a sitting position. The rubber feet keep the chair secure to the tub surface.
The seat is huge and near flat and with evenly spaced holes for drainage. There is hardly any place for water to get trapped. The broad back support will allow you to relax your body over it during the shower.
8. Moen DN7025 Adjustable Tub and Shower Seat
Easy to manoeuvre in any direction without assistance. The legs can be adjusted according to your height. The higher you set the height, the wider the leg spacing gets. Aluminum legs are thick supportive and strong to accommodate 250+ pounds but light to move around.
Comes with a curved seat with drainage holes to keep the seat non-slippery. Rubber capped legs do not slip and stands stably on the floor.
Lightweight so easily portable. Sturdy and has the look and feel of a quality product. Can be felt wobbly if you cannot put together correctly. Make sure that each of the legs is adjusted to the same height.
9. Shower Stool by Vive
An economical and functional shower stool to fit a small tub. Has nice wide base support to hold your weight and rubber grippers to conform to the wet tub. Very stable in any tub or shower and won't tip you over when you bend.
The slight texture of the non-slippery seat ensures you a safe shower. But in case you feel like slipping you can put a washcloth or towel on it. The smooth rounded seat edge gives you a comfortable sitting.
But the bare backside may be uncomfortable for you if you have limited back strength.
Lightweight so you can easily take it around the house. You can also use it in other places than a bathroom.
Thus it is a safe way to sit and rest in the shower after a long working day. But if you need back support to relax your body and armrests for providing you the strength to rise from the chair alone, it will not be a good choice.
10. Platinum Health Shower Chair
A very solid and sturdy chair that will make you feel very secure and stable on the shower floor. You can also use it to sit in the other places than only in a shower.
The padded seat will make your shower comfortable. The adjustable height makes the chair convenient for you set it according to your need.
The armrests will allow you to push yourself up to get out of the chair and the back seat will enable you to relax the body and take rest if you feel weak or dizzy in the shower. Thus it will give you some independence back by offering you to take a shower without assistance.
How to Choose a Good Shower Chair
To choose a good shower chair for you or your family members you should consider certain criteria.
Weight Capacity
A good chair will make sure that you feel secure and stable in the shower. If you have a physical disability due to aging problems or any injury or surgery, you will want the chair to support your body weight while taking a shower.
First of all, you should know it's weight capacity. If it has not the capacity to bear your weight, it can wobble or even break and thus it will rather cause greater danger than secure you from falling.
Stability
Before choosing a shower chair you have to make sure that it is sturdy enough to be stable on the wet bathtub wall or shower floor. Sometime you will need to bend to shave your legs or wash the lower part. So you have to be sure if the chair is stable while bending.
Seat
The seat should be cozy for a comfortable shower. Chair with padded seat, armrests, and back will give you more comfort.
The back part is necessary if you need back support due to back pain or weaknesses. It will allow you to relax your body while resting for tiredness or dizziness. The armrests are very useful to push yourself to get out of the chair without assistance.
If your condition is not such worse that you still have a balance to sit in and get out of the chair, you can choose the shower stools with no back and arm support at a low price. That will save both your purpose and money.
Legs
It will be safer if the legs of the chair are rubber capped. The rubber grip helps the legs to conform to the wet floor of the tub and prevent from sliding around.
Size
Don't forget to measure your tub before buying a shower chair. The shower chairs are available in a variety of size. Choose the one that will fit within the dimensions of your bathtub or shower. If your shower or bathtub is small, you can look for the compact shower chairs or tools.
Wheeled and Swivel Chair
Wheeled and swivel chairs are great for taking you in and out of the shower or bathtub without assistance. It also allows you to move in the shower to get the things which you need.
Transfer Bath Chair
You can choose a transfer bath chair if you face difficulty in entering or exiting the bathtub. By it you can sit on the bench then slide to the inner side of the tub.
Portability
You should also check whether the shower chair is portable or not. You can lift it out from the bathtub and carry it while traveling if it is lightweight and portable.
Frame
You can choose the aluminum framed chairs or the plastic ones. Both models are sturdy enough to bear your weight. But the aluminum framed chairs are more costly than the plastic framed chairs.
Cleaning
You should also check whether it is easy to clean or not. Most of the chairs have enough drainage holes in the seats which allow them to drain the water automatically and prevent the seat from being slippery.
People Also Ask
1. What is a transfer shower bench?
Ans: A transfer shower bench is a mobility bathroom device which you can use to sit on to get into a bathtub. The bench straddles the side of the tub. The user has to sit on the bench at first then slide from the outer to the inner side gradually.
2. What are some of the best transfer bench showers?
Ans: Some of the best transfer bench shower brands are- Platinum Health Transfer Bench Shower, Drive Medical Plastic Tub Transfer Bench, Med Mobile Bathtub Transfer Bench, Vive Tub Transfer Bench, Moen Non-Slip Adjustable Transfer Bath, DMI Shower Tub Transfer Bench Chair.
3. What is the advantage of a Swivel Shower Chair?
Ans: The mobile swivel shower chair is for those who have trouble getting into the shower and moving around in the shower without assistance.
4. Why should I use a shower chair?
Ans: Using a shower chair helps you to increase safety in the shower by reducing the chance of falling. It provides a secure area in a slippery shower or bathtub.
5. Are shower chairs light enough for carrying?
Ans: There are many lightweight and sturdy shower chairs which you can carry it on your journey. You can remove the arm and backrests and just carry the chair easily.
Conclusion
Therefore using a shower chair will reduce the risk of falling to a great extent. Every year a large number of people are found un the emergency room due to fall-related injuries. It is better to spend money on staying secured than facing a greater loss. Invest now and rest assured for your life!
You may also like to read –