The bathroom is the place where you refresh yourself after a long weary day, but it can be the cause of a big hazard for you and your family.
Every year a large number of people (most of them are seniors of 65 or more) get admitted in the emergency room due to fall-related injuries where most of those accidents occur in the bathroom. A sudden fall can even end up with making you handicapped.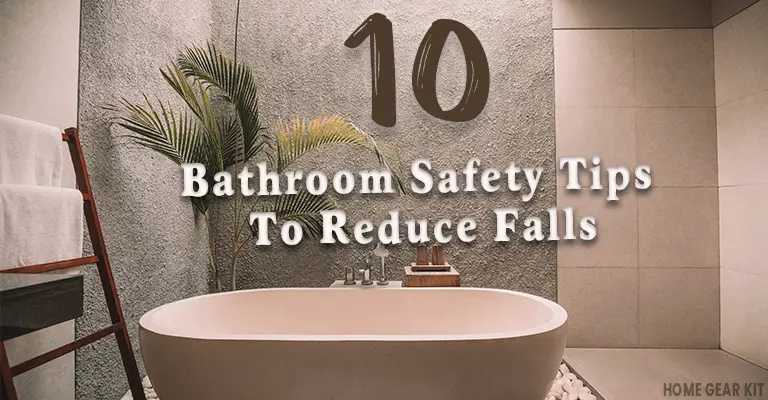 Bathroom Safety Tips
Here are some tips to keep your bathroom safe to reduce the risk of falling-
1. Install a Grab Bar
Install grab bars or handrails to provide your aged family members a support while getting in and out of the bathroom and also for sitting and standing from the bathtub, shower or toilet. It will help you to balance at the moment when you are about to slip suddenly or fall for dizziness.
Mark the area which is most slippery in your bathroom and installs the grab bars there. You can also place floor to ceiling grab bars to provide support in some dangerous places.
Do not grab a towel bar for balancing while getting in and out the bathtub or shower. They are not made enough sturdy to support your weight.
2. Keep Your Bathroom Clean and Dry
Wet and damp floor of the bathroom is one of the main causes of slipping and falling. Bathroom floor always gets wet for repeated use. But you should mop the floor after use every time to keep it dry to prevent slipping. Make sure that the water drains out entirely.
Soap foams and scums make the floor very slippery. Rinse the floor well with enough water after using soap, shampoo, hand-wash or detergent.
Wet bathroom results in odor, so you can use a bathroom exhaust fan to remove the moisture and bathroom odor as well. You may also like to read ways to remove bathroom odor.
3. Get a Shower Chair for a Safe Bathing Experience
A shower chair will allow your aged or disabled family members to take a shower sitting on a secure seat in your slippery bathtub or shower. The wheeled or swivel shower with will allow you to get in and out of the bathroom without assistance.
4. Buy a Raised Toilet Seat
If your toilet seat is in low height it will take extra effort from you to sit down and rise up. A raised toilet seat will need less energy to sit in and out of it. The raised toilet sits with arms will be the more favorable solution for your seniors who have balance issues.
You will not have to install it, just buy and set it over your existing commode.
5. Use Non-slip Mats or strips
Put non-slip mats or strips which have rubber backing on the floor and outside of your slippery bathtub or shower. So you could find non-slip bathtub mats and perfect shower shoes. Unsafe shower mats can curl upon and slip while walking on it. Choose non-slip tiles in the construction of your bathroom.
6. Don't Use Rugs on the Bathroom Floor
Remove the rugs from the bathroom floor. They are very prone to slip. If you want to use rugs then use rugs with grips on the floor that doesn't slip.
7. Keep Your Heater Temperature Within 120° F
Never forget to check the water temperature with a finger before taking a shower. The children and aged people have thinner and delicate skin which can be permanently burned by the extremely hot water. Always keep your bathtub temperature moderate.
8. Furnish Your Bathroom to Minimize Movement
Keep the most needed items within reach to minimize your movement to the whole bathroom. Use a handheld moving shower that will allow your aged family members to stand or sit in one place and complete their shower without much moving.
9. Be Aware Of Using Electrical Items
Don't use an electronic item in a wet place. Always use the hair dryer, hair straightener, shavers standing on a dry place.
10. Miscellaneous
Choose shower doors made of safety glass or heavy-duty plastic. If there is a high threshold on your bathroom door, be conscious while entering the bathroom. Otherwise, you may stumble and get seriously injured. Make sure there is enough light in your bathroom.
Keep antiseptics and cleaners out of the reach of your children. Do not leave children alone in the tub. Only 2 inches of water in the bathtub can be the cause of drowning of your small children.
Don't be in a hurry in the bathroom or toilet. Do your work steadily. Spending 5 or 10 minutes more in bathing or easing yourself will lessen the possibility of falling in the bathroom.