Yes, the flooring that you choose will surely enhance your home's beauty. But is that what all you think it can do? There's more that it can offer. And you would be pleased to know the benefits it can have for your comfort. Yes, if chosen properly, they can also improve comfort for your joints and feet. If you avoid hard surfaces, it can actually be advantageous for those who suffer from conditions affecting your hips or joints like plantar fasciitis, osteoarthritis, foot pain, joint pain, back pain and many more. This article will give you an insight into options for the best flooring for plantar fasciitis.
Plantar Fasciitis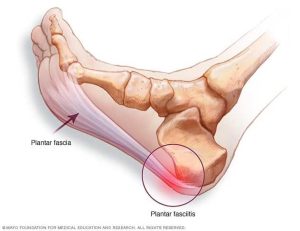 Plantar fascia is a thick band of connective tissue spanning across the sole of the foot and connecting the heel bone to the base of your toes. The plantar fascia supports the foot's arch. It absorbs the shock when you walk. Repetitive strain injury to the fascia is caused by excessive walking or running, not wearing adequate footgear when walking on hard floors, etc. As a result of the tension and stress on the fascia, it may result in tiny tears. The repetitive stretching and tearing of the plantar fascia will result in irritation and inflammation of the plantar fascia. This causes plantar fasciitis which is one of the most common causes of pain and tenderness at the bottom of the foot. While this tenderness mostly affects the heels, the sole fully can get affected. Diseases like reactive arthritis and ankylosing spondylitis can also cause plantar fasciitis. Plantar fasciitis can make it uncomfortable for you to walk and even do daily tasks. The foot may feel stiff and sensitive early in the morning. Though this may subside over the day, the problem can still get you when you stand or stand up after sitting for quite long. Also, when you walk barefoot the pain gets exacerbated, further causing the foot to feel swollen and tender.
Right flooring acts as a solution to the problem of plantar fasciitis. You can look for softer, warmer flooring options that can be good for your feet and joints. You can opt for softer flooring with sufficient support. This pleasant upgrade will indeed be helpful for you as it is less harsh on your joints and feet. It will also be good for your back when standing for some time. You can also opt for warmer flooring options, as cold floors can further exacerbate the problem.
Best Flooring Options for Plantar Fasciitis
Let us see some of the best flooring options for plantar fasciitis.
Softer than many hard-surface floors, vinyl is the number one option you can have. This is a big relief for those who are constantly on their feet or having heel pain. Vinyl flooring offers the much needed comfort underfoot. This holds true even if you wear some type of indoor footwear or even if you go barefoot. In both these cases, vinyl flooring will still feel more comfortable to walk through than other surfaces. As vinyl flooring comes with a thin backing of foam, you can also have softer walking with less stress on your feet. The presence of foam backing also makes it less fatiguing as well as significantly more shock-absorbent in nature. With the cushioning and support provided by the foam backing, it will also help reduce foot pain. Also, when compared to traditional flooring types, a decrease in temperature during winter months will not make the floor much colder. So in the cooler months, you still get to feel warmer underfoot and this provides you with optimum comfort.
You get a wide range of flooring choices with vinyl. They are available in a wide variety of styles and patterns. They can even provide a very realistic wood or tile design finish.  You also get a wide range of colours and styles options to match the home interior. Being durable and wear-resistant, it can also be used in high-traffic areas. So it can be used in both domestic as well as commercial residential areas. It can also be used in physical therapy clinics where a lot of movement and activity is involved. It is easy to clean and maintain, requiring you to put minimal effort to keep it good looking. It is also an affordable option for flooring so that you can still stay on budget and enjoy all the benefits.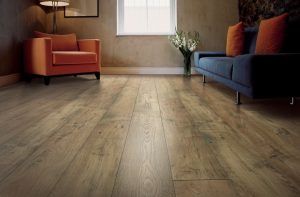 Laminate flooring is another great flooring option that emerged on the residential flooring scene decades ago. It serves as an attractive, durable and easy to install alternative to traditional solid hardwood flooring. It is not that soft under foot when compared to luxury vinyl flooring options. However, it is softer and offers more support compared to wood and tile. Thanks to the resilient foam underlayment which gives the flooring a slightly springy feeling. With the underlayment, there will be no hollow sound or feel as is the case without an underlayment.  It is also a good option for allergy sufferers as it does not trap any allergens and dust. However, if chemically sensitive, then there is a chance of getting reactions to resins and glues being used in the laminate flooring. Being slightly warmer, laminate flooring helps to avoid aggravating the pain and is hence a great option for those with plantar fasciitis. Though this type of flooring tends to create static electricity, you can tackle this problem by keeping the floor clean.
Laminate flooring is a great option for those who are on a budget. You can also save more by easy DIY installation. Laminate flooring can also reproduce the look of wood, some, etc. at least at a distance. However, when you look closely, it may not seem so. They can last for about 25 years with light use and for about 10 years in case of heavy use. It is easy to clean as they are stain resistant. However, heavy moisture can damage the flooring so beware of the same.
The classic historically preferred flooring choice is also found to be the best option for those with plantar fasciitis. Being soft and plush underfoot, choosing a thicker type of carpet flooring will let your feet to sink in. Comfort and warmth is the trait that made carpet as popular as it has been throughout all of history. Hard surfaces do not absorb shock, letting your body achy or sore after long periods of walking. Things are different with carpet flooring. Carpet offers excellent insulation, thereby reducing heat losses, which makes it warm and cozy on the toes. It is less cold on your feet, making you more comfortable, especially if you suffer from foot pain. Being quiet, it will absorb noise in the say way it absorbs shocks.
They are available in different styles which can be luxurious and elegant. You can also go for low-key and comfy options. They are less expensive when compared to other flooring options. With the carpet of right choice, you can give you space a completely different texture as well as look. Look for plush carpeting. Ensure to place the carpet over wood or another surface that isn't too unforgiving. By carefully choosing the carpet flooring, you can increase safety and prevent accidental slips and falls.
Carpet can however hold dust and other allergens which may prove problematic for those with respiratory challenges. So you will have to get them cleaned regularly. It is also found to be a conducive environment for dust mites and other pests. Also, by retaining moisture, it may create a mold which is also toxic for those with allergies. It may also capture stain and odors. Overall, it is difficult to clean and maintain.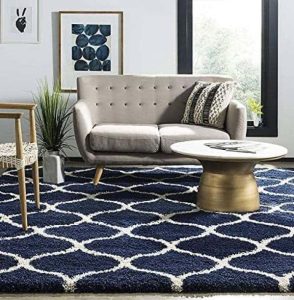 Now this option is for those who are actually in love with their tile or hard-surface floors and are not willing to change the flooring, but still looking for options to tackle plantar fasciitis. An area rug can be a great option for such people.
Area rugs offer great comfort and warm up your space, making it a great option of flooring for plantar fasciitis. They are softer and more comfortable to stand on when compared with hard floors. With the softness, there is flexibility and good absorbance of shocks. It takes the pressure off your feet and let you stand longer without troubling your feet. They are also noise absorbing in nature, thanks to the sound dampening effect. Area rugs are also much easier to clean when compared to carpets. Regular cleaning simplifies the task. You can also use your vacuum cleaner. You just need to hang it outside and knock off the dust.
You may consider putting area rugs in any spots where you stand often and relieve the stress and pain on your legs. You need to look for rugs with memory foam, anti-shock or anti-fatigue padding or plush materials which will provide extra relief. Anti-slip rugs will let you stay safer by reducing slips and minimizing injuries.