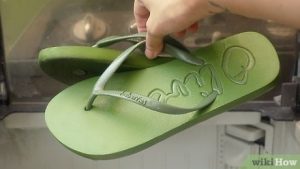 Flip flops are your hyper casual shoes. By allowing your feet to get air, they you're your feet as cool as possible. As you use them often, it's quite natural to get dirty easily. Sweat and other reasons like bacterial growth can make your flip flops smell bad. It is important to get rid of this unpleasant odor. It is not only due to aesthetic reasons, but also for health and hygiene by preventing foot infections. In this article we will see some effective methods to clean smelly flip flops so as to avoid chances of your flip flops turning more noses than heads.
What Causes Smelly Flip Flops?
Flip flops getting smelly is something normal. This is especially normal in the summers. Your own sweat can result in smelly flip flops. Also as your feet come in contact with water, sand, grass, public showers, anything and everything that is dirty and full of bacteria, all this makes your flip flop smell bad.
Let us see some of the other possible odor-causing reasons. Knowing these causes can help in preventing the situation to some extent. It is common for foggy and water logged toes to cause flip flop odors. So after getting out of the water, if you do not dry your feet before sliding into your flip flops, then it can make it smelly. Also, it's a fun fact that feet can produce about half a pint of sweat every day. If this sweat gets accumulated in your flip flops, then it would be unnatural not to carry odors. If those who are extra prone to sweat use synthetic flip flops (rubber, foam, faux leather), then this can exacerbate the problem. Another reason for sweaty foot, which in turn may lead to smelly flip flops, is due to shift in body hormones caused by pregnancy, puberty, stress, etc. If you are not consistently hygienic like you do not wash thoroughly enough, then this could also cause smelly feet and smelly flip flops.
Cleaning Smelly Flip Flops
Cleaning your smelly flip flop is important not only for aesthetic reasons. It is also important for your health and hygiene by preventing foot infections. Let see some of the methods how to clean smelly flip flops.
Airing the Flip Flop 
The Sun's ultraviolet rays are found to be naturally good at disinfecting the flip flop off any unwanted bacteria which causes smelly flip flops. Based on the material used, you need to monitor the duration that you leave the flip flop to soak in the sun. Leather flip flops can easily get faded when left in the sun for too long. Be mindful of the same.
Using Soap Or Any Other Cleaner
Hand washing the flip flop is the most common method you can apply for cleaning the flip flop. You need a rag/brush and antibacterial soap or bleach free laundry detergent. Rinse the flip-flops under warm running water. You can use soap and brush to help dislodge stubborn dirt and debris. The soap will kill any bacteria accumulated on the flip flop which causes the unpleasant odor. Rinsing the flip-flops under running water will eliminate the residual soap and dirt. Mix 2 tablespoons of tea tree oil in a cup of warm water. Empty the contents into a spray bottle. You can also use any other antibacterial essential oils like peppermint, eucalyptus, etc. Now you can saturate the flip flops with the solution and set them outside in the sunlight to air-dry for at least an hour.
Using Vinegar
Vinegar is a good cleaning agent. It will be readily available in most households. So why not try this affordable method? You just have to dilute the white vinegar with water and make the required solution. You can use white vinegar and water in the ratio 1:3. You can fill the solution in a spray bottle and mist the flip flop footbeds and allow it to dry for 30 minutes in the sun. Or else, you can soak the flip flops in the vinegar solution overnight and scrub it off the next day with a soft brush. Wash the flip flops under running water and let them air dry.
Using Baking Soda 
Baking Soda is another good choice for keeping your flip flop fresh. You just have to sprinkle some baking soda onto your flip flop. Leave it overnight to help neutralize the brewing odors. In the next day, you can shake off the baking soda into the trash. Another option is to make a paste of baking soda and water for a deep-cleaning scrub. Scrub off the flip flop using this mixture. You can use a soft brush. Rinse under running water. Towel dry the flip flops and let them air dry.
Using Orange Peel and Vanilla Extract
This method also works to keep unpleasant smell off your flip flops. You can try putting orange peels in your flip flops overnight which will leave a fresh citrus scent. You can also try dabbing a few drops of vanilla extract onto a rag and apply it on the flip flop and leave overnight.
Using Washing Machine
You can try out this method if your flip flops are washer friendly. Flip flops like rubber flip flops are washer friendly. You can put your smelly flip flops in your washing machine. Do not put your flip flops with other clothes in the washing machine. Now you can use a gentle cold cycle with about ¼ cup of laundry detergent to let them get cleaned. You should never dry them on dryer. Once cleaned, you need to towel dry the excess water and dry them in the sun.
Using Dishwasher
You can also run the flip flops in an empty dishwasher. Use a single regular cycle and the flip flop will be cleaned off the smell. You can use this method on most flip flops.
Coating with baby powder
This method helps to ward off the smell from flip flops while they are on. You can sprinkle a light layer of baby powder or a good antifungal powder on the footbed of your flip flop. Being absorbent in nature, the powder can wick away any moisture developing around your feet.