A well-furnished and well equipped clean bathroom is the ultimate need of us. Though the bathroom is a place of getting refreshed, there are huge examples of mishaps that occurred here. To avoid a sudden fall or slip on the floor there is no alternative to a shower grab bar on the wall. Under these circumstances, you have to choose the best shower grab bar for your bathroom.
Preview
Editros Choice
Also Great
Best Buy
Title
Safe-er-Grip Changing Lifestyles Suction Cup Grab Bars For Bathtubs & Showers; Safety Bathroom...
Moen Stainless Steel Wall Mounted 24-Inch Bathroom Grab Bar for Shower, Heavy Duty Hand Handle for...
Safe-er-Grip Safe-er-Grip Changing Lifestyles Suction Cup Grab Bars for Bathtubs & Showers; Safety...
Editros Choice
Preview
Title
Safe-er-Grip Changing Lifestyles Suction Cup Grab Bars For Bathtubs & Showers; Safety Bathroom...
Also Great
Preview
Title
Moen Stainless Steel Wall Mounted 24-Inch Bathroom Grab Bar for Shower, Heavy Duty Hand Handle for...
Best Buy
Preview
Title
Safe-er-Grip Safe-er-Grip Changing Lifestyles Suction Cup Grab Bars for Bathtubs & Showers; Safety...
Best Shower Grab Bar We Recommend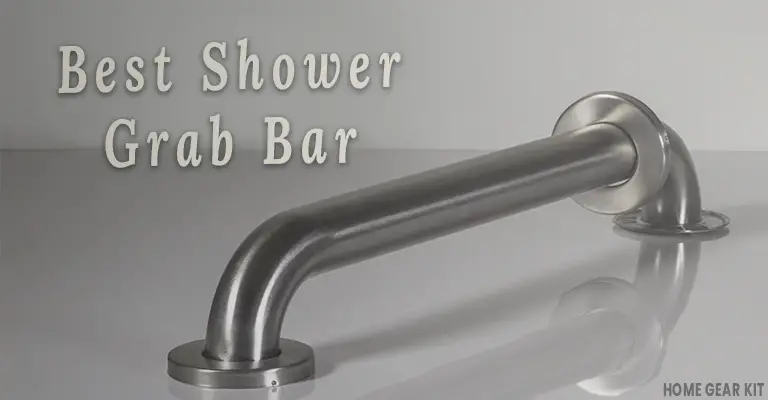 Here we have summed up some of the best grab bars in the market. Their features and limitations have been discussed in length so that you can make the right choice for yourself.
1. Changing Lifestyles Safe-er-Grip
The Safe-er-Grip Bathtub & Shower Handle is excellent assistance for those who need more confidence in keeping their balance in the shower. It will provide the extra stability you need going in & out of the tub.
This grab bar provides the supreme flexibility of positioning and placement due to the easy installation without any tools. Only a single press on the tab levers is enough to finish the job of attachment. During installation, you will have to apply pressure on the handle to flip the latches down and slide fingertips under the rubber seal at each end to release the suction.
The overall length of the handle is 16.5 inches. It is enough for anyone to enter the slippery showers without the fear of falling or slipping. Even when you are exiting the tub, it gives proper support while you get out & make yourself comfortable.
The suction device on the bar is applicable for all sorts of smooth, flat, non-porous surfaces. So most of your 4'x4 tiled bathrooms will do fine with this device. It is a must to reattach before each use.
The negative side of it is, it is not applicable in the case of the person who needs to give his/her full body weight to pull themselves up. Keep in mind that if your bathroom tiles are textured or have grout lines, it will not work correctly.
2. Moen 8724 Home 24-Inch Bathroom Grab Bar
If you want a peaceful mind in the shower without the worries of slipping, then the Moen Grab Bar would be a great choice. It provides a feeling of security and calmness in the bathroom. It is entirely usable as a permanent grab bar in the bathtub, shower, or toilet.
This 24-inch grab bar is constructed of durable stainless steel construction. It is capable of holding 500 pounds at a time. The 1.5 inches diameter of the bar is comfortable for every hand size gripping. Due to its sturdy build, it is bound to give you a long-lasting performance.
Their covers to the opposite ends conceal the installing hard wears to provide a neat and seamless look. The Secure Mount Anchors makes it easy to install firmly at any angle. It is easy to install in all places, smooth and textured surfaces.
Getting out of the shower couldn't get more manageable. With it installed in the right place, anyone with concerns with slippery floors would be benefited. You will never feel insecure about holding it. This ADA compliant & comes with a limited lifetime warranty from the manufacturer.
Though it is a top product to have in your bathroom, it is tough to install. For those looking for suction cup grab bars, this would do no good as it's a permanent grab bar. So you can use it in only one bathroom.
3. Best Suction Grab Bar by Vive
If you are worried about your elderly parents or disabled members in the slippery showers, then Vive Suction Grab Bar is the solution to it. It is one of the best shower grab bars having some exceptional features, such as indicator light.
It is capable of holding up to 300 pounds, for which it provides extreme stability in the time of entering and exiting the shower or the tub or the toilet. The Comfortable Non Slip Grip is ensured by the textured and contoured rubber, which is perfect for our elderly, children, and sick. For extra security, there are molded finger grips under-side the handle.
The installation of this grab bar is straightforward, as it requires no tools. There are locking latches to secure the attachment in any place of a smooth surface. The strong suction cup makes it usable on any non-porous and flat surface, including tile, glass, acrylic, and fiberglass.
The color indicator is a significant feature that makes you sure whether the latches are installed securely. The two colors are:
Green = The bar is ready to use and successfully installed.
Red= the installation is not ok or airtight.
You can take it with you in case you need it while outside your residence. There is about 3.25" leaving ample room for grasping the bar with your finger. In a word, it is the most comfortable and reliable grab bar. It has a 60-day warranty.
The grab is intended to assist you, not to carry your whole weight on it. Though It can be applied to any smooth, it cannot be used over any grout lines. You should check it every few days because the suction falls off after a few days.
4. Jumbl Bath and Shower Suction Cup Grab Bar
Are you leaving your parents at home alone, and that's why feeling insecure about whether they would be safe in the bathroom or toilet? No more tension!!! Jumbl has brought a super comfortable and reliable Bath and Shower Suction Cup Grab Bar for you.
This 17-inch long grab bar is enough for anyone to grab from a distance at any height quickly. The material on the handle is perfect to have a tight grasp while your hands are wet & slippery. Any smooth, non-porous surface such as tiles, glass & ceramic is fine with the Jumbl Grab Bar.
Jumbl Bath and Shower Suction Cup Grab Bar have a robust suction technology in which it is much easier than before to attach and remove. A simple tab lever is enough to do the job of installation and removal. No external equipment is necessary here.
The easy to read color indicators are a great feature to have. More often than not, older people are not aware of whether they have correctly installed the grab bar. This may lead to dangerous situations. That's why the Jumbl grab bar is featured with red & green indicators to indicate whether the bars are properly installed or not.
Apart from all these cool features, there are some demerits to know about. Any non-smooth does not apply to this product. It will serve you less than the permanent ones. A reminder that this is a support bar, so you won't be able to put all your weight to it as the suction may fall out.
5. Moen R8918 18-Inch Bathroom Grab Bar
If you are overweight and have a considerable possibility of falling during shower time or taking a bath in the bathtub or sitting for the toilet, then Moen R8918 18-Inch Bathroom Grab Bar can be the best solution for you to avoid an accident. This ADA grab bar can hold up to 500 pounds.
The bar is constructed of stainless steel material, making it more reliable to use for a long time. The polished finish gives it a mirror-like look to add a glow to your bathroom decor. Thanks to the high-quality material & durable finishing, you will be making a statement through this product.
The overall length of the product is almost 18 inches. This is more than enough to cover a large area of your shower at any height. The 1.5-inch diameter of the bar will give you a solid grip, whether you are showering or bathing or using the bathroom. The bar is applicable on every surface to be installed on & comes with a limited lifetime warranty.
The Secure Mount design makes it easier to install the bar securely and neatly. No screw will be visible to maintain the style, seamlessness, and cleanliness. If you lose or damage the anchor anyhow, you can buy another one. The secure mount anchor is available in the market to purchase separately.
The secure mount anchor design is sold separately, so this may extend your budget a bit. You also need to get some screws from your hardware store as the screws that come with the bar are not so good. Some have found that wet hands can slip due to smooth finishing.
6. Changing Lifestyles Safe-er-Grip
Handling your toddler in the shower might become a handful if you are working on it alone. Their restlessness may cause a sudden mishap of falling on the bathroom floor. Changing Lifestyles Safe-er-Grip is one of the best shower grab bars which will help parents and their toddlers to keep balance in a wet and slippery bathroom or bathtub.
The grip bar is almost 11.5 inches long & has a perfect diameter to get a handhold to. There is a textured rubber grip that helps in securing the handhold even if your hands are wet. It will give you proper stability while entering or exiting the showers. Flexible positioning is one of the main points of this product.
Releasing the bar from the surface is much easier than attaching. You just have to remove the latches on both sides to do it. Applying your fingertips slightly on the rubber seal will release the suction of the two opposite ends. You can even use it while you are traveling as it's not that heavy.
But the Safe-er-Grip assist bar is only applicable to smooth & non-porous surfaces. It is easy to install and remove for its single pressure on the tab. But the suction does not work on grout lines, so the tiles need to be 4" * 4" or greater. It is attachable without any tool.
You must keep in mind that this is not a product that can handle your full body weight. It is just an assist bar. Some have found that it is not so good at sticking on to non-porous surfaces. The suction is a bit loose to them.
7. Franklin Brass 5616 Shower Grab Bar
When safety and sophistication go together, nothing can be better than that. Franklin Brass 5616 Shower Grab Bar is an example of it. It has exceeded ADA and ASTM standards in every single aspect to assure additional security and peace in mind. Where there is less chance of an accident, peace dwells there.
The grab bar is constructed of stainless steel & has a multiple finishing to it. Due to the sturdy build, it ensures you a lifetime warranty. The screw holes are covered using concealed mounts to give an eye-pleasing look.
On account of the seamless look the concealed mounts give, you won't need to worry about putting your clothes on it. They won't get teared apart due to the screws now. It can handle a weight of around 500 pounds, which is more than enough for anyone.
The 1-1/4″ bar diameter gives you a comfortable grip to hold on to. The bar can be installed on any wall such as drywall, textured, or smooth. But the thing is you need to make up the perfect spot to install it as it's going to permanent. It is your faithful guard to give you a sense of security in the shower room or the toilet.
With all this in the discussion, let's see the downsides of the product. The screws that ship with it are wood screws. They are not so good, so you'll need to purchase some right screws separately. Some senior citizens have found that the grip is a bit larger for their small hands.
8. Moen LR2308W Assist Bath Grip
If you want a reliable bath assistant for your elderly parents or any who needs assistance, then Moen has got you covered in this section. Moen LR2308W Assist Bath Grip provides safety, comfort, and peace in mind at a time. The white finish looks great on your shower walls & is capable of holding 500 lbs of weight if used with secure mounts.
The main ingredient is corrosion-resistant plastic, which provides more comfort, and it is more durable. The molded & gently countered handhold keeps your grip firm & comfortable. The extra curvature of the handle helps you secure your grip even if you have wet & slippery hands. This 12" grip bar is enough to hold easily and comfortably.
Its suction of the bar works on completely smooth and flat surfaces. It is a faithful assistant in the bathroom for a secure enter and exit. It gives you more stability & balance while you go in or out of the shower.
The best part is that you don't need to worry about any drilling or any tool at all. It is relatively easy to install and remove. You can use it anywhere you like, even when you are traveling. There are three steps to installing:
Just lift up the tabs,
Positioning the bar and
Close the tabs.
It would be a gamble if you installed it anywhere but a dry surface. If you have textures or fiberglass, it's better not to have it as it won't adhere to these surfaces. They work for balance, so don't put all your weight on them.
Best Shower Grab Bars – Buying Guide
Not merely buying but buying the best thing is our goal. There are lots of manufacturers who are producing different types of bathroom accessories throughout the world. Grab bars are available in many styles.
Manufacturers have begun to understand the need to match with home decor and produce grab bars of a different fashion. But all of them are not up to the mark. We should be very careful while buying a grab bar.
Material
The first thing we should consider is the production material. If it is a metal grab bar, then it must be stainless steel. On the other hand, if it is plastic, then it should be corrosion-resistant plastic.
If you are searching for a permanent grab bar, then a stainless steel one would serve you a long time. But for a suction grab bar, good quality plastic material gives better assurance on sticking firmly onto the wall.
For a Peaceful Mind
While using a suction grab bar, there is always the fear of the grab bar falling off. To keep your mind at rest, you should look for grab bars that come with indicator lights to keep you aware of the suction working correctly or not. This is a great feature to stop any accidents from occurring due to improper suction.
Comfortable Non Slip Grip
The holder should be non-slip. Corrosion-resistant plastic ensures comfort and, at a time, grips too. Smooth surfaces provide a classy style to your bathroom decor. But they are slippery. A textured surface would give a more superior grip in a wet environment, such as the showers.
Carrying Capacity
The primary job of a grab bar is to support your weight. Grab bars with secure mounts can have a standard capacity of 500 pounds. But if we are talking about suction grab bars, then the weight capacity goes down. But a grab bar that can support at least 250 lbs. meets the ADA requirements.
Durability
Durability is a matter that depends on the construction & type of grab bar. For a permanent grab bar, you need to focus correctly installing the bar. If you need to purchase secure mounts separately, then that can enhance the stability of the grab bar for a long time.
But if you are not willing to drill holes, then suction grab bars are the options for you. You need to look for a grab bar that can easily stick to your bathroom surface without any possibilities of falling. The plastic quality needs to be top-notch too.
ADA Specification
The product must be ADA compliant. So you should have proper knowledge of the ADA guidelines for shower grab bars to get the right one. It will be safe for us.
Length
The length should be more or less 24 inches. It can hold quite the heaviest of weights in practice. The most spanning measurements for a shower grab bar is 12, 18, 24, or 32 inches. This is more of a personal preference that can perfectly fit your shower or bath area.
Diameter
The diameter of grab bars should be 1¼ to 1½ inch (32–38 mm) (or the shape shall provide an equivalent gripping surface). This is dependent on your hand size. But if you are an older person, then the smaller size would be better for holding. The diameter is mostly dependent on what size you are comfortable with.
Spacing
There must be at least 1½ inch (38 mm) clearance from the wall. Also, you should care about easy installing features. Too much spacing can cause accidents due to the position of the grab bar. So make sure you position it with necessary spacing.
Shape
In addition to straight grab bars, there are fold-out bars, L-shaped, U-shaped, and corner grab bars. It's your necessity that dictates here. You should go for the one that suits your bathroom style & decor.
Color
A stylish grab bar changes the outlook of your entire bathroom. Grab bars are also made with LED lighting and can come in many different colors. Many bars are polished in matte black, rose gold gunmetal, and yellow gold to give your shower a completely new look.
Concealed Screw
In the case of a secure mount grab bar, there should be a concealing anchor to hide the screws and give a seamless look. There are many instances where you might hurt yourself or damage your clothing from the screws. So it's always better to conceal the screws.
Horizontal bar
If you use a grab bar as a safety device in order to prevent falls, your best choice would be a horizontal bar. Scientific researches have found that in a situation of slip, gripping strength from a horizontal bar is far more effective than a vertical bar. So, the horizontal grab bar is the safest of choices.
Why You Need Shower Grab Bars
Shower Grab bars or the best safety bars are aimed to enable a person to keep balance, lessen fatigue while standing, hold some of their weight while movement, or have something to grab onto in case of a slip or fall in the bathroom.
The necessities of shower grab bars are below:
Provide a Sense of Security
The first and most important necessity of a grab bar is to ensure safety in the bathroom environment. It prevents accidents during bathing and showers. The old, sick and children feel a sense of security holding a grab bar.
To Maintain Balance
Falling down the bathroom floor or bathtub is a common phenomenon in our daily life. A grab bar can help us to keep balance.
To Lessen Fatigue
Elders and tired or sick people face difficulties in standing from the seat and bathtub. To lessen their fatigue a grab bar is necessary.
To Hold Some weight
Those who are overweight can make their standing easy through a grab bar.
For a Peaceful Mind
When safety is ensured peace comes easily. Grab gear can ensure the security and so it is a peace giver.
Different Types of Shower Grab Bars
Nowadays, manufacturers make products surveying customers' needs and choices. So there are a number of categories of grab bars in the market. For example:
Straight Grab Bar:
Grab Bar Accent Ring
Wave-Style Grab Bar
grab Bar Toilet Paper Holder
Grab Bar With Soap Dish
Grab Bar With Shelf
Grab Bar With Towel Rack
Slide Bar Grab Bar With Handheld Showerhead
Grab Bar Clamps to Bathtub
Flip Up & Flip Down Grab Bars
Swing Out Grab Bars
Floor to Ceiling Pole
Wall to Floor Grab Bars
Angled Grab Bars
90 Degree Grab Bars For One Wall
Corner Grab Bars For Two Walls
Trapeze Bar
Suction Cup Grab Bars
Colored Grab Bars
Decorative Grab Bars
The names above are different types of grab bars which is used in different types of activity and situation. The details of them are available on this website.
Safety Tips
In the case of a shower suction cup bar, we should check it before buying whether the suction works well or not.
If there is an indicator, it is a must to check before buying.
After installation, we should check again and again before using it. If necessary, it should re-install carefully once in a week.
A grab bar is not for holding full body weight, it just helps to keep balance.
Conclusion
The risk of getting yourself injured in the shower is mammoth due to the slippery environment. If you are an elderly or disabled person, then this might be of worry to you a lot. That's why choosing the right grab bar assist that suits your needs is essential.
If you are looking for a grab bar that uses the suction method, then the Safe-er-Grip 16 inch would be a decent choice. But if you find the suction indicator incredible, then you can consider the Vive grab bar. But for a permanent grab bar, then Moen 8724 is a great product.
It doesn't matter what you line unless it is covering all your needs. Take a good look at what product is suitable for your bathroom walls & then look for the more detailed specs such as length, suction, or weight handling capability.