Do you want to have a  decorated shower unit in your bathroom? Of course, we all want that. A major transformation in the décor can be easily dealt with adding to the shower base accessories. A grandeur pick of shower base will uplift your bathroom décor and sophistication.
There is plenty of overwhelming shower bases that can serve you just fine. A shower base in your bathroom gives you a certain edge in your shower and also to the décor. It is often said that it is a bit exaggerating to have an individual shower base. Let us assure that it is not the case.
Having a shower base doesn't only add to the bathroom décor, rather it helps you to have a comforting shower. Providing a new bathroom each day is what it's for as it doesn't let the water flowing in the whole space. Rather it accumulates the water or debris and washes it away through the drain.
Rest assured; let's go ahead with the introduction to the best shower base.
Preview
Editors Choice
Best Buy
Title
DreamLine SlimLine 36 in. D x 60 in. W x 2 3/4 in. H Center Drain Single Threshold Shower Base in...
Tileable Shower Base 48"x36" with Integrated Center PVC Drain, Ready for Tile , 36-Inch Depth by...
Editors Choice
Preview
Title
DreamLine SlimLine 36 in. D x 60 in. W x 2 3/4 in. H Center Drain Single Threshold Shower Base in...
Best Buy
Preview
Title
Tileable Shower Base 48"x36" with Integrated Center PVC Drain, Ready for Tile , 36-Inch Depth by...
Sagacious Picks
These need not be the only options, but these are the best among all the shower bases available in your nearby shops with all of their features thoroughly described.
1. DreamLine SlimLine H Center Drain Single Threshold Shower Base
What may catch your eye
The DreamLine SlimLine Single Threshold Shower Base includes a modest size in 36 in. Dx 60 in. W x 2 3/4 in. H. This structure of this single-construction waterproof subfloor is of single threshold ( thresholds are grooves in the base that support inserted glass walls or doors).
It is a type of 3 alcove shower base which basically means that it is surrounded on the 3 sides by permanent walls, glass, etc. The drain is positioned at the center which is accurately at 15'' length and 30'' width from any corner.
This model comes in 3 colors; Black, White, and Biscuit. The Slimline shower base is made of durable high-gloss acrylic fortified with fiberglass materials and is also cUPC certified. For those of you who don't know what is cUPC; cUPC is an American standard for uniform plumbing code.
 It is a prudent choice for any bathroom décor. It guarantees complete safety and zero slippage casualties with SlipGrip texture and also it offers you immunity towards stain, scratch or any kind of corrosion. This product comes with a limited time warranty ensuring its durability up to several years.
It comes with easy maintenance and also the base comes with integrated tile flanges on three sides. And the drain is centered in width providing you comfort. The durable construction avoids any flexing of the base and can easily accompany a 2-inch compression fitted drain.
Let's think again
The DreamLine SlimLine Single Threshold Shower Base drain is only centered in width making it a bit downwards. Also, a most hectic issue with this model is that its installation requires your bathroom to be built at first and also proper and professional hands while installation.
2. Tileable Shower Base 48″x36″
Wonders
The Tileable Shower Base 48"x36" comes with a user-friendly interface and easy installation. It is a pre-pitched and pre-sloped, line segmented decorated shower base. This product is made of robust material which is immune to scratching, corrosion and also an upgraded tile material with zero fragility.
This shower base is 100% waterproof constructed with integrated PVC drain and also having awe dropping quality of no leaking, even after long term use. The easy installation is carried out through One 12 lb. package of tile adhesive which is enough to stick the whole pan surface to the ground.
The fundamental components are square stainless steel drain plate with brushed nickel finish It contains standard 2″ center PVC drain which allows the water or debris to flush away quickly through the drain allowing you utmost efficiency.
To prevent moisture and seepage it includes 3 pieces of free charge aluminum metal flashing kits which also is an addition to saving your time while installation. It is a US & Canada UPC & CSA certified products being 3 years limited.
Let's not hurry
The Tileable Shower Base 48"x36 turns out to be a little bit skinnier and also it takes a large amount of space for installation. Sometimes the adhesive gets damaged with the box.
3. Swanstone R-3454-010 Veritek Center Drain Shower Base
No products found.
Apple of the eye
The Swanstone R-3454-010 Veritek Center Drain Shower Base comes with the dimensions 34-Inch x 54-Inch x 5-1/2-inch. Its fundamental material is non-absorptive and it won't get any mold and also it is slippage immune. It is evolved from high-quality rigid material.
The Veritek material used in this shower base is pretty durable and robust. It is claimed by the Swanstone that their material is far better than premium double-skinned Acrylic. It doesn't include any coating to avoid chip or crack in the base. It is a 3 wall alcove installation.
This shower base is pebbled for which it has a shiny appearance. The drain is molded in the center adjusting quite perfectly. The white color provides a polished look to any bathroom décor.  It has a non-porous surface with easy maintenance and abrupt installation.
The center position of the drain allows you to have your cleaning with more ease as it derives all the debris or liquid with a sloped drain in the center.
Downsides
The Swanstone R-3454-010 Veritek Center Drain Shower Base requires a mortar for installation which is a downside for a shower base. Even though it is mold protected, sometimes it gets mold due to no lining segmentation. It wouldn't be a wise choice for medium or large-sized bathrooms.
4. Delta Faucet ProCrylic 60 x 30 Left-Drain Shower Base.
Magnificent features
The Delta Faucet ProCrylic 60 x 30 Left-Drain Shower Base provides you an elegant look with a great length of a shower base.  It measures fitting alcoves 60 in. x 30 in. It consists of premium high-quality glass, non-porous acrylic material featuring built-in re-inforced support to quicken the installation.
It offers you durability with high-gloss acrylic that provides all of the benefits of acrylic without the need for the rough, abrasive fiberglass backing.  It is basically a 3 piece direct-to-stud shower surrounded in white for a complete showering unit featuring a left-sided drain. It offers you robust stability.
Also, the acrylic material is mildew resistant. It is a built-in tri-layered base that diminishes the need for mortar bed for installation which offers you a user-friendly interface. It is pretty much useful for installing on uneven surfaces which ensures your flexibility in any situation.
It includes a nailing flange that gives your shower base strength and maintains its durability. It is also very easy to clean as its drain is located on the left. So maintenance is the least of your worries.
Maybe not?
The fundamental components of the Delta Faucet ProCrylic 60 x 30 Left-Drain Shower Base, as we know is acrylic metal which is a bit of a hectic issue as it's durability has risen a few doubts. It is less rigid and strong than other shower base metal structures.
5. Tile Redi 3060C-PVC Base Shower Pan
What may attract you
The Tile Redi 3060C-PVC Base Shower Pan is a versatile shower base with differing and magnificent stylish shower pans with the drain located at the center. These shower bases are one-piece molded shower modules.
The fundamental components of this shower base are of the maximal quality of polyvinyl chloride which makes it durable and also robust. These shower bases require no mud-setting or hot-mopping. The high quality provides immunity towards slippage.
The shower base measures 60"x30" where the drain is located at the center measuring 13" from the vertical bottom and 30" from the horizontal bottom line. The drain of this single curb shower pan is of round shape.
It is a pre-pitched shower pan surface with integrated curb (a concrete curb and gutter cast together in one piece. Integral curb is curbing constructed integrally as a part of a concrete pavement). Tile Redi shower bases comply with all national and local Plumbing Codes and are UL listed.
The shower base is water-proof. And as the title suggests, you can set tiles directly onto the leak-proof surface. So it's obvious that the shower base is also leak proof. It is pre-pitched with splash walls and 2 inch PVC drain.
This shower base comes with easy installation and it Includes Redi poxy epoxy adhesive and round stainless drain plate, so maintenance will be the least of your worries. The easy installation allows you to have a revamped shower unit.
What may drive you away
The adhesives of the Tile Redi 3060C-PVC Base Shower Pan might give you a choppy situation as the adhesives get disrupted in the time of the delivery. So be advised to check at the time of shopping or if it's a delivery. This shower base might get dull after a certain period.
Shower Base or Tiles?
What do you think? Confused? Let's take you gradually towards your conclusion.
Strength
Tiles are strong without any doubt. But to what extent? That begs the question. Shower bases offer you rigid and robust material withstanding heavy cleaning and long term use.
Installation cost and intensity
Tiles have a risk of frequent replacement. And that includes intense labor and also replacing the whole set at once. On the other hand, shower bases are a simple and easy installation. And it also protects your bathroom surface. And even if you need to change which is highly unlikely, the re-installation cost is far less than shower bases.
Durability
Tiles have an attraction toward scratch to be explicit. They get easily damages if forced heavily and also show magnetism towards stain, mold. On the other hand, shower bases are pretty much durable and can be used for quite a handsome amount of years showing immunity towards stain, scratches, and mold.
So we hope that you are well defined about the difference and comparison between tiles and shower bases. We want you to have your desired bathroom.
On the Quest of the Best Shower Bases
Are you confused as to which shower base will serve you right? Buying the right product requires inner knowledge about the fundamental components of your product. Shower bases come in a variety of shapes, sizes, and designs. These are going to do nothing but grow your anxiety.
So buckle up, fix your budget and requirements and choose your desired shower base after a thorough elaboration from our buying guide. So no hurries, take your time with us and see through the climatic end.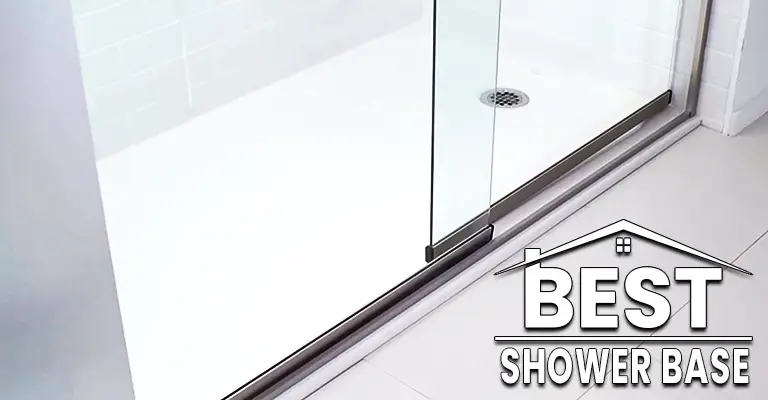 We are here with a rational and copious buying guide which will help you to choose the best shower base. This will inform you about the components and which one of the following will be your preference for implementation. Now without further ado lets hop in.
Materials from which shower bases are made of
Acrylic: It is a key fundamental component of a shower base One of the prime reasons why it has been the first choice is its lightweight and strength. In addition, it can be maintained very easily and needs minimum care.
Steel: The strength of such bases is obviously undoubtedly maximum. But these are more prone to damage by exposure to dirt, air, and moisture.
Ceramic: Such bases are very durable and will be there as new as ever and are worthy of every single penny of yours but also a few downsides as less grandeur appearance.
Size of the Shower Pan
Size is one of the prime features of a shower base. It shouldn't occupy a large space of the bathroom and also not so little that it creates a galling situation for you. Space should be adequate enough for your chores and stuff to fit in.
There is no standard size or shape of a shower base, rather it depends on your bathroom and how much space do you want your shower base unit. So be sure to pick the right choice.
Sturdy and Stain Resistant
You obviously don't want scratches in any of your stuff. Do you? Shower bases are no different, it is a subtle but impacting unit in your bathroom appearance. So you don't have something which is attracted to scratches now, do you?
It is acknowledged that scratches develop with time due to heavy cleaning and also long term use. So be advised to have a shower base which is scratch resistant to the long term, because nothing stays as new forever, so go for longevity.
So the material of your shower pan must be sturdy and scratch-resistant. Most of the shower pans get scratches while rubbing with any hard material or when something falls on. Make sure your shower pan is durable so that it lasts longer and remains gorgeous like new. Acrylic material is advised.
Integrates With Other Systems
We often need to find external components of a shower base in terms of longer use. Then if your shower base doesn't adapt to other shop accessories then finding the specific model components is a pretty nagging issue and we often find these situations.
So it is evidently prime that your shower base should be able to integrate with other systems, keeping its originality. Be advised to pick the right shower base keeping this in mind. So summing up-
Your shower pan must be versatile and can go well with any shower accessories, be it from the manufacturers of the same shower pan or any other brand. Shower pans that you cannot integrate with other systems often cause inconvenience.
cUPC certified
You can get an idea of the authenticity of shower pans depending on the certification it has received. cUPC certification means that the shower base follows the Canadian and American national standards.
It basically means a uniform plumbing code which is a model code developed by the International Association of Plumbing and Mechanical Officials to govern the installation and inspection of plumbing systems as a means of promoting the public's health, safety, and welfare.
It is undoubtedly a prudent choice and also longevity and strength will be the least of your issue it satisfies the stringent certification criteria after which it is given the certification.
Easy Maintenance
" Don't judge a book by its cover" we are well known to this saying . So don't opt for fancy shower bases disregarding its maintenance features. Because you are going to use it for a long time for which it's going to need some development and cleaning.
Be advised to go for something which requires minimal exertion while cleaning and also whose external parts are pretty much available in your nearby areas.
Installation Options
Installing a shower pan is a very rugged routine. So you should keep in mind that your shower pan is easy to install and should not require intense labor, because with intensity grows the risk of corrosion or damage while installing.
It may raise the overall cost too. Summing up look for something easy, simple but elegant.
Durable Material
It is prudent to pick something which will last longer, so the material of the shower pan must be durable so that it may last longer. There are varieties in components of shower pans. Metal shower pans are prone to get rusted, so they often need to be replaced in a few years. And replacing means more cost.
On the other hand, acrylic pans perform better in this regard. Lower risk, higher maintenance opportunity, and higher durability.
Waterproof Base
Waterproof is one of the key features of a shower base. Now, you must be wondering, why is that even necessary. Now would you like to stand on the wet surface even after showering? Do you want to stand over accumulated water on the surface? We'll take that as a "NO".
Your shower base shouldn't contain any watermarks. An ideal shower pan does not allow water to be accumulated on its surface. This will save you from the inconvenience of standing water during the bath. So keep this in mind.
Design and Style
Design and style are considered to be of prime importance in buying a shower base. With a better design comes an elegant appearance. There are versatile shower bases in your near-by shops You can choose your shower pan from a variety of styles, like a rectangular, neo-angle, quarter-round, and single threshold.
But with better style and design come ample or inadequate accommodation. So be advised to go for something well designed but also, on the other hand, keep in mind that it goes with your bathroom accessories and fit in quite subtly.
Safety Certified
Your shower pan should be certified according to the required safety level and in accordance with the local quality standards. It adds on to the authenticity of the product and indicates that your product is effective and in line with the local construction projects.
FAQ
Q: What precautionary care has to be taken before installing a shower base?
Ans: Make sure you have the right amount of adhesives and make sure that the ground floor is leveled for the shower base to fit in easily.
Q. Does hard water hurts to the shower base?
Ans: No most shower bases are waterproof, so it wouldn't cause any corrosion to the shower bases. But you know, you already have a good filter and hard water heater.
Q: How difficult is it to clean a shower base?
Ans: The shower bases are scratch and stain-resistant. But if you want to have a much cleaner look then you can easily clean with sponge cloth or even household stuff.
Q: Is the curb on the  TileRedi 48 inch side?
Ans: No, the curb is on the 60″ side. Basically, the entrance to the shower is on the 60″ side.
Q: Can you stand on the drain after it is tiled? Would it work and would it be comfortable to stand on?
Ans: Yes, it will sit even with the tile.
Conclusion
There are various reasons why shower bases are becoming trendier than all other alternatives present in the market like easy installation, anti-stain, and ineffectiveness to water. They can be customized with the same or different companies' products and so there are no specific constraints on how to use them.
Due to these simple yet crucial features these are considered to be the best among the other ones. If you are looking for a better design then the DreamLine SlimLine Single Threshold Shower Base is a prudent choice as it has segmented lines on the surface for better appearance.
Also if you are looking for something easy to clean, fast and easy installation, and higher durability then the Tile Redi 3060C-PVC Base Shower Pan is one of the best shower bases as it complies with all national and local Plumbing Codes and is UL listed.
We hope you have your desired one. Happy shopping!!