We have to spend a significant amount of time of our whole life in the shower room. So, we should give as much importance to the shower room as we give to our bedroom.
A shower panel is an inevitable part of our shower room that consists of several water outputs designed to provide an enjoyable and comfortable shower experience They differ from each other because of the difference in features, functionality, and materials used.
We have reviewed different types of shower panels and picked up the topmost product for your consideration. You can find out your favorite and necessary one from this list easily and quickly.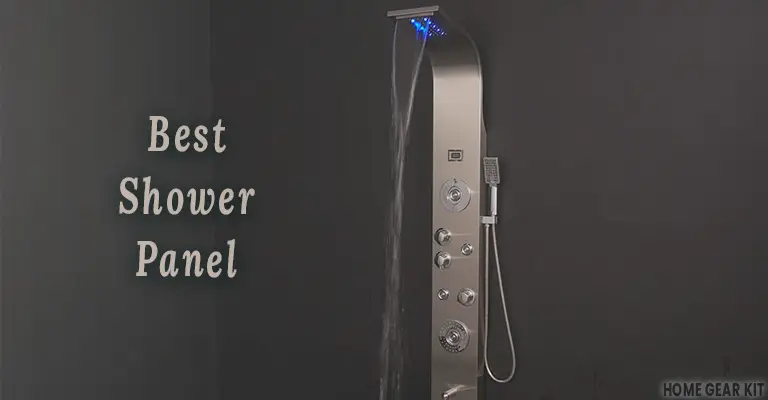 Before going to the product review we would like to give you some necessary and effective tips to buy the right shower panel for your shower room.
5 Best Shower Panel Reviews
---
1. Pulse 1013-GL Kihei II Shower Spa
If you are searching for a shower panel for your master bathroom or guest bathroom you can pick this item. To boldly transform any shower Pulse 1013-GL Kihei II Shower Spa with Silver Glass and Chrome Hardware is unrivaled.
It comes with two shower heads – the main showerhead is fixed and located at the top position and it functions as a rain shower head. The additional handheld shower head is located at the side of the unit. The handheld showerhead has a flexible hose that can be stretched up to 70 inches.
The main showerhead offers a total of 6 stimulating body jets water output systems. The handheld showerhead offers a total of 5 settings of water output systems ranging from a light mist to a full massage setting. If you want you can use all of its features together.
Pulse 1013-GL Kihei II Shower panel is larger in size and it has a modern design to add a new dimension of elegance in your bathroom. The sleek, metallic silver Tough Glass set between anodized aluminum rails with a built-in mirror and glass shelf will give you the feeling of enjoying a comfortable and luxurious shower.
The amazing combination of advanced functions, fun, and design have made Pulse 1013-GL Kihei II Shower Spa with Silver Glass and Chrome Hardware a unique shower panel to be purchased.
2. Aston SPSS304 6-Jet Stainless Steel Shower Baseel System
Aston SPSS304 6-Jet Stainless Steel Shower Baseel System is a pre-plumbed shower unit that has an amazing capability to convert an ordinary shower into a destination of refreshment and relaxation. It has multiple features that let the users enjoy different shower experiences every time.
The unit comes with two shower heads – one is a rainfall overhead shower head and another is a handheld shower head with a flexible hose. From the title, you have already understood that this panel includes total of 6 directional jets and among these 6 jets 4 sprays water along the side and the rest 2 sprays water closer to the center.
There is a built-in valve in this panel. You can change and divert the flow of water with the aid of this built-in valve.
You can control the temperature of the water using the temperature knob located at the center position of the panel. For safety, it includes anti-scald safety features. The water pressure of this Aston SPSS304 6-Jet Stainless Steel Shower Baseel System is also satisfactory.
I already have mentioned that it is a pre-plumbed shower unit and it is easy to install. Since this shower panel lets you control the temperature of the water you have to connect it to hot and cold water supply lines. There are mounting brackets to mount the panel easily.
3. ELLO&ALLO Stainless Steel Shower Panel Tower System
ELLO&ALLO Stainless Steel Shower Panel Tower System is a unique and high-quality shower panel. If you look at its construction material you will be sure of its high quality.
The SUS304 stainless steel has been used to construct this shower panel. The brush stainless steel finish has given this item an attractive look that will catch your attention at first glance. Engineering grade plastic and PVD plating have been used in the hand shower. 
The large square shower head of ELLO&ALLO gives the users a soothing feeling like showering in the rain. There are a handheld showerhead and a separate sprayer that can be used as a bidet.
Unlike common shower panels, it features LED light that shines brighter and lighter to refresh you in the morning or to create a romantic environment in your shower room. You can use water in any one of the total 6 modes- rainfall, waterfall, horizontal massage spray 2-setting, hand shower, water spout.
It also comes with built-in storage to store your necessary shower items like shampoo, shower gel, etc. The manufacturers provide a warranty period and so it is more reliable because if you face any problem within this period you can get free service from them.
To get a truly relaxing shower experience ELLO&ALLO Stainless Steel Shower Panel Tower System is really incomparable.
4. Blue Ocean 52″ Aluminum SPA392M Shower Panel Tower
Blue Ocean 52″ Aluminum SPA392M is a luxurious and premium quality shower panel that is certified by ISO-9001 standards. I would like to inform you that ISO-9001 certification can be acquired only by going through strict quality control and product inspection.
It is a durable shower panel and its body is constructed with high-quality aluminum alloy. It contains so many features that will surely impress you and now I am going to impress you by revealing those amazing features one by one.
Blue Ocean 52″ Aluminum SPA392M Shower Panel Tower includes one rainfall overhead shower, one hand-held shower, one tab-spout, temperature display and not one, not two, not three, total 8 body massage nozzles that are adjustable. Are not amazed at these unique and lavishing shower features?
The temperature display requires an A4 battery to work. All the functions of this shower panel work independently to ensure satisfactory water pressure.
In spite of having so many features, it is not so heavy rather light in weight and also easy to install. The massage-panel of this Blue Ocean SPA392M Shower Panel is designed for installing on a flat wall.
The manufacturers provide a certain warranty period and if you face any problem within this limit of time they will give you service without any service charge.
People think it an expensive product but considering its overwhelming features I think the price is reasonable. If you want to purchase a shower panel less than this price you must have to sacrifice some of the features.
5. Décor Star White Aluminum Safety Tempered Glass Rainfall Shower Panel
If you don't want a shower panel like your neighbor, you can choose this Décor Star White Aluminium Safety Tempered Glass Rainfall Shower Panel. Most of the shower panels are constructed with aluminum or silver, it differs from them since glass has been used for its construction, and only its frame is made of aluminum.
It comes with a rainfall showerhead, circular adjustable angle massage jets, and a hand shower. There is a total of 81 nozzles in the ultra-thin rainfall showerhead. Décor Star White Aluminium Safety Tempered Glass Rainfall Shower Panel has been designed by getting inspired by European design.
To turn your simple bathroom into a stunning and stylish one you can install this elegant white safety tempered glass shower panel. It offers a total of 3 stage shower functions including rainfall, horizontal massage spray, and hand shower. You can turn on one function at a time.
It is engineered for easy installation and an installation guide is also provided with the shower unit. Décor is a famous brand that cares a lot about its customers. You can get free service if you experience any problem with your Décor Star White Aluminium Safety Tempered Glass Rainfall Shower Panel within the warranty period.
Shower Panel Buying Guide
Depending on the diversity of customer's choices and demands, shower panel manufacturers are introducing shower panels of different features, designs, shapes, sizes, prices, etc.  You should have a clear idea about these factors to find out the right one to fulfill your need.
9 Important Factors to be Considered for Buying the Best Shower Panel
Size
Size is a very important factor you must have to take into consideration while buying a shower panel. The size of your chosen shower panel must need to fit in the area of application.
Design & Finish
Several designs are available in several models. Make it sure that the design matches your shower room.
Water Temperature Control Features
We always do not feel comfortable taking a shower in the water of natural temperature. Depending on the weather and our mood you may want to take a shower in cold or warm water. Shower panel manufacturers have introduced advanced water temperature control features that let you enjoy your shower in the water of your desired temperature without any hassle.
Generally, there remains a valve that controls the temperature of water either on a Celsius or Fahrenheit scale. You can control it simply by pressing buttons located generally in the middle position of the shower panel. Some shower panels have an LCD display where you can see the temperature of the water.
LED Lights
To provide you the feeling of enjoying a luxurious shower some shower panels include LED lights. To illuminate the LED lights some shower panels use batteries and some shower panels use the energy of water pressure to illuminate the LED lights.
Some shower panels are designed in such a way that the temperature control features are in-built in LED lights. Each individual color of LED light represents a certain level of heat.
For example, if the water is very hot you will see the red color of the LED light and if it is very cold you will see the blue color of the LED light.
Water Output System
Generally, a shower panel comprises multiple water output systems that can function individually or all together at a time. Here I am going to describe the common 6 water output system that remains in most of the shower panels.
Rainfall Shower Output System
Who does not like to take a bath in the rain? I think you will hardly find anyone who does not like to take bath in rain. The problem is rain does not occur depending on your mood of taking bath in rain.
But do not worry, now you can take the experience of showering in rain anytime since shower panels feature the incredible rainfall water output system.  Most rainfall showerheads offer multiple spray patterns to choose from.
Waterfall Shower Output System
You do not have to go to the waterfall to take the wonderful experience of taking a shower under rainfall. The shower panel of your shower room is able to do this job. The waterfall shower output system pours the water down like a waterfall and lets you enjoy the experience of taking a shower just like under a waterfall.
Hand Shower
It is the most common type that we all are acquainted with. A flexible hose is attached to it that provides you flexibility and freedom to spray water at any specific area of your body. It also offers multiple spray patterns so that you can take your desired shower experience at any time.
Body Sprays/Jets
If you want to take a massage experience along with a shower you can choose this model. They are adjustable and so you can point them in any direction according to your choice.
Tub Spout
If you want to just wash your feet or just want to clean the bathroom you can select this mode. It is located on the top position of a shower panel.
Bidet Sprayer
Some shower panels feature a bidet sprayer that is considered a replacement for tub spout.  The bidet sprayer is mounted on a hose that is flexible enough to move in any direction you want within a certain limit.
Quality and Price
You must never want to spend money on a low-quality product. To understand the quality of your chosen shower panel checks its built material, corrosion resistance, etc. You can also depend on reputed brands to surely pick up the good quality product.
Quality has a deep relation with a price. A good quality product may cost a little bit more than a bad quality product.  It is better to spend money on a good quality product rather than a low-quality product because a good quality product provides better service and lasts longer than a low-quality product.
Warranty
Sometimes, you may have to face problems even after buying a product of well-reputed brand. So, it is safer to purchase a product with a longer warranty period. If you face any problem within the warranty period the manufacturer will be obliged to give you service to solve your problem.
Reviews
Checking customer's reviews who have already bought and used the product is the best way to verify the quality of a product. If you wish to buy a certain product, check the reviews of customers who have previously bought the product and shared their experiences about the serviceability of the product.
Other Checks
Do not forget to check other features like water pressure, the flow rate of water, durability, ease of use, etc. to get complete confidence about making the purchase.
Frequently Asked Questions
Q. Can I install my shower panel by myself?
Ans: Most of the shower panels come with an installation manual. If you have a little bit of skill in plumbing work you can install it by yourself by following the instruction provided by the manufacturer in the manual.
Q. Can I use a shower panel if the water pressure of my house is low?
Ans: Yes, you can. Since shower panels have multiple water output system that requires high water pressure, you may not use those options because of the low water pressure problem of your house.
Q. Can I replace the handheld showerhead on a shower panel with another one?
Ans: Yes, you can.
Wrap UP
The shower panel that is best for you mainly depends on the features you are looking for, the condition of your existed shower room, and on your budget. That is why we did not mention a single shower panel as the best item among all.
Some models are gorgeous because of their shape, multiple features, and designs, some are in the middle position with comparatively fewer features and some have only necessary features but they are also beautiful in their simplicity. The price varies depending on these factors.
All the 5 shower panels reviewed in this article are trending in the market at the present time and obviously, they are doing business in this field for a long time with goodwill. So, you can depend on these brands and models.