Every great thought that you had, was generated when you were in your bathroom. It's the place of zen for the millennials. Besides it's the only place on earth where your songs sound good. 
To keep it healthy and a place for peaceful meditation you'll have to keep it clean. It's not a great financial decision to call the plunger every time you have some clog or leakage or some cleaning that's to be done.
Some simple issues like the drain clogging can easily be handled by having a plunger. There's little to no technicalities involved with some tasks that can be done just by being born with a pair of hands and having a couple of tools like the ones below.
Preview
Squeegee
Toilet Brush
Grout Brush
Spin Mop
Title
OXO Good Grips Stainless Steel Squeegee
OXO Good Grips Compact Toilet Brush & Canister, White, 6" x 4-3/4" x 17-1/4" h
OXO Good Grips Grout Brush,White
O-Cedar EasyWring Microfiber Spin Mop, Bucket Floor Cleaning System, Red, Gray
Squeegee
Preview
Title
OXO Good Grips Stainless Steel Squeegee
Toilet Brush
Preview
Title
OXO Good Grips Compact Toilet Brush & Canister, White, 6" x 4-3/4" x 17-1/4" h
Grout Brush
Preview
Title
OXO Good Grips Grout Brush,White
Spin Mop
Preview
Title
O-Cedar EasyWring Microfiber Spin Mop, Bucket Floor Cleaning System, Red, Gray
1. Squeegee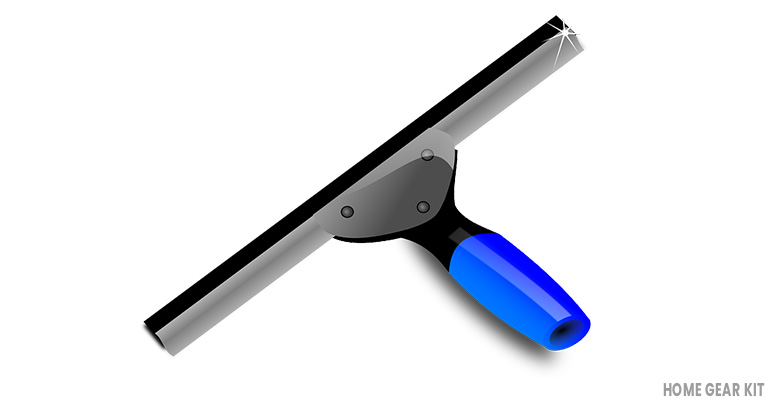 Use a squeegee to remove excess moisture from the walls and door of the shower or tub after every time use.
It drastically cuts down on moisture, mildew, and soap scum, which can be difficult to remove later. Use a squeegee with a glass cleaner to make cleaning mirrors and windows a snap and clean look.
Even when you use a squeegee regularly, soap scum happens. To scrub it off in seconds, use a more scrub.
2. Toilet Wand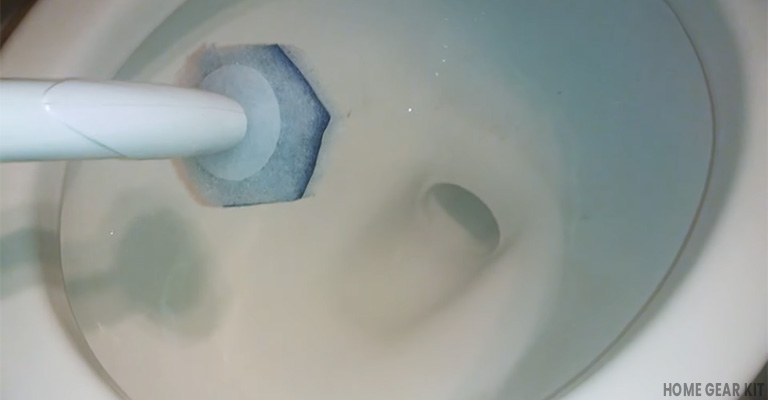 There are two ways open for you. You can get down on your hands and knees and scrub the toilet with a sponge, or you can spend some extra dollars and invest in a toilet wand.
Not only do these bathroom tools give access to the darkest depths of the bowl without having to get very close to it, but they're also great for cleaning out the tank.
You can get toilet wands with disposable heads, so you don't have to replace it in the holder that inevitably winds up full of grody toilet water.
Just keep in mind that the disposable ones aren't environmentally friendly, so be sure to buy some carbon offsets to assuage the green side.
3. Scrub Brush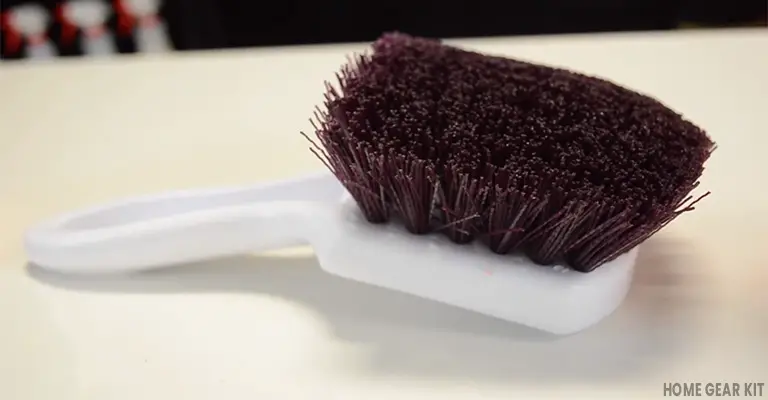 A scrub brush is certainly the most versatile tool for cleaning a bathroom and is the best for removing soap scum and tough spots. For truly deep-cleaning the tub and shower, there's no substitute for a scrub brush.
You'll need it to give the bathtub a good cleaning and unless you rinse your sink every time after brushing your teeth, you'll probably need it to get the dried toothpaste and soap scum out of your sink, too.
Scrub brushes are also effective for getting to floor areas that the mop can't reach, like behind the toilet and sink and between vanities. Brushes with synthetic bristles last longer. On the other hand, natural bristles are less likely to scratch surfaces.
For maximum effectiveness, first, apply cleaner and let it sit for at least 20-30 minutes and then scrub well with the brush.
Read the care instructions for the tub or shower before scrubbing it. Some of their surfaces can easily scratch and should not be cleaned with abrasive cleaners or brushes.
4. Toilet Brush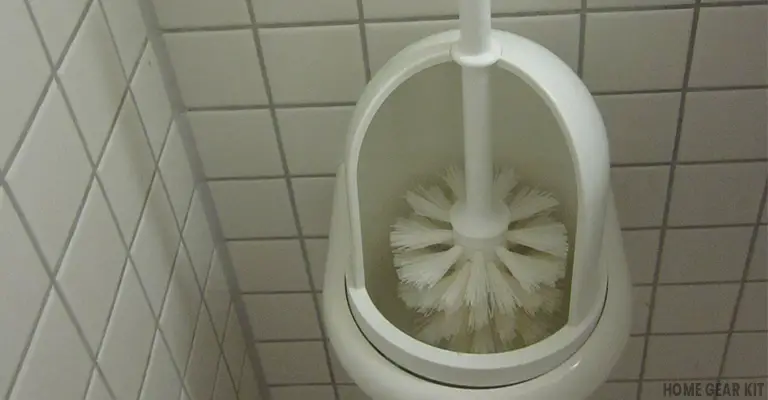 For quick and easy toilet cleaning purpose, keep a toilet brush in a decorative holder next to each of the toilet bowl. Use a cleaner bottle with an angled neck, and then clean the bowl.
Rim with the brush and wipe all surfaces with a paper towel. Fill the toilet bowl brush holder with bleach and cleaning agent to disinfect it between cleanings.
5. Grout Brush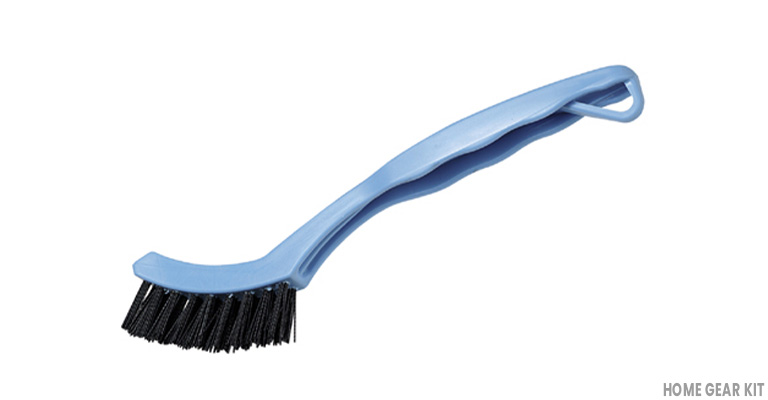 Tile is a common surface in bathrooms because it's nonporous, easy to clean and difficult to damage, especially with water. But the humid environment in a bathroom can be a problem for the grout which goes in between the tiles.
Unless you sealed it with a non-permeable sealer when the tile was installed, grout is porous, which makes it the perfect host for mold and mildew, especially when the oils from soaps and shampoos that it absorbs are added.
A grout brush is designed to get in the small areas between the tiles without scratching the surface of the tiles. You can think of a toothbrush for this task. But a toothbrush won't do what a grout brush can.
6. Disinfectant Cleaner and Sponge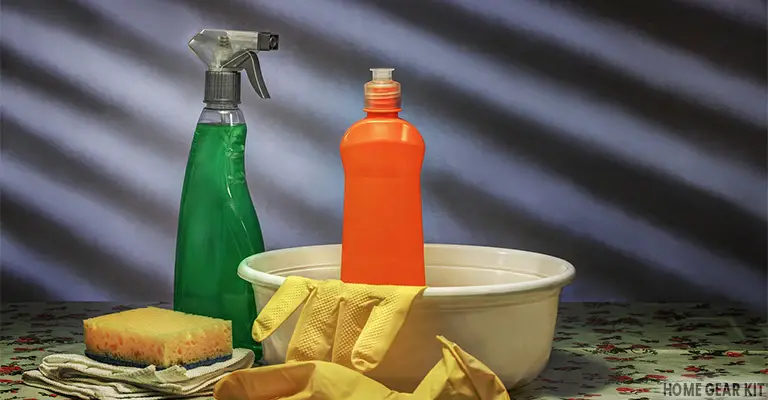 Keep a container of disposable disinfectant wipes under bathroom sinks to wipe down the sink, counter, tub and toilet after everyday use. Besides, keep a spray bottle of disinfectant spray and a sponge handy.

After washing face, use a washcloth to pre-wipe the countertop and remove any hair or toothpaste aside. Then use the disinfectant wipes or cleaner to kill germs.
7. MOP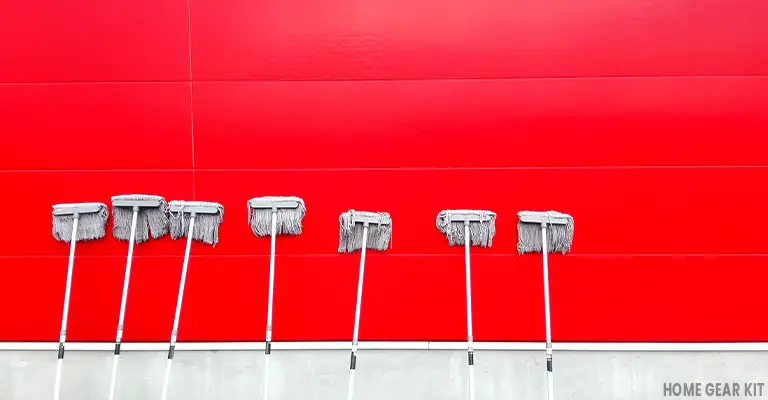 Some bathrooms are small enough to clean the floor in a few swipes with a sponge and brush. But if you have a larger bathroom and want to save your back, a mop is of great use to you. Larger comfort rooms use this for cleaning the floor.
Twist mops with replaceable heads are your best bet because they allow you to control the water on the head while mopping and can throw the head away when it's clearly seen its last swipe.
A dry mop can be used to get cobwebs out of remote corners of the ceiling. There are some electric floor cleaners that function like a mop but with a little less effort on body parts.
8. Multi-Surface Cleaner and Lint-Free Rag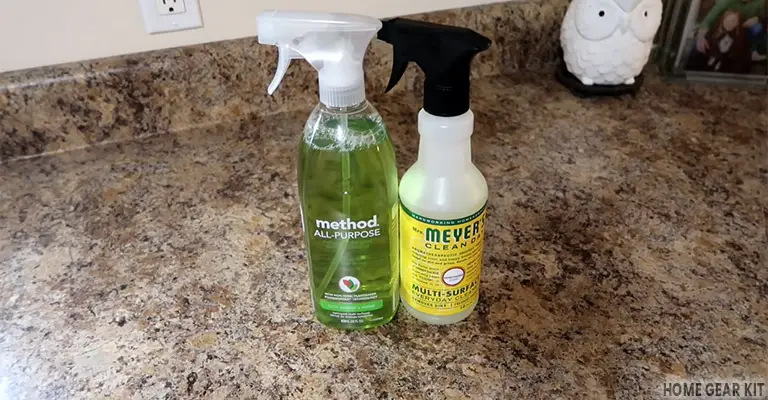 A versatile cleaner makes the bathroom sparkle. Use it to wipe down faucets, handles, mirrors, glass doors and ceramics, and other bathroom fittings.
While it's not a substitute for disinfecting surfaces, multi-surface spray will help make the whole room gleam. Be sure to wash the lint-free rag without fabric softener once a week.
9. Rubber Gloves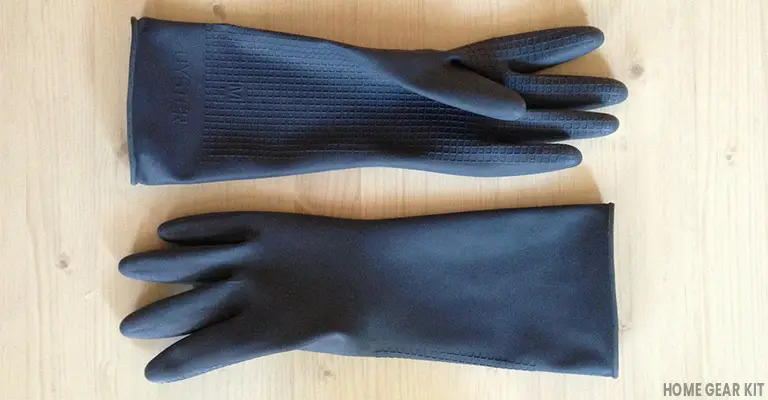 Between germs, grime and cleaners, keeping the bathroom clean can do a number on both the hands. Protect your hands with a quality pair of rubber gloves.
Rinse them well after each use, and hang to dry before storing.
Sanitize the gloves every few weeks by running them through the dishwasher or by adding them to a load of rags when you do laundry. Let them dry in the air, and they'll be as good as new.
10. Old Toothbrush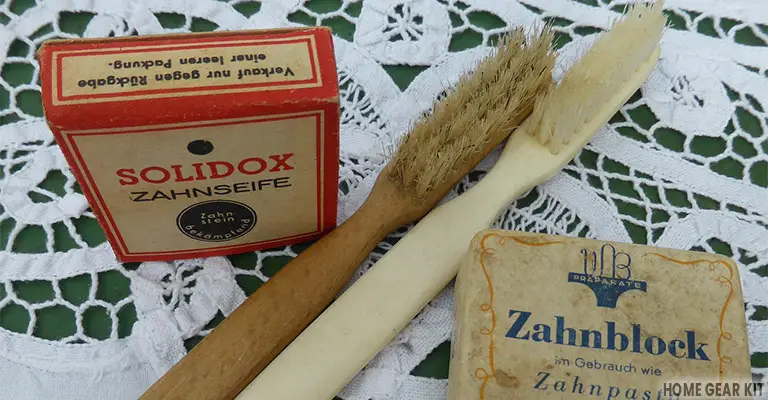 If your bathroom has a lot of tiles, you'll definitely need to keep an old toothbrush or two on hand – nothing cleans grout lines better.
Keep the brushes clean by rinsing well after use, and toss them once the bristles start to fray or bend.
11. Plunger
Plungers symbolizes bathroom cleaning tools. There's not a clog you can't get by with a plunger. You'll have to set up the rubber end to the drain or the toilet hole, and then all you'll have to do is pull and push to unclog the drain. Everything will start to flow like the river after that. There's a couple of types when it comes to plungers.
Standard Plunger
It's what you picture when talking about plungers. A handle attached to a rubber cup. As for the handle, it's usually wooden but also comes in plastic these days. The length can also vary. Non-flat surface like the toilet isn't it's forte.
These are known as sink plungers mainly because it can work properly on a flat surface like the sinc. Where the rubber end can align with the surface to create a vacuum.
Toilet Plunger
Unlike the last one this works perfectly on toilets. It's anatomy is quite unique. Having an external flap that slides perfectly into the toilet's drain. This way it can easily form suction to unclog the toilet.
It can easily fit itself in any drain like that of the sink to unclog the drain.
Accordion Plunger
This too has an exterior flap to fit in perfectly. But it's speciality is its strength. It can enforce suction far better than the rest. Plastics used in manufacturing these are on steroids.
12. Air Blaster Plunger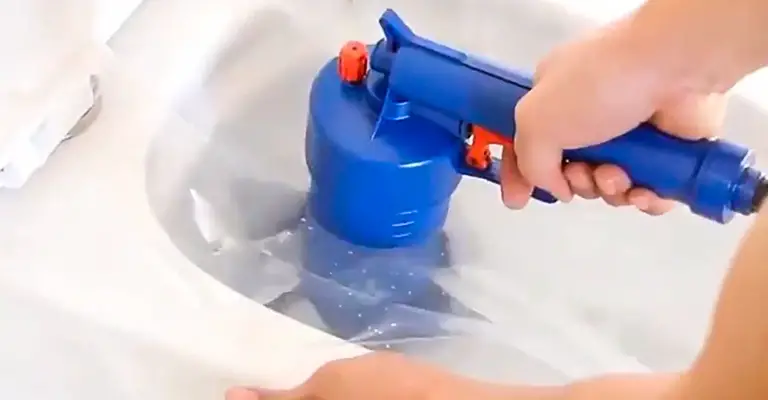 This is your automated version of plunger. It's mouth comes in couple of different interchangeable shapes to fit into different sizes and anatomies of drains like that of the toilet, sink and tubs. 
A humongous air pressure hits the tunnel of the drain to push out any and all blockages that might be clogging the drain. You'll find videos on the internet showing that these can shoot out a tennis ball stuck in the pipes as high as 2-3 floors.
13. Hard Water Stain Remover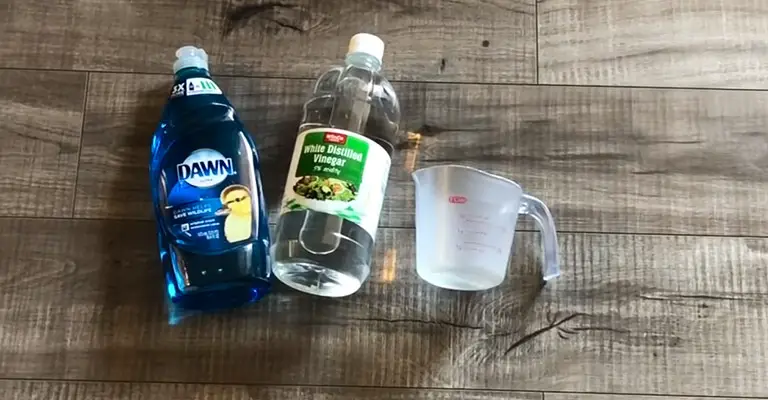 Whether it be porcelain, glass, tile or the metal surfaces, every US bathroom has to tackle with the doggy mineral residue of hard water. Go for an eco friendly stain remover to clean off the white spots on your tubs and sinks. 
You'll find people talking about vinegar and lemon juice to get them off. But these cheap solutions may result in scratches on your shower doors.
14. Shower Spray / Cleaner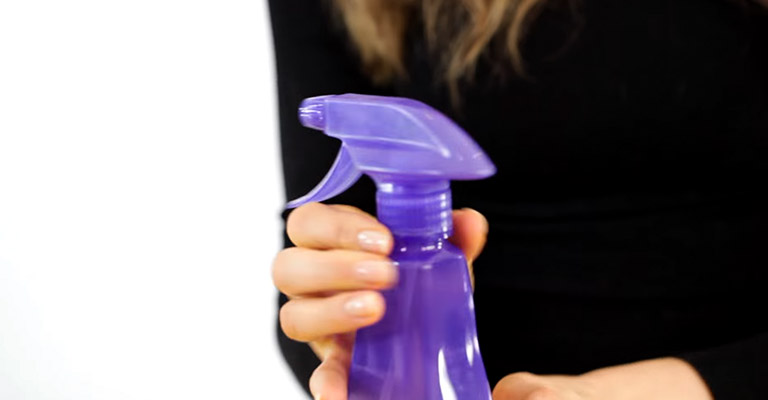 You may think that shower spray will not be an important tool for cleaning purposes, but rather it is more flexible and easy to use in an effective way. This one can spray water at a speed that helps to wipe away any hard dirt and mud from your bathroom. 
Another big advantage of this tool is the height. Normally they are placed on a good height above from the floor that helps you to reach out to every corner of the bathroom. 
15. Mold Mildew Cleaner Gel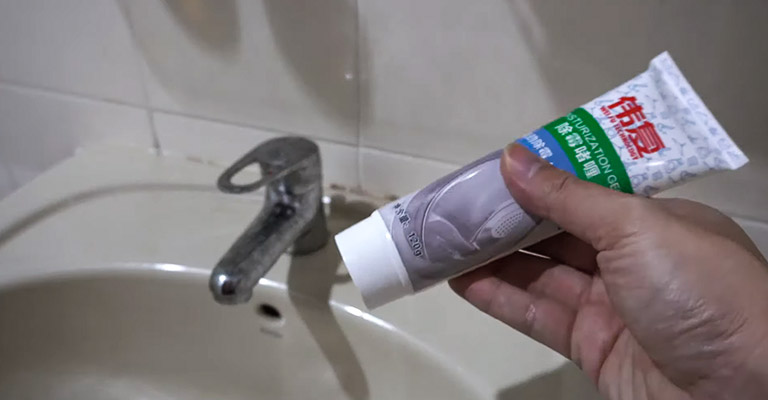 Mold mildew are one of the major headaches for you when you are  very much concerned about health. They are likely to grow on the corner of your bathroom if you do not take proper steps to prevent them. For this purpose you must have a mold mildew gel and cleaner that not only remove them from the wall, but also ensure that they will not grow up for the next couple of weeks. 
16. Glass Cleaner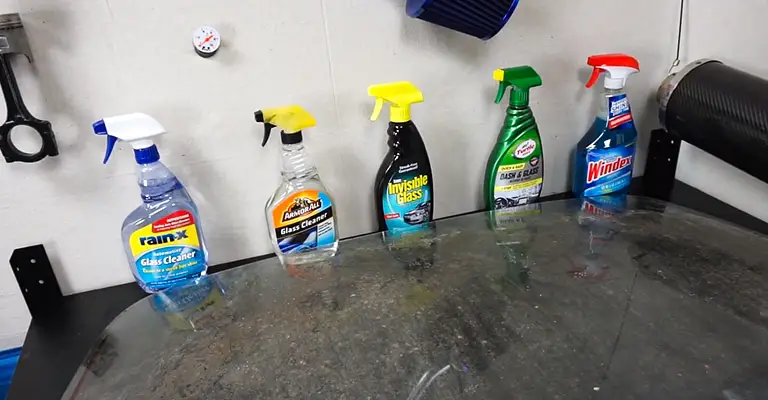 No one will be happy after seeing an unclear glass in the bathroom, they are one of the most important parts from every aspect. To keep them always clean, you must have a glass cleaner. This chemical formula can remove all hard dirt to make them look clean, as well as make the glass more shiny and beautiful. Even they make it germ free to keep everything hygiene. 
17. All Purpose Brush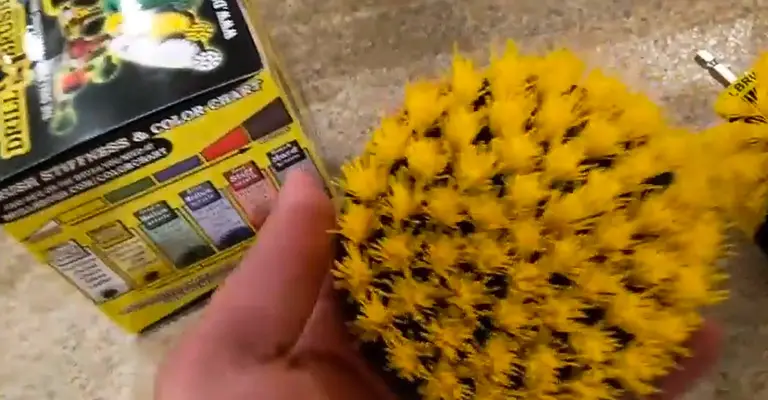 Cleaning comfort room tools and equipment are too many to count. Having said that, finding a scrubber that can cover every verge and blindspots without leaving an extra touch of ergonomics is a versatile option. That's what these "all-purpose" cleaning tools are about.
18. Scrubber with Built-in Foaming Cleanser / Magic Eraser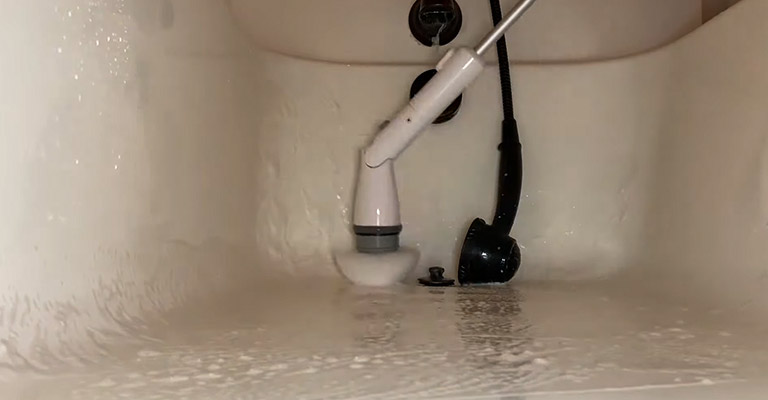 Sponges and scrubbers demand for an extra cleansing push from disinfectants and soaps. As a quick scrubbing and excellent instantaneous result you can find these ready made packages. 
Rightly called as 'magic erasers', these cleaning pads enable you refreshing your bathroom right after soaking them for a bit. The micro scrubbers in the sponges accomplish the actual job.  
19. Pumice Stone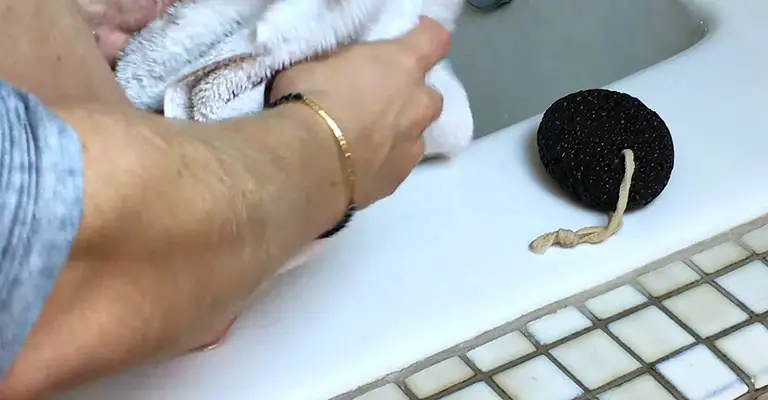 Though the toilet bowl is where you'll be using a pumice stone, it can abrade pretty much every stain and gluck. You won't find a better non-toxic solution to clean the calcium and limescale buildups. 
Besides all ceramic and porcelain plains and curves can get rid of their spots with this volcanic rock. Keeping two in home would really be helpful as this lightweight stone is versatile enough to take care of your kitchen and other places too.
20. Extendable Scrubber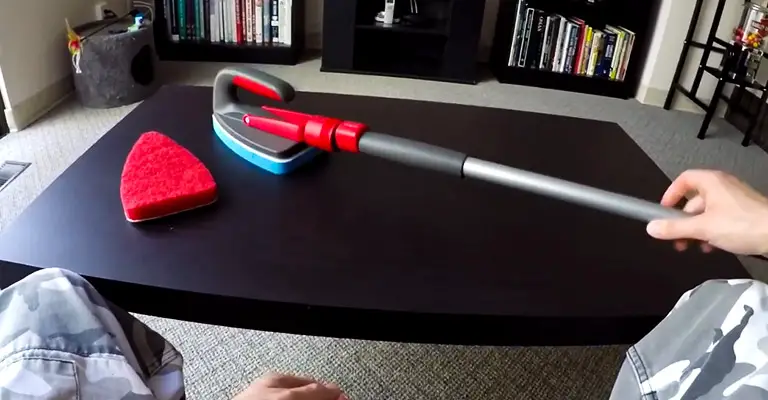 Small handle scrubbers with protruded fibers work fine but won't take a good care of your back and joints. But one with an extended handle, preferably with a telescoping handle, aids to clean hard to reach corners of your bathroom. Those featuring pointy heads and well attached mitts can scrape away tile glimes easily. 
21. Electric Powered Scrubbers / Brushes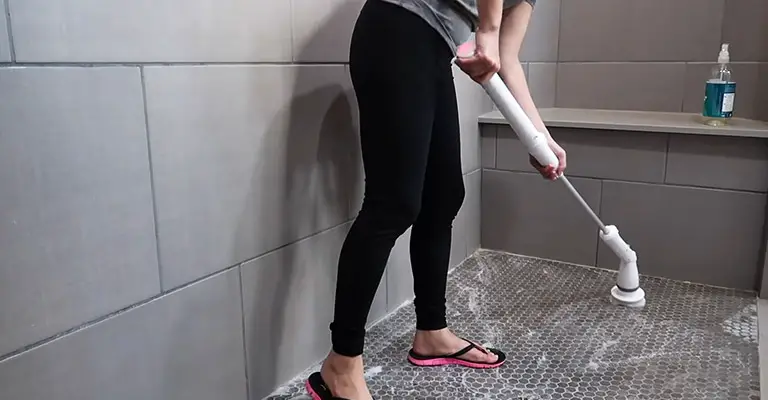 Why toil so hard fighting grimes when you can add a great dill of motor power just turning a witch on?  Thanks to these modern scrubbers for reducing the cleaning period in the stinky surroundings.
Best bathroom cleaning tools with reviews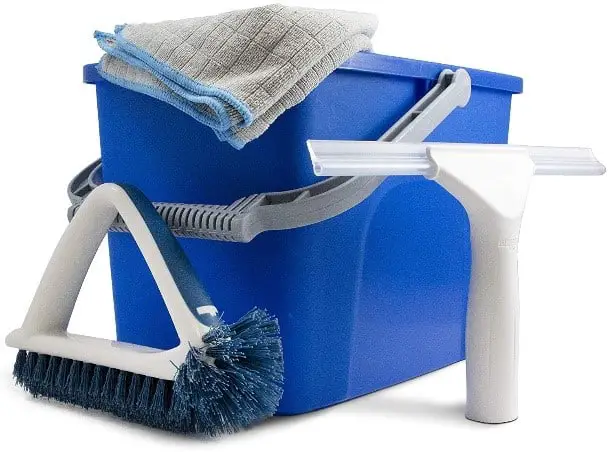 This is a convenient kit that includes the best bathroom cleaning tools to speed up your chores. It has everything you might need for various surface cleaning and deep cleaning purposes. Compared to buying each tool separately, the kit offers maximum value at a reasonable price.
Top features:
You will receive a 2-in-1 grout + corner scrubber, a 12" shower squeegee, 2 machine-washable microfiber cloths, and a 2.5-gallon bucket.
The scrubber has a unique triangular handle and includes a V-shaped head. These clever ergonomic details help you reach tough right-angled corners, scrub easily for a 360-degree thorough cleaning, and tackle every grout line. You can get rid of mildew and grime much faster compared to using other brushes.
Both the microfiber cloths are suitable for glass doors and mirrors.
The nonslip squeegee will help you wipe down tiles, mirrors, shower doors, etc. for squeaky clean results. It has a strong grip so that the tool does most of the work and all you need to do is guide the squeegee across the surface.
All of these tools can fit in the included bucket for easy, space-saving storage. You can always fill the bucket with a disinfectant solution when you mop your bathroom floor. The overall compact kit is a good option for apartment and dorm bathrooms.
This kit is simply efficient without any major flaws and has good ratings. So far, so good!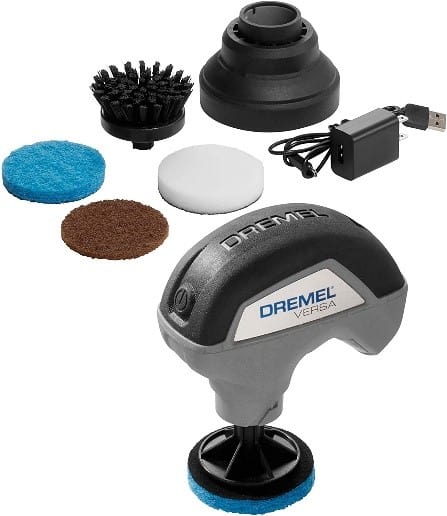 Dremel Versa offers a cordless, power scrubber kit with the required cleaning accessories. We found this to be a versatile, all-in-one bathroom cleaning tool because you just need to connect the required attachment and scrub your bathroom surfaces easily.
Top features:
The quick-change cleaning attachments include delicate pads for scratch-free results, every day/deep cleaning pads for multipurpose scrubbing, and brushes for tough stains.
The power scrubber can tackle soap scum, mold/mildew, stubborn stains, tile spots, and other unsightly damages in the bathroom.
Depending on the level of cleaning required, you can use the required accessory to clean shower areas, bathtubs, fixtures, tiles, grout lines, glass doors, sinks, etc.
The handheld power scrubber is compact, lightweight, and easy to use with one hand.
It is rechargeable, and the kit also includes its lithium-ion battery, USB charger, and power cord. The tool charges up within 2 hours – the charging status is indicated by a blue light – and allows 25 minutes of continuous scrubbing at 2,200 RPM. This high-speed cleaning saves a lot of time and manual effort on your part.
The cordless design makes it very portable and lets you move around freely while cleaning.
You can connect the retractable splash guard for splash-free scrubbing.
Major design flaws:
The power scrubber can overheat quickly.
Its battery life is reported to be quite short. Depending on the heavy-duty scrubbing you need, the battery can drain much faster than expected – and you might as well just use manual labor to get the work done.
The cleaning pads or discs are quite small. It will be very time-consuming to finish the whole shower area or bathtub surround using such compact scrubbing attachments.
The charging port is not covered, so you must avoid getting the tool wet.

OXO's extendable tub-and-tile scrubber is a must-have for essential bathroom cleaning tools. It is a popular product for its extendable height to reach tough areas in the bathroom. OXO cleaning tools have all garnered massive ratings for their usability and clever ergonomics that speed up your work and save time.
Top features:
The adjustable scrubber is designed to clean tubs, tiles, glass panels, and floors. It has a unique triangular front that reaches narrow spaces, goes around the toilet, fits into corners, and works on grout lines.
This tool's lightweight steel pole extends from a storage height of 26 inches to an extended height of 42 inches. You can clean higher areas and different hard-to-reach corners without climbing a ladder or crouching. Its scrub head pivots easily to help you maneuver the tool into every nook and cranny.
Also, the nylon scrub head is antimicrobial and abrasive to get rid of mildew and grime. Overall, this powerful and extendable scrubbing tool is highly recommended for cleaning grout lines, working at convenient angles, and adjusting the scrub head with simple turns as you go.
Major design flaws:
The scrubber can cause some wrist fatigue if it does not extend to your desired height.
Some parts might get heavily rusted due to prolonged use and exposure to water/moisture.
Replacement scrub heads are available for buying separately – it would be nice to have a spare scrub head included in the package.
This is a deep-clean dual brush set by OXO and is one of the best-selling products under bathroom cleaning tools.
OXO focuses on human-centric designs that are easy on the hand and meet the requirements of everyday cleaning – as shown in the ergonomic details of these two brushes.
Top features:
You will receive one large brush and one small brush with an integrated wiper blade.
The large brush is ideal for cleaning grout lines and shower door tracks. It features a nonslip thumb pad to help you work on tough stains comfortably and efficiently with just the right pressure.
The small brush has a pointed bristle profile that helps you with targeted cleaning on fixtures. Its attached wiper blade cleans around drains and other inaccessible areas.
Both brushes have nonslip rubber grips for maximum stability and comfort.
Their durable, nylon scrubbing bristles work easily on grit and grime – allowing you to clean various surfaces and enhance cosmetic details.
You would normally use old toothbrushes for this task. However, most plastic toothbrushes will snap easily under pressure, have their bristles warped soon, and create wrist fatigue. OXO's scrub-friendly brushes have easy grips for such repetitive cleaning and scrubbing chores so that you can work on those stained tiles with maximum efficiency and less frustration.
Major design flaws:
These brushes are supposed to differ from ordinary toothbrushes. However, their short size and low profile are a huge setback.
The bristle heads need to be bigger for convenient scrubbing. The actual bristles themselves become warped sooner than expected. This brush set works well in theory but definitely needs some design improvements to outlast your old toothbrush.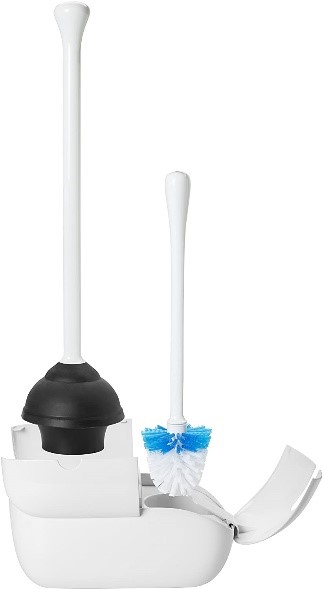 This is another great bathroom cleaning toolset by OXO and represents the brand's focus on small, extra-mile details that simply go a long way.
Top features:
The set includes a toilet brush and a plunger. Both tools are stored in a covered canister that allows for seamless storage and keeps your least favorite tools hidden from sight.
The compact canister design is ideal for small bathrooms and features a draining slot at the bottom.
You can simply extract/replace the brush or plunger and the lids will open/close automatically.
The plunger is designed to work on all toilet types.
Both the tools have contoured handles for secure grips.
The package also includes replacement brush heads.
Major design flaws:
Some customers commented that it is difficult to remove the plunger from its compartment because it stays locked in or the lids do not open.
The plunger is also not as efficient as other options.
The toilet brush head tends to loosen up over time. When it comes to toilet cleaning tools, you do want to keep them as far away from your hands as possible and not be slowed down by a faulty lid or loose scrub heads.
Power Spin Scrubber
With long handles and quality bristles, the electric spin scrubbers are the Morta of bathroom filths. Online marketplaces like amazon offer products with a number of brush heads.
As bathroom surfaces are mainly flat, round or concave, edges and corners, the heads come in corresponding convenient shapes. If you are really thinking of grabbing such a scrubber device for an uphill fight with molds and mildews, keep an eye out for whippy yet strong bristles.
Drill Powered Brush
These simple brushes are a cheaper alternative to the spin scrubbers but won't disappoint in bathroom cleansing at all. They are so manufactured that any regular drill you may have will pair up pretty well. 
Strong bristles of round, flat and small (to cover tight spots) head are capable of scrapping let alone scrubbing and washing purposes. What helped them gain an upper hand are their more tool-like and less device-like property, affordability and ability to face filthiest lingering yuck. 
Conclusion
No one wants an unclean and messy bathroom at their home. It is not a matter of shame to the guest but also very harmful for you and your family member's health. Bathroom cleaning tools are essential to keep your bathroom neat and clean. A fresh clean bathroom is hygienic and also makes the mind fresh.
Here we have discussed the most important toilet cleaning tools list that you should have. Not all of them are mandatory, but having all of these will make the cleaning process more easy and flexible. So, use them and get a clean bathroom for healthy living.