How many days have you struggled to wipe off those stubborn water spots out of your mirror or shower walls? Things would have been easier if tiles and shower doors were distinct from that. Unfortunately, they are not. To get rid of it and make your work easier, all you need is a well-featured squeegee. A squeegee that is supreme in its every aspect and leaves you satisfied without any additional struggles. And for that, you need to find out the best squeegee out of many.
Best Shower Squeegee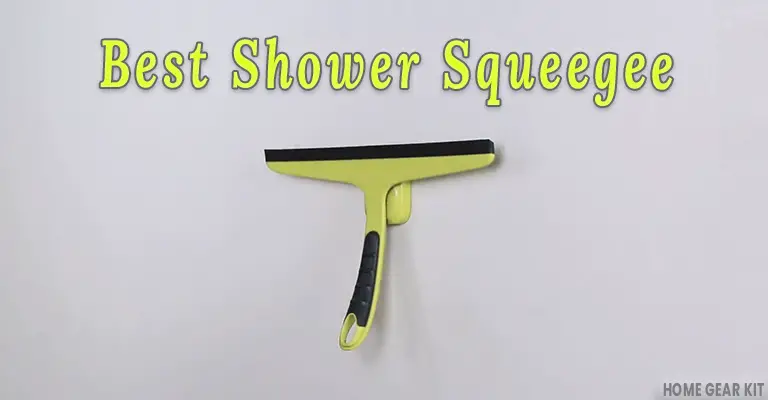 With so many varieties of squeegees you don't need to be puzzled to find the superior one for you. As this article will shorten your list to some selective best squeegees out of many. Along with that you will receive their negatives and positives, reviewed by genuine customers. Down below are the products with their descriptions:
1. Oxo Good Grips Stainless Steel Squeegee
This squeegee effectively wipes off any dirt in windows, tiles, mirrors, shower doors, etc. The blade of this squeegee is very flexible which makes it easy to clean ripped surfaces. It also works well in curved surfaces. The handle is very smooth to hold and well contoured to prevent slipping from hand. The contoured handle is comfortable to hold.
The lightness of the squeegee makes cleaning effortless and fun. There is a free suction cup with it making its storage more efficient. The suction cup is PVC free. It also has a rotating hook for easy storage. Its special featured blade insures streak-free drying. If the suction cup provided loses its shape, it can simply boiled in water for 3 minutes to regain its shape.
Due to stainless steel; it doesn't rust and stays new for long time. The round shaped rubber handle doesn't create strains in hand. It cleans glass doors very effectively. Has a very elegant look. No chance of broken handles due to stainless steel unlike plastic squeegees. Cleans the stubborn water drop stains very well.
2. HOME SO Shower Squeegee
Made of stainless steel. Is very light weight and comfortable to hold. The design of the squeegee is modern and elegant. It is rust proof with zero maintenance required. The blade is durable and very much flexible. It provides fast and streak-free drying. It is ideal for PVC shower inserts, shower glass walls, windows, cars, PVC or glass doors, etc. A 3M adhesive hook comes with this squeegee. Makes its storage easy and elegant. This hook doesn't need any holes or screws to be installed.
Has an additional hook to hang other bathroom accessories. Has 100% money back guarantee if not satisfied with the product within 90 days. The silver color of the squeegee complements any bathroom interior. The 10' blade is perfect size for any cleaning purpose. Works really smooth and removes any water stain. It is solid and sturdy. It is little heavier than expected. It may leave streak in the middle portion. It lasts really long.
3. Blomus 68686 Shower Squeegee
This squeegee is ideal for cleaning shower doors and windows. The elegant silver color of the squeegee makes it blend well with any bathroom interior or color. Made of stainless steel; is lightweight and rustproof. Lasts really long while maintaining the brand new look. The blade is 9' in length. It works in both directions. Removes dirt in any smooth surfaces. Cleans really well and doesn't leave and soap or marks.
ueegee is ideal for cleaning shower doors and windows. Elegant silver color of the squeegee makes it blend well with any bathroom interior or color. Made of stainless steel; is light weight and rustproof. Lasts really long while maintaining the brand new look. The blade is 9' in length. It works in both directions. Removes dirt in any smooth surfaces. Cleans really well and doesn't leave and soap or marks.
The blade is flexible and durable. The handle is very convenient due to added hook for better storage. A matching stainless steel wall mount can also be brought with this; extra charges are applied. The product is designed really well; its thin handle makes is comfortable to hold. The hook of the handle has tendency to break off soon after it is purchased. Otherwise, works fine.
4. Baban Shower Squeegee Glass Squeegee
The design of this squeegee is stylish and modern. Works well with any bathroom color. It is silver in color. Made of stainless steel and is rustproof. Expected to last really long. The rubber blade is extremely durable. Ergonomic design of the handle makes it easy and comfortable to grip. It is ideal for car windshields, windows, shower glass walls, tiles and many more. It prevents and cleans hard water spot, soap scum and other bathroom dirt.
It will require only few strokes to remove any spot or stain. A suction cup hanging hook is provided with this product for convenient storage. The hook doesn't need any screw or holes to be installed. It also has additional 2 blades free with it. Cleans surfaces like pro. The handle can get slippery with water/soap. Length of the squeegee is perfect. Dries the wall really well. Is heavy duty.
5. Zack 40000 Puro Shower Squeegee
Looks good with both, contemporary and classic bathrooms. It is made of stainless steel. It is sturdy and long lasting. Dues to brushed stainless steel it is rust proof as well. This squeegee is light weight; hence, easy and comfortable to hold. It is ideal for glass walls, windows, tiles, etc. cleans dirt effectively and effortlessly. It doesn't leave any streaks or spots.
The rubber blade is 9 ¾ inches in length. The rubber is extremely durable. There is a rubber grip present in the middle of the blade to make the grip comfortable and non slippery. No suction cup hook available with the product, except for a hole in the blade to hang it. Compact size makes it easy to store. It works very effectively.
6. Command and Shower Squeegee
This squeegee is paired with 1 hook and 2 strips. The body of the squeegee is rust proof. Its color is satin nickel. The hook provided stays strong in the wall even if it is wet or humid. It has stainless steel blade that wipes off water very effectively. It is good for use in glass walls, windows, tiles or any other smooth surfaces.
The hook sticks effectively in any surface; painted wall, glass, fiber glass, wood, etc. it adheres firmly without leaving patches or sticky residues. It cleans surfaces very effectively. No hole is provides for water drainage. The design and color makes it complement with any background.
7. Hasco Accessories Shower Squeegee
This particular squeegee is 9 to 8 inches in length. Is quite heavy duty and reliable. It has a bonus replacement blade and additional two suction hooks. These hooks are usable in wet or humid places. It powerfully sticks to glass walls, PVCs, shower mirrors, etc except for bumpy surfaces. The ergonomic handle of the squeegee ensures proper grip and minimizes hand fatigue.
This chrome plated stainless steel squeegee is rust resistant and extremely durable. Will look classic with any bathroom interior. It cleans affected areas effectively and smoothly. 100% money back guarantee if not satisfied by the product. The hooks can fall off after few months. The wand has seemed short to some customers. Except for this, the squeegee itself works perfect.
8. Squeegee for Shower
This squeegee comes in three different colors; black, white and blue. Its 8 inch blade has 3-dual edge. And durability equal to 6 squeegees. The blades are flexible and made of silicon. Every stroke from this squeegee is streak-free and squeak-free. 2 replacement blades are provided with this squeegee. For ergonomic and comfortable grip a foam handle is also available with this product. The body of this squeegee is constructed with plastic; hence, it is extremely lightweight and easy to handle.
Have 1 year of warranty and 100% money back guarantee if no satisfaction is achieved. But have to be informed within 40 days. Some negatives of this squeegee are, the foam handle catches soap water which is irritating and the design is not attractive enough to match with modern bathrooms. Apart from this, the squeegee gives spotless cleaning experience. This is the reason it is manufactured for!
9. Clereti iDO 2 Shower Squeegee
It has 12 inches dual edged blade for better and effective cleaning. It is extremely light weight and reduces the risks of hand fatigue. The design is unique than any ordinary squeegees. Has white handle and blue blades. The package includes "nearly invisible" wall mount holder as well. It is no permanent adhesive. Made of plastic; so, no fear of scratches on the surface while cleaning. The blades will perfectly work on not only smooth surfaces but also on contoured surfaces as well.
It is perfect for any glass walls, windows, tiles and many more. Due to plastics being used to manufacture it, there is no risk of rusts. It effectively removes any water spots or dirt. Some critics of this squeegee are; the blade comes off after several times uses, the holder is small and almost useless, the end cap, may come off occasionally, the hanger is not durable enough. Overall, the squeegee works wonderful for limited period only.
10. Interdesign Forma Bathroom Shower Squeegee
This squeegee is designed with the most classic look from all the squeegees above. Its body color is bronze with a white PVC blade. The handle and the top part are made of stainless steel which is polished. No risk of rusty appearance after some period. It successfully keeps the glass dry and removes dirt and spots. Except for glass, it is also usable in shower doors, mirrors, windows and many more. The blade is 12' in total. The size is quite impressive. Unfortunately, it leaves a line with every stroke. Makes very annoying noise while cleaning. The blade is not durable enough. Overall, not so good as advertised.
How to Recognize Best Shower Squeegee?
If you have already started your search for your ideal squeegee, you have noticed the diverse quantity of squeegees available everywhere. But be sure that not all of their performances would be same. Some are always better than others. You will want to have the best one out of them all for the greatest out come. And for that you need to have some knowledge about what best squeegees are featured with.
The Blades
The blades are the main part of the squeegee. Buy yourself the squeegee with the greatest durability. Of course you will not want it to tear off after several uses. Blades are made of silicon, rubber and PVC. You can pick one of your preferences. Make sure it cleans the desired areas and fulfils its job.
Handles
Handles are crucial too. The length should be perfect for an average person, not too long not too short. Ideals are 7-10 inches long. Another important thing is the grip. Make sure it will comfortably fit into your fist. Not too slippery neither uncomfortable.
Length
An ideal length of the blade is 8-12 inches. Buy a squeegee within this range for easy and comfortable cleaning experience. If you require cleaning very large windows, doors, floor or walls, you can option for even larger squeegees.
Noise
Those who are already experienced working with squeegees can know how irritating noises some of them can make. Thanks to modern technology of the blades; some squeegees have successfully got rid of that. So, choose one which is the minimal noise producer. Silicon and PVC blades make the least noise.
Keep these things on mind before buying the squeegee; hopefully, you will find the best one.
FAQs
Q. What is a shower squeegee?
A squeegee is tool to clean smooth surfaces like, windows, tiles, mirrors, glass wall, etc. Traditionally is T shaped, with blades on the top part and the handle at the bottom. Essential tool for home and also one of nice bathroom cleaning tool
Q. Do shower squeegees actually work?
Yes, most of them work really well to clean the desired areas. It all depends on the quality of the blade. Higher the quality, higher the performance you can expect from it.
Q. How should I clean mirrors with a squeegee?
At first, wet the blade of the squeegee with soap water and then stroke it in the surface of the mirror. When you are finished stroking with soap water, use clear water to soak the blade and repeat the process on the mirror. After that let the mirror dry and it should be clean.
Conclusion
Everyone should maintain proper hygiene to remain healthy. A dirty bathroom can lead you to skin allergies and other skin problems. Therefore, shower places are worth to be cleaned always. Squeegees will pay an important part in cleaning those grease and mildews from your mirrors, tiles, glasses walls and shower doors. Even if you don't own those grossly substances in your bathroom a squeegee will always help you to keep those things stay at bay. So, make sure you own the best squeegee for your bathroom.