How many days have you struggled to wipe off those stubborn water spots out of your mirror or shower walls? Things would have been easier if tiles and shower doors were distinct from that. Unfortunately, they are not. To get rid of it and make your work easier, all you need is a well-featured squeegee. 
A squeegee that is supreme in its every aspect and leaves you satisfied without any additional struggles. And for that, you need to find out the best squeegee out of many.
Our Recommendations for The Best Shower Squeegee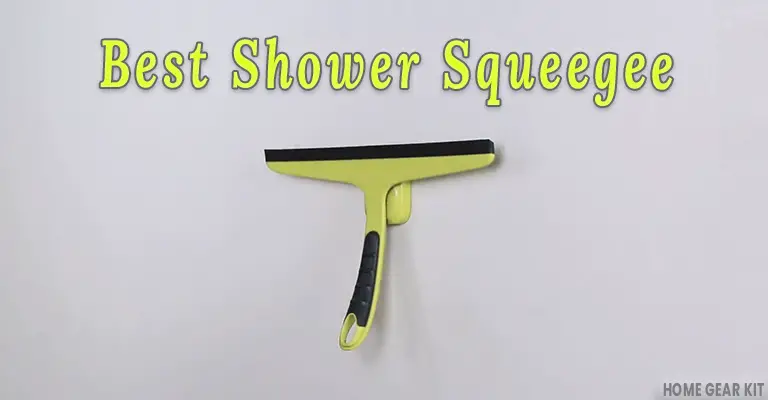 As handy as these tools are, the most appropriate shower squeegees are relatively tough to get a hold onto. Many shower squeegees in the market that will give you the best value for money while giving your shower area a new sparkling look. Some of those best products are discussed below for you to follow along.
1. Oxo Good Grips Stainless Steel Squeegee
Oxo created its Good Grips Stainless Steel Squeegee to give you an unrivaled cleaning performance. However stubborn may the dirt be, this exquisite squeegee will certainly reform your idea on how these tools should be.
The most important thing, this squeegee effectively wipes off any dirt in windows, tiles, mirrors, shower doors, etc. The blade of this squeegee is very flexible which makes it easy to clean ripped surfaces.
Even on curved surfaces, this Oxo squeegee works very well. The handle of the squeegee is smoothly contoured which makes it effortless and comfortable to hold. There's just no chance that it will slip from your hand.
Moreover, the squeegee is lightweight and it makes cleaning effortless and fun. There is a free suction cup with it making its storage more efficient. About the suction cup, it is PVC free. It also has a rotating hook which makes it easier for storage. Not to mention, if the suction cup provided loses its shape, it can simply be boiled in water for 3 minutes to regain its shape.
There's a special featured blade with the squeegee that ensures streak-free drying. Your tool will be free from rust and stay new for a long time as it is made of stainless steel. The stainless steel build doesn't allow room for broken handles either. 
And if you're worried about straining your hand, rest assured because the round-shaped rubber handle prevents that. Aside from the elegant look, this squeegee is the very definition of effectiveness.
The tool has also got some downsides. One of them is that the hook falls off sometimes. Also, the blade has git durability issues according to many uses. 
2. HOME SO Shower Squeegee
HOME SO Shower Squeegee is another decent option for you if you're having trouble with obstinate dirt or water drops. The manufacturer guarantees you top-notch performance while making your comfort one of the priorities.
The shower Squeegee is made of stainless steel, assuring you extreme durability. It's also very lightweight and comfortable to hold. The design of the squeegee will keep reminding you about its elegance. The squeegee being rust-free doesn't need maintenance.
Moreover, the blade is durable and very much flexible. Its 10' blade is the perfect size for any cleaning purpose. It provides fast and streak-free drying and as a result, you get to enjoy a swift and unique experience.
The wide range of compatibility of the squeegee makes it ideal for PVC shower inserts, shower glass walls, windows, cars, PVC or glass doors, etc. A 3M adhesive hook comes with this squeegee, making its storage easy and elegant. This hook doesn't need any holes or screws to be installed, saving you from more trouble. It also has an additional hook to hang other bathroom accessories.
The silver color of the squeegee complements any bathroom interior. It also works really smoothly and removes any water stain, giving you the most standard performance you expect from a squeegee. Not to mention, its 100% money-back guarantee allows you to return the product within 90 days if not satisfied.
On the downside, the squeegee is a little heavier than expected. Also, it may leave a streak in the middle portion, but being a little cautious can solve this particular issue.
3. Blomus 68686 Shower Squeegee
For a standard shower squeegee, Blomus tried their level best to meet customer expectations. And they convincingly managed so. Blomus shower squeegee is best at what it does. Grabbing this squeegee will certainly not be a regrettable decision for you.
This squeegee is ideal for cleaning shower doors and windows. The elegant silver color of the squeegee makes it blend well with any bathroom interior or color, making it a suitable choice any day.
The shower squeegee is made of stainless steel; is lightweight and rustproof. You'll need no maintenance at all. Thanks to the rigid build, it lasts long while maintaining the brand new look.
As for the blade, it is 9' in length. It works in both directions, making things a tad bit easier for you. It removes dirt on any smooth surfaces. It also cleans well and doesn't leave any soap or marks, which means your cleaning experience will be trouble-free and effortless.
Moreover, the blade is flexible and durable, just like the whole tool. The handle is very convenient thanks to the added hook for better storage. It is thin and makes it comfortable to hold onto. A matching stainless steel wall mount can also be brought with this; extra charges are applied. Not to mention, the design of the product is very satisfying and elegant as well.
The hook of the handle tends to break off soon after it is purchased. So it is recommended to thoroughly check the product to not give ambiguity any chance.
4. Baban Shower Squeegee Glass Squeegee
If you're looking for a modern shower squeegee to match your modern bathroom, Baban Shower Squeegee is a great option. This tool will keep your bathroom fresh, creating another layer of enjoyment while in shower.
The design of this squeegee is stylish and modern, a perfect match for any style of bathroom. Regardless of your bathroom's color, it will work well. This silver colored and beautiful looking squeegee is Made of stainless steel and thus, rustproof. So you can expect it to last long.
The rubber blade is made to be extremely durable so that you can extract the best performance out of it. As for the handle, it has got an ergonomic design which makes it very easy and comfortable to grip. 
The tool is ideal not just for shower purposes, but for car windshields, windows, tiles, and many more as well. Besides, it's one of the best squeegee for shower glass walls. We say that because this sublime squeegee cleans hard water spots, soap scum and other bathroom dirt like there had never been any.
To make your operation effortless, the tool will require only a few strokes to remove any spot or stain. Besides, a suction cup hanging hook is provided with this product for convenient storage, allowing you more flexibility. The hook doesn't need any screw or holes to be installed either. You'll hardly get as many features in other squeegees.
This pro surface cleaner also has an additional 2 blades free with it. In case your old blade is damaged, no worries, you still can work with the replacement just as effectively. As a heavy-duty squeegee, the length of the squeegee is perfect and it does its job well.
One of the drawbacks of this squeegee is that its handle can get slippery with water/soap. As a result, the handle needs extra cleaning.
5. Zack 40000 Puro Shower Squeegee
When dealing with streaks, cheap squeegees just won't cut it. Zack 40000 Puro Shower Squeegee can convincingly clean your shower windows in style while making sure you get a complete cleaning performance.
This sublime squeegee looks good with both, contemporary and classic bathrooms, making sure that your bathroom is matched with it. As for the build, it is made of stainless steel. So, you can rest assured as this tool is sturdy and long-lasting.
Due to brushed stainless steel, it is rust-proof as well, eliminating the need for intermittent maintenance. This squeegee is light-weight; hence, easy and comfortable to hold. 
Apart from shower windows, the tool is ideal for glass walls, windows, tiles, etc. cleans dirt effectively and effortlessly. Wherever you use, it has been guaranteed that it will not leave any streaks or spots.
The blade is made of rubber and it is 9 ¾ inches in length, making it possible for the squeegee to reach the edges and clean them. As for the rubber, it is extremely durable. There is a rubber grip present in the middle of the blade to make the grip comfortable and non-slippery. 
Moreover, the squeegee has a very compact size which makes it easy to store. With this squeegee working effectively, you won't feel any strain in your hands either.
A little downside of the product is that it has no suction cup hook available with the product, except for a hole in the blade to hang it.
6. Command and Shower Squeegee
Command and Shower Squeegee is one of a kind with its elegant style and cleaning prowess. This one can deliver the performance just the way you would like it.
This squeegee is paired with 1 hook and 2 strips that make your operation much easier. The hook provided stays strong in the wall even if it is wet or humid, allowing you to make perfect use of it in any situation.
The body of the squeegee is rust-proof, making it long-lasting and maintenance-free. As for the color, it is of satisfying satin nickel. For a shower squeegee, being only effective won't do. It needs to match your shower area as well, which Command and Shower Squeegee does very well.
The tools use a stainless steel blade that wipes off the water very effectively. This enables you to put it into good use such as glass walls, windows, tiles, or any other smooth surfaces, not just shower windows.
The hook sticks effectively on any surface; painted wall, glass, fiberglass, wood, etc. and it adheres firmly without leaving patches or sticky residues. This allows you to clean the surfaces very effectively. Besides, its unique design and color can complement any background.
One fact that lets the squeegee down is that no hole is provided with it for water drainage, which results in water accumulation and hinders the overall cleaning process.
7. Hasco Accessories Shower Squeegee
Here comes another well-made shower squeegee which is the Hasco Accessories Shower Squeegee. Hasco Accessories has built it very well in terms of effectiveness and aesthetics. Opting for this shower squeegee is undoubtedly a good choice if you're having trouble with cleaning your shower windows or other glass panels.
This particular squeegee is 9 to 8 inches in length, allowing you to reach the edges for cleaning. The tool itself is quite heavy-duty and reliable. It doesn't require much strength to operate and gives you the perfect result every time you use it.
Moreover, the squeegee has a bonus replacement blade and an additional two suction hooks. These hooks are usable in wet or humid places, so there is no place for you to double this sublime creation.
The tool powerfully sticks to glass walls, PVCs, shower mirrors, etc except for bumpy surfaces. (This allows you to effectively clean your glasses. Moreover, the ergonomic handle of the squeegee ensures proper grip and minimizes hand fatigue.
This chrome-plated stainless steel squeegee is rust-resistant and extremely durable. Also, it will look classic with any bathroom interior. It cleans affected areas effectively and smoothly. A 100% money-back guarantee is there if you are not satisfied with the product. 
On another note, the hooks can fall off after a few months. The wand has seemed short to some of the customers.
8. Squeegee for Shower
Another option for you to choose from is the Squeegee for Shower. It's an exquisite tool that is brilliantly manufactured to suit your preferences and give you an excellent cleaning experience.
This squeegee comes in three different colors; black, white, and blue, giving you many options to choose from. Its 8-inch blade has a 3-dual edge, maximizing the cleaning performance. And its durability equal to 6 squeegees, that means however extreme your usage is, it can stand strong.
The blades are flexible and made of silicon, and showers with rippled surfaces can be cleaned easily. Every stroke from this squeegee is streak-free and squeak-free. That means investing behind this good quality squeegee will certainly help you in the long run.
There are 2 replacement blades provided with this squeegee. For ergonomic and comfortable grip a foam handle is also available with this product. The blades combined with the unique handle maximizes the efficiency while you enjoy a streak-free operation.
As for the body of this squeegee is constructed with plastic; hence, it is extremely lightweight and easy to handle. The surface itself is free from rust, thus you won't need extra care or maintenance either.
Squeegee for Shower has 1 year of warranty and a 100% money-back guarantee if no satisfaction is achieved. But I have to be informed within 40 days. Although it's very much unlikely to happen.
Some negatives of this squeegee are, the foam handle catches soap water which is irritating and the design is not attractive enough to match with modern bathrooms. 
9. Clereti iDO 2 Shower Squeegee
Clereti iDo 2 Shower Squeegee can make your shower spotless while giving it a sparkling look. The manufacturers maintained the smoothest of processes so that the consumers are satisfied with their product. The squeegee can treat your dirty and dull glass like there has never been any.
It has 12 inches dual-edged blade for better and effective cleaning. On top of that, the tool is extremely lightweight and reduces the risks of hand fatigue. The design is unique than any ordinary squeegees, suitable for any bathroom background. Moreover, the white handle and blue blades give a new outlook to the squeegee.
The package includes a "nearly invisible" wall mount holder as well, which means the beauty of your bathroom will not be hindered in any way. For your information, it is no permanent adhesive. It's made of plastic; so, no fear of scratches on the surface while cleaning.
The blades will perfectly work on not only smooth surfaces but also on contoured surfaces as well. So if your surface is contoured, you've got no reason to worry about this versatile tool at your disposal.
Regardless of the type of glass walls, windows, tiles, or anything else, it is the perfect squeegee you can get. As plastics are being used to manufacture it, there is no risk of rust. This means you will not need to waste time behind extra maintenance. As for the effectiveness, it will certainly meet your demands and clean your shower to give it a new look every time applied.
Some critics of this squeegee involve the blade coming off after several times of usage, the holder being small and almost useless, the end cap coming off occasionally and the hanger not being durable enough.
10. Interdesign Forma Bathroom Shower Squeegee
Interdesign Forma Bath Shower Squeegee is a modern age shower squeegee that goes with any bathroom background and fits well. Apart from giving your shower room a classy look, it effectively does the cleaning job as well.
This squeegee is designed with the most classic look from all the squeegees above. But for squeegees, looking classy is not just enough, it needs to show performance. The Interdesign Forma does perfectly as well. Its body color is bronze with a white PVC blade, combined giving you an apposite fit for your bathroom.
The handle and the top part are made of stainless steel which is strictly polished. So you can assuredly expect durability and longevity from this particular shower squeegee. Moreover, it has no risk of rusty appearance after some period. As a result, the tool sustains its appearance for a long time and remains in sync with the bathroom background.
This squeegee successfully keeps the glass dry and removes the unwanted dirt and spots. Aside from the glass, it is also usable in shower doors, mirrors, windows, and many more. Thus, you have no reason to hesitate when using this tool for different purposes.
The blade is 12' in total, allowing you to reach the farthest of corners at ease. Besides, the size is quite impressive enough to get your work done in a short amount of time.
Unfortunately, this squeegee leaves a line with every stroke. It also makes very annoying noises while cleaning. The blade is not durable enough either. Overall, it is not so good as advertised.
Best shower squeegees – top picks for 2022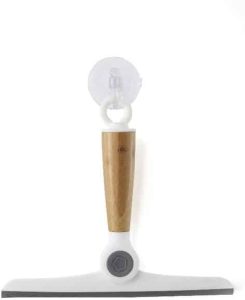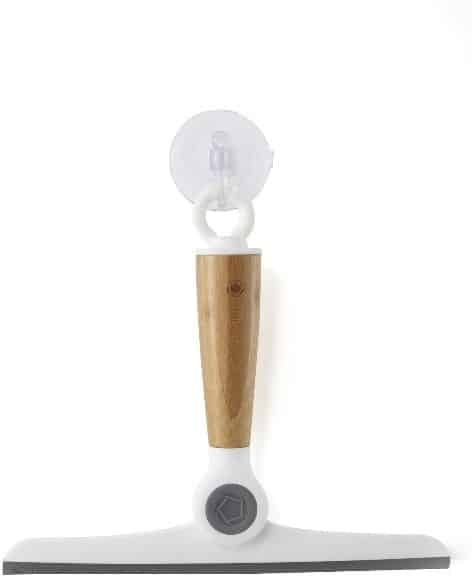 Full Circle has some of the best shower squeegees in its collection. This lightweight squeegee has a pivoted head designed for extra maneuverability, so you get to hold the handle as usual while the blade head swivels. It comes with a suction cup and a storage hook. The renewable bamboo handle has a clever self-standing design if you want to just place it on the countertop instead of hanging it on the hook. The brand focuses on bamboo and recycled plastic minus the use of toxic chemicals, which checks all the boxes for ergonomics, functionality, and responsible living. The pivoted head design also allows for a neater "closed" storage look with the squeegee head rotated vertically.
Some users complained that the squeegee blade left streaks on the shower glass doors and tiles. This could be because of the inflexible and non-durable rubber blade, which means that you might need frequent replacements. The suction cup was also not effective for some customers.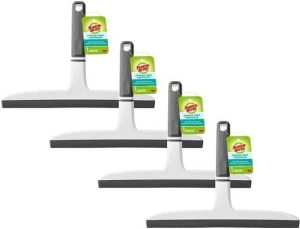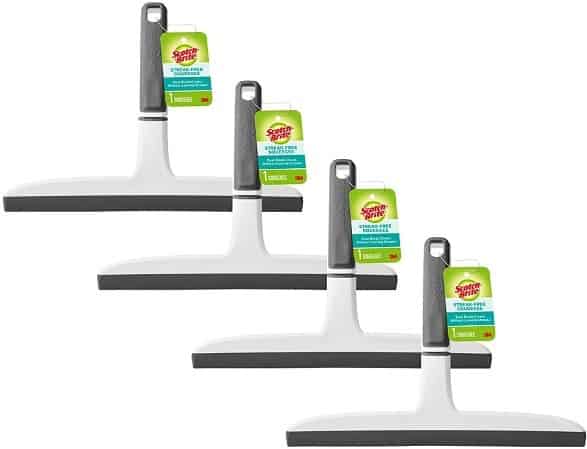 Scotch Brite offers a set of 4 dual-blade shower squeegees at a good price. These squeegees have soft-touch/non-slip handles and help the user wipe down surfaces in streak-free clarity. You can use them on mirrors, glass doors, tiles, windows, etc. The material is durable and the overall design is ergonomically efficient to cut down wrist fatigue, making the squeegee comfortable to use. It is quite sturdy and lasts longer than most other options, and you will always have a backup squeegee ready to use in the future!
While the handle itself is easy on the wrist, the actual blade is not very flexible to wipe down water evenly from shower surfaces.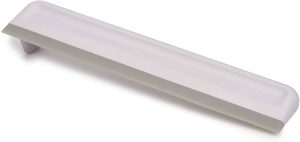 This is a handle-less shower squeegee from Joseph Joseph EasyStore. It is available in a compact handheld design with an integrated hanging hook that you can snap on a shower glass panel for quick access – so, those who do not prefer suction cups will love the convenient hanger! The squeegee has a flexible 10-inch silicone blade that wipes down both flat and curved surfaces more evenly and smoothly compared to rubber blades.
The neat and slimline design is very minimalistic and functional for quick cleaning.
That said, the handle-less design might not be the right type for everyone, especially if you rely on the handle support for applying pressure. This can also affect the cleaning consistency, leaving behind streaks of water on shower surfaces and mirrors.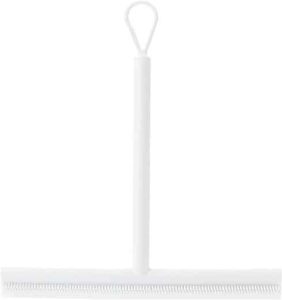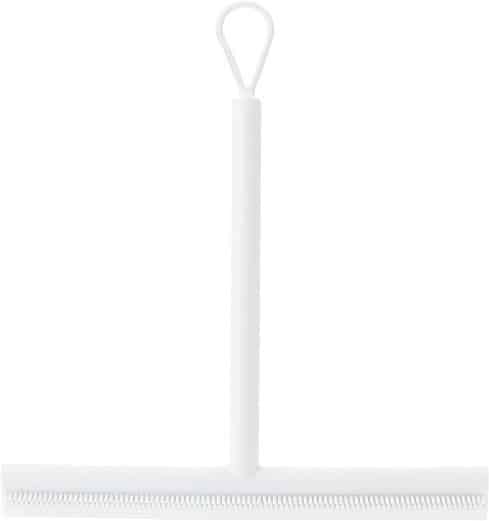 Brabantia's silicone-blade shower squeegee is another great option for wiping shower tiles, mirrors, and other flat surfaces. It has a dual-purpose brush-and-wipe design for cleaning soap residue with the brush side and wiping the surface with the wiper side. The soft nonslip handle is easy on the wrist and comes with a hanging loop that goes on the included hanger/hook for easy storage. The overall material is resistant to corrosion which is just what you need in a water-prone environment. The lack of a suction cup makes it more usable and effective for all shower spaces, as you no longer need to worry about the cup falling off every time.
The only downside is that this squeegee is more expensive than most other single-piece options – you can easily find a set of 4 squeegees at the price of one of these.
How to Recognize Best Shower Squeegee?
If you have already started your search for your ideal squeegee, you have noticed the diverse quantity of squeegees available everywhere. But be sure that not all of their performances would be the same. Some are always better than others. Let's analyze.
The Blades
The blades are the main part of the squeegee. Buy yourself the squeegee with the greatest durability. Of course you will not want it to tear off after several uses. Blades are made of silicon, rubber and PVC. You can pick one of your preferences. Make sure it cleans the desired areas and fulfils its job.
Handles
Handles are crucial too. The length should be perfect for an average person, not too long not too short. Ideals are 7-10 inches long. Another important thing is the grip. Make sure it will comfortably fit into your fist. Not too slippery nor uncomfortable.
Length
An ideal length of the blade is 8-12 inches. Buy a squeegee within this range for an easy and comfortable cleaning experience. If you require cleaning very large windows, doors, floor or walls, you can option for even larger squeegees.
Noise
Those who are already experienced working with squeegees can know how irritating noises some of them can make. Thanks to modern technology of the blades; some squeegees have successfully got rid of that. So, choose one which is the minimal noise producer. Silicon and PVC blades make the least noise.
Mount Types
The mount type of a shower squeegee determines how it will be stored in your bathroom. There are three types of mounts you will come across that are suction mount, tape, and hanging. The size of your shower and your preferences will deeply influence your choice of mount.
Suction Mount
The suction cup is the most popular choice among buyers. They are easy to mount and store. Moreover, they are portable and do not leave any unwanted marks on your shower. This type of mount is replaceable as well. If you have glass panels in your shower, then the suction cup will work best. 
However, the suction cups have short lifespans ranging from 12 to 18 months. So you might have to go through the trouble of replacing them more often.
Tape Mount
Tape mount is an effective choice in case you want your shower squeegee to attach to your shower tightly for a few years. The longevity of this mount type is superior to that of suction cups.
On the downside, you can not move around the squeegee much if it is taped. Moreover, it may leave permanent spots on your shower walls.
Hanging Mount
Mount Hanging mount gives a neater look to your shower, so it is one of the most preferred choices among many. What matters most is that you can easily access your shower squeegee with this mount. There are no worries about leaving spots either. However, the squeegee can often be knocked off which may cause inconvenience.
Size
Usually, the size of a squeegee is defined by the size of the blade. It is an important factor when it comes to cleaning edges or reaching the furthest corners. Blade size can be long or short. While longer blades will allow you more reach, shorter blades will give you more control.
Squeegee blades are typically made of rubber, sometimes also backed by metal or plastic. Whatever size you choose, your choice will be heavily influenced by the size of your shower area and your convenience.
Metal vs Plastic
Shower squeegees come in either stainless steel or plastic finish. Whichever finish you choose completely depends on your preference as the performance is the same for both.
If you don't mind having a bit of weight to your squeegee while lifting, then you can go with the squeegee with a stainless steel handle. The metal handle also eliminates any idea of being cheap. However, falling the squeegee off from hands may potentially cause floor damage or in the worst-case scenario, an accident. So you have to be extra careful with this type of build.
As for the plastic handle, they are completely safe and easy to access. You must not let its lightweight give you the idea of being tantamount to compromising performance. Although the handle may feel cheap, you will have easier timer cleaning just as effectively as a metal handle.
Rust Free
If we are talking about the stainless steel finish of the squeegee, it is typically very well built and rust-free. Make sure the chromium content of the stainless steel is high which can impeccably resist rust. As a result, the handle and blade will stay in top shape even in the wet environment of the shower for a long time.
However, with the squeegee's handle is made of plastic, you will have no issues with rust at all. Thus, in the case of both materials, squeegees are perfectly made to tackle rust.
Weight
The fact with the weight is that its secret lies within the build material. If the squeegee is made of stainless steel, it is as expected, will be heavy. A heavier squeegee will give you a high-quality feel while allowing you to wick away water more effectively from shower walls.
On the other hand, lighter squeegees are typically made of plastic which gives you ease of use. Whatever the weight is, having a shower squeegee is incredibly beneficial. So naturally, it all comes down to your preference.
Ease of Use
As handy as it is, shower squeegees must be easy to use otherwise it will lose points. You would not want to waste time behind sweeping and cleaning continuously. That just kills the purpose of getting a squeegee. The shower squeegee you buy must be convenient to reach and easy to operate. A good shower squeegee does not leave streaks on a clean surface and it sweeps off water and residues in one go.
Versatility
The shower squeegee you are planning to buy must be versatile. What this means is that with a versatile squeegee, you will not just clean shower doors or glasses, you will also be able to use it for other purposes such as bathrooms, car windows, etc. Although it is recommended to use one squeegee for a specific purpose only.
Moreover, the squeegee you buy must look good in any background. Its color design should match well with most bathroom decors.
Longevity
Regarding the squeegee blades, metal blades have a higher lifespan compared to plastic or rubber. They are most durable as well. Plastic and rubber blades have a higher usage rate which reduces the overall lifespan. For a rubber blade, it needs replacement after every 4-5 hours of continual usage.
Fanciness
As an important shower decor, it needs no telling that shower squeegees should look fancy enough to fit your bathroom. It should match the background color while not standing out too much. Compromising the performance is not an option but even from an optional aspect, the aesthetics of your shower squeegee matter as well.
Suction Cup Holder
Using a suction cup holder for a suction cup mount is a good choice. If your shower squeegee has a suction cup mount, it knocks off more often given you're directly installing it to the surface. But with a suction cup holder, the suction cups will stay in top shape for a longer period. There are various styles of suction cup holders for you to choose from. You should opt for the one that suits your taste.
FAQs
Q. What is a shower squeegee?
A squeegee is a tool to clean smooth surfaces like windows, tiles, mirrors, glass wall, etc. Traditionally is T shaped, with blades on the top part and the handle at the bottom. Essential tool for home and also one of nice bathroom cleaning tool.
Q. Do shower squeegees actually work?
Yes, most of them work really well to clean the desired areas. It all depends on the quality of the blade. Higher the quality, higher the performance you can expect from it.
Q. How should I clean mirrors with a squeegee?
First, wet the blade of the squeegee with soap water and then stroke it on the surface of the mirror. When you are finished stroking with soap water, use clear water to soak the blade and repeat the process on the mirror. After that let the mirror dry and it should be clean.
Conclusion
While buying shower squeegees, it's important to take note that there's not much difference in what they are supposed to do, which is cleaning. The best of squeegees can easily make spots disappear. What matters here is that you look out for additional features along with durability and longevity.
Among the above-mentioned products, Oxo Good Grips Stainless Steel Squeegee is a good choice overall due to its wide range of features and easy operation advantage. Another option for you is the HOME SO Shower Squeegee of durability and edge cleaning are your priorities.
The bottom line is that you devise your preferences and study the size of the squeegee and blade according to your intended application area. Studying the products mentioned will undoubtedly get you to the best shower squeegee.