Toilet brushes go though the yuckiest challenges of all other brushes and it's your hand that operates it. Certainly, not a big deal unless and until you know the answers and, perhaps, the "sub-answers" of- HOW?
A toilet brush is a bathroom cleaning tool for cleansing the upper area of the toilet and around the bowl. Along with any toilet cleaner or bleach, it is used to keep the bathroom disinfect, and after using it should be dried and hidden in a secure place. Find yourself in an enhanced stance by knowing how to use a toilet brush correctly.
In Case of Cleaning the Toilet Bowl Perfectly
Toilets brushes are predominantly destined for bowls. Often the scrubbers fail to act singly and cleaner fluids, which are ought to be used, accelerate the task. The steps of cleaning should include-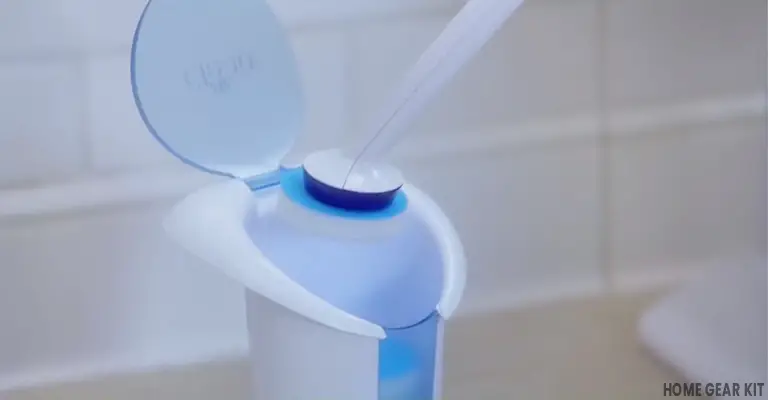 Pouring toilet cleaner in the bowl
You're free to use any cartridge, gel, or capsule toilet cleaner to use that completes your needs. Bear in mind that, gels are a bit abrasive overall while capsules attack more on rubbers. Anyways, pour the required amount into the bowl. The specific measurement varies but, luckily enough, is always written on the container.
Wait for 2 or 3 minutes. In the meantime, the cleaner does its job and kill the germs from your toilet. You can make a natural cleaner of your own using baking soda, white vinegar, lemon juice, or essential oils. Go for these organic solutions, especially, if it seems to you that the ingredients in a soap are not safe for you.
Scrubbing the inside of the bowl
At first, take a toilet brush and thoroughly start brushing the bowl. Then clean around the verge of the bowl, under the rim of the toilet seat, down in the main dent of the toilet. While doing this, you should always focus on scrubbing to clean any dusty areas.
Flushing  the toilet
Now, pull or push the flush, and rotate the brush into the water to clean it as the water flows into the bowl.
To Unclog the Toilet
Toilet drains choke at least once in a lifetime. And while unclogging, a plunger is the most efficient tool. A toilet bowl brush is certainly not enough as an alternative.
If a plunger or drain snake isn't around, lend your ear- wrap the toilet brush with a plastic bag. Then secure it with a rubber band. After that, keep the brush in the toilet and apply a rhythmic pressure exactly how you would use a plunger.
If the wrapped up toilet brush does not break up the clog, there are a couple of other options that you can use to unclog a toilet without a plunger. For instance, you can add dish soap to the toilet bowl as often that will set on the clog and loosen it up. Moreover, bathroom sink unclogging will be as easy as you like.
Note that, we've heard of situations where neither any toilet brush nor a plunger brought forth the required result. you could use a toilet auger or call a plumber as the final resort.
Keeping up Cleanliness of the Toilet
In general, toilet cleaners and bleach are used with the toilet brush. A toilet brush has many uses, but one of the most common is to clean the upper portion of the toilet bowl. In addition, it should not be used for cleaning beyond the U-bend of the toilet or for cleaning the toilet seat. Punctuality reins everywhere; toilets never had been an exception. To complete the purpose of using the toilet brush let some labor-pattern intervene.
Scrubbing the toilet at least once a week
Your toilet should encounter scrubbers or brushes at least at the weekends. This weekly preservation will keep it clean and well maintained. But if you notice that it is getting dirtier more frequently, feel exempt to clean it more frequently by your brush.
Safety Tips
A toilet brush is not a lifetime product. Because of the dirty job done by the toilet brushes, they require regular replacements. However, it's very important to keep the toilet brush well cleaned before it's sat idle for the next round. As long as you can to ensure it gets used to its utmost potential- use it.
It is said to replace a toilet brush every six months. But actually, it may be necessary to replace the brush more or less often than this, depending on how often it's used.
Best toilet brush designs and storage
To use a toilet brush correctly, you first require the right type of brush that is both easy to use and effective in cleaning. This differs between users based on their level of comfort. Some people prefer medium-sized handles and standard brush heads while others choose longer handles for convenience. The handle's material and the quality of bristles are both important, as poorly made toilet brushes can snap mid-cleaning or become warped too soon. Apart from this, proper and vented storage is a must-have to allow excess water to drain away from the enclosed holder. Vented storage keeps the brush dry which is always necessary for correct usage and hygiene.
Enclosed and seamless designs will also keep your least favorite bathroom cleaning tool neatly tucked away in the corner. You definitely want something that is mold and mildew-resistant and will not catch rust easily, otherwise, you will have to buy frequent replacements. Some brands offer toilet brush and plunger combo sets that make a useful bathroom addition – often priced similar to most standalone brushes! If you are looking for suitable toilet bowl cleaning and unclogging tools, consider buying combo bundles that include toilet brushes with plungers. Toilet brush sets might also include replacement brush heads for future uses. The brush and holder options can be available in sets of 2, 4, or more units, so there is always something you can add to your bathroom tool inventory.
Here are some of the best toilet brushes available online, and we have selected them based on good ergonomics and usability to ensure ideal cleaning and vented storage.

OXO's compact toilet brush and canister set is one example of seamless storage, ideal for small bathrooms. The hideaway canister keeps your toilet brush perfectly hidden. It automatically opens when you lift the brush, so you do not need to use your hands to open it. The built-in drip tray comes with vented slots to keep the brush dry and ready for the next use. The stainless steel, rust-proof, and tapered brush head includes durable bristles that enable deep cleaning and help you use this OXO toilet brush correctly and effectively. This is achieved by scrubbing hard-to-reach areas in the toilet bowl, which is further simplified by the ergonomic handle shape.
One major complaint about this toilet brush set was that the canister screws became rusted over time. It is recommended to thoroughly drain the brush water before storing it in the canister to avoid overfilling the drip tray and increasing the chances of rusting.
This toilet brush set from Bath Bliss has one of the lowest-priced options. It features stainless steel and plastic construction that is resistant to rust and fingerprints. The 360-degree brush head is designed to clean hard-to-reach spots with durable bristles. You can store the brush easily in its enclosed holder which comes with a self-closing, vented lid for hands-free convenience. The lid opens up automatically when you lift the brush and closes on its own once you have replaced it. The overall sleek design looks great in any bathroom interior.
There were some common issues among users regarding the toilet brush and holder getting rusted within a few months – despite their stainless steel construction. This often leaves rusted marks on bathroom tiles as well. If you have the habit of replacing toilet brushes more frequently, then this Bath Bliss set will be a good option for short-term usage.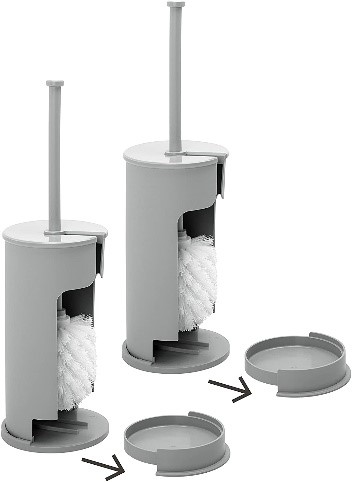 Zenna Home offers a smart toilet brush combination featuring just what you need for ideal toilet cleaning and storage. The set of 2 includes 2 toilet brush holders and 2 spare brush heads – which is generously convenient for future replacements! At the given price, we found this set to be a very backup-friendly option, especially for those who want to replace their toilet brushes more often. To use a toilet brush correctly, you must replace at least the brush head if not the whole tool every few months to ensure proper cleaning and not be slowed down by warped bristles. So, this toilet brush set checks all the major boxes! Its holders have removable drip trays for quick rinsing. The overall plastic construction is sturdy and lightweight and solves the problem of rusted parts.
Zenna Home's plastic toilet brush set will surely outlast most metal alternatives – and keep your bathroom tiles free from rust as well!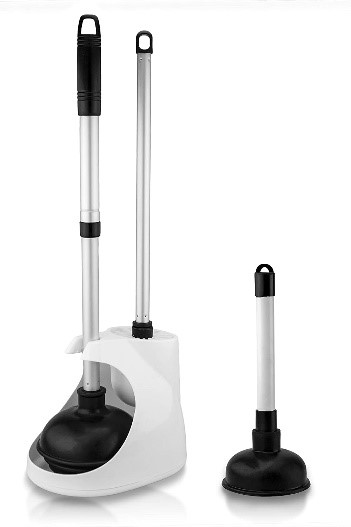 This 4-piece toilet brush set from Neiko includes a toilet brush, an extendable toilet bowl plunger, a miscellaneous mini plunger, and a storage caddy for quick drying. The resourceful kit makes a great bathroom addition for cleaning and unclogging toilet bowls. You can use the mini plunger for unclogging other small drains. The brush includes sturdy bristles to ensure deep cleaning on various toilet bowl surfaces. It is also compatible with toilet bowl cleaners – which is a very important feature if you want to use the brush correctly and safely while scrubbing with cleaning chemicals. The extendable/collapsible plunger has a twist-and-lock mechanism for adjusting the right height during unclogging or storage. This gives the telescopic aluminum handle some extra leverage while in use and helps you work with minimum wrist fatigue. Its universal-fit, 4-step suction cup is compatible with most toilet bowl designs. All the 3 tools have lightweight aluminum handles with peg holes, so you can also hang them for draining water before storing them. Their overall mold and rust-resistant construction is ideal for long-term use and maximum cleanliness.
Apart from some setup/locking troubles with the telescoping handle, the cleaning tools received positive feedback for durability and usability.
Conclusion
As the toilet brush is used for making the toilet's inside and outside clean, the brush itself should be tidy before using it. Here, toilet brush usage instructions aren't rocket science. There just needs a toilet cleaner along with the toilet brush in order to finish the task.
After completing the purpose of using the brush, you have to desiccate it and keep it in a particular space. Thus you can keep yourself away from the dirt of the toilet.