"You need to have a bath every day." – said nobody!
But whenever you do, make sure you emerge a new man (or woman) from the shower.
By that, I mean have a complete shower that cleans you properly.
I know people who'll spend hours in the shower rubbing them endlessly. That's not the point.
The point is to use the best showerhead you can find, follow a specific shower routine, and conserve some water while you're at it. Don't tell me you didn't find the ideal product. Even if you didn't, I found some of the best in the business on your behalf.
I believe my showerhead guide will help people getting the best thing their money can afford. You don't need to do anything special. Just go through my list of showerheads, read about them, and make a choice of your own. Trust me, it's that simple!
Preview
Editors Choice
Best Buy
Nice Pick
Title
Hydroluxe 1433 Handheld Showerhead & Rain Shower Combo. High Pressure 24 Function 4" Face Dual 2 in...
Dream Spa 3-way 8-Setting Rainfall Shower Head and Handheld Shower Combo (Chrome). Use Luxury 7-inch...
AquaDance 3328 7" Premium High Pressure 3-Way Rainfall Combo for The Best of Both Worlds-Enjoy...
Editors Choice
Preview
Title
Hydroluxe 1433 Handheld Showerhead & Rain Shower Combo. High Pressure 24 Function 4" Face Dual 2 in...
Best Buy
Preview
Title
Dream Spa 3-way 8-Setting Rainfall Shower Head and Handheld Shower Combo (Chrome). Use Luxury 7-inch...
Nice Pick
Preview
Title
AquaDance 3328 7" Premium High Pressure 3-Way Rainfall Combo for The Best of Both Worlds-Enjoy...
Topmost Dual Showerhead Choices of Mine
I've been tweaking my shower stall and bathroom for quite some time now. I have my fair share of experience with showerheads of all types. Thanks to extensive research and my time with these products, I came up with ideal choices for my readers that cater to all kinds of people.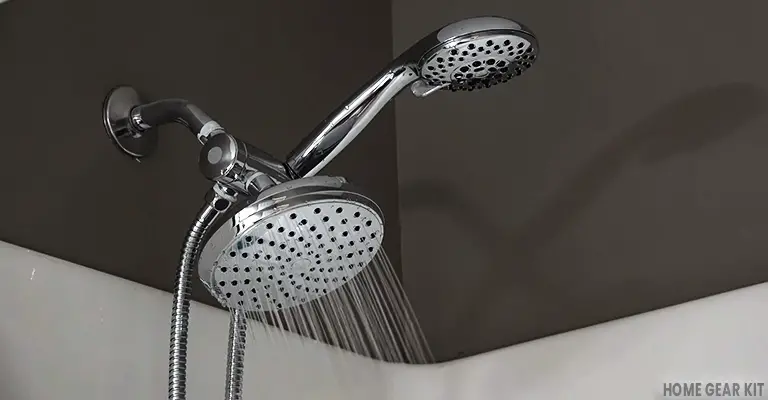 1. Hydroluxe 1433 Handheld Showerhead & Rain Shower Combo
Want some lavishness in your shower? Hydroluxe gives you the option where you can have the benefits of two showerheads in one. The product comes with a handheld version. There's a fixed shower head that makes it rain whenever you want it to as well.
Oh, you can use both showerheads together or separately. The choice is yours!
Installing this thing is no fuss. No tools required! Furthermore, it connects pretty well to a standard shower arm that you may have installed.
As we go a bit deeper, you have five different settings for the piece. I'm talking about five different settings for the handheld and another five for the overhead version. Users can go for different settings on each of the showerheads. This way, the body gets different water intensities as per preferences.
These settings can offer people as many as 24 different water flow patterns. Kids and adults can develop their own shower patterns. Yes, the possibilities are endless!
Staying on "Settings," the five settings are: Power Rain (fitting, as it's a rain shower head), Massage (ideal for night-time baths after work), Stay Warm Mist (gives you the Sauna experience at home), Economy Rain (for areas with low water pressure), and Pulse mode.
I liked how the makers included a 3-zone click lever dial into the design. Thanks to this, the hand shower will stay in place despite people playing around with it. Believe it or not, this simple design will prevent unwanted accidents and showerhead damages because of them.
Need some space to move around while showering? Now you can! Hydroluxe comes with a 5-foot long hose. This has brass "Lock" nuts so that people don't face problems with tightening the thing. The Conical shape makes it secure for users. Don't worry, you'll have all the washers and a plumber's tape along with it.
Wait, there's more! There's a water diverter in place here as well. It moves water in three ways if you want just the one shower working of the two. There's an "Anti-swivel Lock Nut" in place. It keeps the handheld shower in place but the water still reaches all parts of your body.
Further enriching the shower experience, makers built in an angle adjuster for the overhead showerhead. This allows people to get the water to all parts of their body without getting in uncomfortable positions themselves. A small feature with a big impact indeed.
Worried about rust setting in? Don't. Hydroluxe 1433 comes dressed in chrome plating. As we all know, chrome keeps the rust away unlike the iron counterparts of this brand. 4-inch chrome plate overhead helps to improve the flow of the water as well.
The jets you see on the face of the showerheads are super-efficient. As with any other product of this kind, they might get clogged. Thankfully, people can clean them just by rubbing them with a cleaning agent.
2. AquaDance 7″ Premium High Pressure 3-Way Rainfall Combo
Before I go into any details about this phenomenal showerhead, let me tell you… this is one of the top 3 showerheads picked by experts in the USA. This is no joke as the experts tested each of the showerheads independently to see if they match US standards.
Etched that in your mind? Let's move on!
As it happens, this is a "Combo" showerhead as well. That means you'll get a handheld and an overhead showerhead. What makes this better than Hydroluxe is the fact that it has six settings for different types of shower experiences. Yes, as many as six showering modes.
Let's go over them one by one. The rain-style showerhead features three different settings based on this mode of action. As usual, we have Power Rain. This one simulates rainfall in your own shower. You already knew that, didn't you? Rain mist and Rain Massage make up the other two.
Rest of the three modes include power massage (for people who like a gentle feeling), Power Mist (giving you a Sauna experience in the shower), and pulsating massage to stimulate the body. Just to make it clear to you, these six settings are for Handheld and Overhead showers independently.
The showerhead has a 3-way diverter and a built-in bracket. The diverter allows you to alter the flow of water to your requirement or preference when it comes to using either the handheld shower, or the overhead shower, or both at once.
The bracket, on the other hand, makes hands-free operating super easy with its Anti-Swivel Position Lock Nut that keeps it secured in your desired position.
The tool-free connection makes it easy to install and you can do it by yourself without the help of a plumber. Just tighten the three connections by hand and you're good to go. The thing literally fits into any standard shower arm.
All these make the showerhead good enough to be the perfect gift, don't they?
Apparently, The guys at AquaDance think the same. And that's why; this unique and beautiful appliance comes with an equally beautiful gift box that was designed in the US solely for gifting purposes.
3. DreamSpa 3-way 8-Setting Rainfall Shower Head and Handheld Shower Combo (Chrome)
If you're into extravagant showerheads like me, you need to check out the DreamSpa 3-way 8-Setting Rainfall Shower Head and Handheld Shower Combo. Go for the Chrome variant. This ultra-luxury showerhead has everything an ideal shower product is supposed to have, and more. Let me explain.
Let's face it, literally. I mean, let's talk about the face of this thing. The showerhead's 4-inch chrome face makes it the ultimate tool for showering that ensures a steady water flow. This means that the speedy jets of water will not only clean better and faster but also save water.
The hand shower is equipped with 7 settings. They are Power Rain, Pulsating Massage, Hydro-Mist, Eco Rain, Rain/Mist, Rain/Massage, and Water-saving Pause. Let's check out each of these settings and their uses. Oh, and try not to get bored while I talk about them.
The Power Rain mode allows you to wash up fully and properly while experiencing an almost realistic feeling of a rain shower. Don't believe me? All the experts who reviewed this shower think so as well.
The Pulsating Massage mode gives you a relaxing and comforting massage after a hectic day at work or a long journey. This relaxes your muscles and eases the tension in your nerves which will help you get a good rest before hitting the road the next day.
The Hydro-Mist mode makes a beautiful blend of water flow and mist. So that you can have a regular shower and a steam bath all at once.
The Eco-Rain feature ensures you a proper showering experience even when there is a shortage of water. How? The water drops get bigger and cover the entire body of a person thanks to wide shower faceplates that are there. Eco-Rain means you get to enjoy rainfall with minimal water usage.
Yes, you guessed it right! We get to conserve water while using this mode.
The rest of the features, excluding the Water-Saving Pause (if you want a separate mode just to save water, some people do) provide you with different types of water flows and water-mist combos.
The Water-Saving Pause, however, allows you to turn off the shower after using without wasting a single drop of water. But you already guessed it, right?
The angle-adjustable overhead bracket allows you to use DreamSpa showerhead in a hands-free mode without any trouble. The 3-way water diverter, on the other hand, comes with an Anti-swivel lock that sets the showerhead in one place so that you can use it at your ease.
The 3-zone click lever dial is a common feature in this case as well. Yeah, like the others on my list, this little perk found its way here as well. It keeps the showerhead steady while it's running, and the jets can be easily cleaned by a cleaning agent with just a good rub.
The multi-setting handheld shower and overhead shower combo, meaning you can use either of the showerheads or both at once. The stainless steel hose is 5 feet in length and super flexible. One can have some personal space even in a shower stall while taking a bath. Let me tell you, space is precious.
4. Ana Bath Spot Resist Brushed Nickel Anti-Clog High Pressure 5 Inch LARGE SPRAY 5 Function BRASS CONNECTOR Dual Combo Shower
This showerhead is a benchmark on my list of best dual showerheads. It's user-friendly and efficient at the same time. I'll tell you why. Firstly, it's made of stainless steel with a brass connector. This makes the showerhead 100% rust-proof. The material makes up most of the quality this thing offers.
Now let's come to the features. You might have noticed lots of showerheads get clogged up after a certain period of use. Well, this baby over here is well-protected from all sorts of clogging with its unique anti-clog nozzles. No need to worry about cleaning them up now and then.
The 5-function showerhead and the brass ball joints allow you to switch between the 5 functions smoothly and effortlessly. You can go from Rain Spray to Massage Spray to Rain Mix in no time. The large water diverter makes sure it is easy to switch between the modes.
If you're worried whether this showerhead would go with your bathroom interior, then rest assured. This showerhead has a brushed nickel finish. Not only the looks, but this brushed nickel finish will keep your showerhead rust-free as well. So that's one less thing you need to worry about.
Let's take a closer look at the hose. The 5 feet long hose of this showerhead is made of stainless steel, and it comes with 2 brass nuts for a better and more secure fitting.
On top of that (yes, I'm not done yet), the hose is electroplated with a brushed nickel finish. This finish is applied to the hose by coating the whole thing with brushed nickel instead of polishing it with nickel. Looks matter and this little wonder can seamlessly fit into any type bathroom.
The showerhead fits into any standard shower arm, and you can install it all by yourself! Naturally, everything people need is included in the package. Yes, there's a manual here as well.
5. Aquadance by HotelSpa 24-Setting Slimline Showerhead and Hand Shower Combo
This one right here is a unique showerhead and hand shower combo. IF you're looking for a showerhead that would fit into your daily life as easily as it would fit into your shower arm, then the Aquadance by HotelSpa 24-Setting Slimline is just what you need.
The thing is equipped with 5 different settings that offer you different types of flows and combos to go with your mood. These five settings include Power Rain, Massage, Rain/Massage, Water-Saving Economy Rain, and Pause. All these different settings will provide all sorts of water and mist combos to deliver you the perfect bathing experience.
Speaking of combos, you might have noticed that it says 24 settings on the packaging of this showerhead, and they mean it.
This little product from HotelSpa allows you to choose from 24 different patterns of water flow, fitting into all sorts of your needs whether it's a good cleansing after a hike or a relaxing massage to relieve the tension in your muscles after a long day at work.
This showerhead offers you a unique combination of two different features that are the exact opposite.
On one hand, it has the 3-way combo water diverter that allows you to choose whether you want the water flowing from the hand shower, or the overhead shower, or both at once.
On the other hand, there is the anti-swivel lock nut that fixes the showerhead firmly in one place should people need to use it hands-free.
Now if you're wondering how hard and complicated the process of setting this thing up must be, right?
Let me assure you, this AquaDance shower head is designed for a tools-free DIY installation. You don't need to call in a plumber to set it up. Just tighten the nuts by hand and people are good to go.
This thing is not just easy to install, but it's also super easy to maintain.
Cleaning the jets will take just a good rub with a cleaning agent, (like the others on my list) and that's all. You don't need to open the whole thing up and get each part cleaned individually. Saves you a lot of hassle, doesn't it?
The hose of this thing is 5 feet long and will fit into any standard shower arm. It's made of chrome-finished stainless steel and comes with conical brass hose nuts that you can easily tighten by hand. It's time to put that toolbox back on the shelf.
Need more reasons for choosing this showerhead for your bathroom? I don't!
6. Antimicrobial/Anti-Clog High-Pressure 30-setting Rainfall Shower Combo by AquaDance
To be frank, all these different brands and varieties of showerheads look cool and have interesting features and all, but they're mostly lacking something very important. And that is… protection from bacteria. Your bathroom is the place where you clean up.
So, it must be clean and free from bacteria at all times. But even the most competent showerhead out there is prone to growing bacteria due to exposure to water and being moist all the time.
That's why; this new showerhead from AquaDance, the Antimicrobial/Anti-Clog High-Pressure 30-setting Rainfall Shower is here to the rescue. Yes, as many as 30 different settings! Amazed yet? There's more!
The first benefit of this thing that separates it from its counterparts is its anti-clogging nozzle. This particular type of nozzle is made with Revolutionary Micro ban Technology that stops mold, mildew, and bacteria from growing inside the nooks and crannies of the showerhead. 
The nozzles are already clogging-proof and you won't have to worry about mineral deposits building up inside of them, but still, if you want to clean it, it won't be a hassle. The rubber design on the nozzles is really flexible and easy to rub-clean with a cleaning agent.
Okay, I've covered the Micro Ban Protection Technology which is used for making this showerhead, now I'll go on a rant about how this stuff works. Bear with me for a moment.
The technology prevents bacteria, mold, and minerals from building up inside the showerhead and clogging the nozzles. And it does that with the help of the rubber coating that dries off itself after every use and does not let water gather inside the nozzles.
This will not only protect you from bacteria but also ensure the showerhead a long life by preventing rust and dust from setting in.
And the effects of this feature are even magnified by the increased water pressure that not just keeps itself clean, but also helps you clean up faster and better. Believe me, when I say, this will add more pace to your everyday life.
The showerhead comes equipped with a 3-way water diverter that allows you to use the hand shower or the overhead shower, or both, according to your preference.
The anti-swivel lock makes the thing easier to use hands-free. But people know that at this point of the article. The stainless steel hose and all-chrome finish not just makes it more durable, but also makes it look classy to go with a beautiful interior.
The 6 different settings this showerhead offers are Rain, Massage, Mist, Rain/Massage, Rain/Mist and Water-saving ON/OFF Pause. You can switch easily from one setting to the other with the help of its smooth and sturdy 3-way dial.
This showerhead will send your plumber on a long vacation with its easy installation and cleaning process. I bet you're laughing inside. But trust me, people won't even need a tool to properly set it up. Just tighten the nuts into your shower arm, and voila! You're all set.
Oh, and cleaning this is also easy as hell. You just give the jets a good rub with a cloth soaked in the cleaning agent.
Things You Should Keep In Mind While Choosing a Showerhead
If you're still not completely satisfied with my recommendations for the best dual showerheads considering every little aspect of your habits and want to explore some other brands and models, here are some things that you ought to keep in mind.
A little off topic that – what type of shower base is good for your home? Read here in detail.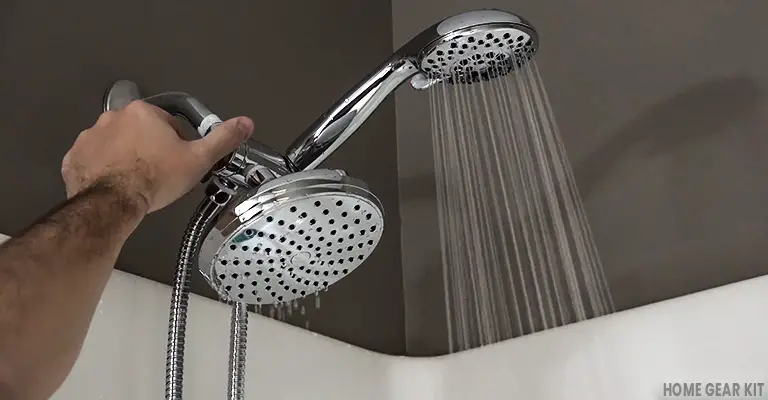 Get a Fix on the Type of Shower Head You Want to Buy
There's a wide range of varieties out there in the market. Some come with a limited set of features, while others offer you much more than a regular showerhead would. What type of showerhead you choose will affect your bathing experience, so you better choose wisely.
You'll find items that swivel, others will stay stationary. Some of the products do both (which I favor). One can go for high-quality items that conserve water (more on this later). Again, you're free to make your own choice that coincides with your budget.
Materials You Need to Look into
One of the major factors the buyers should be considering when choosing the top dual showerhead is what it's made of. Trust me; it makes a huge difference here. Not just the showerhead itself, but also the hose, the nuts, and everything in between should be made with a material that does not rust
Ideally, people want a product that lasts for a while before giving upon them. There are a lot of materials used by different brands to make showerheads. For example, there's stainless steel, bronze, brushed nickel, and many more. 
Stainless-steel shower heads are the cheapest. You'll have Chrome showerheads that don't rust. Bronze and brass allow your product some durability and make it classy at the same time. Choose the product that provides you maximum benefits while contributing to the aesthetic of your shower stall.
Water-efficiency is One Thing to Consider
Now is the era of climate change. Naturally, saving the environment while dealing with the change comes first. Conserving some water while we clean up ourselves is just a small but meaningful step towards it.
So, whatever you're buying, try to make sure it is as good to the environment as it is to you. And showerheads are no exception. Whatever brand or type you choose, always look for the ones that are water-efficient. This will not only be good for the earth but for your pocket as well.
Consider How Long It Takes for You to Install This Thing
Installing bathroom appliances can be a hassle, and if you do not choose wisely, all the work will go in vain. Choose the showerhead that would be the easiest to install and maintain, and you will be saving a lot of your time, energy, and money.
Features and Benefits Play A Vital Role As Well
With the advancement of modern technology, every single tool or appliance out there is getting more and more packed with features. Showerheads are also following suit.
There are all sorts of showerheads with different kinds of features. Some are single-setting and some have multiple settings to deal with.
Few brands have a built-in jet and temperature control, and with others, you have to do everything manually. It depends on your requirements and preferences. I'd advise you to make a list of your features and choose the model you think matches the most with your tailored list.
Keep an Eye on the Price
When I tell you to look for the showerhead that would deliver you your money's worth, I don't mean that you should spend a lot on a product just because of its brand name, or go cheap to save money.
What I mean to say is that you should do a quality-to-price ratio and try to abide by that. So you should always consider whether the product delivers the performance that meets up to the price it comes with.
Remember, the more money you pour into a purchase, the sweeter your deal will get. If you want a high-end product, you'll have to cough up some bucks for it.
At the End of the Day
Showerheads are one of the most important yet the most neglected thing in our bathroom. While we use them every day, we don't give much thought about them until we have to buy one.
But you know what? That's what a good showerhead is supposed to do. You should be able to install it and forget about it while it quietly goes about its business. I hope this write-up helps you choose the best dual showerhead to meet your demands. It took me some doing to come up with a customized list of my own.
Naturally, there are thousands of products out there on the internet. A specific product won't satisfy everyone. That's where my buying guide comes in! Delve into it and match up the factors against your choice of product to see if you've hit a jackpot with your purchase or not!