Most average bathrooms are very small spaces compared to other rooms of an apartment. So it is less likely that it will contain an extra door or coverage for the shower space. But not having any coverage for the shower space can become very messy.
When you are having a shower the water sprinkles will spread through the whole bathroom floor making it dirty and wet. The solution for this can be a shower curtain. A shower curtain prevents water splashing far outside the tub.
Getting a shower curtain is very easy, but the decision for which rod to put on can be a perplexing system. There are different kinds, shapes, and sizes of best shower curtain rods available at both stores and online. But the thing is that the one that considered as best for others may not even fit as an average rod in your bathroom. The possible reasons are the interior, hardware and personal need vary from person to person. To find your ideal shower curtain rods you need to gain some basic knowledge about curtain rods and compare them with your needs.
Best Shower Curtain Rods Review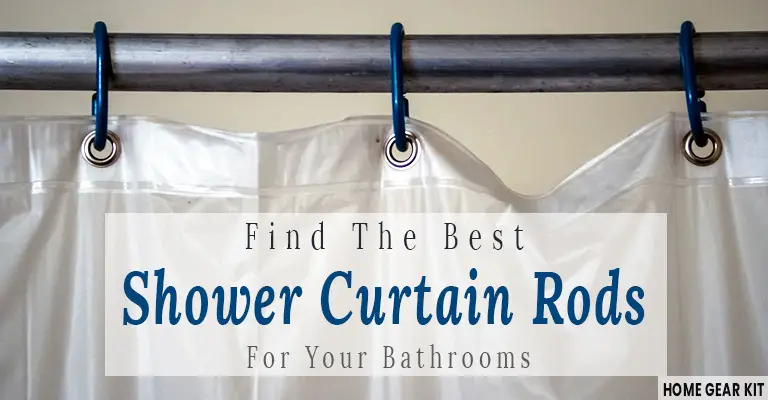 There are many different brands available that will promise you to serve the best shower curtain rods. But the point is that are they actually the best kind of rods? The answer can be both, very tricky and confusing. To limit the confusion, features of some popular rods from different brands are described below along with there downsides; if they have any.
1. Bino'Versailles' Shower Best Curtain Tension Rod
It is very easy to set up. It doesn't ruin your wall while you are fitting it. You have to twist the lock to tighten it in place. It can fit in an opening range of 42 to 74 inches. It is made of steel and brushed with nickel, so it is very durable. The design is very nice, has an expensive look. It almost matches every bathroom wall color. It is heavy and durable. The grips hold it to the wall very tightly. It is very sturdy.
If it is installed in a painted wall it can pull off the paint at the place where it sticks. The pulled paint is only visible if you have moved the position of the rod. It is quite possible that it won't fit tightly in a tile surface, the pads won't get to make a tight grip on it. As it is a tension shower curtain it is expected to fit best on painted or non-tile surfaces.
The real users say its the best tension shower curtain rod.
2. Zenna Home 771SS Tension Bathroom Shower Curtain Rod
It is a very good looking shower curtain with decorative ends. The rods are made of steel with non-marring end caps and chrome finishing. Each of the curtain rods is adjustable to a standard size bathroom which is 44 to 74 inches. It does not require any drill or other kind of tools for the installation.
It consists of a twist and a tight installation system. It is very easy to set up, you will have to just extend the rods and twist it to tighten with the wall. This rod can hold up to 30-pound weight and works for every standard size curtain rings.
It is very strong and sturdy. Looks very beautiful. The spring tension is not good enough, they don't stay up tightly for a long time. The rods are not durable enough. Some reviews also informed that the rods are made of plastic instead of steel. The extension might not work as well.
3. BINO 'Doric' Shower Curtain Rods
It is also made with a twist and turn installation system. This shower curtain rod is very easy and quick to install; you won't need any tool or drill for the setup. You will have to just twist, tight and lock it in the desired place. It can fit an opening of 44 to 74 inch. It is very strong and made of steel with chrome finishing.
It is sturdy with beautiful finishing. The transmission between the two pieces of the rod are less visible, so it has a good finishing and appearance. It stays tightened up in the wall very well without slipping or falling due to extra weight or curtains.
The rods will get covered with rust very soon after it gets wet. It might damage the painted surfaces by scuffing the paint from the wall. Otherwise, on a tile surface, it will work perfectly fine; it does work best on a painted surface except for the damage.
4. Bath Bliss Expandable Best Curved Shower Curtain Rod
This curved shower rod can expand your shower room up-to 10 inches. This rod can expand up to 72 inches. It has chrome rust free finishing which makes it more appealing and durable at a time. It approximately looks good with almost any kind of surface or shower. The rod is very easy to install, the installation consists of stew mounted hardware.
The finishing is done with bronze and weights really light.
It will hold a shower curtain very effectively. The instructions given are not clear enough you would require a lot of research before you can install it properly.
The metal of the rod is very thin, so there is a great possibility it will bend very easily. The end caps are poorly formed, so they don't fit properly. It hinders the curtain from gliding back and forth.
However, I call it the best curved shower curtain rod.
5. Zenna Home 35633HBP
It is a tension curved curtain shower rod. You will have to place the rod your desired position and twist and tighten it. And that's if you have completed installing it. You won't require any tools or other devices to install it, it is very easy and hustles free. It will add extra elbow space of 6.5 inch, which is it will make your shower space feel more bigger.
The rods are durable rust free, you won't need to worry about getting another one soon after the installation. This rod is perfect for 62 to 72 inches tubs but also applicable to 50 inches tubs also. The rod is made of aluminum, so it is very light to hold and makes installation very easy and comforting. It will fit into the opening of 50 to 72 shower opening.
This rod is not very good at holding tension because the screws are not built well. It is very sturdy and looks nice in any bathroom. It damages the paint where it is tightened. You will require one more person helping you to install the rod.
6. Best Shower Curtain Rods for tile
It is an adjustable shower curtain tension rod. You can adjust the rod according to your desired length. It can be adjusted to a range of 40 to 72 inches. It is made of iron. The colors available are very attractive and fashionable with any bathroom wall.
The construction is made very strong and durable. The caps are made of steel and contain rubber at the end to protect the tile or painted surface from unexpected stains. You can get matching hooks with these rods separately according to your choice.
This curtain rod holds curtain very well. It is very strong, it doesn't struggle or sag with a load of the curtain. The tension system of this rod is unlikely to work on a ceramic or tile surface, it might slip very often. It is very sturdy.
7. Ex-cell Shower Curtain Rod
This rod is adjustable from 42 to 72 inches. This rod will increase the room or elbow space of the shower by 10 inches. It is very easy to install and adjust. You can clean it using a wet cloth in no time. All hardware is included in the package. It is very lightweight.
Unfortunately, it can rust very easily. The curved design is very nice and the installation is very easy. It includes wall anchor if you are securing it in drywall without a stud. The metal is of good quality and looks really nice also. Nearly all curtain rings fit into it.
How Do I Find the Best Curtain Rod for My Bathroom?
Before you buy shower curtain rods you should keep some important key knowledge into your mind. These key points will let you buy the best shower curtain rods for your bathrooms.
Rustproof
Before you buy a shower curtain rod make sure the metals are of very good quality. And the metals are covered with a layer of rustproof materials. The rods should be resistant to rust;
this feature is very important because shower curtain rods get frequent contacts with water so it should be rust proof. If the rods are not rust proof it will look very unattractive and if may also stain the curtain hooks.
Strong Materials
The material under the rust-proof layer should be strong enough to make it last longer, like iron and steel. If the materials are not strong enough, it might get bend with the slightest overload or you may not get able to hang your favorite curtains which are little weighty than normal. And sometimes you may also need to hang wet cloths over the rods, it will disable that opportunity too. So always buy the rods made of good and strong materials for long-lasting durability.
Design
The design of the rods should be attractive too and should obviously match the background bathroom walls. Once you have installed a shower rod, you will expect it to stay there for at least 2-3 years. You won't want those mismatched rods for so long time. Make sure the color, texture, and design of the rods would look fashionable with your bathroom decor.
Sizes
Before you go to a store or order online, always take the measurements of your shower space, so that you can buy that perfect shower curtain rods at first chance. Although there is easy return or changing options available almost everywhere, keeping the measurements will save you some time and energy you would invest in buying the second one.
Easy To Install
If you have customized the shapes and sizes of the rods, it is very common that you will have to install with a professional. Customized rods are usually fitted to the wall by drill system.
But if you buy a ready-made tension rod you can easily install it all by yourself. Before you get yourself a ready-made rod make sure the installation system is easy enough to carry out by a single person.
Quality of the Pads Are Good Enough
If you are buying a shower curtain tension rods, make sure the pads provided at both ends are of good quality. The pads insure whether the rods will stay in their hanging position or not. So choose very wisely.
Double Rods
Described above shows curtain rods are also available in double rods system. The advantage of this double rod is that you can hang different curtains at different rods, the rod will become strong enough to hold wet or heavy cloths. You can also hang a curtain liner at the outermost rod to prevent the actual curtain from contacting with toilet seat which is located very close to the tub or shower space.
You will be able to buy the best shower curtain rods for your bathroom if you keep these simple things in your mind before buying them.
Different Shower Curtain Rods
The shower area and the tub varies in different sizes and shapes in every bathroom. So the curtain rods for them should be formed in different sizes also. You will get to find straight curtain rods, curved curtain rods, and track rods. Interestingly you will also find a range of differences in these three diversified forms itself.
Straight Shower Curtain Rod
It is a straight long curtain rod. The length of this curtain rod usually varies from 42 to 72 inches which are the length of an average shower space in a bathroom. The rods will be expandable, you will have to expand the rod according to your need and install it. You can also get double straight rods for your bathroom. This kind of rod comes with double rods which form to look like a single rod.
The advantage of this kind of rod is that it can carry more weight than a single rod. So you can easily hang wet clothes, towels or any heavy curtain of your choice. Another advantage is that you can hang fancy curtains of different kinds of two different rods. Or if your toilet set is located very close to the tub then you can place a curtain liner at the outermost rod.
Curved Shower Curtain Rods
The name says it all. This is a curved curtain rod specially designed for bathrooms with small shower/elbow space or with curved tubs. This seems impossible but it actually can make you feel that your shower room or elbow space has increased after you have installed it. It also varies with a length of 42 to 72 inches, most curved rods can also expand up-to 72 inches. Curved shower curtain rods are also available with double rods. It will let you place heavy or wet clothes hang over it.
Track Shower Curtain Rods
Track rods are available in different sizes and especially shapes. Like U-shape, D-shape, O-shape, square, rectangle etc. More specifically these track rods are designed for claw foot tubs or different combinations of shower place.
These are actually hook-free shower rods, you will just have to attach the curtains with the rod gliders without any shower rings or hooks. You will choose the shape of the track shower curtain Rod according to your shape of shower space or tub.
L-Shaped Shower Curtain Rods
This L-shaped shower curtain rod is usually used in for the shower which is located at the corner. The two sides of the shower space will be covered with walls and the other two sides with the shower curtains hanged in the L-shaped shower curtain rod.
Tension Shower Curtain Rods
Tension shower curtain rods are designed to hang it using the friction or tension along the walls. Special pads are provided at both ends to make the hanging system more strong. You won't require any tools or any other devices to install it. Won't need to drill the wall or damage any of the walls. You can single handled install it very easily. But the downside is that you have to hang a lightweight curtain so that it stays in place. This tension curtain rod is more appropriate for painted or other surfaces except for tile. This kind of tension rod will slip down very easily on a tile surface.
Customized Shower Curtain Rods
You can also customize the desired length and size of your curtain rods for the bathroom. There are many stores available which will offer you this opportunity. You will just need to bring them the exact length and the shape of the shower or tub, they will be able to make you the perfect shower curtain rod for your bathroom, you also have the opportunity to choose the material you want. But this process for getting a shower curtain is little more costly than buying a ready-made one.
Circular or Carousel Shower Rods
This kind of rod is offered with one or two ceiling rods which support the rod and the ceiling rods are angled perpendicularly. The rod that hangs the curtain is shaped like a circle or a rectangle. These rods are used for stand-alone claw foot or a slipper tubs. Sometimes it is also seen in the outdoor shower like in a beach house.
What Type of Shower Curtain Rod Is Best for You?
It is very logical and common that not every kind of curtain rod will not look good or even fit on your bathroom wall. So you always have to choose wisely and patiently to get that perfect and best shower curtain rod for your bathroom. First of all, you have to decide which kind of rod you want.
For a tub or shower space in which three sides are covered with the wall, you will either choose a straight curtain rod, curved rod, a double straight rod or a double curved rod. The consequences for the straight or double straight curtain rods are that, you fit it too close to the tub you may at a point feel disturbed for the constant contact of the curtain and your body. So you can choose to install it a little far away from the tub to increase the space. But if you don't have any space in the wall to install it far from tub than a curved curtain rod is perfect for this problem. You will also choose a curved rod if your tub is curved.
If you have a shower space at the corner of the bathroom you will choose the L-shaped curtain rods. Or you can also choose the rod which looks like an L-shaped but doesn't have any sharp angle like L, which will make you feel that space has increased.
If your shower space is located in the middle of the wall, you can choose the U-shaped curtain rod. And if it is located in the center of the bathroom a circular or carousel shower curtain rods without any supporting rods. For bathtubs of different shapes and sizes located at different locations of the bathroom, a track rod is perfect.
Straight vs. Curved Rods
There is no need to describe how a straight shower curtain rod works. It is very simple and everyone is very familiar with these rods. It is a straight and long rod that spreads evenly from one wall to another. But a curved rod has brought a new dimension to this simple and classic straight rod. Curved rods are blown out at the middle.
This feature instantly brings extra elbow space to the shower room. And doesn't let sprinkle of water to spread on the floor. You can also find rotating curved rods. When you are taking a shower, you will rotate the blown out of the rod to make the shower space look bigger. And rotate it back toward the shower room will make the bathroom space for better convenience.
How to Find Perfect Length Rod for Your Bathroom
Measure the length from one end of the wall to another; more specifically the point from one to another where you desire to put the curtain rod. Then buy a rod which is 1- 1 ½ inch longer than the measurements you took. Because the measurements you took will not be 100% accurate, so you will have to buy the rods slightly longer than you recorded the length. And if it is a tension rod than buying it little longer will make it stay up very tightly.
Conclusion
Whether you choose a straight, curved or track shower curtain rod make sure it actually fulfills the need for which you bought them. And also matches with all the hardware and the background of the bathroom. Choose very wisely and patiently, as a wrong choice will be both frustrating and embarrassing.
Referances: