The toilet is one of the most important parts of our house that no one can deny its existence.  We must apply the most effective technology as well as effective toilet hacks to get more comfort at less price or cost. 
The common tendency of people is to allocate less space for toilets and since the cost of city water is increasing day by day people also tend to reduce the consumption of water.  To meet both of these requirements, KOHLER has brought Wellworth series toilet.
KOHLER Wellworth toilet is designed to occupy less space and to consume less water. Apart from these two significant characteristics, KOHLER has other extra-ordinary features also that will like so much.
If you have a little knowledge about the top-ranked toilet brand, you must know that KOHLER always ranks among the top 5 toilet manufacturers of the world.  Among their so many amazing products today we have picked their KOHLER Wellworth toilet for your review.
6 Top Features of KOHLER WEllworth Toilet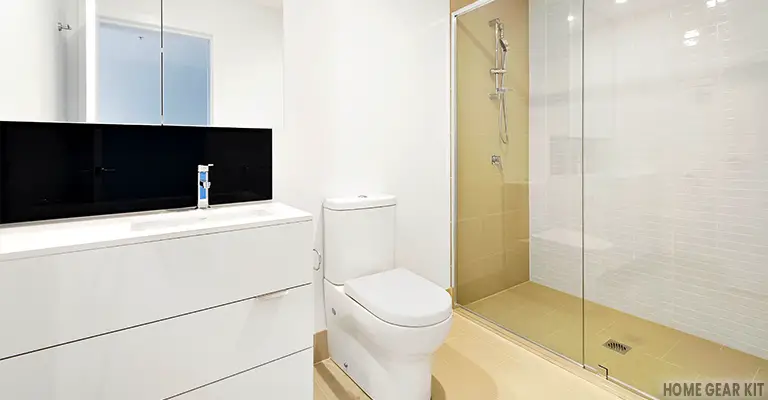 1. Construction Material and Design
The design is one of the most important parts of any product. When common people see the design generally they only see the shape or carving but to engineers design is much more than this. KOHLER engineers always pay high attention to the ergonomics in their toilet design as well as in the aesthetic beauty.
KOHLER Wellworth toilet is a two-piece toilet (where toilet bowl and tank comes separately) having a round shape front bowl. Vitreous china which is a high-quality ceramic material has been used for the construction of KOHLER Wellworth Toilet.
The whole body is glazed and so it adds a new gorgeous dimension of beauty in your bath and powder room.
2. Dual Flush Technology
Dual flush technology has been incorporated with KOHLER Wellworth toilet.  An innovative two-tone flush lever included on the side of the tank for an easy flush. Since the top portion of the tank is kept free you can use it to store toilet paper or any other purpose.
 The dual flash technology offers the user to choose either spending 1.1 or 1.6 gallons of water per flush. By choosing the high-efficiency 1.1-Gallon flush helps to reduce the consumption of water by more than 30 percent over the 1.6-gallon mode. Consequently, it adds up to potential water savings of more than 40000 gallons per year.
3. Class Five Flushing Technology
KOHLER Wellworth Toilet ensures extra-ordinary bulk flushing performance since KOHLER engineers have been incorporated class five flushing technology in it.
As you press the trigger the extra-large flush valve releases water directly combined with a direct fed. So, you do not have to be worried about bowl cleaning at all. The class five flushing technology of KOHLER will take care of it.
The canister valve release water from the entire 360-degree angle with good water pressure for proper cleaning. You do not have to be worried about leaking at all. The canister has 90 percent less exposed seal material compared to a standard 3-inch toilet flapper.
Since only a little portion of the area is exposed to the tank water the universal seal lasts longer.
4. EPA Certification
The toilet has been manufactured by maintaining EPA flushing guidelines. So, if you pick it for your toilet and powder room, you are using an environment-friendly toilet.
5. Easy installation
KOHLER Wellworth has been designed for easy installation. If you want you can take help from a plumber to install it but you can also do it by yourself reading the manual. Many customers have found it easier to install the KOHLER by them.
Three bolt installations are the perfect choice for this kind of toilet because it will help to prevent toilet running problem. The DryLok Fast Install system of KOHLER Wellworth toilet ensures a leak-free and foolproof installation.  You just need to grab a socket wrench for tightening tank to the bowl.
6. Cost
Comparing to the features and benefits the KOHLER Wellworth toilet offering to its customers, its price is very reasonable.  The common mistake people do while purchasing a toilet is that they only look for the initial cost but the toilet is such a product that also creates cost after purchasing.
So, in a deep sense, KOHLER WellWorth is cost saving toilet because it saves your money by saving water at a great extent. Moreover, if you install it by yourself you do not have to pay to the plumber. So, KOHLER Well worth is a money-saving toilet without any doubt.
Pros and Cons
Let's see the pros and cons of KOHLER WellWorth at a glance:
Pros
Dual flush system
Class Five flushing technology
Water efficient
Trip lever for easy flushing
Durable canister
Wide flash valve
Ergonomic design
Easy to install
Easy to clean
Multiple colors available
Cons
The seat does not come with the product
Noisy flushing system
Other great toilets from KOHLER are KOHLER Santa Rosa and KOHLER Cimarron.
Conclusion
KOHLER WellWorth is a perfect choice for small bathrooms and powder rooms. It saves your water and consequently saves your money. 
Once you installed it properly it does not require much maintenance. So, it does not take your valuable time too for maintenance.
Surely you'll also appreciate the Saniflo Macerating Toilets too.