Macerating toilets are unique compared to other toilets since it uses a unique and advanced waste management technology.  If your residence is away from your main drain line macerating toilets are the perfect choice for you.
Most toilets use the sewer pipe to transport waste to the drain, whereas macerating toilets use a macerating pump to break down the waste and then flush the liquid slurry through the system.
Saniflo is the world's top manufacturer of the macerating toilet. And our today's topic of discussion is Saniflo Macerating Toilet. We have picked Saniflo 023 Sanicompact toilet of macerating series for reviewing today.
Top 7 Features of Saniflo 023 Sanicompact Macerating Toilet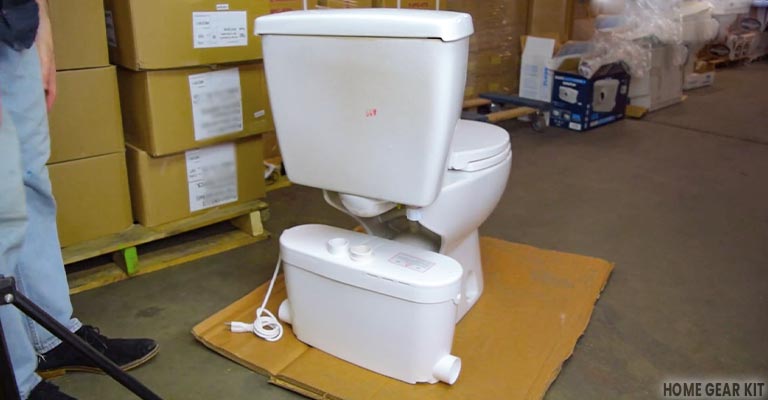 1. Construction Material
Saniflo has been used high-quality Vitreous China polypropylene ceramic material to manufacture their Saniflo 023 Sanicompact Macerating Toilet.
The toilet seat and the seat cover are made of plastic material. Among the different types of toilet seats, both regular and elongated toilet seats are available. Chrome hinges have been incorporated with this for smooth operation.
2. Size and Shape
Tittle of this model expresses that it is a compact toilet unit. If you have not understood yet, I would request you read the title again- "Saniflo 023 Sanicompact Macerating Toilet". The word "sanicompact" reveals that it is a compact toilet unit that means it is ideal for fitting into any tight bathrooms.
This floor mounted toilet has an elongated shaped bowl. Like a conventional toilet, it does not have any water tank at the rear part. This smart and ultra-modern toilet unit has a built-in flushing mechanism that runs by electric power.
So, if your bathroom is not spacious enough for a conventional sized toilet, Saniflo 023 Sanicompact can be the best choice for you.
3. Design
The smart and ergonomic design of sanicompact 023 is commended by most of the customers. The saniflo engineers have been designed by keeping in mind people with physical limitations. Saniflo's ergonomic design allows easy access to the toilet to these physically handicapped people.
4. Color
The candescent white color of sanicompact 023 toilet unit adds a new dimension of elegance in your bathroom.  It also gets adjusted with the bathroom of any color.
So, if your bathroom is of any other color except white color does not worry, Saniflo will beautifully match with that color.
5. Flushing System
It uses gravity force for flushing. The flushing mechanism and the macerating pump cycle work automatically; the user just has to press the air switch located on top of the bowl.
The flushing mechanism is electronically timed and once the air switch is pressed the toilet fills with 1 gallon of water and this together with the waste is drawn through macerating blades and pumped out through the waste pipe. Moreover, It can handle the effluent from both the toilet and the sink.
6. Easy Installation
The SANICOMPACT has been designed for easy installation. A discharge elbow located at the back of the SANICOMPACT can be rotated at a 360-degree angle and it has enabled the toilet unit perfect to be installed in many locations.
You can install it on the upper floor, ground floor, basement, and even a garage. If you want you can install it under the stairway for a half bathroom or an additional half bathroom in a bedroom.
En passant, there is a non-return valve assembled on the discharge elbow that prevents any backflow into the unit.
7. Certification
This toilet unit is certified by the CSA (Canadian Standards Association). So,  it can handle the effluent from a toilet and sink, it is a standard toilet for green-conscious users.
Let's see the pros and cons of Saniflo 023 Sanicompact Macerating Toilet at a glance:
Pros
Compact size perfect for narrow bathroom
Perfect for physically handicapped people
Water-efficient
Fits any kind of installation requirement
The forced main unit does not need to be vented.
Cons
Complex installation process
Noisy motor
Expensive
Wrap Up
The mechanism of the functionality of a macerating toilet is quite different from a conventional toilet. It is designed for particular circumstances where a conventional toilet does not fit or its usage is costlier. 
The durable and strong Saniflo 023 Sanicompact Macerating Toilet is dominating the market of the macerating toilet.  It comes with the complete kit and so you do not have to purchase the toilet seat or anything else separately to complete the unit.
Also, read – KOHLER Wellworth Toilet Review