A traditional toilet isn't a viable option at a campground or remote park, as they lack a waste removing system. To overcome these problems in a remote location, where water is not readily accessible, the vault toilet plays an important role.
A vault toilet is a solution for those campgrounds or remote parks that don't have access to water. To provide a hygienic-sanitary system and odorless restroom experience, the vault toilet comes with a unique design system. Besides, it's easy to maintain and affordable.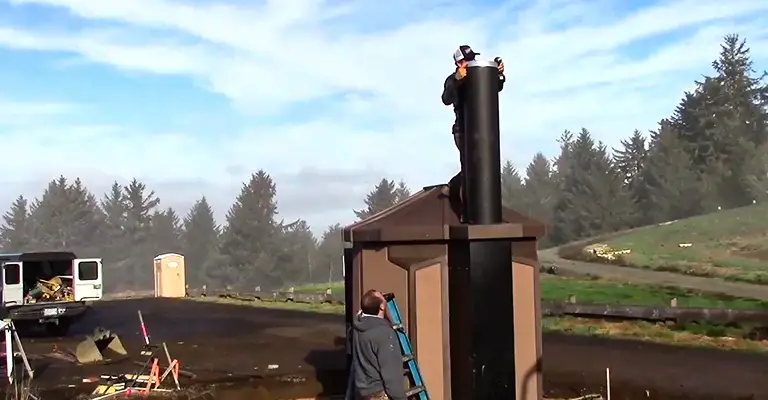 What is a Vault Toilet?
Vault toilets are odorless and waterless restrooms. It's a modern version of the pit toilet and way more comfortable to use. This type of toilet differs from any standard american toilet. It is installed in areas where water is not easily accessible, like parks and recreational spots, campgrounds, and other public spots.
Vault toilets are non-flush toilets with a sealed container (vault) buried underground to receive the excreta. The vault size varies from 750 gallons to 13,000 gallons. These vaults are required to be pumped out periodically, and the waste is hauled out to municipal wastewater treatment plants.
Vault toilets are made from the wood frame, cross-linked polyethylene, or reinforced concrete. These toilets can be unisex, single, or double vault systems. Concrete vault toilets are highly durable, and the cross-linked polyethylene-type vaults are most widely used as they are easy to transport.
The U.S Forest Service invented this odorless and cost-effective toilet. The toilet meets all ADA regulations for restrooms and user needs and is easily maintainable. Moreover, vault toilet cost remains under control.
In addition to that, they are odorless except when a strong wind is unavailable. You can move around it without worrying about inhaling the stinky air.
What is a Waterless Toilet?
A waterless toilet differs from a conventional toilet as they don't use water to flash. These characteristics make them more environmentally friendly and save water costs. Waterless sanitation systems don't use water to transport or treat waste. The Japanese toilet, too, differs by nature.
Moreover, these toilets consume minimal energy and can be an excellent alternative to the conventional water used sanitation system. These waterless toilets reduce pollution and can be constructed easily.
Mechanism of Vault Toilet
Vault toilets have a container that is buried underground. A concrete slab is placed on the top of it to keep it stable. The vault is put in a sloped position to allow the waste to drain down easily. A structure that connects the vent pipe and toilet is placed on the concrete slab.
The waste stays underneath until the municipal council pumps it out from the vault. As that waste remains inside the vault, they may cause bad odor inside the structure. To eliminate this problem, the U.S Forest Service comes up with a creative system that eliminates these bad odors.
The system relies on some factors to make the vault toilet odorless. The wind is necessary to carry away the stench. When air is allowed into a building, it increases the air pressure which creates a forced pathway for the air to exit into a less pressurized environment, which releases the stench.
If there is no wind, the stench may gather around the toilet, which will spread to nearby places. The other factor is the design relies on sun warming. When the vent is heated, the stench is quickly forced out as we know hot air rises. In case of cloudy weather or when the sun rays get obstructed by trees, the stench will remain inside.
To get the desired odor-free restroom, place vents around the restroom walls, which will allow more air inside the structure. Besides, construct it in a place where sunlight is directly available.
Vault toilet maintenance
As discussed under the mechanism of a vault toilet, heat and proper ventilation are both important to manage odors in the toilet booth. Vault toilets are best suited to natural environments because of their off-grid style of construction. They do not require electrical and water supplies, which greatly reduces the amount of maintenance needed. However, while it is simple to maintain a vault toilet, regular cleaning and waste management are crucial parts of complete maintenance. In general, such toilet booths rely on tall vents that rise above the roof for ideal ventilation. This helps manage odors, and as we know now, good airflow from the outside will speed up ventilation inside the booth. Combined with sunlight and its heat, the overall effect will carry away odors efficiently.
Other maintenance and odor management steps can be taken to keep the interior as odor-free and usable as possible. Some vault toilet cabins use vent flames to burn and eliminate the released fumes. Fixed or non-mobile vault toilet booths often have longer underground pipes that carry waste away to another location for easier waste management. Organic fillers and activated carbon can be added to the toilet waste for neutralizing odors. So, these are some good alternatives in case sunlight and heat are not an option depending on the weather.
Since vault toilets are not flushed with water, they need to be cleaned and washed regularly to maintain hygiene and usability. In high-traffic areas like carnivals, parks, and other public places, proper maintenance through frequent cleaning and waste removal will help prevent clogs in the toilet. This in turn minimizes odors and keeps flies and other insects at bay as much as possible – though you cannot entirely escape insects in natural environments. Recreational spaces that have vault toilet cabins rely on frequent maintenance to keep the booths functional, clean, and ready to use. This is important because if the cabins are left ignored for too long, the odors can diffuse into the main festival or park areas very easily.
Vault toilets are also the best options for people who love traveling in RVs, camping, hiking, and enjoying outdoor recreation. So, these booths are strategically located for easy access and require maintenance based on how frequently they are used in those locations. Once the waste tank is full, the waste will be sucked out using a pump and carried away in municipal trucks. The cabin will generally be closed to the public during full maintenance and waste removal. It is important to follow some basic precautions before using a vault toilet, such as not throwing trash into the tank. Toilet paper and other trash can clog the vault toilet and hinder the pumping process during waste removal. A blocked or clogged tank can also cause the toilet to break during the pumping stage because of the added pressure it creates.
When the vault toilet is first installed, it is sealed properly to prevent leaks and gas buildup. For this reason, there is usually a different outlet for the pump to get in and remove the waste so that the maintenance teams do not tamper with the actual sealed parts.
Vault Toilet | Benefits
The vault toilet includes these benefits: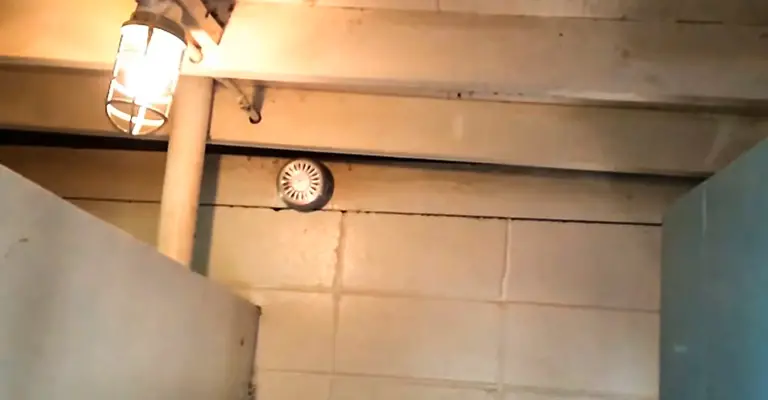 Privacy of the User
Vault toilets are constructed in single units and are self-contained. Which means only one person is allowed to use it at a time. This feature includes the user's required privacy for using restrooms.
Easily Maintainable and Affordable
Vault toilets are cheap to construct so that it can be easily affordable to any countryside or backcountry area. These toilets are also easier to maintain than other conventional toilets. By disposing of the waste regularly will keep the restroom clean and usable.
Transportable
Vault toilets made from plastics are easily transportable. This means these toilets can be used in multiple locations at different times. It can serve at various events and festivals for this feature.
Advanced Features
Some vault toilets come with advanced features such as battery powered light attached to them which will help you in the dark. Among the lighting options, top lights bulbs including bathroom vanity lights are quite the nicest of all. Many of them collect and preserve rainwater, which can be used later. They also come with dispensers for disinfecting the toilet after use.
Cost-Effective
Vault toilets are non-flush toilets, which means there is no need for water. This makes the toilet more economical as installing running water equipment will increase the cost. Again, some of the remote areas where there is limited or no water supply, this toilet will be a great option as it doesn't require any water.
Vault Toilet | Disadvantages
Though the vault toilet has lots of advantages, it still has some issues, which will be a matter of concern.
Vault toilets are waterless toilets, so they require scheduled maintenance.
This toilet requires heat from the sun to prevent odor, which won't be available on a rainy day or in a crowded location.
It also depends on the proper ventilation system for a stench free environment.
Vault Toilet Vs Pit Latrine
The vault toilet and pit latrine share the same working principle and the main difference is the process of waste accumulation. The vault toilet accumulates waste inside a container, which later goes to municipal wastewater treatment. But in the case of pit latrine, it accumulates the waste directly inside the trench.
In other words, a vaulted toilet is one that contains a container that prevents water from leaking into the hole, whereas a pit toilet emerges simply from the ground.
For pit latrine when the trench got filled up, it becomes unsafe to use because of the odor arising from below. It also attracts flies, which will spread germs and diseases. The absence of a proper ventilation system makes it unhygienic than the vault toilet.
How to Use a Vault Toilet?
Vault toilets are very easy to use. The user needs to sit on the commode inside the restroom to use it. Always close the lid before leaving. These toilets are designed to manage odor by allowing it to flow out through the vent pipe.
If you don't close the lid, the stench will gather inside the restroom. This will make the restroom a terrible place for use. Closing the lid after using the toilet will keep the restroom environment pleasant.
Conclusion
Vault toilets are a very convenient option for waterless toilets in campsites and recreational areas. Most of the people still think vault toilets are the same as the old outhouses. But these toilets are way more hygienic than other waterless toilets. These toilets are safe to use as they abide by ADA regulations.