Lighting has potential powers to influence the whole look of a place. It can make things look super energetic and can make it a gloomy sad environment within a second. All it depends on is the intensity and the color of the light. Hence, perfect lighting of a place is important.
Lighting can also shift the moods of a person as well. So, it is recommended that one should choose the light bulb for the bathroom very carefully. As bulbs will decide the intensity of the light it radiates. One can easily find lots of the best light bulbs for their bathroom anywhere online and super shops.
Basics of Lighting in Bathroom
Mostly it is wise to use bright and white color light bulbs in the bathroom. Bright light will make the space of the bathroom look bigger. It can create a positive illusion. And the white color of the light will make things look cleaner.
Seems weird but it is true that a yellow or any other color of the bulb will make the bathroom seem dirty and messy even if it is not. Bright and white lights are always recommended. 8-9watt LED light bulbs are ideal for use in it. It will save energy; good choice for those who often forget to turn off the lights in the bathroom.
Our 8 Best Light Bulbs for Bathroom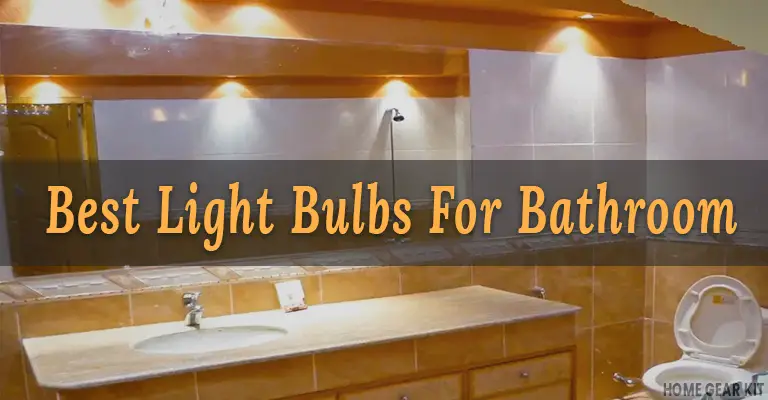 Some fancy light bulbs in the market may look captivating to you. But unfortunately, the aesthetics aren't enough to judge a bulb. Based on several features and aspects, some unique light bulbs top all the others.
1. Hyperikon A19 Dimmable LED Light Bulb
No products found.
Hyperikon is well-known for its top-notch LED bulbs. The A19 dimmable LED light bulb from them is the true depiction of how LED light bulbs should be. Very few other manufacturers offer such diverse features as Hyperikon in their light bulbs.
This bulb emits soft white glowing light which is soothing for eyes and creates a favorable ambiance. It has CRI90+ technology, which provides near-sunlight quality light. You'll get true color rendering and consistency inside the home with this light bulb mounted. Designed with an E26 base and the bulb being itself 5" in height and 2.9" in diameter, making it ideal to be used for a regular basis.
Moreover, this light bulb 90 lumens per watt with a lifespan of 25000 hours. You'll be amazed at the fact that it is certified to deliver quality, performance, and saving energy.
This 9W light bulb is equivalent to a 60W light bulb, giving you more light in a lower power consumption rate. It has a dimming capability from 100%-20% which can completely change the look of the bathroom. The globe of the bulb is made of plastic which is durable and can last for a long time.
The life expectancy of these bulbs is not something you'll have to worry about. They are available in two variants; 3000k and 4000k. 3000k has a soft look and 4000k is bright. You can choose any based on your preference.
On the downside, this bulb has buzzing problems. It also has heating problems especially when there is poor ventilation.
2. Sunco lighting 10 pack G25
Sunco manufactured this amazing pack of light bulbs that'll totally meet your satisfaction. The G25 has been tested to the point where you'll get the best experience out of it. Arguably, it is one of the best light bulbs for bathroom vanity.
This 10 pack G25 LED light bulb is 6watt but is equivalent to 40watt, giving you much more light power comparatively. It gives off a soft white light that soothes your tired mind and eyes. This non-glare light also makes the surrounding peaceful.
You should know that this pack of light bulbs is ideal for the living room, ceiling fans, bathroom, etc. This light bulb has soft light, flicker-free dimmable, and quite features that make your time to yourself worthwhile.
It is 90% power efficient than any ordinary incandescent light while still maintaining the usual brightness of the bulb. Moreover, the bulb is 100% mercury-free, UV, IR, and lead-free, ensuring the safety of yours and the others with you.
The color of the light is white 2700k. The luminous intensity is 450lm. The light has a dimmable capacity of 10-100%. All the numbers from these categories are favorable, assuring you a safe and comfortable experience.
You'll be gratified to know that this light bulb saves up to 85% of the electricity bill. It also has a lifespan of 25000 hours which is much higher than traditional bulbs. With a warranty card of 3 years, you'll have one less thing to worry about.
The bulbs burn-out really fast, even if your connections are not loose. You may also face some flickering issues.
3. LOHAS 9 Watt Globe Bulb
LOHAS brings you a light bulb that has an incredibly low power consumption rate in contrast to its efficiency. Given the fact that it's a globe bulb, LOHAS has made it extremely well with the consumer's comfort in mind.
LOHAS is a 9watt globe bulb which is equivalent to 60watt light bulbs, allowing you more light while consuming lower power. The base of the light bulb is the E26 screw category, making it eligible for a majority of mount systems. The package contains 3 pieces of light bulbs that you'll find no issues with.
As for the input voltage, it is 120v alternative current. The color quality of the bulb is daylight 5000K, making it soothing for the eyes. Moreover, the materials used are aluminum for the base and PC for the globe, ensuring the durability of the whole structure.
If we calculate the total lifespan of the bulb, it is 30000 hours. The wide beam angle of the bulb is 270 degrees, giving you a more illuminated area. As a result, the energy cost is reduced by 80% while producing warm and natural illuminating light.
Best lightbulbs contain no mercury, lead, UV, IR, or any harmful substance. Fortunately, this unit of the light bulb comes without these particles too. It is suitable for a dry environment. Moreover, for mirror light, vanity light fixtures, pendant light, and bathrooms, it is the perfect light bulb you can get. You'll be thrilled to know that it has a one-year warranty.
The bulb should be kept away from direct sunlight and high temperature. Otherwise overheating issues will burn-out the bulb.
4. G25 LED  bulb, Aooshine 50W
This light bulb from Aooshine can be the perfect replacement for your old and obscured light bulb. Aooshine has manufactured this 50W bulb while keeping input voltage to a minimum. You can definitely rely on this product for the best output. It is called one of the best light bulbs for the shower.
G25 incandescent bulb gives off soft warm and white 2700K light. You'll be thrilled to know that it is ideal for mirror lightings, vanity fittings, bathroom, and anywhere which requires bright lighting. The light is non-dimmable. Moreover, the base of the bulb is E26, meeting the standards of most mounts.
The power it uses is 5Watts. Evidently, this bulb is capable of generating more light while consuming much lower power. Also, it is applicable to an alternating current of 85-265V. The beam angle of the bulb is 270 degrees. The color of the light is warm white, 2700K, perfect for uplifting your mood.
Another notable aspect is that the lifespan of the bulb is over 50000 hours. This makes the light bulb ideal for hotels, bedrooms, bathrooms, hallways, hospitals, and anywhere which requires a bright and refreshing environment.
A reassuring fact is that this light bulb saves 90% of electricity bill. It doesn't take any starting time either. The product has 3 years of warranty with replacement or refund facilities, giving you much more flexibility in trying out the product wholeheartedly.
The bulb is a little bit brighter given it's a 50 Watt bulb.
5. TORCHSTAR G25 Globe LED Light Bulb
TORCHSTAR never fails to deliver whenever top-notch light bulbs are concerned. The G25 globe LED light bulb from them really speaks for their elegance and efficiency in bulb manufacturing.
About the bulb, it is a clear and well-balanced light, which doesn't flicker or makes buzz noises. As for the base, it contains a standard E26 base. You'll have no issue while installing the bulb.
Moreover, the installable options are diverse for this light bulb. You can easily install it in a damp location, vanity mirrors, floor light, living room, bathroom, etc. Wherever it is installed, you'll certainly get top-notch performance.
This 5watt bulb is equivalent to a 40 Watt incandescent light bulb, making it a truly worthwhile bulb. It aims in reducing 88% of the energy consumption, which it assuredly does so. Another interesting feature is that it has omni-direct beaming quality.
The product has an astonishing 22.8 years of lifespan, with 3 years of warranty on top of that. The quality of the light is very good, you won't have any problems with it. It doesn't radiate heat like any ordinary bulbs, thus a cozy environment is ensured. The brightness of the bulb makes it perfect to be installed inside a bathroom and makeup mirrors.
You may face heating issues with this bulb. The intermittent buzzing may cause some inconvenience as well.
6. TCP 9W LED (60W Equivalent) A19 Light Bulb
Here comes another sublime light bulb from TCP which is the A19 light bulb. This one is a rare gem in terms of energy efficiency and illumination. TCP did a really good job of perfecting this quality light bulb.
A19 light bulb is a non-dimmable light bulb. On another note, it is a 9w LED light which is equivalent to 60 Watt light bulbs. This gives you more power in comparison to the power consumed, making it the best choice any day.
The light bulb radiates 2700K soft white light which is safe and comfortable for eyes. The bright yet soft light makes it ideal for use basically everywhere such as the living room, bathrooms, kitchen, tables, floor lamps, bedrooms, ceiling fixtures, etc.
The energy efficiency of this light bulb is astounding. 85% of energy is saved with this light bulb once mounted. This makes it one of the most energy-efficient light bulbs out there. So you can imagine opting for this excellent light bulb is something you won't regret.
As for the lifespan, it is 20000 hours. You'll be far from worries with this light bulb illuminated over your head. It is featured with a medium screw base E26, making it the most standard light bulb available. Another notable aspect is that it has 3 years of warranty.
One of the issues faced by many is that this light bulb makes buzz noises. As a result, the bulb may wear out early.
7. Vintage LED Edison Bulb Dimmable 8W
Vintage LED Edison light bulb is a product by Seaside village that is one of the finest light bulbs out there in terms of looks and performance. The classic ambiance created by these beautiful lights can uplift your mind at any time.
One of the many features is that this LED light bulb gives off 3000K soft white light. This range of soft light gives you a totally different feeling. As for the mounting, it has a standard base of E26.
Vintage LED Edison light bulb's clear glass globe and the visible filament give it a retro feel. The light is super-efficient; saves energy up to 90%. Such a high rate of energy efficiency is one of the main reasons this light bulb attracts attention.
Moreover, the dimmable features make it a multi-purposely bulb. It is completely safe to use because it is mercury-free and no flicks. The light is soft hence doesn't hurt the eyes.
An intriguing thing about this bulb is that it looks classic. This makes it ideal to be used in lamps, outdoor lanterns, chandeliers, ceiling fittings, etc. The brightness makes it good a good candidate for bathroom light bulbs as well.
You'll be amused to know that this 8W bulb is replaceable with 75-100W bulbs. And so, there's virtually no reason for you to keep those high power-consuming bulbs turned on when you've got a Vintage LED Edison light bulb at your disposal. With a long life of 20000 hours, the bulb comes with two years of warranty as well.
On the downside, the bulb can make noises when it is dimmed.
8. LIFX (BR30) Wi-Fi smart LED Light Bulb
LIFX brings you an LED light bulb with a unique feature. This one can be controlled by WiFi which is very much convenient in case you want to control the color to suit your mood and environment. Thanks to one of the top light bulbs for bathrooms.
This smart light bulb can adopt approximately 16 million colors, with thousand shades of white only. As a result, you get diverse options of colors to choose from. Moreover, this bulb can perfectly go with any theme or animations, so you don't have to worry about whether it'll fit or not.
The bulb can be set to automation, where it will set the brightness according to day or night. The dimming and the color change can be controlled by app or voice, giving you unprecedented control over your light bulb. All it requires is just plug-in, no extra hardware is needed. The only extra is to download the LIFX app. Not to mention, it is connectable with Amazon, Alexa, apple home kit, Google assistant, and many more.
A notable aspect of this light bulb is that it requires really small energy, so it saves electricity costs. Also, this one has a lifetime of 22.8 years and capable of reducing wastage caused by excessive use of power.
The brightness of the light is equivalent to a 75W bulb, allowing you more illumination in a constrained amount of power consumption. It also has two years of warranty in which you're guaranteed the best performance.
One of the troubling issues faced is that the bulb requires a strong WiFi connection otherwise it won't work properly. It regularly fails to connect with the network system. The mode setting thing is really time-consuming as well.
Best light bulbs for bathrooms in 2022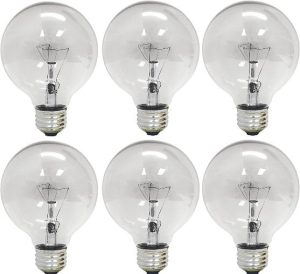 GE's pack of 6 incandescent G25 light bulbs offers soft white light at a color temperature of 2600 K. These make the best vanity light bulbs and also work well with pendants and other light fixtures for bathrooms. The 40-Watt collection delivers 410 lumens, lasts longer than other bulbs, and adds a decorative element to the interior. When used at 3 hours per day, these bulbs can last for up to 1.4 years and are a cost-effective choice based on yearly usage.
Some customers complained about popped bulbs right at the first use. Burnt-out bulbs were a common problem for this collection, so you might not be able to use all 6 bulbs in one installation.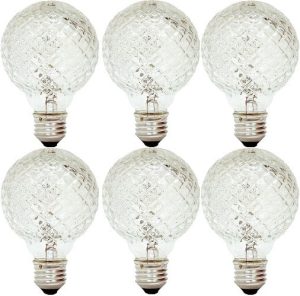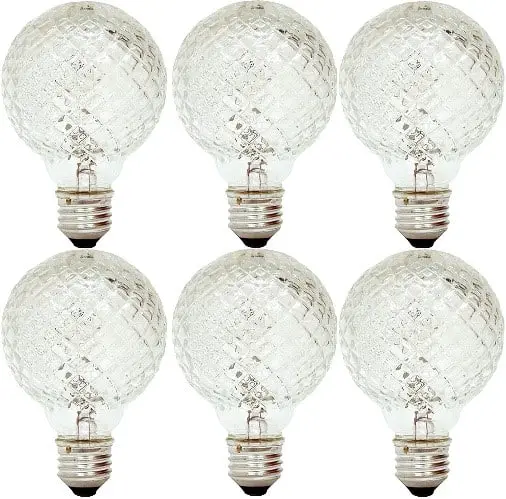 GE has another great option for the best light bulbs made of a decorative, patterned design. They are ideal for bathroom light fixtures including pendants and vanity. The pack includes six G25 halogen bulbs that have a color temperature of 2700 K and a power of 40 watts for 520 lumens. They can last for up to 2.1 years – which is twice the lifespan of other similar categories – if used for 3 hours per day. Their energy-efficient design makes a great replacement for standard incandescent bulbs as halogen bulbs save more energy, offer crisp white light, and can be used for flexible illumination in bathrooms.
Most users found that one or more bulbs kept blowing up in just a short time. So, they are definitely not as long-lasting as advertised, which is also disappointing because of their high price. We would say that this collection checks the box for aesthetics, but that is where it ends.
Amazon Basics offers the best light bulbs for bathrooms. This pack of 2 A19 LED bulbs delivers daylight color at 1600 lumens, 15 watts, and a correlated color temperature of 5000 K. Each bulb comes with a lifespan of 10,000 hours based on 3 hourly usage per day – which is an impressive duration if used accordingly! The bulbs illuminate without any delay and reach their full brightness immediately, and this is a great feature for instantly lighting up dark bathrooms with no windows.  They make a more cost-effective, energy-saving, and durable alternative to incandescent bulbs – so if you are looking for replacements, consider this pair! Users prefer the powerful brightness of both bulbs as the soft tones mimic natural sunlight. There is also no flickering or buzzing to bother you.
That said, the actual white/blue tone could be uncomfortable to some users, as the advertised daylight color description does not meet the standards of a few customers.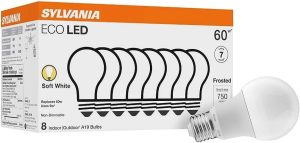 SYLVANIA's pack of 8 LED light bulbs is another popular choice. The energy-efficient, frosted, and versatile 9W A19 bulbs deliver soft white light. They make an excellent replacement for 60W incandescent bulbs, emitting 750 lumens at a color temperature of 2700 K. Their energy-saving technology extends their lifespan to 7 years, so you will not have to replace bulbs more often. With a color rendering of 80 CRI and instant illumination, these mercury-free light bulbs work perfectly well for bathroom lighting – without issues like overheating. They are compatible with various light fixtures and are a great buy on the whole.
The only major complaint we noticed was about the color difference between the advertised and actual results.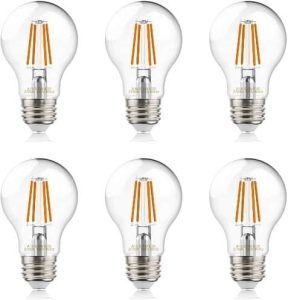 This is also a collection of bathroom light bulbs by SYLVANIA. It includes 3 incandescent bulbs emitting soft white light at 40W and reaching a brightness level of 265 lumens. They can last for up to 3,000 hours, have a color temperature of 2850 K, and are cost as well as energy-efficient. The bulbs do not flicker or cause glaring, even with their instant illumination feature, which makes them perfect for bathrooms with no windows. They are super easy to replace all by yourself, so DIY-friendliness is a plus.
There were many comments about defective bulbs in the set, and at least one of them burnt out too soon.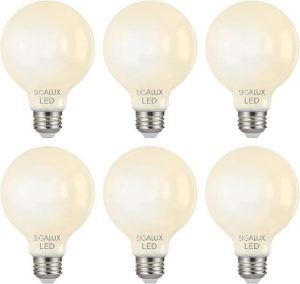 Helloify's pack of 6 A19 LED filament bulbs delivers warm white light at 2700 K. These fully dimmable bulbs with CRI 90 last for an impressive 13.6 years and help you adjust the right ambiance in your bathrooms. They have Edison-style filaments and can fit the standard E26 medium base. With no glare, flicker, or buzzing, these mercury-free light bulbs are some of the best options out there. They are compatible with wall sconces and pendant lighting to suit your bathroom's décor, which also means that they make ideal replacements for existing fixtures.
Apart from some defective bulbs in the set, this collection was well received and reviewed positively overall.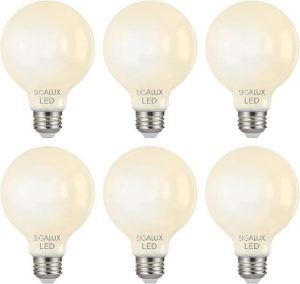 These E26 G25 style light bulbs by Sigalux emit soft white light and offer full coverage. They have a smooth dimming feature and come in a vintage frosted design with an LED filament. The pack of 6 offers 2700 K color temperatures at 5W, helps you replace 60W incandescent bulbs, and does not flicker. Each bulb glows up to 800 lumens instantly and offers energy efficiency in replacing incandescent bulbs – which greatly impacts your bills! With a lifespan of 15,000 hours, these bulbs are popular for makeup mirror lighting, vanity lighting, and other bathroom light fixtures. People love the collection's dimming feature and 3-year warranty. Most satisfied users also commented that the bulbs were not excessively or painfully bright and still looked decorative in different bathroom interiors. So far, the set has lots of happy reviewers and we did not find any major criticism!
Guide to Buy the Best Light Bulb for Bathroom
When it comes to bathroom lighting, it takes a bit of effort to choose the right bulb needed to create the perfect ambiance you are dreaming of. To make that effort easier for you, we have included all the important details needed for you to get to the best light bulb.
What Wattage Light Bulb for Bathroom
It is better to use low power light bulbs yet with proper brightness. 6-9 Watt LED lights are perfect for bathrooms. They are efficient and economic. Most people forget to turn off lights in bathrooms so it surely would save some pennies.
What Kind of Light Bulb for Bathroom
There are three types of bulbs available in the market; incandescent, filament and LED. For bathrooms always use bright lighting whether it is one of any bulb kind. Dimmed light gives a really dull effect to the environment of the bathroom. Bulbs are found in different shades of whites. So options are still quite wide, you can easily choose the perfect white for you.
What Color Light Bulbs for Bathroom
Playing with the color of the light bulb in the bathroom isn't such a good thing to do. Bathrooms are sensitive in the case of lighting. Not every color would look good in it. It is always wise to try bright white light and sometimes yellow lights. No other color would be appealing with it.
What Size Light Bulbs for Bathroom
Unbelievably there is a vast range of light bulbs available. There are a total 23 categories of light bulb present. Each of the categories has the same light bulb with different sizes. The medium sized bulbs would be perfect for any bathroom; sometimes large lights can also be installed along with the mirror for makeup purposes.
Bathroom Size
Regardless of whether your bathroom size is small or large, a good option is to utilize bath light bars. These bars provide plenty of light areas. But they should not be wider than the vanity width. The bar chosen should be around 75 percent of the mirror's total width.
There is another option which is to use sconces. Sconces can drastically increase the amount of usable light. A sconce of about 18 inches tall or less should be enough for an average size bathroom. If your bathroom is small, the sconce should be around 12 inches. But for larger bathrooms, you can use sconces that are 19 inches tall or even taller.
Dimmable vs Basic/ Non-Dimmable
LED bulbs can be either dimmable or non-dimmable. Dimmable light bulbs do not dictate their level of brightness through voltage. Instead, they create a dimming effect by relying on a cycle of being on and off. For instance, dimming your LED bulb to 10% means it will be "on" for 10% of the time and "off" for 90%.
In case you have a dimmer switch, you should buy an LED bulb that can be dimmed. If you already have your old dimmer switch coupled with the new LED bulb and you hear buzzing noise, then you should change your dimmer switch. The newer switch can read the low loading of the LED bulb and as a result, you'll not face any flickering issue. 
Smart Bulbs: WiFi Enabled
A smart bulb is an internet-enabled LED light bulb that you can control and customize remotely. The recent addition to smart bulbs includes WiFi, Bluetooth, and ZigBee. The best thing about these smart LED bulbs is that you can easily schedule or tweak with the color patterns through your mobile device.
Moreover, the vendors can utilize the internet connectivity of the bulb to use edge computing and add specific features such as a built-in camera, speaker, WiFi repeaters, and motion sensors.
Security is an aspect of concern for smart bulbs. That is why you must make sure that the vendor's software is up-to-date. You should try to also operate smart devices in an isolated area to prevent interference with personal data.
Color Temperature: Warmer vs Cooler
LED light bulbs' color temperatures are based on the Kelvin system of measure. The higher the rating, the cooler the lighting. A "warm" or "soft" white light bulb means it has a color temperature of 3000K. Anything below that and it gets warmer. As for the cool or bright color temperature, it is 4000K or higher. 
Light color temperature is vital for creating different moods and carry out various tasks. For bathroom lighting, color temperature between 2700K to 3000K is recommended.
CFL vs LED
Both compact fluorescent light (CFL) and light-emitting bulb (LED) have used advanced technologies to attract consumers. But in terms of various aspects, the LED bulb is the clear winner.
The energy efficiency of CFL bulbs is only 25-35% while for the LED bulbs, the count is an astonishing 75%. As a result, LED bulbs waste very little energy on heat. On the other hand, CFLs waste 80% of the energy on heat. 
As for the lifespan, LED light bulbs outshine CFL light bulbs as well. LED light bulbs have an average lifespan of 50,000 hours compared to CFL light bulbs' 8,000 hours.
LED bulbs are perfect for task lighting. They don't get hot like CFL bulbs which is why LEDs can be beamed to focus as downlights. They are safe to use in tight spaces as well.
Ceiling Lights vs Sconces
You may require several light fixtures in your bathroom to accomplish different tasks. For task lighting such as bathroom vanity, you can use vertical wall sconces. They increase the amount of usable light in your bathroom and look stylish too. Close to ceiling lights can be used for general lighting. This will provide light for everyday tasks. 
Chandeliers vs Skylights Chandeliers are available in a variety of shapes, sizes, and styles. They can be a sophisticated choice for bathrooms as well. For accent lighting or to illuminate a specific area in your bathroom, you can make use of chandeliers. But they take a lot of areas, so it's recommended to use bathrooms that are at least 100 square feet otherwise it will not look good.
As for the skylight, a bathroom can be vastly improved with the addition of it. The natural light can bring a unique feel to your bathroom in the daylight hours. Even at night, the bathroom gives off a positive effect. There are many different styles of skylight settings such as double windows, texture, lantern roofs, and windowless bathrooms for you to choose from.
Body Materials
CFL light bulbs, like all the other fluorescent bulbs, use mercury vapor and argon gas inside a glass tube. The electricity flow vaporizes the mercury and then it gives off ultraviolet energy. Upon hitting the phosphors inside the lamp, the energy is converted to light.
As for the LED bulbs, they are made of small diodes that are made of semiconductor materials. The diodes are encased in a transparent plastic that makes it more durable and long-lasting.
Longevity
Incandescent bulbs have the shortest lifespan ranging from 750-2,000 hours. Still, incandescent bulbs are appealing to consumers due to their aesthetic and aesthetic hue.
CFL bulbs have a typical lifespan of 8,000 to 20,000 hours. They take a moment to charge up and achieve full brightness, but they have come a long way since innovation.
LED bulbs have the largest lifespan compared to all other existing light bulbs. The average rated lifespan of an LED light bulb is about 50,000 hours. Along with various styles and shapes, these bulbs are the most durable and long-lasting option.
IP Rating
The IP or ingress protection rating denotes the level of protection a bulb has against water and dirt. The rating consists of two digits. The first one tells you the level of protection against dirt or foreign objects. The second number denotes protection against water. The higher the digits, the better is the protection. 
For bathrooms, it is required that the bulb has a good IP rating. Most bathroom bulbs are rated at IP65 in general. The minimum rating should be IP45.
CRI
The CRI or color rendering index of a light source determines how humans perceive the color of an object and how vivid it is. CRI also reveals the subtlety in shades and color variations.
Ranging from a scale of 1 to 100, the CRI indicates the prowess of the light bulb to render color. The higher the rating, the better is the rendering ability. For bathrooms, a CRI of 80+ is considered good enough.
Types of Light Bulbs for Bathroom
Among the 23 series of light bulbs available, each has its own specialty and features with different designs also. Among these the A-series, G series, T series, ED series, and T2 coil series would look good with any bathroom. One can also choose bulbs from different series to complement the bathroom interior. But A series and G series are commonly seen in every bathroom.
How to Change Light Bulb
Changing a light bulb is unchallenging until you hit the scariest spot- coming into contact with the electricity. So, care must be taken while you are doing one of the easiest jobs.
Safety is always first. Turn off the light switch which is going to be changed. Learn more on bathroom safety.
If the bulb does not contain any plastic to hold on; let it cool down a bit. Most bulbs heat it up when turned on. If you try to hold it right after it is turned off, there is a chance you will burn your hand.
Use a ladder or stool to stand up and match the height of the bulb.
Now, detach the bulb from the socket. If the bulb category is bayonet mount, press the bulb with little pressure and turn it anti-clockwise, the bulb should come out. If the bulb is screw fitting, just turn it anti-clockwise, and it will come out.
Now, install the new light just like it had been taken off. But this time the bulbs will be turned clockwise.
And that's it you will successfully change the light bulb of the bathroom. You might be interested in reading out the article on bathroom vanity lights with outlet.
How to Change Bathroom Light Fixture Cover
Turn off the main power of the house.
Open the canopy of the light fixture. It will reveal the wires connected to the electricity. The canopy is round and fixed to the ceiling.
The wires will be three in total. Black, white and green or copper color. The wires need to be disconnected by unscrewing the connectors.
After the wires are disconnected, the fixture will be free to be removed. The old fixture can be easily removed.
Now install the new fixture and connect the wires by screwing the connector.
Turn on the main power, and check whether it is working or not.
Conclusion
Among the various and fancy types of light bulbs, it's a long shot to find the one that fits your needs. But that's not the case if you're well aware of the features and buy one not just out of caprice.
Among the above-mentioned bulb products, the Hyperikon A19 dimmable light bulb should be the most appropriate one regardless of whether you want rich brightness or soft light. The beautiful look and efficiency really speak for it. But if you want control over your bulbs, the LIFX WiFi smart LED light bulb is a good choice as well.
The bottom line is that choosing the best light bulb for the bathroom is very easy if one has a proper guide to it. These 8 light bulbs are some of the best light bulbs available in the market. This article will avowedly help you to pick the best bulb for your bathroom.