Lighting has potential powers to influence the whole look of a place. It can make things look super energetic and can make it a gloomy sad environment within a second. All it depends in is the intensity and the color of the light. Hence, perfect lighting of a place is important.
Lighting can also shift the moods of a person as well. So, it is recommended that one should choose the light bulb for the bathroom very carefully. As bulbs will decide the intensity of the light it radiates. One can easily find lots of best light bulbs for their bathroom anywhere online and super shops.
Basics of Lighting in Bathroom
Mostly it is wise to use bright and white color light bulbs in the bathroom. Bright light will make the space of the bathroom look bigger. It can create a positive illusion. And the white color of the light will make things look cleaner. Seems weird but it is true that a yellow or any other color of the bulb will make the bathroom seem dirty and messy even if it is not. Bright and white lights are always recommended. 8-9watt LED light bulbs are ideal for use in it. It will save energy; good choice for those who often forget to turn off the lights in the bathroom.
Top 8 Light Bulbs for Bathroom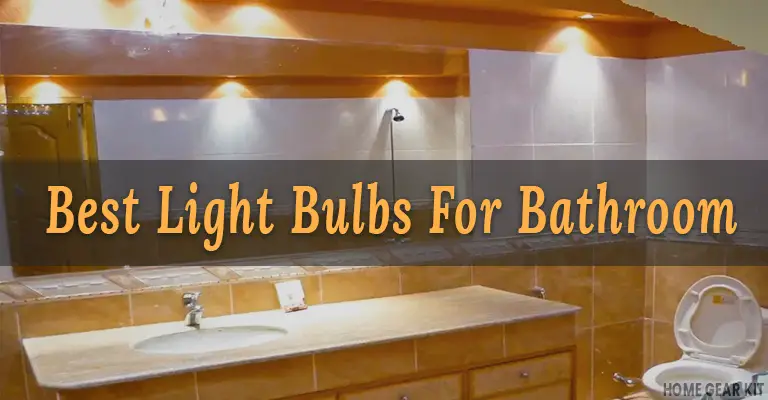 Undoubtedly, there are lots of best light bulbs available in the market. And of course there are some worst as well. Sorting out the best one for your bathroom can become very time consuming and confusing as well. To make your search a little easier, here, down below are 8 best light bulbs out of many best light bulbs in the market.
1. Hyperikon A19 Dimmable LED Light Bulb
This bulb emits soft white glowing light. It has CRI90+ technology, which provides near-sunlight quality light. This gives true color rendering and consistency inside the home. Designed with E26 base and the bulb being itself 5" in height and 2.9" in diameter. The size makes it ideal to be used for regular basis. Along with bathroom it is also suitable for dining room, living room, kitchen, etc.
Have 90 lumens per watt with a life span of 25000 hours. The light bulb is certified to deliver the quality, performance and saving energy. It also met the nationally recognized safety requirement. This 9W light bulb is equivalent to 60W light bulb. Has dimming capability from 100%-20%. The dimming capability can completely change the look of the bathroom.
This light bulb have 5 years or warranty; with fast and easy replacement. The globe of the bulb is made of plastic.
Has great life expectancy of these bulbs. Is available in two variants; 3000k and 4000k. 3000k has soft look and 4000k is bright. This bulb has buzzing problems. The buzzing starts after 20-30 minutes after it are turned on; the reason can probably be the heat up of the light. Looks elegant with any background. It also has heating problems specially when there is poor ventilation. Otherwise it is ideal for standard use.
2. Sunco lighting 10 pack G25
This 10 pack G25 LED light bulb is 6watt but is equivalent to 40watt. Again this light bulb n is dimmable. Gives of soft white light. This non-glare light makes the surrounding peaceful and is comfortable in tired eyes. Ideal for living room, ceiling fans, bathroom, etc. This light bulb has soft light, flicker-free dimmable and quite features.
It is 90% power efficient than any ordinary incandescent light while still maintaining the usual brightness of the bulb. It is 100% mercury free, UV, IR and lead free. The base of the bulb is E26. The color of the light is white 2700k. The luminous intensity is 450lm. The light has a dimmable capacity of 10-100%.
It saves up to 85% of the electricity bill. It has a life span of 25000 hours. Comes with 3 years of warranty. The bulbs burn-out really fast.
3. LOHAS 9 Watt Globe Bulb
LOHAS is a 9watt globe bulb which is equivalent to 60watt light bulbs. The base of the light bulb is E26 screw category. The package contains 3 pieces of light bulbs. The bulb is not dimmable. The input voltage is 120v alternative current. The color quality of the bulb is daylight 5000K. The materials used are aluminum for the base and PC for the globe. The total life span of the bulb is 30000 hours.
The wide beam angle of the bulb is 270 degrees. It reduces energy costs up to 80%. The bulb should be kept away from direct sunlight and high temperature. It gives of warm and natural illuminating light. Contains no mercury, lead, UV, IR or any harmful. It is suitable for dry environment. And is perfect for mirror light, vanity light fixtures, pendant light and bathrooms. Has 1 year of warranty. The bulb works quite well.
4. G25 LED bulb, Aooshine 50W
This incandescent bulb gives of soft warm and white 2700K light. Is idea for mirror lightings, vanity fittings, bathroom and anywhere which requires bright lighting. The light is non dimmable. The base of the bulb is E26. The power it uses is 5Watts. And is applicable with alternative current of 85-265V. The beam angle is the bulb is 270 degrees. The color of the light is warm white, 2700K.
The lifespan of the bulb is over 50000 hours. This particular light bulb is ideal for hotel, bedroom, bathroom, hallways, hospitals and anywhere which requires bright and refreshing environment. The package contains 4 light bulbs in total. It saves 90% cost of electricity bill. It doesn't take any starting time. Has 3 years of warranty with replace or refund facilities. The product has 90% customers' satisfaction.
5. TORCHSTAR G25 Globe LED Light Bulb
It is a clear and well balanced light, which doesn't flicker or makes buzz noises. Contains standard E26 base. It can be installed in damp location, vanity mirrors, floor light, living room, bathroom, etc. This 5watt bulb is equivalent to 40watt incandescent light bulb. It aims in reducing 88% of the energy consumption. Has omni-direct beaming quality.
Has 22.8 years of lifespan, with 3 years of warranty. The quality of the light is very good. It doesn't radiate heat like any ordinary bulbs. The brightness of the bulb makes it perfect to be installed inside a bathroom and makeup mirrors. The customer service is very responsive and quick.
6. TCP 9W LED (60W Equivalent) A19 Light Bulb
It is a non-dimmable light bulb. It is a 9w LED light which is equivalent to 60w light bulbs. It radiates 2700K soft white light. The bright yet soft light makes it ideal for use in living room, bathrooms, kitchen, tables, floor lamps, bedrooms, ceiling fixtures, etc. It saves up to 85% energy. It has a lifespan of 20000 hours. Featured with medium screw base E26. Has 3 years of warranty. The light bulb makes buzz noises. Otherwise it works fine.
7. Vintage LED Edison Bulb Dimmable 8W
This LED light bulb gives of 3000K soft white light. Has a standard base of E26. The packet contains 4 bulbs in it. The bulb has a classic look with modern LED technology. The clear glass globe and the visible filament give it a retro feel. The light is super efficient; saves energy up to 90%. The dimmable features makes it multi-purposely bulb. It is completely safe to use because it is mercury free and no flicks. The light is soft hence doesn't hurt the eyes.
The classic look makes it ideal to be used in lamps, outdoor lantern, chandeliers, ceiling fittings, etc. the brightness makes it good for bathrooms as well. This 8W bulb is replaceable with 75-100W bulbs. As 2 years of warranty. Hass a long life of 20000 hours. It can make noises when it is dimmed. The bulb otherwise works perfectly.
8. LIFX (BR30) Wi-Fi smart LED Light Bulb
This smart light bulb can adopt approximately 16 million colors, with thousand shades of white only. This bulb can perfectly go with any theme or animations. The bulb can be set to automation, where it will set the brightness according to day or night. The dimming and the color change can be controlled by app or voice.
All it requires is just plug-in, no extra hardware is needed. The only extra is to download the LIFX app. It requires really small energy, so it saves electricity cost. Has a lifetime of 22.8 years and reduces wastage. It is connectable with Amazon alexa, apple home kit, Google assistant and many more.
The brightness of the light is equivalent to 75W bulb. Contains 2 years of warranty. Works really well. Requires strong wi fi connection otherwise it won't work properly. It regularly fails to connect with network system. The quality of the bulb is excellent. The mode setting thing is really time consuming.
Guide Buy the Best Light Bulb for Bathroom;
Whether the thing is a small one or big one, to buy the best quality of it, some research and knowledge is always needed. This article is will help you to sort list some features in a light bulb to make you buy the best one for your bathroom.
What Wattage Light Bulb for Bathroom
It is better to use low power light bulbs yet with proper brightness. 6-9watt nnLED lights are perfect for bathrooms. They are efficient and economic. Most people forget to turn off lights in bathrooms so it surely would save some pennies.
What Kind of Light Bulb for Bathroom
There are three types of bulbs available in the market; incandescent, filament and LED. For bathrooms always use bright lightings whether it is one of the any bulb kind. Dimmed light gives really dull effect to the environment of the bathroom. Bulbs are found in different shade of whites. So options are still quite wide, you can easily choose the perfect white for you.
What Color Light Bulbs for Bathroom
Playing with the color of the light bulb in the bathroom isn't such a good thing to do. Bathrooms are sensitive in the case of lighting. Not every color would look good in it. It is always wise to try bright white light and sometimes yellow lights. No other color would be appealing with it.
What Size Light Bulbs for Bathroom
Unbelievably there is vast range of light bulbs available. There are total 23 categories of light bulb present. Each of the categories has same light bulb with different sizes. The medium sized bulbs would be perfect for any bathroom; sometimes large lights can also be installed along with the mirror for makeup purposes.
Types of Light Bulbs for Bathroom
Like written above there are total 23 series of light bulbs available. Every series has their own specialty and features with different designs also. Among these the A series, G series, T series, ED series and T2 coil series would look good with any bathroom. One can also choose bulbs from different series to complement the bathroom interior. But A series and G series are commonly seen in every bathroom.
How to Change Light Bulb
Changing a light bulb is very easy. But the scariest thing is to come into contact with the electricity. So, care must be taken while you are doing one of the easiest jobs.
Safety is always first. Turn off the light switch which is going to be changed. Learn more on bathroom safety.
If the bulb does not contain any plastic to hold on; let it cool down a bit. Most bulbs heat it up when turned on. If you try to hold it right after it is turned off there is a chance you will burn your hand.
Use a ladder or stool to stand up and match the height of the bulb.
Now, detach the bulb from the socket. If the bulb category is bayonet mount; press the bulb with little pressure and turn it anti-clock wise, the bulb should come out. If the bulb is screw fitting; just turn it anti-clock wise and it will come out.
Now, install the new light just like it had been taken off. But this time the bulbs will be turned clock-wise direction.
And that's it you will successfully change the light bulb of the bathroom.
How to Change Bathroom Light Fixture Cover
Turn off the main power of the house.
Open the canopy of the light fixture. It will reveal the wires connected to the electricity. Canopy is round and fixes to the ceiling.
The wires will be three in total. Black, white and green or copper color. The wires need to be disconnected by unscrewing the connectors.
After the wires are disconnected, the fixture will be free to be removed. The old fixture can be easily removed.
Now install the new fixture and connect the wires by screwing the connector.
Turn on the main power, and check whether it is working or not.
Conclusion
Choosing the best light bulb for the bathroom is very easy if one has proper guide to it. These 8 light bulbs are not the only but one of many best bulbs available in the market. Hope this article has helped you to pick the best bulb for your bathroom.