KOHLER is dominating the toilet market by introducing new products with amazing features continuously.  And Cimarron is another addition to their collection. 
Yes guys, today KOHLER Cimarron Toilet is on our hot seat for review.  The two-piece KOHLER Cimarron toilet seat has been achieved huge popularity and praise of customers with its high quality and beneficial features.
If you are looking for a toilet to install in your bathroom, (and yes I am sure you are looking for and that is why you are here to reading this article) reviewing the features and specifications of KOHLER Cimarron can come to your benefit.
KOHLER Cimarron Toilet Review – 9 Top Features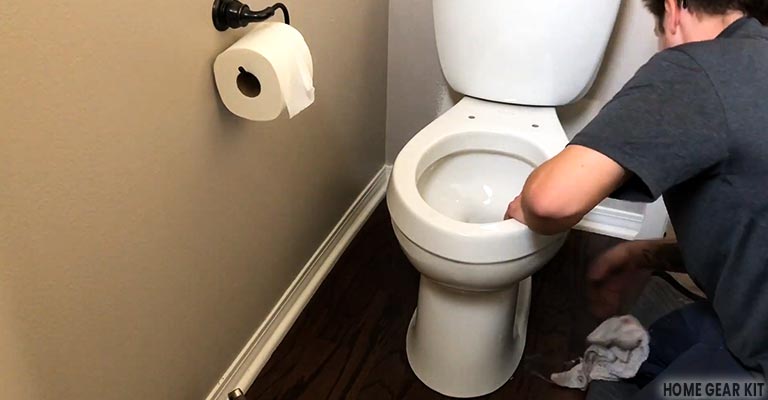 1. Raw Material
The basic raw material used for manufacturing toilets is ceramic and KOHLER has been used vitreous china to manufacture their product of Cimarron series. The whole body including the trap way is fully glazed giving a sleek look.
2. Shape and Size
The elongated shaped toilet bowl provides more room for comfortable sitting to the user. Since it is of chair height it is good for the health of the user. Young people of any age will find it comfortable to use.
3. Color
KOHLER Cimarron offers you multiple options since it is available in multiple colors. Depending on the shade of the existed color of your bathroom you can pick a suitable one from the collection.
4. Flushing Technology
It features the latest AquaPiston technology for flushing. The patented flush engine installed in this unit ensures fast, powerful, and plug-free flush. The canister flush valve removes clogs with a powerful punch without wasting a single drop of water.
5. Water Consumption
KOHLER Cimarron is designed to save a significant amount of water. In every flush, it consumes 1.28-gallon of water which is less than a 3.5-gallon toilet. You do not flush twice to remove the waste from the bowl.
Compared to a 3.5-gallon toilet you can save up to 16500 gallons of water every year if you install toilet of Cimarron series in your bathroom.  Moreover, the performance of the toilet does not deteriorate with the decrease in water consumption.
6. Ease of Installation
It is a two-piece toilet, i.e. the tank and the bowl comes separately. So, it is much easier to install compared to a one-piece toilet.
You need trap seal and nuts to install this unit. But if these tools of the previous toilet have not been corroded you can use those for installation.
7. Certification
The KOHLER generally prodvides water sense certified products that testimony the water efficiency of a toilet unit.
It is also ADA compliant and that is why people with physical disability will find it comfortable to use. Whether there is a physically disabled member in your family or not picking this item for your bathroom will be a wise decision. You will agree with me if you know the reason…
A sick or physically disabled guest may visit you or if any of your family members fall ill they will find this ADA compliant toilet unit beneficial.
8. Ease of Cleaning
Toilet cleaning on a regular basis falls within the maintenance rules of the toilet. It will keep your toilet as a new product for years and the chance of breeding molds and mildews will decrease at a great extent ensuring a germ-free environment.
To make the cleaning process easier the KOHLER Cimarron toilet unit is not covered with any special kind of coating and so you can use any kind of toilet cleaner to clean this toilet.
9. Affordability
 It was tried to introduce the latest technology and features in KOHLER Cimarron keeping the price within the reasonable range. So, even if your budget is not so high you can afford the toilet of Cimarron series.
Let's see the pros and cons of KOHLER Cimarron Toilet at a glance:
Pros
Two-piece toilet
ADA compliant and Water sense certification
Aqua piston flushing technology
Fully glazed trap way
Reasonable price
Cons
Seat not included
Supply line not included
Hardware to mount the toilet to the flange not included
Wrap Up
The KOHLER Cimarron is a unique product in simplicity.  Though it does not use any noise reduction technology customers find it relatively quiet.  This neat-looking, functional, and quiet toilet is unbeatable if you are looking for a toilet with the latest technology and design at an affordable price.
We summed up the most basic features that customers need to know before buying a toilet in this article.  If you find this information beneficial to meet your requirement you can go for deep research about KOHLER Cimarron toilet to pick it in your cart.
You may also like to read – KOHLER santa rosa toilet review