If you ever search for the top toilet manufacturing brand of the world you will notice the brand KOHLER among the top 5 always. They are the world's biggest toilet manufacturer doing business for a long time with good will.
KOHLER Santa Rosa is a great addition in the KOHLER toilet collection. Day by day its popularity is increasing and since people's eagerness about KOHLER is increasing we have decided to make an elaborate review of this product so that you can get each and everything of KOHLER Santa Rosa at one place.
Top 8 Kohler Santa Rosa Toilet Features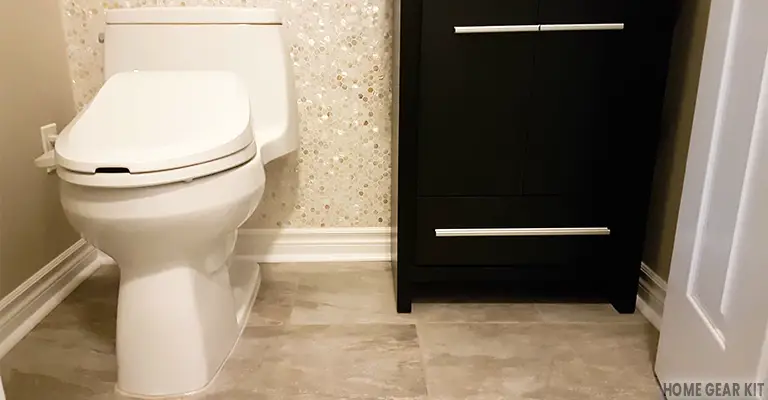 1. Construction Material
Quality and durability depend on the construction material of the product at a great extent. So, KOHLER never compromises to choose a high-quality raw material for manufacturing their product. Vitreous china ceramic material has been used to manufacture KOHLER Santa Rosa Toilet.
2. Shape and Size
The seat of KOHLER Santa Rosa is of elongated shape. Though the shape of the seat is elongated its corners are a perfectly round shape that aids smooth cleaning preventing the breeding of mold, mildew or bacteria that causes odor.
It is a one-piece toilet seat of ergonomic height. So, an adult of all ages finds it comfortable to use. KOHLER claims there Santa Rosa toilet unit as a space saving in spite of having elongated shaped bowl because though it is elongated it is compacted.
3. Color
Santa Rosa is available in 7 colors. You can choose any of them that match with the shade of the existed color of your bathroom. The unit is shiny enough to add a luxurious look in your bathroom.
4. Flushing Technology
Flushing system is so important for a toilet unit that without a good flushing technology a toilet is nothing but an ugly fixture in your bathroom. KOHLER has incorporated the latest flushing technology in their Santa Rosa series that is water efficient as well.
In every flush, this toilet uses only 1.28 gallons of water which is really very less. You may think that how can this small amount of water can do proper cleaning?
Well, the smart boost and shooting mechanism increases the power and effectiveness of the water used in each flush. Moreover, the shape of the bowl, fully glazed trap way, smooth curves all work combined to remove the waste from the bowl.
So, 1.28 gallons of water is enough for perfect cleaning if it is Santa Rosa.
5. Easy Installation
Yes, you can take help of a plumber to install KOHLER Santa Rosa but if you have a minimal DIY skill you can do it by yourself by following the instructions written in the manual provided by KOHLER to its consumers.
6. Easy Cleaning
The AquaPiston technology of KOHLER ensures initial cleaning of the waste material. But you know we also need to clean our toilet using some kind of cleaner.
KOHLER has manufactured their product for easy and quick cleaning. The bowl does not have any special coating and so you can use any cleaning agent for cleaning it.
7. Certification
It is an ADA compliant toilet and so physically disabled people will find it comfortable to use. It is also certified by EPA water sense that provides testimony of its water efficiency.
8. Reasonable Cost
KOHLER Santa Rosa has a reasonable cost depending on its performance and high quality. Since it saves water it is also a cost-saving unit. Every year, it saves a handsome amount of your money for water.
Let's see the pros and cons of KOHLER Santa Rosa Toilet at a glance:
Pros:
Aquapiston flushing technology
ADA compliant
EPA water sense certified
Seat and lid comes with the toilet unit
Cons:
Leaks Occasionally
The lid provided is thin
There some colse designed toilet from KHOLER, like KOHLER Cimarron and KOHLER wellworth, hope you like to read them.
Final Verdict
KOHLER Santa Rosa is not only a toilet of good quality but also it ensures a healthy environment in your bathroom by providing good feeling after every use. It does not compromise with flushing power, bowl cleanliness, and design to the leading edge.
If you are searching for a toilet that will provide good service for a long time KOHLER Santa Rosa can be the perfect choice for you.