If you ever search for the top toilet manufacturing brand in the world you will notice the brand KOHLER among the top 5 always. They are the world's biggest toilet manufacturer doing business for a long time with goodwill.
KOHLER Santa Rosa is a great addition in the KOHLER toilet collection. Day by day its popularity is increasing and since people's eagerness about KOHLER is increasing we have decided to make an elaborate review of this product so that you can get each and everything of KOHLER Santa Rosa at one place. 
Top 8 Kohler Santa Rosa Toilet Features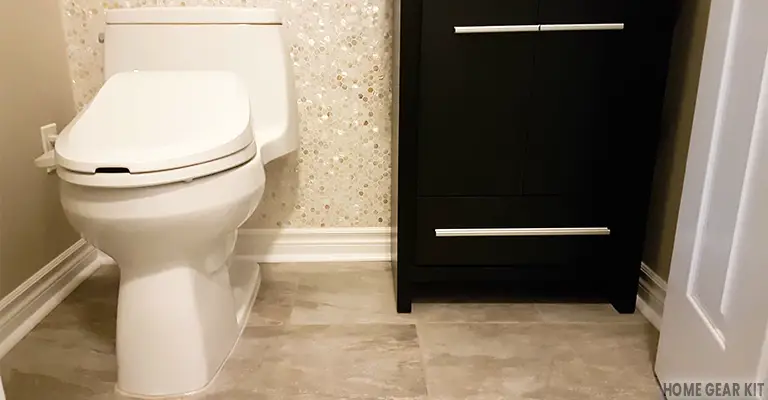 1. Construction Material
Quality and durability depend on the construction material of the product to a great extent. So, KOHLER never compromises to choose a high-quality raw material for manufacturing their product. Vitreous china ceramic material has been used to manufacture KOHLER Santa Rosa Toilet. Consequently, due to the wide range of toilet seat choices available, it has become increasingly important to pick the most suitable one.
2. Shape and Size
The seat of KOHLER Santa Rosa is of elongated shape.  Though the shape of the seat is elongated its corners are a perfectly round shape that aids smooth cleaning preventing the breeding of mold, mildew or bacteria that causes odor.
It is a one-piece toilet seat of ergonomic height. So, an adult of all ages finds it comfortable to use. KOHLER claims there Santa Rosa toilet unit as a space saving in spite of having elongated shaped bowl because though it is elongated it is compacted.
3. Color
Santa Rosa is available in 7 colors. You can choose any of them that match with the shade of the existed color of your bathroom. The unit is shiny enough to add a luxurious look in your bathroom.
4. Flushing Technology
Having a good flushing system is so important that a toilet would be nothing more than a drab piece of bathroom equipment without it. The Santa Rosa series from Kohler incorporates the latest flushing technology that is also water-efficient. Prior to writing the review of the Kohler Santa Rosa, I was very adamant about this feature. 
In every flush, this toilet uses only 1.28 gallons of water which is really very less. You may think that how can this small amount of water can do proper cleaning?
Well, the smart boost and shooting mechanism increases the power and effectiveness of the water used in each flush. Moreover, the shape of the bowl, fully glazed trap way, smooth curves all work combined to remove the waste from the bowl. 
So, 1.28 gallons of water is enough for perfect cleaning if it is Santa Rosa.
5. Easy Installation
Yes, you can take help of a plumber to install KOHLER Santa Rosa but if you have a minimal DIY skill you can do it by yourself by following the instructions written in the manual provided by KOHLER to its consumers.
6. Easy Cleaning
The AquaPiston technology of KOHLER ensures initial cleaning of the waste material. But you know we also need to clean our toilet using some kind of cleaner.
KOHLER has manufactured their product for easy and quick cleaning. The bowl does not have any special coating and so you can use any cleaning agent for cleaning it. 
7. Certification
It is an ADA compliant toilet and so physically disabled people will find it comfortable to use.  It is also certified by EPA water sense that provides testimony of its water efficiency.
8. Reasonable Cost
KOHLER Santa Rosa has a reasonable cost depending on its performance and high quality.  Since it saves water it is also a cost-saving unit. Every year, it saves a handsome amount of your money for water.
Let's see the pros and cons of KOHLER Santa Rosa Toilet at a glance:
Pros:
Aquapiston flushing technology
ADA compliant
EPA water sense certified
Seat and lid comes with the toilet unit
Cons:
Leaks Occasionally
The lid provided is thin
There some colse designed toilet from KHOLER, like KOHLER Cimarron and KOHLER wellworth, hope you like to read them.
Kohler Santa Rosa Toilet – available options and reviews
If you browse Kohler's website for any Kohler Santa Rosa toilet, you will find all the product + installation details to help you out. This includes the specific toilet's features, technologies, certifications, installation guides, and care/cleaning tips as well. There are interactive parts diagrams with clickable parts that will help you zoom in on the technical details before adding those parts to your cart – so, all of these guides are perfect for DIYers and first-time installers! We also like the "Pairs Well With" section that includes compatible replacement parts and other hardware that you might need for your chosen Kohler Santa Rosa toilet (such as quiet-close seats, trip levers, mounting bolts, compatible bidet, etc.).
Just to refresh the features we have discussed so far: all Kohler Santa Rosa toilets include some common technologies that you will also find in the products below. They have the AquaPiston Canister Flush Valve system designed for leak prevention, and it can be installed in all Santa Rosa toilets – making it easy to replace the valve at any time. These toilets are based on comfort-height designs similar to a chair, which means that they are around 17 inches high from the floor compared to the standard 15-inch toilets. This makes it easy for adults to sit and stand back up. You will also note that all Kohler Santa Rosa toilets are elongated and compact at the same time, so they still save up space like a round-front toilet bowl. They are only available as floor-mounted options. Another great technology in their construction is the WaterSense feature that uses 1.28 gallons per flush (GPF), saving up to 16,500 gallons of annual water consumption. Finally, the seamless, one-piece toilet style with integrated tank + bowl is one of the main highlights because of its ease of installation as well as ease of cleaning/plumbing repairs.
Here are some popular Kohler Santa Rosa toilets that we have listed based on their customer feedback and color availabilities.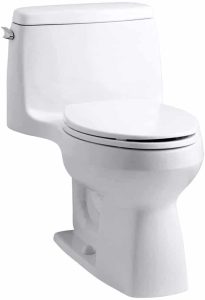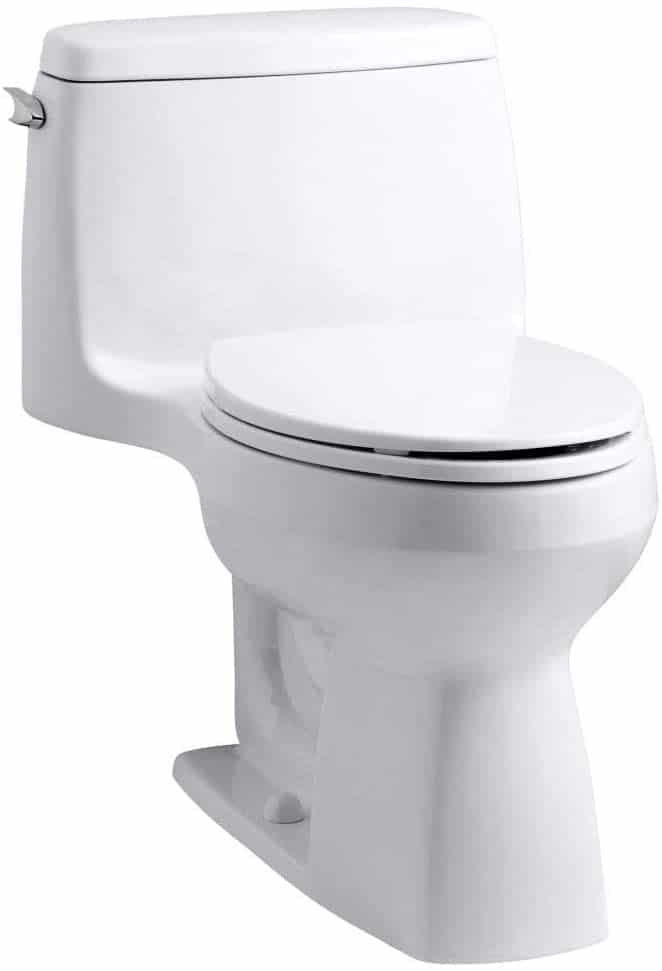 Kohler 3810-0 Santa Rosa toilet is available in white color. The comfort-height style and one-piece design are the brand's standard ergonomics for this collection. It comes with a left-hand trip lever and features WaterSense efficiency at 1.28 GPF. The AquaPiston canister delivers water from all sides, so this combined with reduced water usage enables an easy single-flush capacity as noted by many satisfied users. The flushing and refill functions are both very quiet as well. Leak prevention is another great feature within the tank as it allows more water to be saved. You can install this toilet easily with the average 12-inch rough-in. This Santa Rosa model has been reviewed to last long without any plumbing repairs, so it is a good option for DIYers in terms of installation ease and longevity. Compared to other versions/colors, this toilet has a much lower price range.
Unfortunately, the included seat and lid are not the soft-close type, so if you do want a soft-close seat, you will have to purchase it separately.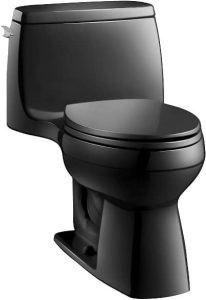 KOHLER 3810-7 Santa Rosa toilet is one of the top-selling black versions in this collection. It features the comfort-height, elongated/compact, and one-piece design for easy installation and cleaning. A left-hand trip lever is included. The toilet has Kohler's WaterSense feature at 1.28 GPF for saving maximum water without slowing down the flush performance – thanks to the powerful AquaPiston canister that ensures leak prevention. Overall, this Kohler Santa Rosa toilet model has been easy to install by DIYers and is quite comfortable to use.
The main limitation, however, was regarding the quality and craftsmanship for this specific color of the toilet range. Several users complained about poor packaging that resulted in damage, breakage, chipped surface, and compromised finish. Since this is one of the more expensive Santa Rosa options, receiving a damaged – or worse, broken – toilet is a huge disappointment.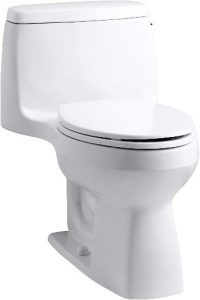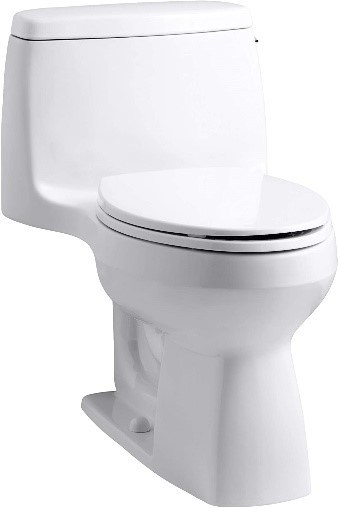 KOHLER 3810-RA-0 Santa Rosa toilet is available in white color and is among the low-price options. Its one-piece and space-saving design is easy to install and clean. In fact, this space-saving design has been a major highlight for homeowners who have small bathrooms and need some extra free space to move around better. This toilet comes with a right-hand trip lever – which is not as common or popular as the left-hand varieties within the Santa Rosa collection. So, if you do need the right-hand lever toilet, the 3810-RA-0 model is a great choice. It also includes the comfort-height and WaterSense benefits.
The new wax ring and mounting bolts are not included – the complete seal kit + toilet are available as a separate buying option.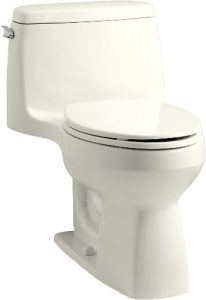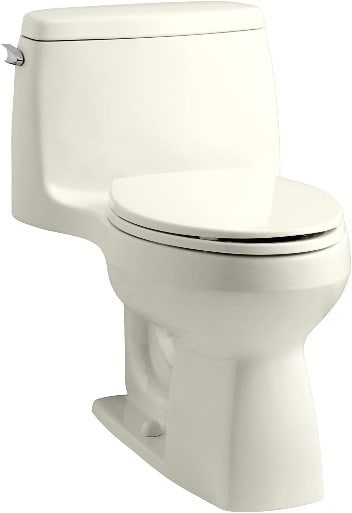 KOHLER 3811-96 Santa Rosa toilet is also elongated and available in the standard one-piece, comfort-height design. This model has a biscuit color and comes with a left-hand trip lever. It features the same AquaPiston canister with WaterSense efficiency and leak-proof results. Apart from the smaller footprint, the toilet offers quick and reliable flushing with just a single flush, and this has been a common positive review among customers. Those who installed such a water-saving toilet for the first time were impressed by their reduced water bills.
As with most Kohler Santa Rosa toilets, this model also lacks a soft-close lid. Only the standard seat/lid is included, so you might want to purchase a soft-close option separately. The lack of bolts and wax rings in this high price range was another letdown.

This is a good replacement part example for Kohler Santa Rosa toilets. KOHLER K-9169-L-2BZ Santa Rosa left-hand trip lever is available in oil-rubbed bronze color and is compatible with K-3810 and K-3811 Santa Rosa toilets. Made of solid brass, it has an easy-to-clean surface that is also resistant to corrosion and tarnishing. You will receive the connecting parts such as the chain rod to make the installation process easier. It makes a compatible replacement option in case your toilet lever breaks and becomes unusable.
The lever is a bit expensive, and some users complained about missing washers in the package.
Final Verdict
KOHLER Santa Rosa is not only a toilet of good quality but also it ensures a healthy environment in your bathroom by providing good feeling after every use. It does not compromise with flushing power, bowl cleanliness, and design to the leading edge.
You may want to consider the KOHLER Santa Rosa as an option if you are searching for a toilet that will serve you well for a long time.