Whether you are running late for your work, or it is your very first job interview; a perfect mirror is indeed a savior. Even though enormous products inundate the market, we have compiled a list of the best fogless shower mirrors that will aid you in your research.
These types of no fog shower mirrors are specially designed to keep them mist free. If you are a person who loves to take a hot shower, then you must have gone through this situation.  
While reviewing this list of products, we have thoroughly researched each of its features. Thus, our article aims to enhance your understanding and assist you in choosing the best mirror among this vast crowd.
Preview
Editors Choice
Best Buy
Nice Pick
Title
ToiletTree Products Fogless Shower Mirror with Squeegee - Anti-Fog Mirror - Adjustable Shaving...
The Shave Well Company Deluxe Anti-Fog Shaving Mirror | Fogless Bathroom Shower Mirror with Handheld...
The Shave Well Company Original Anti-Fog Shaving Mirror | Fogless Bathroom Shower Mirror with...
Editors Choice
Preview
Title
ToiletTree Products Fogless Shower Mirror with Squeegee - Anti-Fog Mirror - Adjustable Shaving...
Best Buy
Preview
Title
The Shave Well Company Deluxe Anti-Fog Shaving Mirror | Fogless Bathroom Shower Mirror with Handheld...
Nice Pick
Preview
Title
The Shave Well Company Original Anti-Fog Shaving Mirror | Fogless Bathroom Shower Mirror with...
Our Top 7 Best Fogless Shower Mirror
The one thing you don't want to be foggy at the start of your day is your mirror. Having a fogless mirror is the first step to ensure that your day is as sparkling and bright as the mirror itself! Here are some of the Best Fogless Shower Mirror.
1. ToiletTree Products Fogless Mirror
Imagine you're running late for work and you have to wait until the fog in your mirror clears up caused by the steam. We can feel how frustrating that will be, but the ToiletTree Products Fogless Shower Mirror can effortlessly solve these issues for you.
With this product, you don't need any fog-free sprays or defoggers, and you only need to pour hot or warm water in the demountable patented water container. Consequently, in a matter of seconds, the mirror turns fogless. The mirror remains inaccessible to fog.
The mirror is not only fog-proof but shatterproof as well. The patented fog-free mirror contains a squeegee that allows you to securely fit the product to your shower wall. It also features a built-in rack to store sponge, razor, and tweezers.
This mirror is very versatile, and it can be tilted upwards and downwards to simplify your needs. You can use it for shaving, removing makeup, tweezing, exfoliating, putting on a facial mask, and using the cleansing brush. The bracket attached to the mirror ensures high adjustability and accommodates different angles.
The flexible bracket can be detached when you want to fill the acrylic reservoir with hot water each time before you use it. Rest assured the surface of the wall will remain damage-free as the mirror comes with an efficient and water-repellent double-sided seal.
Pros
Remains fog-free during a shower, doesn't require fog spray or defoggers
Easy to fill the acrylic reservoir with hot water before use
It can be mounted easily on the wall with zero damage
Has a built-in shelf to hold razors, tweezers, and sponges
Cons
Includes an adhesive that is difficult to remove
2. Deluxe Fog-free Shower Mirror
There are plenty of ostensible fog-less mirrors out there. However, in reality, a lot of them struggle to function as opposed to the advertisement. The Deluxe Fog-free Shower Mirror, a unique, small-sized mirror that comes with a lot of amazing features.
The fundamental feature of having a fogless mirror is that they don't steam up, and that is the essential point. But it is also vital that it has a feature to stick safely to the wall without falling.
For instance, suction cups often lose their stickiness which might break the mirror. The deluxe mirror comes with a hook attached, and you can easily hang it on the shower wall for permanent use.
The mirror is quite portable to carry, it measures 6.83" tall, 5.25" wide and is 1/8" thick. The base of the adhesive hook is 1" x 1.5". It is also quite easy to clean it, you have to sprinkle it with some water and a tiny bit of toothpaste and voila! It will look as good as new.
The shower mirror has a simple mechanism; the only thing you need to do is hold the mirror in the shower so that the temperature of the stream and the shower is the same. As both the temperatures become equal, the mirror will be resistant to fog.
Pros
A unique design which includes an adhesive hook
Quite easy to clean, and will turn as good as new
Easy to hang, with zero damage to the wall
Resistant to water
Cons
Continuous exposure to heat will slowly flake the mirror
3. The Shave Well Shower Mirror
If you're irked by the fact that you have to wipe the steam off the mirror every minute while you shave, then this product is definitely for you. The Shave Well Shower Mirror lives up to its fogless quality.
Also known as the superior mirror, this device is made to surpass, outwear, and outdo any other mirror. It comes with an adhesive hook that lets you remove the mirror for hand-held shaving and also you can carry it while traveling. 
One of the best things about this product is how budget-friendly it is. Instead of a weak suction cup, it has a strong adhesive hook which adds significant value to the mirror. It's also quite compact 6.8" x 5.25" x 0.13" measurement will allow you to fit this portable mirror in your backpack while you travel.
This shower mirror allows you to shave while you take a shower, instead of doing it in the sink and leaving messy hairs behind. The steam from this unit also opens up the pores in your skin which allows the razor to give you a smooth, clean shave.
The mirror is quite simple to use, once you install it on the wall of your shower, you need to hold it under a stream of warm water. This feature will equalize the temperature of the shower and the mirror. Therefore, your shower mirror will be fog-less for a long time.
Pros
Built-in adhesive hook, for easy mounting
Extremely budget-friendly product
Very easy to clean, with a tiny drop of toothpaste
Gives you an instant clear, fogless surface in a matter of seconds
Cons
4. Mirrorvana Fogless Shower Mirror
For different purposes like shaving and makeup, having a shower mirror has become a necessity. The notion of having them is that they save time and finish tasks quickly. They're incredibly beneficial, stylish, and practical. The Mirrorvana Fogless Shower Mirror is the perfect product to have in a modern bathroom.
The shower mirror has a fog-resistant coating feature that allows you to shave or apply makeup with ease.
However, it needs to be periodically sprayed with an antifog after the initial coating has peeled off. This mirror would be the perfect present to gift to your father, brother, best friend, or husband.
It also has high adjustability and can be mounted within a few seconds.  Just place the suction cup against any flat, even and non-porous surface such as a granite countertop or a bathroom mirror to keep the suction in place.
It is also entirely flexible against other smooth surfaces like marble, enamel, acrylic, porcelain, glass, and ceramic.
The mirror is exceptionally portable, weighing only 8 ounces. You can easily carry it in your travel kit, which makes it quite convenient for travel. It is also shatterproof, which ensures that you will never have to deal with broken glass if you accidentally knock it over in the shower.
Pros
Has a compact size, and ensures portability
Features shatterproof glass and fog-resistant coating for long durability
Includes a sturdy, flexible suction cup
The product is very budget-friendly
Cons
Has to be installed far away from the shower.
5. ToiletTree Deluxe LED Fogless Mirror
In recent days, the world of interior design has seen a lot of innovations, and fogless mirrors are one such creation. They come with in-built lights, adhesive hooks, locking suction, and adjustable angles.
Also, they are one of the best products to make your bathroom look modern and sleek. The ToiletTree Deluxe LED Fogless Mirror is one such item that will upgrade your shower room.
Furthermore, the fogless mirror is incredibly durable and even 20% larger in size than other mirrors in the market. The water chamber is patented, which ensures that the mirror will remain fogless and give you a fantastic shaving experience.
It's highly adjustable, and you can slide the mirror from the bracket and fill it with warm water before each use. If you happen to have less natural light in your bathroom, you will enjoy having this mirror because it also features built-in LED lights.
The lights are wrapped around the mirror. Therefore, they give a proper view of your face when taking a shower at night or early in the morning. Also, it includes a silicone adhesive for fixing the mirror in any shower. When mounting this mirror, you can place it close to your shower head and let the water flow along its back.
As the hot water flows across the back, it prevents the fog from forming on the surface of the mirror. It also comes with a bottom shelf that can easily hold your razors or tweezers.
Pros
20% larger in size than other mirrors
A versatile product which has LED lights, ensuring high visibility
Built-in bottom shelf for razors and tweezers
Includes easily removable silicon adhesive
Cons
The LED lights are a bit off-center
6. JiBen Fogless Shower Mirror
What do a rush hour and a foggy mirror have in common? Both are equally frustrating and take way too much time to get where you're going. But what's the difference between them?
You can't speed things along in the traffic, but you can buy a new mirror. Take your shower to the next level with the JiBen Fogless Shower Mirror. Among all the fantastic features of this product, the most unique is how less of a time it takes to warm up the mirror.
All you need to do is just splash or wipe the surface of the mirror with some warm soapy water, and it will give you instant clarity! Not only this, the stylish and sleek design of the mirror comes with a razor holder.
The shower mirror is also highly affordable, so you don't have to worry about loosening your wallet over this one. It is incredibly lightweight; 6.4 ounces enables you to carry it around wherever you travel. Another brilliant feature is the 360-degree rotation that lets you rotate the mirror at any angle for an easy view.
The sturdy design of the powerful suction cup allows you to mount the mirror easily on the wall without spoiling the surface. Moreover, it includes a suction lock system that provides a strong non-slip attachment where you mount it.
Pros
Sturdy suction cup with a lock system
Extremely budget-friendly
Very portable to carry around
Has a 360-degree rotation for easy access
Cons
7. Fogless Shower Mirror with Razor Hook
One of the best ways to prepare yourself for the day is having a mirror, better yet if it happens to be a fogless one. Shaving is fun for a lot of people but horror for a few. The Fogless Shower Mirror with Razor Hook is one of those that won't disappoint you because this type of mirror won't fog up when the steam hits it.
The number one fogless mirror is guaranteed to remain fogless even the shower steam goes up to 100 degrees.
All you need is to splash it with a few sprinkles of hot water to equalize the temperature. It is effortless to clean, just with a tiny dab of your toothpaste it will turn as good as new.
Although the mirror features a rounded design, it is mounted inside a frame that contains a flat bottom and has a hook that allows you to hang your razor from the mirror.
This way, you can easily unhook the razor from the mirror instead of spending time looking for it. Additionally, this product also includes a robust suction cup that is quite easy to install and has a 360-degree swivel that allows you to rotate it any way you want.
Pros
Perfect size for your shower room wall
360-degree rotation for easy use
Sturdy and powerful suction cup
Straightforward installation
Cons
Features to Consider While Buying
Purchasing the best fogless mirror among a considerable number of products is indeed a difficult task. Moreover, now you might be confused, and wonder, which features you should consider while narrowing down your research?
Therefore, to lessen your complication, we have designed a definitive guide to help you throughout your decision.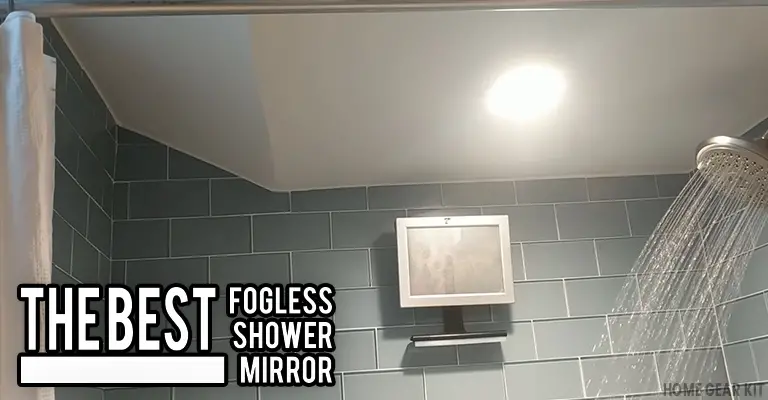 Mounting
While buying a mirror, you might notice that it comes with different designs and also with several mounting options.
There are wall-mounted fogless shower mirrors, standing mirrors, and even hanging mirrors. Hence, it might confuse you which one you should purchase for you. So, let us see the best among the three of them.
If you do not want to move the position of your mirror once you have located it, then the wall-mounted fogless mirror is perfect for you.
These are usually one of the best choices as you do not have to hold it as well as there is no chance of it being knocked down.
Besides, it does not require any additional space, for example, a table or bench. It can be fixed on the wall providing user convenience and accessibility.
Hanging shower mirror is an appropriate choice if you have a rainfall showerhead in your bathroom.
However, if you have installed a bathtub in your bathroom, then you might be in trouble while adjusting its height.
In some cases, you might find yourself limited about where to hang the mirror as your bathtub has a certain height.
You can choose this free-standing mirror if you consider using it flexibly. However, you should be very careful about using it as it might fall off from your hand or its stand while taking a shower.
But these mirrors give you plenty of privileges as it is a compact unit, and suitable for traveling.
Safety
Regarding safety issues, shower mirrors come with plenty of features. So, if you choose a mirror to move around, then make sure that it is safe everywhere with you. 
But an accident might occur, and if it falls off the wall or breaks inside your luggage. Therefore, you should buy a mirror that offers shatterproof and tempered glass.
The Temperature of the Water Stream
We all are aware that the water temperature causes fog on the mirror. However, each of the glasses comes with a different type of fog resistance feature.
Apart from this, if you consider boiling water for a shower, then you must avoid purchasing mirrors with adhesive mounting. In that case, for a hotter shower, suction cup mounts are quite beneficial.
Additional Features
You should know that several shower mirrors come with enormous features, and if you are a person who expects more than a glass, then you should consider this aspect.
For instance, some of the mirrors offer you an inbuilt razor holder, brush holder, and even illumination unit. 
Types of Fogless Mirrors
You might find various kinds of mirrors if you look into the market. Not all of them are suitable for everyone. Before buying, check all the different types of mirrors available and choose the best one, which suits your interest.
Coated Fogless Shower Mirror
Mist-free shower mirror comes with chemical-based coating, which keeps the fog away from the glass. However, you should keep the mirror away from the shower stall as it might cause deterioration of the glass. Furthermore, there are products available that you can recoat and save from ruining it.
Reservoirs Included Fogless Mirror
Some of this unit has a reservoir located just behind the mirror, which helps to defend it from being smoggy. Furthermore, this reservoir generates heat at the same temperature of the water so that the fog ultimately wipes away.
This feature is quite similar to the car when it rains. Hence, theoretically, this type of mirror never gets foggy because of its distinctive component.  
These particular types of mirrors connect directly to the pipe coming out of your mirror. It works as a conciliator between the showerhead and the tube. Additionally, it has a regulator on the top, which helps to drain off the flowing water and dehydrate the mirror.    
Regardless, these mirrors are quite complicated to install.
It would be very annoying if your mirror gets foggy when you are about to shave your beard. Besides, there are various types of shaving mirror which comes with so many sophisticated features.
Some of the mist-free shaving mirrors have shatterproof acrylic, which is more likely a plastic surface.
Hence, there is no chance of scratching or breakage. However, you cannot expect this surface to be as smooth as glass, because indeed glass is more apparent than any other particle.
Frequently Asked Questions
Q: How does this mirror work?
Ans: These mirrors consist of anti-fogging technology. There is a chemical coating on the mirror surface. It prevents water droplets from condensing in the mirror.
Q: How do you clean this mirror?
Ans: Firstly, clean the glass with regular detergent or soap. Then mix one-quarter of hot water with two tablespoon vinegar.
Wipe the mirror with that mixture and let it dry. After a while, you will find your mirror clean and mist free. However, it will not last more than one week.
Q: What factors should you consider for a durable mirror?
Ans: For durability, a shower mirror comes with different characteristics. However, before purchasing one, you should always make sure that the glass is shatterproof and temperate.
Q: What is a mist free shower mirror?
Ans: A mirror is mist free when it does not get foggy while taking a shower. We often notice that right after a quick hot bath, our shower mirrors get blurred.
So, there are mirrors that do not get soggy even after your bathing, and those are the mist-free mirror.
Q: What are the benefits of this mirror?
Ans: A fogless mirror is quite efficient for time saving. Besides, many of the mirrors have a brush holder, razor holder, or lighting option, so that it is indeed useful for your daily activities.  
Wrapping Up
We often get confused when we have to decide which product will be appropriate according to our demand. Even though these are not expensive bathroom accessories, but still researching is necessary to get the best fogless shower mirror.
If you are investing money, then we recommend considering your purpose for buying this product. Remember, you should get a mirror with suction cup style if you want to carry it out.
Furthermore, if you are going to make it permanent in your bathroom, then always go for wall-mounted mirrors. These are easy to install and fix in a specific position.