Leading from the front, maintaining healthy teeth begins the long list of hygiene. So before you choose a toothbrush holder- think again. Do you want your toothbrush to come in contact with the same germs that you dislike while you are in the bathroom? Remind you that this is the same hygiene product that comes in contact with your mouth every day.
A proper toothbrush holder doesn't only help in keeping bacterial growth away from your toothbrush. It also helps in organizing all your mouthpieces properly. There are tons of different types of brush holders in the market. But no matter what type you are looking for, going through from here will definitely help you in finding the right one.
Why the Toothbrush Holder a Must Have Kit?
A toothbrush must have a kit as it should have enough space to hold the toothbrush at the same time toothpaste and other stuff. It should hold it upright and a kit allows so. Well just like a kangaroo holding its child in itself, a kit does the same work in the case of the toothbrush holder.
Best Toothbrush Holders
---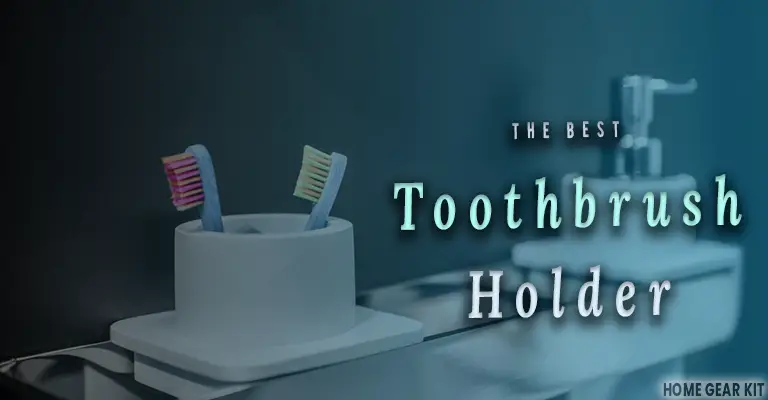 1. HBlife Stainless Steel Bathroom Toothbrush Holder
HBlife is an exclusive brand that specializes in providing unique solutions for better organizing your home. Their toothbrush holder is one of the many top-quality items they provide throughout their region. 
As the name suggests it is made up of stainless steel with an attractive glossy silver color that never discolors. The best part of it is that it is made up of food-grade stainless steel which is hygienic and moreover it never rusts as the water drains quickly.
There are a total of 4 slots for the brushes & one slot for the paste. Overall it is perfect for a family of 3 or 4 to have it in a neat place where everyone can access it whenever they need it. 
It is only 4.76 inches wide & 3.94 inches tall, giving it the perfect dimension to fit wherever you want it to. 1.113 ounces of weight makes it a lightweight piece, but not too lightweight to tilt at the weight of the paste or the brush. If you only have to put your toothbrush, then you can use the other slots to put other personal hygiene pieces such as a comb, a razor, or a face wash in it. 
With all the helpful features everyone wants a stylish product. Keeping that in mind this product has such a beautiful wavy design and simple yet gorgeous look. It also comes in a black version 
There are some downsides that you should be aware of. The paste compartment is too small for a regular size toothpaste. You have to keep the brushes separately as they can come in contact with each other if not placed carefully. 
2. Oxo Good Grips Stainless Steel Toothbrush Organizer
OXO is a manufacturer that looks to make innovative changes in order to make your day to day lives simpler & easier. Their motto is products that are engineered for functionality and durability. This 1286600 Toothbrush organizer is as accurate they can be about their motto. 
The elegant look outside the organizer you see is the result of stainless steel built. It radiates a shiny silver look making it sensational. Inside we have durable ABS plastic for the slot divisions & inside layers. They are no doubt food-grade plastic giving no harm at all. 
With such an elegant look, the product offers storage of four toothbrushes and a tube of toothpaste with a cover to protect it. The cover has a slanting opening that slides open and closes for healthy storage. It has easy access to a wide opening.
There are both top & bottom air dents in order for the toothbrushes to dry up easily. The rings inside the holder keep everything well apart so that the brushes don't get in contact with each other. The inside divider can easily be removed for cleaning from time to time. 
Well, the main attraction of this product is its cover. As most of the time, it seems unhygienic to keep the toothbrush open in a small bathroom so here is the solution. This gives complete sanitary storage. It can easily be accessed without any hassles to open or close. 
The only downside to this product is that it gets smudged with fingerprints often. Even though they can be wiped with shellac or lacquer, who wants to clean it every hour. They are not designed for flat-headed toothbrushes as the heads can come in contact. 
3. Packetop Stainless Steel Toothbrush Holder
Packetop has introduced a sleek looking toothbrush holder that goes well in any toilet. Not only because of its elegant design but also it has a sturdy build to organize all your mouthpieces. Packetop certainly worked on the greater picture here.
Stainless steel built ensures that the product is well constructed in every way. The wavy design of the product makes it attractive with a simple fashionable look. Along with the look, it has a good airing and water draining system. As a result, they do not form any dirt-grease at the bottom.
The holder can accommodate 4 toothbrushes & 1 toothpaste without any of them getting in contact with each other. This prevents any sort of mouth infection or germ spread that can come from other toothbrushes. With a 4.72*2.36*3.92 inch dimension, it saves you a lot of bathroom space as you won't have to worry about where to keep it. 
The bottom knobs on the corners give a good grip to the surface. You can even put other hygiene pieces in the slots if you like. Overall it won't tilt in any way due to the weight of the toothpaste. It certainly kept the customer's needs first with all the necessary angles looked after. 
Not every electric toothbrush would fit the compartment as it's a bit small. Many have found that the stainless steel body starts to rust after some time of use. This is a grave issue as it hurts it's aesthetic look.  
4. Airmoon Mini Ceramics Handmade Couple Toothbrush Holder
Airmoon is a manufacturer that mainly focuses on eye-pleasing angles to improve your day to day products in improving your life. If you want the simplest of designs to keep your toothbrushes in the perfect manner then the Airmoon toothbrush holders would be a great addition. 
They have come up with a minimalistic design for this product. It goes splendid wherever you put it. The color of white, baby pink, and sky blue make it really smart. If you have a small bathroom, but still looking to increase the charm then these are the way to go. 
The ceramic build gives them a sturdy build so that they can stay put in their position. The inner dimensions of the holder is almost 18mm. They come with a variety of sizes, so make sure you choose the right one before you order. 
Because of their small presence, they are extremely easy to clean. Not only that, but they have a more open design making them having less dark space or corners for germs to lurk. This way you know that your toothbrush is kept in a hygienic way. If you face any problems then they offer a full money-back guarantee on them if you order two. 
If you have a heavy toothbrush such as electric toothbrushes, then these holders can get tipped over. You know very well what ceramic products face when they come with impact. So you need to be very careful in this sense. 
Toothbrush Holder for Travel
---
5. Zelta Toothbrush Toothpaste Holder
Toothbrushes are not an item for home. Even if you travel, you need to take the toothbrush with you if you don't want to talk to someone with bad breath. Zelta has come up with the perfect solution for this purpose. This small storage box is the best way to travel with your mouthpieces. 
An ABS plastic build with a dull polish design makes it perfect to withstand the impact in the bag. These storage boxes have a dimension of 7.8″ x 2.36″ x 1.3″, 
It is very easy to open and close with a large room inside than it seems from outside. They protect the mouthpieces from all the dirt that is stored in every bag ever. There is a hanger that is fully rotatable and allows it to hang in the bathroom.
With all the flosses, toothbrush & paste, it's a must-have if you are traveling outdoors. The manufacturer also has a 30 days money-back guarantee if you are not satisfied with the product. 
A problem with this product is that it does not have any hole as a result if there is any water left in the brush that gets wrapped in the holder. Due to improper ventilation, the toothbrushes will have a hard time drying up. There is also a high chance of mold growth inside due to the dripping water from the toothbrushes.
Toothbrush Holder for Wall
---
6. Mellewell Toothbrush Holder Toothpaste Organiser
Who wouldn't like to organize their whole bathroom in a fashionable manner. But with the limited spaces most bathrooms have, it's really not 100% possible. With that in mind, Mellewell has come up with an easy way to organize your mouthpieces. 
This holder is so simple yet sturdy and fulfills your demand. It has both the option of hanging in the wall and also placing it simply. With two available colors of brushed nickel and flat black, you can choose whatever you love. There are 4 slots to keep toothbrushes & one for the toothpaste. 
It is made up of high-quality stainless steel which gives durability and stability at the same time. A hard polished brushed nickel finish makes it hard to get rust, scratches, and discoloration. And the best part is they assure a hundred percent assurance by refunding if you are not satisfied, moreover, they will not even ask any question.
Considering all the fact this product is really helpful having compartments and also the water dripping system keeps the brush dry. It can be mounted easily on the wall for cleaning the bathroom easily. The toothpaste slot is oval in shape which makes it difficult for the paste to come out but if it is kept inverted the problem can be solved.
Not all types of toothbrushes are able to fit the small slots. The curvy ones will definitely not fit in them. There is also a  chance that the rubber parts of the toothbrushes might come off if you pull the brushes at an angle. 
7. ihave Toothbrush Holder Wall Mount
If you want the best product to utilize all the space in your bathroom in an efficient way, then this is the one to go with. iHave has designed a neat way to organize all your mouth essential in one holder. 
The first thing that grabs the attention is no drilling or nailing is required to mount the holder. There is an adhesive tape that does not leave any mark yet too sturdy to hold it, once it gets stuck it will not fall off. Adhesive tape can be used in any kind of wall, tiles, mirrors, etc.
It is perfect for a large family, as it can hold 9 regular sized toothbrushes or 6 electric toothbrushes inside. There are 3 cups with full covers to protect the brushes from outside germs. There is adequate space so that the brushes don't come in contact with each other. The maximum load it can take is 176 ounces.
Alongside the brush slots, there are 4 compartments to keep your other essentials such as comb, razor, past & trimmer. The brushes are kept in an upright position so that they can dry properly. The water can easily drip out & dry. For cleaning purposes the whole holder can be taken out.
The product is made up of environmentally friendly material that is safe to use. The ABS plastic material is food-grade material & safe to use without any odors or cuts.  It has a bright color with 3 different 3 cup colors. 
Many users have been disappointed that after some time the adhesive just falls, leaving you with a mess. This is highly disappointing that all your expensive hygiene pieces fall on the germy floor of the bathroom. 
Toothbrush Holder with Toothpaste Dispenser
---
8. Weekly 015 Squeezer Kit Wall Mounted Toothbrush Holder
With the world becoming so much advanced, why should a simple accessory such as a toothpaste dispenser fall behind? That's why Wekity has brought their toothbrush holder with an automatic toothpaste dispenser wall mounted to it. 
The overall build of the holder is made from silicon. The fun fact is that it requires absolutely no batteries for the paste dispenser to work. With just one squeeze, it works fine. 
The holder can easily stick on to any smooth tile wall or mirror using the double-sided adhesive tape and also two screws. You have both the choice of screwing and sticking. For sticking it the wall must be clean and then it has to be pressed firmly and kept there for 24 hours without any use.
It can hold up to 3-5 pieces of toothbrushes so your whole family can be covered using this holder. The head of the brushes is well protected due to the lid of the holder. It keeps the brushes in an upright position so that they can dry properly & all the waters can drip nicely. No worries about germs or bacteria. 
In case if you are not satisfied with the holder you can have a 30-day free return. The 18-month warranty that comes with it is rarely seen with a product such as a toothbrush holder. 
There is complaining of a lack of durability due to sticky tape that comes out and also damages the paint on the wall. The toothbrush holders are also narrow so not all types of toothbrushes can be held in it. Electric toothbrushes are a no for this one. 
No products found.
Toothbrush Holder with Suction
---
9. Hasko Accessories Suction Cup Toothbrush Holder
This one is for those who hate to drill holes on their precious walls. Hasko accessories have brought to you a suction cup toothbrush holder. As you are keeping your mouthpieces organized, you will also have an aesthetic look of your washroom. 
With the use of advanced technology the holder does not require any drilling or screwing, there is a suction cup with the product that helps to hold the product in place. The suction works best on a smooth surface such as tiles or mirrors. But even if you have a rough surface there is a glossy finish sticker that would solve your problems. 
In order to install the suction cup just simply press it hard in its position and rotate it in a clockwise direction. You can relocate it any time just by twisting and taking it off and then remount it according to your need.
Chrome-plated stainless steel makes it quite sturdy & highly corrosion-resistant. The suction itself is made of high strengthening rubber for taking up high loads. The pot that holds the toothpaste, toothbrush, or even razor has great space and can be removed easily for cleaning purposes. It looks super nice, clean, classy, and changes the look of the bathroom.
It gets a lot congested if a toothpaste & some toothbrushes are put in it. In this situation, the heads also have a chance to come in contact. Some have faced the suction can't be held up if the load gets high. 
Toothpaste Holder for Mirror with Suction Cup
---
10. Toothbrush Holder Suction Cup, Mirror, Tile, Toothbrush Holder
Most people find it tough to manage space in their small bathrooms. It's really when you are searching for space to keep your toothbrushes organized. SimpleLife has come up with a great solution with their suction cup toothbrush holder for mirrors.
The design of the holder is much more sophisticated than others. It has a straight-line slot design to hold a toothbrush, razor, and toothpaste. The superior suction cup holds it harder and is easy to install or use as travel accessories. For all surface installation, there is an adapter that makes it even comfortable for use.
Stainless steel build makes it rust proof so that the humid air around the bathroom doesn't affect it at all. The chrome suction cup is capable of holding up to 10 pounds. The brushes are kept in an upright position so that they can dry properly. 
It is capable of holding brushes with 9mm width starting with child one to the electric one. It has four slots and a space for keeping a razor. It does not hold any water and also it rusts free due to stainless steel construction. Though it is not eyeing catchy when you look at them it seems perfect being in the position.
It has absolutely no space for a toothpaste tube. The manufacturer should work on the adhesive as many users have found that the suction was to not working properly. Might not be suitable if you have a wider toothbrush. 
Toothbrush Holder for Electric Toothbrush
---
11. Octopodis Stainless Steel Electric Toothbrush Head Holder
Now for the last, we have saved for those who are looking for the perfect toothbrush holder for their electric toothbrushes. OCTOPODIS has dedicated its products to solve the day to day problems of all our lives. This Electric Toothbrush holder is going to show you how they are fulfilling their motto. 
Chrome stainless steel ensures that you have a robust build & rust free usage. Providing an organized way to keep the bathroom clean which does not hold any water in them. There is enough space in between each slot. It can be kept on freestanding or can be placed on any kind of surface with adhesive given with the product.
The designs ensure that you have no problem with water puddling on to the stand. It is an elegant bathroom accessory with great design holding the toothbrush heads. It has a color option of three that is steel, white and black. There are 4 slots that ensure that if you have a small family, you are fully backed up here. 
With such a position of the brushes hanging, they can be dried in no time. It won't take much of your space. As a result, you can keep it on any flat surface you like. It has a rubberized bottom that makes sure it is properly standing without any slippage. 
As a day to day item, the manufacturers should have taken a closer look at the edges of the product. They are quite sharp enough to make a cut. It gets smudges & paste stains easily, so you'll have to wipe it often. 
Best toothbrush holders – updates for 2022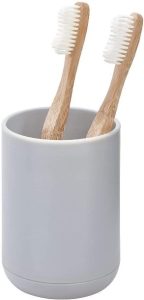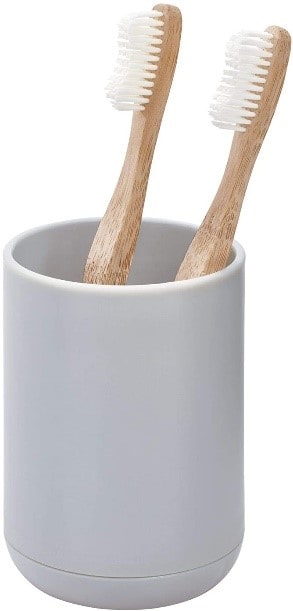 iDesign's simple, freestanding matte gray toothbrush holder is made of plastic – so no issues with rust – and has enough room to hold toothbrushes and toothpaste. The feature that makes this the best toothbrush holder is its removable outer shell for easy cleaning, which also lets you drain out excess water that collects over time. The divider forms 3 separate slots to accommodate an Oral-B electric toothbrush, a standard toothbrush, and a toothpaste tube. This keeps your toothbrushes separate from each other so that they never touch. The holder's compact design goes well on countertops and cabinet shelves too. It is sturdy enough to stay upright with a toothpaste tube inside – which is great as it will not keep tipping over.
The only concern is that even though the holder itself is quite stable, its tray tends to fall off when you lift or move the shell.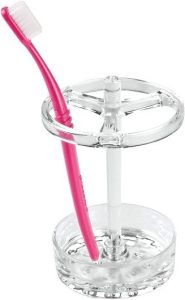 iDesign Eva is another great option for compact and freestanding toothbrush holders. This plastic version from the brand makes a nice addition to master/guest/kids' bathroom vanities. It has 3 slots and can accommodate both standard and electric toothbrushes. The durable acrylic plastic construction is rust-resistant and easy to clean. You can wipe away water stains or toothpaste residue easily from the base – thanks to the open design that supports quick drying and easy access. The slots can actually hold 3 individual electrical toothbrushes like those from Sonicare without the holder tipping over from a lack of balance. This makes it the best toothbrush holder with a compact base that stays upright even with electrical toothbrushes.
The only limitation if any would be the regular washing needed for the base, as it collects the dripping water from the toothbrushes.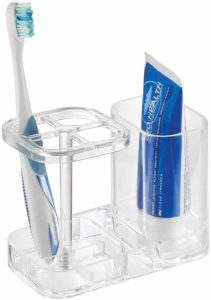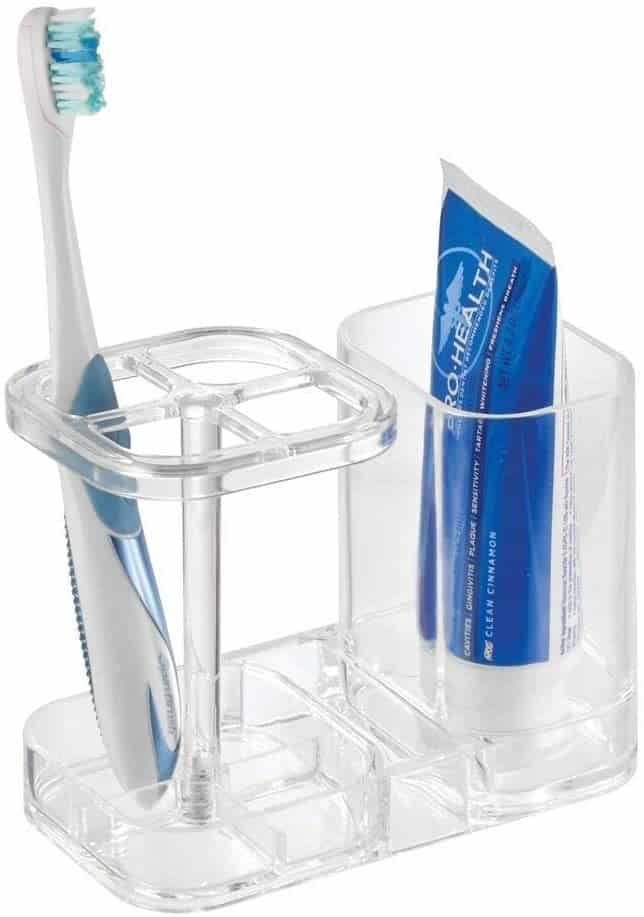 This is another clever storage option by iDesign. The BPA-free plastic toothbrush holder has 4 toothbrush holes, 1 toothpaste tube compartment, and a neat little slot in the middle for dental floss. It is a functional and organized way of keeping all your dental essentials within reach – no more excuses for not flossing! The freestanding organizer can be placed on the countertop or hidden behind the vanity mirror cabinet. It simply removes clutter and helps you organize your vanity more efficiently. Also, the stable base with an integrated toothpaste tube holder adds a good balance that prevents the caddy from tipping over – like it usually happens when you remove a toothbrush or the tube itself. The slots can hold various sizes of standard and electronic toothbrushes such as Oral-B.
The major limitation of such a design is that it can be tough to clean the tray, with all the individual slots making it difficult to reach the corners. There were also complaints about the toothbrush holder arm being too flimsy.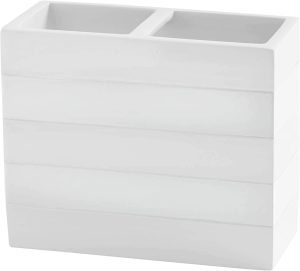 Kassatex offers a white and simple toothbrush holder with a lacquer coating. It has a sturdy and tall design that adds balance and prevents toppling – which is a common problem in freestanding circular holders. The base includes nonslip grips on the bottom for even more stability, and they allow the holder to be placed securely on countertops. You can clean the surface easily with soapy water. The slots can accommodate toothbrushes as well as a slim toothpaste tube.
Though it is simple to wipe down the surface, you might find it tough to reach inside for thorough cleaning – soaking in some soapy water should help! The price is also a bit high for such a simple design that lacks a removable tray.
This navy toothbrush holder from Home Basics has a slim profile that works well in limited spaces. It is made of ABS plastic and keeps your toothbrushes organized and spaced apart.
The thick-walled holder is quite durable and will match perfectly with other navy blue vanity accessories – the brand's navy blue soap dish and soap dispenser are good examples. The base is also stable enough to retain the holder's balance, so it will not topple over whenever you remove a toothbrush.
Some customers who bought this toothbrush holder complained about quality issues. The rough edges can really spoil your countertop aesthetics.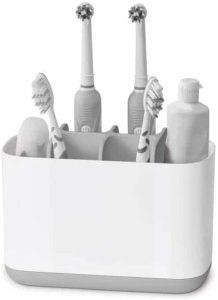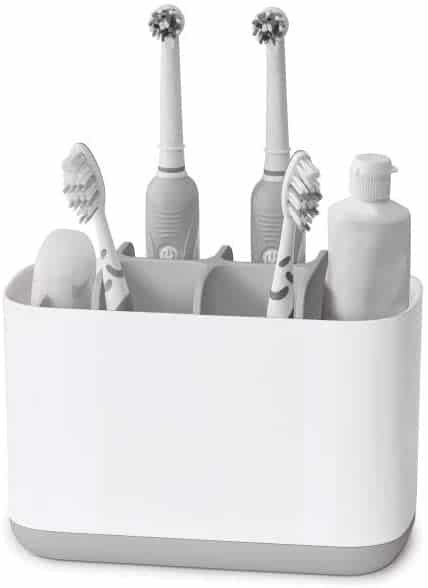 Joseph Joseph store has the best toothbrush holder available as a large organizer caddy. The divider, outer shell, as well as tray are all removable, which is the highlight of this set for easy cleaning and water drainage. It is the perfect choice for accommodating multiple toothbrushes, a toothpaste tube, and even a dental floss kit. The holder includes 6 individual slots and can hold both standard and electrical toothbrushes (including Braun and Oral-B). It has a ventilated design for maximum and quick drying. The base has nonslip feet for stability, so you can always place the holder on a countertop. It simply checks the boxes for ideal storage, quick drying, detachable parts, and water drainage.
The main issue with this toothbrush holder caddy is that it might not be compatible with certain versions of Sonicare electrical toothbrushes and their charge bases.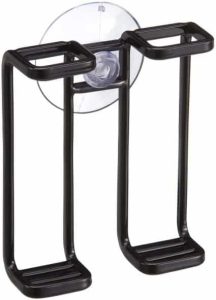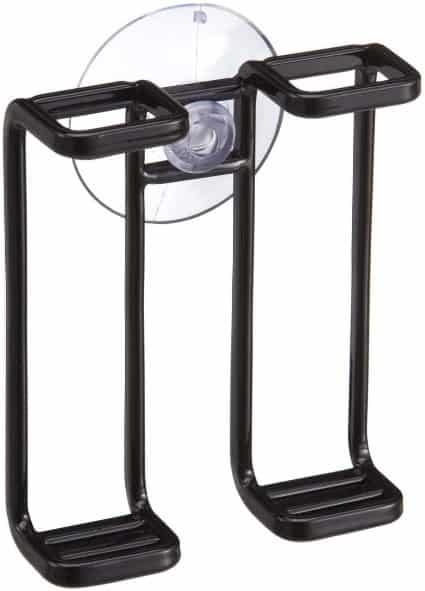 YAMAZAKI toothbrush holder is a good wall-mount/mirror-mount option with a suction cup. It has 2 holder stands, and the design has a different, minimalistic look about it which simply reflects the brand's "small-space living" inspiration. The metal steel construction is durable and lightweight and allows you to mount the holder to a wall/mirror to free up countertop space. Another highlight of this design is its open-frame base structure that lets water drain through without collecting – so no more worry about cleaning holder cups! Usually, the caddy-style toothbrush holders have the common problem of toothbrushes touching each other, so this individual holder design makes a good alternative and keeps the toothbrushes separate.
You might have to use toothbrushes with bases that do not slide through the gap and can be removed easily, so this can limit the compatible options. For example, kids' toothbrushes are more likely to slide through the gaps than adults' toothbrushes. Also, the single suction cup does not offer enough suction power for a good balance to keep the holder straight.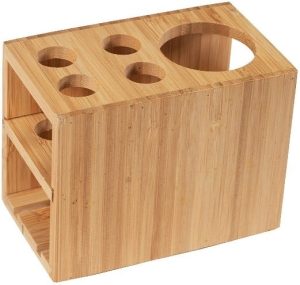 If your upcoming bathroom makeover is going to include bamboo accessories, then Bamboo Naturals has just what you need. This bamboo toothbrush holder is made of 100% sustainable bamboo and is the perfect choice for those who already use bamboo toothbrushes. It will make a matching addition to your vanity, and the neat, sturdy design is definitely something we would showcase on a countertop rather than hide in the cabinet. The holder has an easy-drain feature that allows water to drain away through the integrated slots in the base. Since bamboo is odor-resistant, this is a huge plus and simplifies your cleaning task. There are 4 toothbrush slots and 1 toothpaste tube slot. The overall slotted top and center shelf keep the items upright without touching each other, and this also helps you remove a toothbrush or toothpaste without causing the holder to tip over.
Some customers who bought this bamboo toothbrush holder faced issues with mold buildup, so it is not the best option for humid climates and poorly ventilated bathrooms.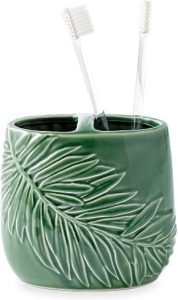 This is a decorative freestanding toothbrush holder from Destinations and is made of glazed ceramic. It is great in terms of aesthetics if you are planning a bathroom remodel and want to start fresh with new accessories. The holder will also make a good addition to any guest bathroom where it can last longer because of less frequent usage. It has enough room to accommodate toothbrushes and a toothpaste tube, so you do not need to worry about the shape or size of the toothbrush.
The biggest letdown in the design is its nonslip base which might cause the holder to slip and crack.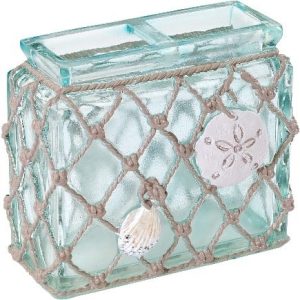 This is another decorative option from the Avanti Home Seaglass Collection. If you are aiming for a seashell/beach-inspired theme for your new vanity, then this resin toothbrush holder is a good choice. Again, this is also the kind of accessory that will last longer in a guest bathroom where it will not be in frequent use but still add a bit of aesthetics. Paired with the brand's matching soap dispensers, shower curtains, and other accessories, you can have a full bathroom makeover with small details that count. The entire seashell and rope design has been painted on the surface. The holder can accommodate both standard and electrical toothbrushes easily.
The aesthetic appeal seems to be the only highlight of this product, as most users were disappointed to note that the holder was actually made of cheap plastic – which removes durability from the positives. The intricate design can make it tough to clean the surface, not to mention the difficulty it will take to reach the inner bases for removing buildups.
Type of Toothbrush Holders
Toothbrush holders vary a lot. Listing them below will be the best idea.
Traditional Toothbrush Holders
Holders with a cup-shaped framework that may have a slot or not fall into this category. It usually allows holding toothbrush, toothpaste and other toiletries.
Couple Toothbrush Holders
These kinds of holders would be seen in the bathroom adjacent to any couple. Usually, they are two toothbrush holders incorporated with sweet designs that can simply brighten up your morning in no time. Often there is space for the toothpaste too. Overall giving a sweet vibe to anyone seeing it.
Toothbrush Holder for Travel
It is a kind of bag for holding the toothbrush, mini toothpaste which keeps the brushes safe while traveling. These holders are usually made of food-grade plastic material that keeps the toothbrush safe from germs even at high temperatures. You would also find small encapsulations for the toothbrush head keeping it safe.
Toothbrush Holder for the Wall
As a more stylish alternative, many find it nicer to hang the holder on the wall. These holders are drilled & screwed onto the wall. You would find that there are a lot of different styles where you can put the toothpaste in the middle & the brushes on one side. There are even some holders that can hang the toothbrush head keeping the head safe from germs.
Toothpaste Holder with Suction 
This holder has a suction, as a result, no screwing or drilling is necessary for hanging. Repositioning is also easy. These holders are attachable to any non-porous surface such as tiles, glass, or metal. They are very easy to install & more preferable than the drilled ones on the wall too.
Toothpaste Holder for Electric Toothbrush
This kind is specially shaped for holding the electric toothbrush only. Electronic Toothbrushes need to be kept in an upright position & usually a covered head would do great. But there should be small openings for the cover to allow air inside to let the toothbrush dry nicely.
Toothbrush Holder for Mirrors
For a toothbrush holder for mirrors, the sticker must be strong enough. These toothbrush holders are very lightweight with minimal spacing so that the mirror doesn't get covered. Apart from stickers, suction holders are also great as a mirror toothbrush holder. 
What to Consider Before Buying a Toothbrush Holder
For buying the best toothbrush holder for you, you need to consider some facts and do much research before buying it. Here is a quick guide you may go through before buying it.
Materials
An important point to look over while looking for a toothbrush holder is the build material. A stainless steel holder would be much more durable & longlasting. But it would be the costlier one too. 
On the other hand, if you opt for a plastic one, make sure it is food grade & non-toxic safe for the brush head. They should withstand high temperatures too. But these lightweight materials can break if contacted with a huge impact. 
Water draining system
The water draining system is the ability to flow water out from the holder. This helps to keep the holder's hygiene and dry. The holder should be able to keep the toothbrush in an upright position. 
If it has a headcover, then it should have small holes for air to pass. These holes allow the toothbrush to be dried properly. As a result, the germs & bacteria have a lesser chance to grow with the moisture gone from the head.
Spacious
Find a holder to be roomy enough for at least your toothbrush and toothpaste. In fact, some prefer having a large room for keeping face wash, razor, and other toiletries as well.
If you have a large family, then it might be better to have a toothbrush holder that can accommodate all the toothbrushes who use that bathroom. Wall-mounted holders go great with a smaller bathroom as you can store all your hygiene pieces along the wall without occupying too much space.
Stability
Check whether the holder has a welding joint or foot with rubber stuff for stability. Else you may face the problem with tipping off. 
The bathroom is accommodated with a moist environment, joints of the holder more prone to toppling. This can seriously increase the chances of the toothbrush getting in contact with germs. 
Color
Check whether the color discolors or not as nobody wants their toothbrush holder to fade. Plastic materials have a tendency to fade after some time. That's why it's wise to choose a color that won't show the fading such as blue or purple.
Divider
Sometimes it is seen that one toothbrush comes in contact with another. This is neither hygienic nor nice in terms of decor. A divider gives the solution to this by separating each other. There are also holders that come with hanging each toothbrush head individually side by side.
Number of Compartments 
This debate depends on how much space you have in the bathroom. If you have a more spacious bathroom, then you have a multi-compartment holder where there is space to store all your hygiene pieces. The most common one you'll find is a compartment for the paste in the middle & the brushes on both sides. 
Hygiene
Apart from keeping all the toothbrushes apart from each other & in an upright position they can not guarantee 100% proper hygiene. In order to do so, some high high-end holders come with disinfectants. This makes the holder stand out from the rest.
UV Sterilizer feature is the best way to ensure that your toothbrush is completely germ-free. It will eliminate all sorts of microorganisms that can grow in a place such as a bathroom to keep your brush safe to use all the time.
How to Sanitize the Toothbrush Holder
A bacterial attack is always probable if sanitization is not found in the scene. Moreover, hygiene and the odorless bathroom is the fact that is preferred by everyone. And to maintain so few steps can be maintained. The steps are given below:
With hot water rinse the toothbrush holder. Rinsing with hot water makes the sticky dirt to loosen and also kills many germs.
Now with the help of a small brush scrub inside, every slot and curves. Brushing helps to remove the dirt inside from the small gap where hands may not reach.
At this stage antibacterial mouthwash is necessary. Fill the holder with the mouthwash and keep it for a few minutes.
Then rinse with clean freshwater and dry it.
Reload your toothbrushes to the freshly sanitized holder.
How to Clean Electric Toothbrush Holder?
The cleaning process is more or less the same as the normal toothbrush holder. But for more cleaning you can use bleach, adding bleach with water gives a deep cleaning. The quantity of the mixture is one part bleach with ten-part water. Fill the holder with the solution and keep it for an hour. Now rinse it with normal freshwater. Let it dry and after drying it's again ready for use.
How to Stop the Toothbrush Holder from Smelling?
There is a complaint that toothbrush holders smell, well, as said before in the buying guide that you must check the water draining system before buying. The problem comes from there, if the water draining system is not present or not good enough or even sometimes the whole block. 
The solution to each of the three problems is, talking about the first one, you may drill some tiny holes in the bottom of the holder if there is not a present.
The second one is the same: make tiny holes where you think is most needed. And the third one is taking help of a pipe cleaner or sometimes cotton buds help. Push the dirt inside the hole with the help of those. Maintaining these small things the problem can be solved.
You may also like to read – best shower shoes.
Conclusion
While toothbrushes are the ones that take care of your teeth, it's you that need to take care of them so that they can function properly. There are immense bacteria in the bathroom & if they come in contact with your brush which then causes microbial growth. 
However, this article is all about protecting your toothbrush so that you can arrange them in an organized way. It is important to know your priorities before choosing one. This is because choosing the best toothbrush holder largely depends on the type of bathroom you have.
Inspect your bathroom capacity, toothbrush type & storage needs in order to properly choose which type of holder you need. Then go into the more specifics such as build, longevity & brush positions.