Garbage disposals play a crucial role in the maintenance of a healthy environment and in the efficient management of waste. A modern kitchen would not be complete without a garbage disposal unit. 
The garbage disposal unit needs some essential accessories for providing high-quality performance. Without these accessories surely you will face so many problems while using your garbage disposal unit and your experience with your garbage disposal unit will be sorrowful.
In order to make your story with your garbage disposal unit happy and enjoyable, we have done thorough research on garbage disposal accessories and enlisted the essential accessories for your review.
Top 7 Essential Garbage Disposal Accessories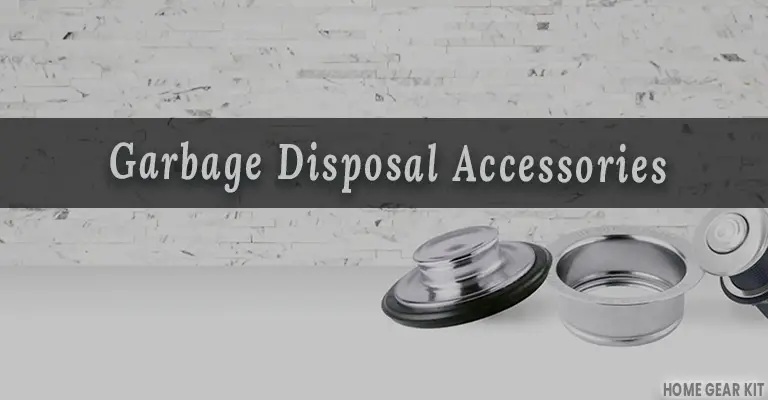 1. Waste King 1025 027C036S01 Garbage Disposal Splash Guard
Splash guard is a flappy rubber gasket that remains around the garbage disposal drain. It helps to reduce both water and food particles splashing up from the disposal during disposing waste item and that is why it is named as a splash guard.
Waste King 1025 027C036S01 Garbage Disposal Splash Guard is a good quality splash guard preferred by the consumers a lot. It is a 2 in 1 product.
Besides a splash guard, it also works as a sink stopper. So, you do not have to purchase a sink stopper separately if you pick up this item for your garbage disposal unit.  When you need, it stops the sink drain completely and the sink easily fills with water.
Neoprene is the construction material of this splash guard. Do you know what neoprene is? It is a synthetic rubber produced by polymerization of chloroprene. Its specialty is that it prevents degradation more than natural or other synthetic rubber. It means that the splash guard made of neoprene is more durable than others.
It is a removable splash guard and you can clean it easily. It is designed to be compatible with EZ mount garbage disposals including Waste King Gourmet Series, Whirlaway, Sinkmaster, Waste King Legend Series, Bonecrusher, and Sinkmaster Elite II.
If your garbage disposal unit is among any one of these, you can pick Waste King best garbage disposal splash guardwithout any hesitation.
2. Essential Values Countertop Garbage Disposal Air Switch
The Essential Values Countertop Disposal Air Switch is an amazing alternative to a wall switch. It is called an air switch because it uses air pressure to turn on and turn off the garbage disposal protector unit. Unlike a wall switch, it does not require any complex wiring and outlet.
It is a dual outlet switch and because of its dual nature, it is able to connect total of 2 appliances. You can connect both your garbage disposal and hot water dispenser with this air switch.
Air switch cut off your cost since you can easily install it by following 3 simple and quick steps. If there is an existing hole on the top of your sink the installation process becomes easier and it will not take more than 10 minutes. If there is no hole on top of the sink, we will recommend you to drill a hole of 1 3/8″ size.
It is designed to be compatible with InSinkErator, Waste King, Moen OR KitchenAid Disposal/Disposer Unit on ANY Counter Top or Sink Top.
The Essential Values always try to provide their customer with the best product. So, they never compromise with quality and gives a money back guarantee for any problem with their product.
It comes with a mountable power module with the six-foot power cord and vinyl air tubing, switch cover, instruction guide, mounting screws, and a secondary outlet as an alternating switch for an optional hot water dispenser.
3. DANCO Kitchen Sink Garbage Disposal Strainer
DANCO Kitchen Sink Garbage Disposal Strainer is a useful garbage disposal accessory that prevents food or any silverware from slipping into the garbage disposal. It is concave in shape and durable plastic has been used to construct this accessory.
Since it is concave in design it keeps the drain open and lets you use your sink freely. It lasts for a long time even if you use it rigorously. So, once you spend money for purchasing DANCO Kitchen Sink Garbage Disposal Strainer you can enjoy the benefit for a long.
The universal design of DANCO Kitchen Sink Garbage Disposal Strainer is able to fit into any garbage disposal like InSinkErator, Waste King, Moen OR KitchenAid Disposal/Disposer Unit on ANY Counter Top or Sink Top. So, while picking a DANCO Kitchen Sink Garbage Disposal Strainer you do not have to be worried about the brand of your existed garbage disposal unit.
The black blending finish is really elegant that will attract your concentration. It is not only easy to use but also easy to install. This reliable disposal strainer will take a few minutes to be installed.
It is a cheap accessory that will not create any significant effect on your budget. Therefore, you can install it in your garbage disposal unit without any worry.
4. General Tools 192 Garbage Disposal Wrench
Getting the garbage disposal unit clogged is not an abnormal incident. It can happen at any time and cause your garbage disposal stop working, especially if you have kids they can throw such item that will clog the unit and no wonder that naughty kiddo can create such situation very often.
 In such a situation, you may need to call for a plumber and have to minus some money from your pocket. A garbage disposal wrench can save your money and time to unclog the garbage disposal unit.
Among so many garbage disposal wrench available in the market we have picked General Tools 192 Garbage Disposal Wrench for your review since we have found it good in quality after thorough research.
Head of the disposal wrench is designed for easy swiveling. It can fit easily to the top of the disposal's shredder plate just with a snap.
For easy gripping, it has a cushioned handle. Size of the handle is quite big so that you feel comfortable to grip it.
The manufacturer claims that General Tools 192 Garbage Disposal Wrench is universally designed. When a manufacturer claims that their product is universally designed that means the product is compatible with any of the garbage disposal units like InSinkErator, Waste King, Moen OR KitchenAid Disposal/Disposer Unit on ANY Counter Top or Sink Top.
It is not so much expensive and so it will not create any significant effect on your budget. You can purchase it without thinking much about the budget.
5. Mr. Scrappy Garbage Disposer Brush  
Your garbage disposal does waste management of your kitchen, it cleans your kitchen but it cannot clean itself. So, you need a cleaner to keep your garbage disposal clean. And, Mr. Scrappy Garbage Disposer Brush can help you in this context.
To scrub every nook and cranny to eliminate stubborn food waste Mr. Scrappy Garbage Disposer is second to none. The unique design of this brush helps to clean the unit without putting your hands down.
This vibrant brush is yellow in color. The handle of this brush is wide in size and so you will not feel uncomfortable to grip it while cleaning.
It is made of good quality plastic and also very light in weight. So, it is a durable item and very easy to handle since it is not heavy at all.
Many people, do not feel its necessity in the initial stage of using the garbage disposal unit, but with time they realize its necessity after facing problems caused by a dirty and unhygienic garbage disposal unit.
It is designed in such a way so that it fits into any garbage disposal. So, you do not have to think about the model and series of your existed garbage disposal unit while purchasing Mr. Scrappy Garbage Disposer Brush.
No doubt that Mr. Scrappy does a very important job but this important guy does not cost so much, rather it is cheap. So, do not worry about the budget at all, just pick up the item and keep your garbage disposal neat and clean.
6. Norpro 92 Super Stuffer
To push garbage safely into the garbage disposal and protecting utensils and small objects from falling into garbage disposal Norpro 92 Super Stuffer is an effective accessory to include into garbage disposal access kit.
If you want you can run it through the dishwasher for sanitizing after use. It also works well with an extended flange.
This is white in color. It is safe and handy to use. It also does the job of a stopper. So, if you choose Norpro 92 Super Stuffer to purchase you do not have to purchase an extra stopper for your garbage disposal unit. In this way,  Norpro 92 Super Stuffer also cuts off your cost.
This stuffer is made by the USA and it is constructed with high-quality plastic material. Once you buy this item you can enjoy the benefit for a long time. It will make your experience of using the garbage disposal unit happier.
If you install this in your disposal unit you do not have to remain very alert while cleaning the utensils. You also do not have to rebuke your kiddos for felling small items into the disposal unit.
Norpro 92 Super Stuffer is so cheap that you do not have to think about your budget while buying it. I can assure that you will not repent after buying it rather you will be happy about purchasing it just like other customers.
7. InSinkErator DWC-00 Dishwasher Connector Kit
No products found.
To connect your garbage disposal with a dishwasher drain easily InSinkErator DWC-00 Dishwasher Connector Kit is the best solution. If your existed connector is old enough that you need a new connector or you are searching for a new connector you can choose this product.
It is an inlet connector that comes with a hose clamp and 3 spring clamps. It is designed to be compatible with most of the garbage disposal unit.
Sometimes, people get confused about its necessity since they do not know the reason for connecting the dishwasher with the disposal unit. If you are among them, here I am going to answer your question.
By connecting InSinkErator DWC-00 Dishwasher with the garbage disposal unit you will be able to prevent clogs from food waste off the dishes.
You know what clogging may cause your disposal unit to stop working, so it is very important to prevent clogging.  Once the unit gets clogged you may have to suffer a lot to clean up the unit. That is why prevention is better than cure. InSinkErator DWC-00 Dishwasher will come to your help for this purpose. It is easy to install.
InSinkErator is popular for manufacturing high-quality garbage disposal machines and accessories. So, you can choose the product of this brand. Though it's from a renowned brand it is so cheap that you cannot think of.
Garbage disposal accessories – reviews for 2022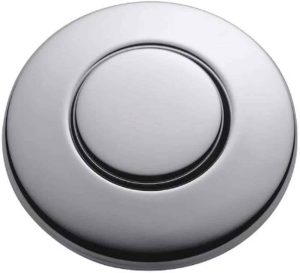 This InSinkErator push-button switch is a great option for garbage disposal air-switch button replacements. It is easy to install and replace by simply popping off the old ring, inserting the new button, and pushing the new ring down to lock it securely. The button is quite durable for long-term use and has been reviewed positively for its good quality, easy replacement mechanism, and functionality. It works well and gets the job done, which is what you would expect from any garbage disposal push-button switch.
Users did think that this button accessory was too overpriced. There were also complaints about defective engineering that made the switch unusable.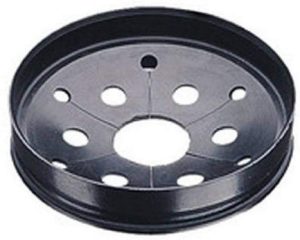 InSinkErator's removable sound baffle is one of the best garbage disposal accessories, rated highly for its effectiveness as a replacement part. It is easy to install and remove. This baffle is compatible with the InSinkErator Badger series only and is not suitable for the Evolution Series and E606 garbage disposals. A majority of the customers who bought this accessory commented that it made the perfect replacement for the original part, as the old one featured design flaws that affected the disposal process. The main purpose of a sound baffle is to allow the disposal function to continue efficiently AND keep the noise at low levels. Sadly, the original part that comes with such garbage disposals only creates a silent unit minus a proper disposal feature. It does not really allow the food waste to leave the sink and enter the disposal, so the accumulating water and food in the sink take credit for the dampened noise. However, with this improved, universal-fit sound baffle design, the difference was immediate. The wider opening prevents any clogs, allows the disposal to do its job, and fits snugly as well. It is a highly recommended replacement part for better disposal performance.
The only slightly negative aspect would be that this sound baffle does not absorb as much noise as expected – but again, it comes down to the compromise between functioning/loud or non-functioning/silent. The users were all satisfied with a little more noise if it meant their garbage disposals actually worked.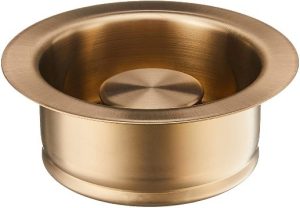 Delta Faucet's champagne bronze disposal and flange stopper has a stylish finish that goes well with champagne bronze Delta faucets – and this has been the highlight feature of the stopper. It has a diameter of 4½ inches and is designed to plug the disposal efficiently. You can add this to your garbage disposal accessories either as a new piece or as a different replacement option down the road.
Some users noted that the stopper did not install perfectly in a standard garbage disposal. This can cause leaks under the sink – so incompatibility is one major problem.
This garbage disposal wrench tool is compatible with InSinkErator units and is a very simple solution for fixing disposal clogs and leaks. You just need to fit it in the disposal hole at the bottom and turn it until the clog clears up or the leak is fixed. The wrench is quite durable and lasts long for quick repairs down the road. For safety reasons, you need to disconnect the power supply to your garbage disposal before using this tool.
Most users were impressed by how their disposal clogs were solved instantly with just a few twists – saving them the need to call a plumber or replace the unit entirely. Garbage disposals frequently develop clogs and leaks that can mount to a bigger problem if left ignored. So, this Allen wrench key is a must-have garbage disposal accessory, and you simply cannot go wrong with it!

Waste King's garbage disposal unjamming wrench is another useful accessory. It makes a good pair with the Allen wrench tool above and can easily become your best garbage disposal repair kit. With this unjamming wrench, you can dislodge clogs in the disposal unit effectively. It can be used for all Waste King and Moen garbage disposal units. The tool is easy to use and quite sturdy for its intended purpose. People who tried nearly all unjamming tricks – including DIY hacks with wooden spoons and broomsticks – were glad to have given this wrench a shot before buying a new unit or calling a plumber. It is a great choice for garbage disposals that lack a hole for the Allen wrench key.
The only problem with the unjamming wrench is that it might be difficult to turn at first due to leverage issues. This could also be due to the short handle that restricts the amount of torque you can apply.

Zep garbage disposal cleaner is available as a 19 oz. spray can. It has a nice citrus scent with a thick, foaming formula that tackles disposal odors, grease, and grime. You just have to spray the cleaner onto the disposal, allow it to rest for a few minutes, and then rinse it out using warm water. The cleaner reaches the disposal blades, rubber flanges, and inner nooks easily for a thorough cleaning, so this helps in clearing buildups. It is both a powerful cleaner and a deodorizer that you can use whenever needed – so anyone who does not want to pick a brush will appreciate the self-cleaning convenience! For instant results, the spray cleaner is hands-down one of the best garbage disposal accessories.
The main limitation with this aerosol cleaner is that it is only effective when it sprays easily. In case of spray jams, you might struggle to get the spray out, and this has been a common negative review among users.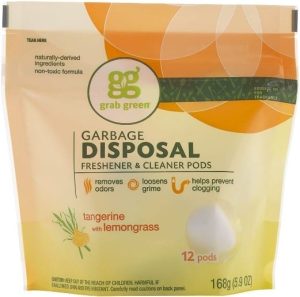 Grab Green offers garbage disposal freshener and cleaner pods made of natural, non-toxic ingredients. They are scented with tangerine and lemongrass scents for removing odors. The pods are ideal for cleaning up disposal grime and removing minor clogs. You can add a pod into the disposal (once a week or as required), run warm water, turn on the disposal, and let the pod work its magic! You can also first clean the sink before adding a pod so that the thorough cleanliness can make the scent last longer.
That said, some users commented that the scent does not linger at all, and there is no foaming process to begin with. So, the pods are not effective for thorough cleaning in the disposal unit and should only be used for minor fixes.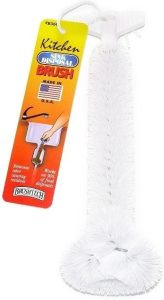 Brushtech's disposal brush is one of the best garbage disposal accessories for its ease of cleaning. It helps you clean the disposal and still keep the bristles tidy using warm soapy water. The brush has garnered lots of positive reviews because it covers all parts in the disposal for thorough cleaning. The bristles are designed and shaped for reaching the clog easily to dislodge it. The comments also suggested running the disposal with some warm detergent water so that it foams up. This will loosen the grime and buildup and help you use the brush more effectively.
The major drawback of such a brush is that if you retrieve it too quickly, the dislodged clog will only splatter everywhere. So, be careful while using the brush and take special care to remove it slowly from the garbage disposal.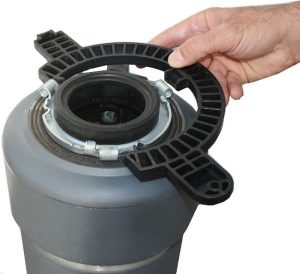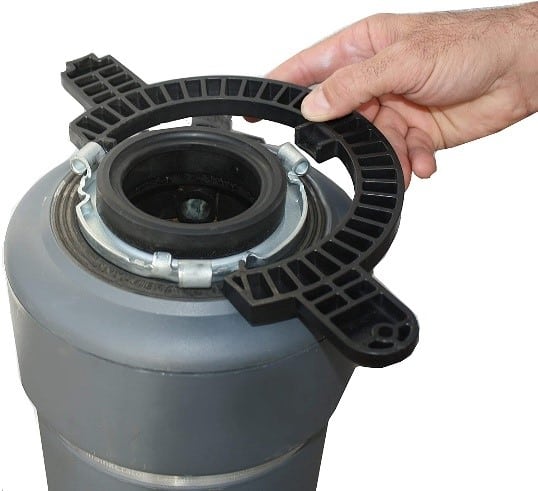 DisposaLift is a clever ergonomic tool designed to help you install and remove a garbage disposal unit by lifting it easily. The handle accessory goes on the neck of the unit where you can twist it for secure locking. It is ideal for DIY installations as the tool helps you place or remove the disposal without needing an extra pair of hands. The wide design can accommodate most garbage disposal units with its reliable lower-locking mechanism. This creates a proper seal on top and holds the disposal in place as you transfer it. The tool itself is very lightweight and quite sturdy for this purpose, adding the right balance and leverage to move the unit. Users were impressed by the easy maneuverability offered by DisposaLift, especially when working in small sinks. This makes it one of the best garbage disposal accessories for quick installations.
You can only use this handle tool if it fits your specific garbage disposal securely. Otherwise, it will not be useful or usable at all.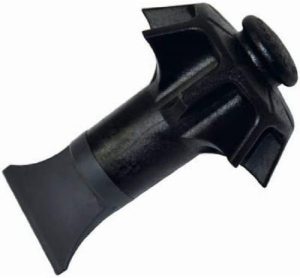 DANCO's garbage disposal strainer splash guard features a unique patented design and a universal fit for standard openings of up to 3.26 inches. It is a clever accessory designed to prevent jewelry and other non-food items from falling in by accident. The strainer/splash guard combo lets water and food waste go down the disposal without causing a splash. You can keep the disposal on while this low-profile strainer covers the drain. It has been rated as a wonderful safety device that protects both your valuables and the disposal from permanent damages.
Apart from a few discolorations and drain incompatibility issues, the strainer/splash guard accessory has worked like a charm.
Wrap Up
In order to improve the performance of your garbage disposal unit, extend its life, and to enhance the appearance of your kitchen, you need garbage disposal accessories. Having spent hours researching, we've selected the most essential accessories for your consideration.
Yes, there are many more garbage disposal accessories except the top 7 essential garbage disposal accessories described in this article but these are the most essential that you must need. After including these items into your garbage disposal accessory list it is wise to look for the less important accessories.
Related Resource: How to hide garbage cans