Garbage disposal, a familiar name in the household, is what saves us a lot of work by getting rid of the junks of our sinks. Leftover soup? No problem. Orange peels? Doesn't matter. Coffee grinds? Who cares! Just throw them in the garbage disposal and turn the switch on! The garbage disposal system takes care of everything.
But have we ever thought about how it works? Or what makes a garbage disposal a good one? Or how you can find the best garbage disposal system? Or maybe how long it will last? In this article we shall cover all of your inquiries.
What Is The Garbage Disposal?
A garbage disposal, as all of you have seen, is a device installed under the kitchen sink that shreds your garbage into pieces and passes them through to the plumbing. It is usually an electrically powered device and placed between the drain and tap of the sink.
The Best Garbage Disposals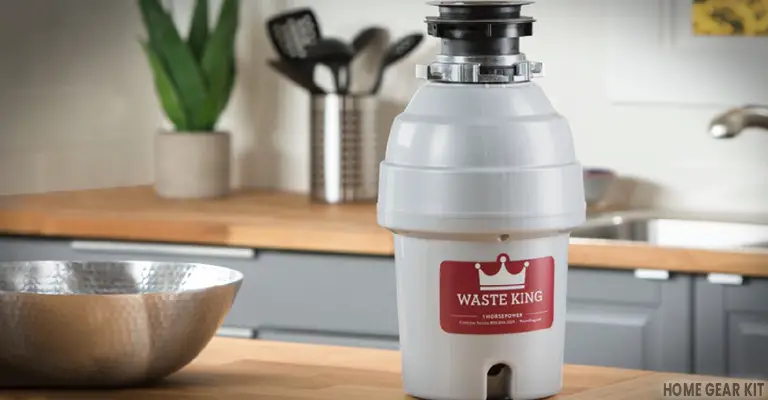 Here are a few products that we think are quite adequate for typical households. Have a look: 
1. Waste King Legend Series 1/2 HP Garbage Disposal
Waste king is quite well known in the garbage disposal system world for their affordable products. This model, even though not the cheapest one on the shelf, is quite budget friendly as you can buy it well under 100$. It is a very efficient choice if you are looking for a reliable, long lasting, powerful garbage disposal in a tight budget.
Features and Benefits
This is a light weight model. It has the chamber made of plastic, glass-filled nylon to be exact. This makes the design corrosion free. But the most important parts of the garbage disposal unit like the impellers are made of stainless steel making them very sharp and rust free for a long time.
Now let's talk about the motor. It has a 2600RPM ½ horsepower motor. Which is a very powerful motor and more than enough for a small to medium household. It also comes with a removable, replaceable splash guard. What it does is, it not only stops the food from flying away from the unit but also makes it easy to clean the disposal. The permanent motor makes the grinder faster while consuming less power.
The installation of the garbage disposal is fairly easy. It does not require much knowledge of plumbing. The basic plumbing ideas will help anyone mount the unit without any help whatsoever. It does not even require plumbers putty if installed on a stainless steel sink. So all you have to do is just follow the instructions given by the manufacturer.
For a cheap model the noise level is not very high, but does not provide pin drop silence or anything. Also it comes with a 5 year in home mechanical services and a lifetime corrosion warranty which is very convenient for a cheap model like this.
Pros:
Affordable
Pre-installed power cord
Easy to mount
 usable for septic tanks
removable splash guard
Plastic chamber and stainless steel parts for rust free life
Less noise
Cons:
Not very powerful
Some customers have complained about leaking
Can cause some problems with porcelain sink
2. InSinkErator Evolution Compact 3/4 HP Household Garbage Disposal
When it comes to garbage disposal systems, InSinkErator has built an empire in the last century. They are very well known for their powerful garbage disposals with quiet operations. The evolution compact series comes with the best of soundproof technology and also they are small enough to fit anywhere. If you are looking for garbage disposal and don't mind if the price range gets crossed a little then this is just the thing for you.
Features and Benefit
The evolution compact comes with a few technologies that ensure the best of performance. Besides the exterior of this continuous feed, the garbage disposal is also quite attractive.
The garbage disposal has sound seal technology. With anti-vibration and sound isolation features, it gives out little or no sound at all. The noiseless property would allow you to run the disposal without getting irritated.
It also comes with multi grind technology. This allows you to put any kind of things in the chamber without any problems. With its two grinding chambers, it makes sure that the foods are grinded to the finest.
Its ¾ horsepower dura drive induction motor is one of the most powerful motors out there. It is quite strong for medium to large households and can tackle any kind of scraps. This powerful motor breaks down food particles to the finest pulp and washes them away.
The installation of this model is also quite simple. It comes with a quick lock technology which makes it easier to mount or replace. With a simple twist you can install the garbage disposal and when you need to upgrade it with a new one you can just un twist it. Easy as pie!
The grinding chamber of the garbage disposal is about 34.6 oz, which means that it is capable of handling a large amount of waste at a time. The stainless steel grinding equipment ensures long lasting parts for the unit. Also the product has a 4 year in home warranty which is quite good for the price.
Pros:
Easy installation
Powerful grinding capabilities
Silent operation
Cons:
Customers complains about clogging and rusting
A bit expensive
Slow draining system
3. InSinkErator Badger 5, 1/2 HP Household Garbage Disposal
We don't have to tell you about InSinkErator garbage disposals. When it comes to quality their name is the first one that comes to mind. The badger series gives quality products at reasonable prices and one of the best inline is badger 5.
Features and Benefits
It comes with a dura drive motor making it very powerful. But at the same times its anti vibration technology prevents it from creating any annoyance. It has ½ horsepower powerful induction motor and this continuous feed garbage disposal is very well suited for a small to medium family.
Its quick lock technology makes it very easy to mount. You won't be needing any professional help or spend a fortune for removing any parts. The installation is quick and easy and described in the manual.
The Badger model has a galvanized steel grind system. which may not be as long lasting and sturdy as stainless steel but provides decent enough grinding action. It has a one stage grind technology which liquefies the food making it easier for the waste to flow through the drain.
The model comes with a 2 year "we-come-in –home" warranty.
Pros:
Compact design
Affordable
Easy installation
Cons:
Not so robust
Can be a little loud
Might have some problem of leaking
4. InSinkErator Evolution Excel 1.0 HP Household Garbage Disposal
The model that is known for its powerful action is the InSinkErator Evolution Excel 1.0 HP Household Garbage Disposal. Over the last 75 years, this brand has mastered the garbage disposal technology, and along came some powerful models like this. The power rating indicates how hard it can be and it can be easily assumed that it can handle anything.
Features and Benefits
The sound seal technology, as you know, enables the unit to operate with no noise whatsoever. This garbage disposal can be used without causing any disturbance to anyone.
With its powerful 1 horsepower induction motor, the model can handle almost anything. Its 3x or multi grinding technology can quickly make banana peels, bones, hard vegetables into pulps. Since the food is nearly liquefied, the chances of clogged chute are much less.
It also comes with an Exclusive Jam-Sensor Circuit and Auto-Reverse Grind System. Which is a smart technology that automatically increases torque 500% to break through tough jams and the auto reverse technology reverses the direction of the disposer when jamming is detected.
The installation of the model is not so tough. As most of the model these days it comes with a quick lock technology making it easier to mount and replace. The company also offers a 7 year in home warranty for this model.
Pros:
Powerful
Quiet operation
Easy to install
Stainless steel parts making it robust and long lasting
Cons:
A little bit pricy: although totally worth the money
Causes some problems after 2 years
Slow to drain sometimes
5. Waste King 1.0 Horsepower Garbage Disposal
From the top of the line of waste king comes a powerful garbage disposal which is famous for its powerful motor and noiseless operation. Of course all of these come with a price tag. But when you don't want to compromise with quality and are willing to pay what it takes, trust us, it will be worth it.
Features and Benefit
It comes with an exclusive silencer technology which includes using the same material used to soundproof the music studios. That gives you super quiet action despite having one of the most powerful motors. This continuous feed garbage disposal comes with a high-speed, 2,700 RPM 1.0-horsepower permanent magnet motor which will grind just about anything with ease.
The grinding chamber is made of glass-filled nylon or plastic if you will which keeps it corrosion free over the years. But the stainless steel grinding component will give you rust free, faster and jamming free grinding action. The one pass grinding mechanism gets rid of the use of multi grind technology and basically liquefies the garbage with just one pass.
The snap and lock mounting system makes the system very easy to install. Also the model comes with a lifetime in home warranty. This is a pretty sweet deal for a garbage disposal system.
Pros:
Noiseless
Powerful action
High quality build
Cons:
Installation can be a little tricky
Has some leaking problems
6. Moen 1/2 Horsepower Garbage Disposal
The Meon 1/2 Horsepower Garbage Disposal is another product to consider if you are looking to buy a quality product under 100 bucks. Its powerful compact design makes it a very efficient choice in the household.
Features and Benefits
Its 2600 RM 1/2 horsepower continuous VORTEX motor with permanent magnet motor technology gives out powerful grinding capabilities for everyday kitchen scraps. It is a special design for preventing jamming. As a matter of fact the Meon series has little to no jamming issues as it starts grinding at full speed from the start and is said to have the fastest motors compared to other brands in the market.
The model has a universal xpress mount system. This is compatible with most three bolt mounting systems making the system very easy to install. The installation is as easy as twisting and locking the unit in place.
It comes with a SoundSHIELD technology to deaden the noise of the powerful motor. Also the unit has a limited 4 year warranty within home services.
Pros:
preinstalled power cord
Eco-friendly
Stainless steel parts
Removable rubber splash guard
Cons:
Not as silent as claimed. Most
7. General Electric GFC520V 1/2 Horsepower Continuous Feed Disposal
General has been in the electrical machineries world for 100 years and has some quality product in the market. This product is one of the best garbage disposal for septic tanks and has galvanized steel blades for corrosion free long lasting life span.
Features and Benefits
The machine is a large capacity continuous feed garbage disposal with 1/2-horsepower motor with 2800 RPM grinding action. This makes it one of the strongest motors out there. Besides the unit has an advanced insulation package that gives you super quiet operation. So you don't have to be annoyed while working or any meetings or gatherings.
The galvanized stainless steel grinding blades of this unit have a dual swiveling action that is very effective at grinding foods into tiny particles. This action reduces the chances of a clog in the pipes. The warranty covers 1-year limited replacement plus 1-year additional limited parts.
It is instructed that before turning the disposal off you are to let the water and the disposal run for about 25 seconds after the shredding and grinding is done to make sure there is no waste trapped inside.
Pros:
Best for small family
Removable splash guard
Easy to install
Affordable
Cons:
Not very sound dampening
Sometimes rust is a problem
8. Whirlpool GC2000XE 1/2 HP Continuous Feed Garbage Disposal
Whirlpool is a well-known name in the home appliances industry. It has some amazing high-quality products in the market. The Whirlpool GC2000XE is a Continuous Feed Garbage Disposal. It is a very efficient and reliable model and very well suited for a small family.
Features and benefits
First let's talk about the motor. With its 1800 RPM ½ horsepower motor makes it a powerful motor and can handle vegetables to chicken bones all the same.
The shredder ring and grinding wheel are made of galvanized stainless steel. All the other components are made of stainless steel like the flags. The machine also includes a plastic stopper.
The machine comes with an unique technology of overload protector with manual reset. It extends the lifespan of the unit by preventing it from getting overloaded. The reset feature allows you to reset the disposal whenever you want.
Pros:
Compact
Easy to install
Easy to replace
Affordable
Cons:
Galvanized parts can fall prey to rust
Not very long lasting
Can be a little noisy sometimes
9. iRees MX200 5/4 Horsepower Food Waste Disposer
This is one of the sleekest looking designs with a high power motor. It's unique bullet-like shape makes it very elegant and modern looking. And it is well under your price range too!
Features and benefits
This is a continuous feed model with a powerful high speed 5/4 horsepower motor. It is designed to handle scraps like chicken bones, stalks, and egg shells. So basically you can throw in anything without having to worry about it getting clogged.
It is lightweight and its compact design saves a lot of space under your sink. It comes with a pre installed switch which runs on 120 volts. This saves a lot of electricity as well.
The installation is fairly easy. With a simple twist on and twist off you can replace and install the unit. Besides it provides quiet operation using noise insulting technology. The product also has a one year limited In-Home warranty to cover all the services.
Pros:
Affordable
Fast and quiet operation
Ease of installation
Cons:
Plastic body was disappointing to some customers.
Guide to Buy the Best Garbage Disposal
Garbage disposals are quite easy and effective when it comes to getting rid of your kitchen refuse. Although there are many factors regarding buying a good garbage disposal system.
For instance, in some areas garage disposal systems are not allowed or require permits to be installed. As it needs a lot of extra water (2.5 gallons of water per minute for most faucets to be exacted) it is often not wise to use it in drought prone areas or when the water bill is of concern.
Also you will need a big septic tank and a good plumbing system. It is a good practice to have your septic system fixed, emptied or even enlarged before buying a garbage disposer.
What kind of garbage disposal?
There are two kinds of garbage disposal systems: continuous feed and batch feed. Now they both have their pros and cons. You should choose the one most suitable for your home.
Batch Feed
The batch feed works when the lid is engaged and needs a stomper to cover the sink drain prior to use. It prevents unwanted pieces from falling into the garbage disposal during operation. Such a unit is quite safe as you can see and also is a source of much less noise. But it is a bit expensive and needs a lot of time to get the job done.
Continuous Feed
The continuous feed system however does not require any lids to be put on the sink. You can add more clutters as the machine continues to operate. It is powered by a wall mounted switch and can be turned off any time by turning off the switch.
But it is not the safest choice for a household with children as small hands can easily get into the disposal and it makes a lot of noise while grinding. On the bright side it is much less expensive and you won't have to wait for the sink to get full.
For a household with children we don't recommend continuous feed systems rather the noiseless safe batch feed system will be a much better choice. Large households with frequent garbage situations might need that.
How Much Grinding Power Do You Need?
The grinding power of garbage disposal is usually measured in horsepower. There are four types of grinding power available: 1/3, ½, ¾, and 1 horsepower.
1/3 Horsepower
The lowest power available is the 1/3 horsepower. These garbage disposals are the cheapest and have the lowest utility but they can easily fit in small places. They usually are very prone to jamming and rust. This is only limited to small households and less grinding.
½ Horsepower
This is the second-lowest power in grinding but usually recommended for typical households. They are quite affordable and can easily fit in any place. The key is to use a lot of water and not to overfeed the disposal. It produces much less noise than the 1/3 one.
¾ Horsepower
This is quite powerful in the day-to-day standard household. They can grind almost anything but are a bit larger in size. They are usually long-lasting and can process large amounts of garbage.
1 Horsepower
These machines can grind even small bones, fruit rinds, and so on. They are high powered machines with virtually no jamming possibilities. Although they are a bit bigger for normal households.
Choose your garbage disposal according to your needs and how much you can afford.
What are the features it should have?
There are a few features you would want in your garbage disposal. Here's a few:
Ease of installation
Installing a garbage disposal should be easy enough for anyone to accomplish. Even with little or no help you should be able to mount or fix it.
Noise
Most of the design nowadays has noise dampening features. Generally bigger disposals with higher power rating run smoother and quieter. They can often be a little expensive but it would be worth it.
Stainless steel chamber
If you are thinking long term the best way to go is to get the one with stainless steel blades. They will last a whole lot longer and are much stronger and sharper. Such disposals don't rust easily and can grind through a lot of tough wastage.
Auto reverse mode
This feature is quite useful in preventing jamming from taking place. In this process the jamming is prevented by reversing the blades when foods get stuck between them. It even shuts down the disposal if it is overloaded.
Safety cover
It is a common feature in batch feed garbage disposals. It prevents many accidents from happening. Many disposal systems don't have them, and if your household doesn't have any children then it is not really necessary. But having a safety cover is always a good practice. Also, learn from our garbage disposal safety tips article.
Electrical cord
Some disposals are hard wired in your house some can have electrical cord attached to it for turning it on or off. This feature only provides an ease of installation.
Dishwasher connector
Some garbage disposal provides the feature of connecting the disposal directly to the dishwasher. In this way the food remaining from the dishes can be processed with the garbage disposals at the same time.
Grinding stages
Most garbage disposals have one stage but some high end ones have three stages, each more powerful than the other. You can choose which stage to use depending the type of wastages you will be grinding.
Budget and warranty
Several cheap garbage disposals have crowded the market. But they won't last very long and you will end up buying another one in no time. It is better to buy a reasonably priced one for a medium to small household. If you have kids in your house you should always pay some extra and get the batch feed one that has safety covers.
As for warranty, these machines usually come with 1 to 10 years warranty depending on the types of coverage. Usually these warranties cover parts and labor coverage and often some additional facilities with some extra cost. But keep in mind that the additional warranty does not ensure a good product. Make sure you buy from a renowned brand and a model that covers some mechanical and corrosion in home replacements when needed and you will be good to go.
In the end, buying the best garbage disposal is not that tough. By keeping a few things in mind you can always get yourself a good little system in your price range. Just keep an open eye and compare enough products to know what exactly you need.
How Garbage Disposal Works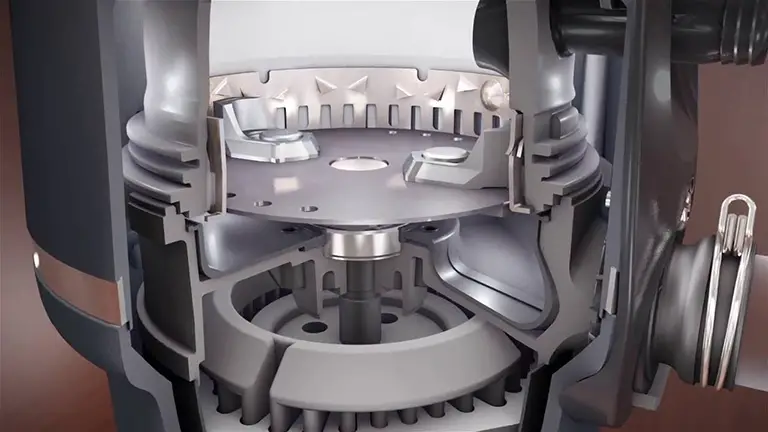 The basic operation of the garbage disposal systems is quite simple. It chews down the scraps of your foods with water flow. It is mounted under the sink and has an electrical cord connecting the motor to a 220 volts line usually placed at the back of the sink. The detailed function of a garbage disposal system can be quite complicated. Here, we will discuss the basics of a garbage disposal system in Layman's Terms.
So to make things very simple; a garbage disposal has three parts: a hopper chamber, flywheel and shredder ring, motors and impellers. After that it is connected to the waste-line to get rid of the shredded waste.
The hopper chamber is what holds the garbage disposal. It consists of two parts: upper and lower. The upper part of the chamber collects the food before they are shredded. It also contains the flywheel. The lower part is where the motor is and food is shredded. It is connected to the waste-line in the end.
The shredder ring is usually placed between the upper and lower chamber. The flywheel is connected to the motor and is rotated. It collects the food chunks and sends them to the shredder ring. This ring has grooves in it which helps grinding the foods.
The motor that rotates the wheel usually has a rating of 2000 rpm and it has impellers connected to it. The impellers rotate to throw the food into the shredder ring. The lower hopper chamber prevents the food chunks from going to the wasteine before they are small enough for it to process.
When the food chunks are small enough they pass through the small opening of the lower chamber and go down through the waste-line connector to the drain pipe. The drain pipe washes them down to the sewers.
What Is Average Lifespan Of Garbage Disposal?
Nothing lasts forever and when it comes to machineries the life span is quite variable depending on the user. You may have a lot of questions like, how long does a garbage disposal last or how will I know whether it needs changing or can it's lifespan be extended?
The fact is, a typical garbage disposal system lasts about 12 years and usually the warranty covers the maintenance for 10 years some even more. The manual usually goes over the tips and tricks of how to use garbage disposals. If you follow it carefully it is most likely that your garbage disposal will last more than a decade.
The best way to use an electrical machine is not to let even the slightest things go unnoticed. If there are weird noises or odors, unexpected clogs, frequent resets, water leaks, power failures and other signs of performance issues, you should know for a fact that the garbage disposal has outlived its life span.
Use the garbage disposal with care; clean it out every two years or so to make sure there isn't any build up of garbage. If the disposal unit cannot work with water or stuff getting stuck in the shredder make sure to use high quality chemicals for dissolving the wastages. Don't replace any parts with cheap ones. This way you can lengthen the lifespan of the garbage disposal from 10-12 years to 15-20 years.
Conclusion
Finding the best garbage disposal is not to be taken lightly. A well-designed garbage disposal with high-quality parts will last you a lifetime.
For a budget friendly disposal service with moderate 5 years of warranty the 1/2 HP garbage disposal of Waste King Legend Series pops its head out of the crowd. But if you wanna push the power and performance even higher and cost isn't something that you stick to then the InSinkErator Evolution Compact 3/4 HP one is a great suggestion.
Take your time in choosing the right one for your household; compare products, look for good brands and keep your eyes open for the quality of the mechanical parts and you will find yourself a good garbage disposal system.