Your kitchen produces food scraps, vegetable wastes, and bones that not only invites all the pests out there for a feast, but it also creates a stinking environment at your place. These are the little things which give your house a filthy look.
So, how do you put an end to this? The only solution for it will be a suitable garbage disposal. Garbage disposal is a machine that grinds all those pesky food wastes and flushes it down the drain of a kitchen sink.
Now, comes the question of which product will you choose? There are so many out there. However, the one model that stands out well is the Whirlpool GC2000XE. Hence, this article is here to give you all the necessary information that is required for you to know.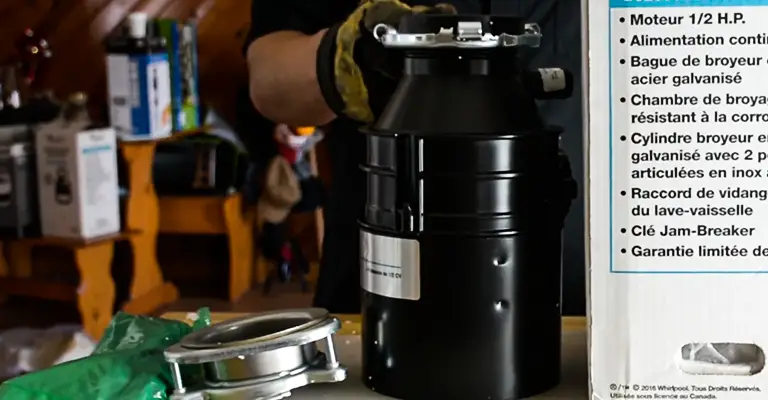 Whirlpool GC2000XE Review
Whirlpool is a premium brand globally, and this model happens to be no less. The GC2000XE looks minimal, sturdy, and well made, a perfect piece for modern-day garbage disposal. Moreover, this model packs a ton of features that will surely make your life a whole lot easier.
So, without further ado, let us go ahead and show you all the benefits & features that come along with the Whirlpool GC2000XE.
Motor Strength
You got yourself a powerhouse of a motor that runs at the speed of 1.725 revs per minute (RPM). The ½ Electric Horsepower motor of this model is unlike any other in the market as it grinds small food wastes and bones like carving a cake.
Moreover, it gets the job done within minutes, which saves you a ton of time for socializing.
Stainless Steel Sink Flange
This machine consists of a sink flange that is produced in stainless steel. Hence, the materials make the kitchen flange strong enough to have a sturdy and smooth grip.
Moreover, the product comes along with a single piece of a plastic stopper, which will enable you with extended accessibility that will allow you to have better control.
Reverse Function
An interesting attribute of this model would be its Auto-Reverse Function. Now, it can get messy at one point if one side of the unit takes in all the pressure by continuously grinding on the side.
Hence, this feature has been enabled in this Whirlpool model to make sure any kind of wastes gets cleared out to reduce jamming.
Swivel Impellers
This specific feature has been enabled to ensure further jamming or clogging does not take place. The Swivel Impellers, just like other parts of this model, are also formulated in stainless steel.
These impellers rotate at a very high speed to make sure that the continuous feed is taking place properly so that all the food wastes turns into fine particles.
Well-Maintained Grinding Chamber
The grinding chamber of the GC2000XE is entirely insulated, along with all the necessary parts. This factor means that your machine will generate much less noise than most of the other models out there in the marketplace.
Hence, you can be assured of the fact that this machine runs with great power but does not make much of a sound.
Shredder Ring and Galvanized Grinding Wheel
Whirlpool GC2000XE came along with a shredder ring and galvanized steel grinding wheel. Now, these two features have a certain ring to it because there is so much wordiness involved.
However, the attributes ensure immense support in the maintenance of longevity. These attributes ensure the food scraps are ground well enough for a nice cleanup and provides a long-lasting sturdiness and durability.
Overload Protector
At times when you are getting the hang of your product, you tend to put more pressure into it as it seems to ease off all your difficulties. However, we do fail to realize how much junk we are inserting into our garbage disposal. This factor causes the potential to harm your valuable machine.
Therefore, the model comes along with a unique feature called the "Overload Protector" with manual reset. This specific feature is not available in other models, which enhances the brand value of the product.
The attribute acts as a shield to protect the machine from too much intake so that we do not end up harming the machine in the long run.
Consistent Feed
It is a common feature in most of the garbage disposal products out there on the horizon, but it is an essential mention nonetheless. As soon as your kitchen sink starts producing all those wastes, the continuous feed attribute starts its work on pulverizing them.
Moreover, the best part about this model is that the disposal can grind in a hefty amount way faster than the competitor brands. Hence, you are getting a clear advantage in choosing Whirlpool.
You will also not have to worry about clogging, as the disposal will make sure the wastes are properly whisked down the drain.
Modern Design
Let us now move on to the aesthetics of the product, which is simply minimalistic. The streamlined structure of this model is formulated in stainless steel that will ensure the machine will last for an extended period. This also makes the installation process of the disposal machine lot easier.
Moreover, the construction of the model has been designed in such a way that it will be comfortable to use and provide your kitchen with a sophisticated look.
Pros
Once you turn on the product, the continuous feed will get the job done
The shredder ring and galvanized steel grinding wheel is there to blend all the waste in a quick time
Extremely powerful ½ HP Motor for faster disposal
An Overload Protector to save the product from unexpected damages
Auto Reverse Feature to clear every little bit out
Cons
Product considered to be bulky in size
The measurements are not compatible with every household
Frequently Asked Questions
Questions will definitely be there to create confusion in our minds, take a look at the most common ones to clear some air:
Q: Does the product come along with a dual sink hook up?
Ans: No, external purchases will be required in this case.
Q: Will you be able to reuse a plug cord from an older version of the disposal?
Ans: As long as the cord is in good shape, the reusing is possible.
Q: How is the continuous feed attribute of this model different from the rest?
Ans: It is because the GC2000XE can take on large volumes in food waste all at once.
Q: What is the meaning of ''XE'' that comes after the GC2000?
Ans: XE means that the model contains no power cord.
Q: Will the model be able to drain when the power is off?
Ans: As the water flows right through the machine, it will be able to.
Q: How many days can I use this unit?
If you use the machine properly with safety then you will be able to use this for at least 8-15 years.
Final Words
Overall, if you look back to this article, you do know that the Whirlpool GC2000XE is a garbage disposal that has almost everything and more. Surely, every model does have its flaws, but this particular product's benefit outweighs all the disadvantages.