Have you ever imagined a world where a garbage disposal system will go hand in hand with a septic system? It's highly likely you know someone who made the grave mistake of owning a garbage disposer along with the septic system.
You should also be well aware of the outcomes of such mishaps, which results in the overflowing of the waste in the septic system. Disasters like that occur when the septic system is not capable of decomposing food waste.
However, with this particular garbage disposal machine, you no longer need to worry about such catastrophe, since it is compatible with any septic system at your household.
The astonishing attributes do not end here with this model. Besides, the food waste disposer ensures durability by including high-end components in its construction.
Not only does it offer virtually soundless performance, but it also guarantees superior performance and constant power by its top of the line induction motor.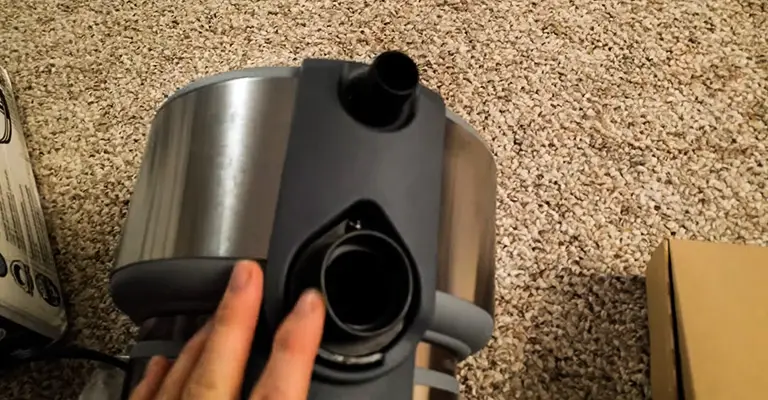 InSinkErator Evolution Excel Review
Let's clear out something super-fast; this particular machine is the best among all. You will find no other garbage disposal system in the market available that provides endless exceptional features without many drawbacks. One can only dream of such superiority in their garbage disposal system.
Before you get carried away by this extraordinary food waste disposer and finalize the purchase immediately, let us have a look at the remarkable features that set this product apart from the rest of the models. In case you have any doubts, let's clear them out.
Noise-free
What most garbage disposal system lacks is the soundless operation method. Based on your previous experiences of the waste disposer, you might be well aware of the noise that comes along with it. No one likes a noisy machine, however superior the performance is.
If you decide to purchase this particular model by the world-renowned InSinkErator, rest assured, from this point onwards, you will have a virtually soundless experience.
The incorporation of SoundSeal Technology in the machine allows the operator to discard the food waste without having to disturb the entire household.
Moreover, the inclusion of the Anti-Vibration Mount allows the user to undergo a process that does not resonate or vibrate, which in turn exhibits soundless performance.
Power
The manufacturing company is dead-set on providing ultimate power to ensure robust performance. As far as the motor is concerned, the maker incorporated an induction motor with a horsepower of 1.
Moreover, the inclusion of DuraDrive Technology enhances the power of the motor significantly to accomplish greater performance.
An induction motor is powerfully built in order to perform in any environmental condition. Besides, the most advantageous aspect of induction motor is its low maintenance competency.
The benefits of an induction motor are endless, and with the rotational speed of 1,725, this machine is virtually unstoppable.
Grind Chamber
The grinding chamber is the heart of a garbage disposer. All the talk about the power of the motor directly involves the functionality of the grinding chamber. In order to acquire out of the ordinary performance with quality par excellence, the grinder chamber needs to be both durable with anti-corrosive properties.
In fact, the grinding chamber of this garbage disposal system is constructed with stainless steel. The most beneficial feature of stainless steel is its ability to resist rusting. With greater strength and resistance to temperature change, stainless steel proves to be the most durable component.
The involvement of the 3 phase MultiGrind Technology allows you to properly dispose of even large, hard lumps of food waste. This technology allows the grinder to squash the garbage in such a manner that it turns into a liquid, thus diminishing any possibility of your pipes clogging.
If that wasn't enough, the creator of the product introduces anti-jamming technology for complete eradication of any probability of clogging or jamming.
The high-end technology allows your machine to sense an impending jam or clog and then eliminating it altogether. Have no doubt; your garbage disposal system will function smoothly without any hindrance.
Easy Installation
Being user-friendly is one of the most vital aspects of owning a garbage disposal system. There is no point in purchasing a complicate-to-operate machine with immense power. Keeping that in mind, the manufacturer includes a Quick-Lock Technology for your convenience.
The process of installation of the garbage disposal machine is simple and quick, and if you need to replace your model with a new one, the procedure remains trouble-free and effortless.
Pros
Compatible with septic systems
Virtually soundless operation through SoundSeal Technology
Anti-Vibration Technology
The installation process is easy and quick
MultiGrind Technology ensures proper food waste disposal
Cons
A little on the expensive side
Large machine
Frequently Asked Questions
This is one of the most important segments since it deals with the unanswered questions that loom over your mind. Without further delay, let us jump to the answers.
Q: How many years does a garbage disposal last?
Ans: On average a garbage disposal machine lasts for 8 to 15 years if you use them properly following safety tips and proper guidelines.
Q: Do you need to run water when using a garbage disposal?
Ans: On average, a garbage disposal system lasts around 15 years or so. If you recently bought or you are planning to buy a modern garbage disposal system, then rest assured, you will have a long run of 8 to 15 years.
Ans: Yes, you have to run water when using your food waste disposer. This will aid in grinding the food particles to smaller particles, and prevent clogging and jamming of the pipes.
Q: Can I use disposal if I have a septic system?
Ans: With the regular garbage disposal system, it is not recommended to use it with a septic system. Due to the reason of the septic system overflowing, both septic system and garbage disposal do not work hand in hand.
However, the InSinkErator Company devised a machine that allows you to use both without any trouble.
Q: Is garbage disposal loud?
Ans: An ordinary garbage disposal system will make horrendous noise, but the particular model in question does not exhibit any form of noise.
Q: Why does my disposal smell?
Ans: Your garbage disposal must have some not-grinded food waste left on the grinding chamber, which must have rotten. To prevent such a situation, make sure you run plenty of cold water through the grinding chamber and allow a proper grinding method for a longer period of time.
Final Words
At long last, we are at the end of our journey. The esteemed and acclaimed garbage disposal company, namely InSinkErator, provides you with a food waste disposer that exhibits not only proper waste disposal but also maintains durability and remarkable performance. We genuinely hope this article helped you in making the right choice.