Wall hung toilet is a very sleek and modern revolution of toilet seats. These toilets look very innovative and would definitely give your bathroom a contemporary touch. So, if you are thinking of renovating your bathroom wall hung toilets are a great choice. If you are looking for some options, you can give a glance at some best wall hung toilets selected by us.
What are wall hung toilets?
Wall hung toilets are toilet seats that are installed in the wall instead of the floor. You can hang them at any preferred height you want. So, you won't have to rely on the toilet height the manufacturers have chosen for you. It has only attachments with the wall and not with the floor; so, it also saves spaces in the bathroom.  
How wall hung toilet works
Wall hung toilets are nothing extraordinary and it works just fine like an ordinary toilet. A slight difference is that the sanitary rout of the wall hung toilet is by the vertical wall of your bathroom. Every other feature works just like floor mounted toilets.
Top 8best wall hung toilets Review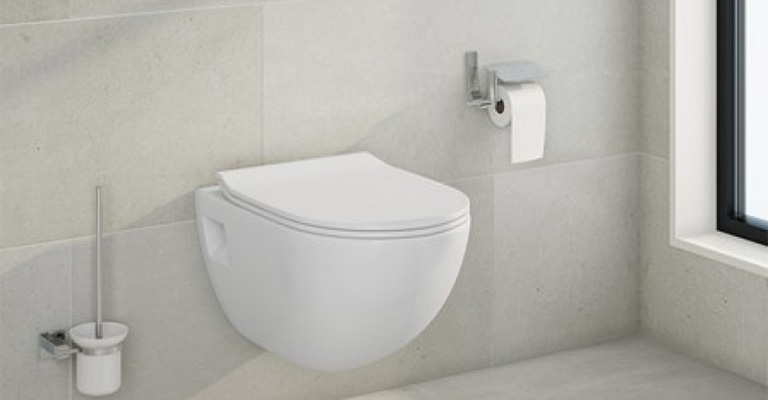 If you are thinking of buying a wall mounted toilet seat for your bathroom; give a look at these 6 best walls mounted toilets. Along with the descriptions you will enjoy the pros and cons also.
1. TOTO CT418F#01 Aquia Wall-Hung Toilet
It is cotton white in color. It is featured with the dual flushing system. It has a universal height which means it is a perfect choice for everyone and every bathroom. It can be paired with any in-wall tanks. It is very durable and reliable to use.
It weighs only 66.5 pounds. The dimension of the toilet is 21"X14.2"X15" respectively. It is made of ceramic and elongated in shape. It consumes very limitedly, approximately about 1.5 GPF.  The flush type of the toilet is gravity flash. 
It looks very sleek and nice hanging in the wall. It needs to be cleaned frequently. One flash is not enough; you will always require at least two flashes.  It is very easy to install. It saves a good amount of space in the bathroom.
Taking everything into account; it is very good looking toilet seat works very well except for the flash.
Learn other best products from here.
2. KOHLER K-6299-0 Veil Wall-Hung Elongated Toilet
This toilet seat is available in 5 different colors. One of them is completely white and another one is black while all the others being as some close shades of white. It is compact and saves some space in your bathroom.
It is elongated in shape but is very comfortable.  The mounting hardware of the seat is completely concealed which makes it more sleek and elegant.  It includes a grip tight reveal Q3 seat. It can be easily paired with k-6248 in-wall tanks. 
The wall-hang design makes the bathroom easy to clean. It consists of a dual flash actuator for heavy and light waste. Hence, it saves water. Dual frame steel is installed behind the wall for unparalleled flexibility.
It is made of ceramic and the dimensions are 13.88"X15.13"X21". it weighs approximately 54.7lbs. the hydraulics of the toilet is poorly designed. The plastic cover gets misplaced quite often. It looks very good. The water level is low, which creates a mess.
3. American Standard 2093.100.020
It is completely white in color. It has the combination of both bowl and the tank. The seat is elongated in shape. It consists of pressure-assisted siphon jet action. This feature makes it very convenient to use in commercial bathrooms. The water tank is 10" by 12".
The seat dimension is 30"X19.5"X29.5". it weighs 116 pounds and has a 1-year warranty. It has a ceramic glaze body.  The flash gives off 1.6 gallons of water in one press. The bowl has 10 inches water surface.
The flush is not very effective and doesn't empty wastes in one press. But overall it consumes less water and is very fast. But it makes a really loud noise. It is very easy to install and looks very nice. And saves space.
4. Duravit 2225090092 Wall Mounted Starck
It weighs only 29 pounds.  The whole product is white in color with a white alpine finishing. The shape of the seat is round.  Has dual flush technology.  It is featured with a wash down model.   It looks very elegant. This model is easy to clean.
It is made of ceramic and saves a lot of space in the bathroom. The dimension of the toilet is 14.4"X21.3"X14". Moreover, it is easy to clean.  But doesn't save water.  It has an expensive look but is uncomfortable to sit on.
5. EAGO WD333
This toilet seat is square in shape. The color is completely white. And it is made of ceramic. It consists of ultra-low flush. It is eco-friendly; uses just 1.6 gallons of water.  Moreover, It has dual flush technology. One button for solid waste and the other button for liquid waste.
It is completely glazed in inside and outside. This toilet seat is designed like solid sleek and European design.  Due to mounted installation, it saves the space in the bathroom. And makes it easier to clean the floor. It weighs only 72 pounds. The dimension of the seat is 21X14X15.8.
The seat is elongated in shape. It gives you  5 years of warranty. It looks very unique and elegant. Works really well. Overall the product is perfect.
6. Toto CWT418MFG-2No.01 Aquia Wall-Hung Toilet
It has dual max flushing system. It is completely white in color. It is designed to be adjusted at 17-19 inches height. It is made of SanaGloss ceramic glaze. It is convenient to use and saves up to 9 inches of floor space in the bathroom.
It is eco-friendly and limits water usage. It consumes 1.6 gallons of water in total. This specific toilet seat can hold up to 880lbs of weight. The package includes a rectangular tank as well. thank is made of blow molded technology with polyethylene to prevent leakages.
It has PEX supply line with optional washlet connection. This toilet seat weighs only 68 pounds. Its dimensions are 23.8X15.8X17.5. overall this product is very good in performance.
3 best wall hung toilets – review for 2022
Here are the top 3 wall hung or wall-mounted toilets for 2022. We have chosen other brands than those already discussed in this article, so if you are looking for something new and trendy, please read along!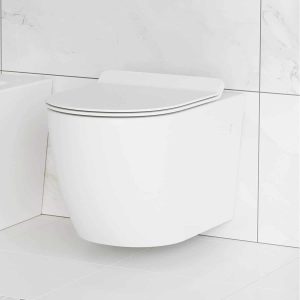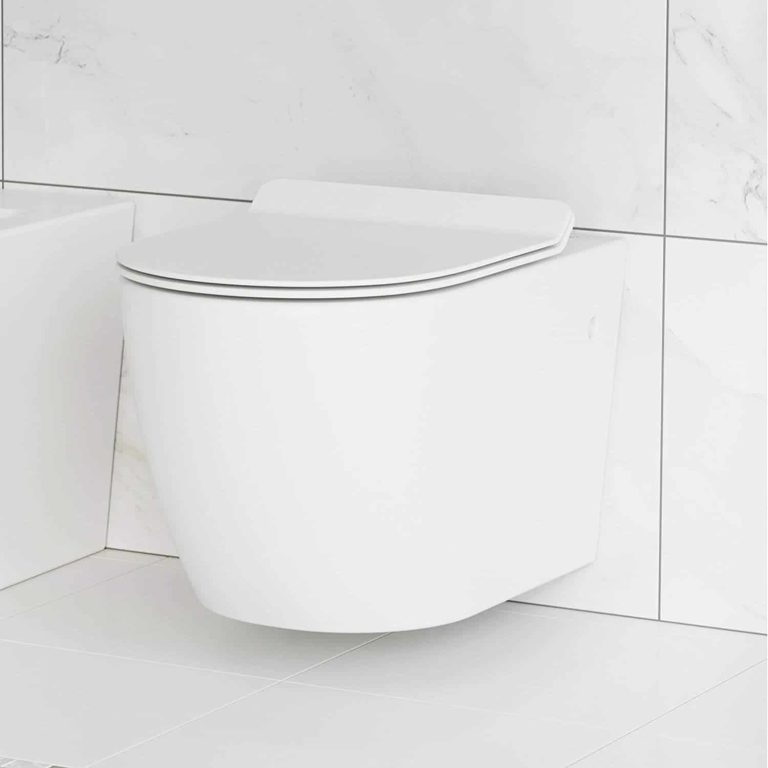 Swiss Madison has some of the best wall hung toilets in its collection. The SM-WT449 is one example, measuring 22″ L, 15.3″ H, and 14″ W. This one-piece wall hung toilet comes with the required installation bolts and screws as well as a soft-close toilet seat. The package does not include the concealed carrier tank and its actuator plate; however, the toilet is compatible with most carrier tank brands. It has a dual flush system working at 0.8 / 1.28 gallons per flush (GPF) and can be installed at adjustable heights. The simple and sleek design looks great in modern residential and commercial bathrooms that need some space-saving efficiency. You can clean the toilet easily thanks to its scratch-resistant porcelain.
The major problem with this toilet was with its installation system, as some users faced issues with the given screws.
They either did not align properly for a secure fit or failed to tighten up due to some design flaws, and this tends to leave a gap between the toilet and its wall, which is not safe at all for anyone to use. Make sure you address these comments before buying the wall hung toilet to avoid installation difficulties ahead.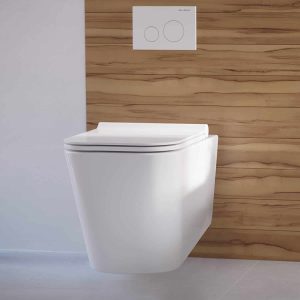 This is another wall hung toilet by Swiss Madison, available in glossy white and matte black colors and measuring 22.5″ L, 14″ H, and 14″ W. The squared edges look perfect in any contemporary bathroom interior, so if you are tired of rounded designs, this should make a great change for a bathroom remodel. The toilet features a dual flush system at 0. 8 / 1. 6 gallons per flush (GPF). It works with all carrier brands and is super easy to clean for a long-lasting sleek appearance. Its scratch-resistant porcelain and seamless installation make maintenance even easier. You will receive a soft-close, quick-release toilet seat as well.
That said, this wall hung toilet received common criticism regarding its mounting hardware. Unlike advertised, most users either did not receive any mounting accessories or got just a few incomplete parts. Some customers reordered the product and still faced the same issue of missing hardware. Make sure to confirm your complete order so that you can successfully install the toilet.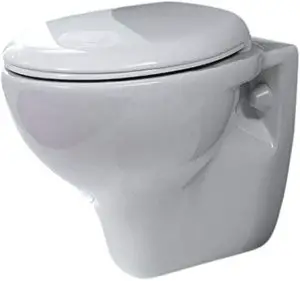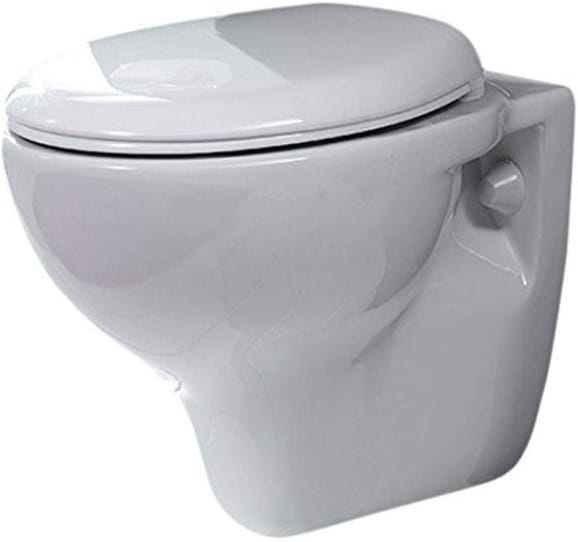 CeraStyle has a round white ceramic wall hung toilet, measuring 20.1 x 14.6 x 20.1 inches. The high-quality design makes a great replacement toilet during bathroom remodels. It features a 5-liter cistern capacity and a dual flush mechanism. The toilet is compatible with Geberit concealed tanks and carriers, including relevant flush plates. You can check the list of compatible versions on the link to make sure that this toilet fits your specific requirements.
This type of wall hung toilet is not as seamless and minimalistic in design as other toilets – such as those from Swiss Madison, Kohler, and TOTO. It is definitely more expensive too and can be prone to sliding issues with its seat.
Best wall hung toilets- Buying Guide
There are some tips you can follow to buy the best wall hung toilet:
The shape of the seat
The shape of the toilet seat is important to take into account. There are mainly 2 types of seat available; elongated and round. Choose the one that you are most comfortable with.
The dimension
Do also note that toilets are available in different dimensions also. Get the one that you are most comfortable with.
The flush system
Now, there are some toilets with low flush which would require double flushing and wastewater. So make sure the flash performance is very good.
The water level
The water level is an important thing to notice too. Make sure that the water level is at an optimum level. If the level is low, remember that will need frequent cleaning.

Wall hung vs. floor mounted toilets
Wall hung toilets always looks more sleek, elegant and neater than floor mounted toilets. You can hang wall mounted toilets at any height. But you don't have the freedom to do so with floor mounted toilets. It is easier and convenient to clean a wall mount toilet.
Floor mount toilets are always cheaper to install. If the tank has to be repaired; the floor mount toilet is again one step ahead as its tank is located outside unlike wall mount toilets which have the tank inside the wall.
Wall mounted toilets pros
Some benefits of having a wall-mounted toilet are:
It doesn't hassle when you want to redecorate the floor.
It opens up more space to the bathroom floor.
For the tank and carrier-installed close to each other, it is easier to unclog it.
Wall mounted toilets problems
This kind of toilets consists of only one kind of problem that is if you didn't have wall hung toilets you would need to reroute the sanitary pipe by the wall. So, definitely be well prepared to spend some extra pennies. Also, remember that the wall mount toilets cost more than ordinary toilets.
Frequently Asked Questions
1. Does wall hang toilet has different weight capacity?
A. Yes, all the wall hung has weight capacity. You can have to ask the seller and confirm your desired wall hung toilet.
2. At what height should I install my wall hung toilet?
A. Most walls hung toilets come with a universal height. Which means you can hang them at any height you desire for.
3. How to install wall hung toilets?
A. Yes, we talked in details here how to install.
Conclusion
No doubt that wall hung toilets are a great option for your new bathroom.  But do remember that only the best wall hung toilet can provide you with the greatest satisfaction. So, before you order one, be sure about the product quality and advantages they offer. We are hopeful that you have found the right one from this list for your bathroom.