Parents love to see their kiddo grow up and a switch from diaper to the toilet seat is a sign of their growing up. To make this change easy, comfortable and enjoyable to your kiddo's life choosing the best toddler toilet seat is very important.
Although it is a daunting task to make your little one used to the toilet you just need to be patient to train him/her properly. Once you are successful to train your toddler properly to use the toilet seat it will give you a lot of comfort from cleaning up the waste every day.
What is Toddler Toilet Seat?
The main problem kids face during using a normal toilet or adult's toilet is that the circumference of the hole of a normal toilet does not fit with their tiny bottom. So, there is a great possibility of falling inside the hole. A toddler toilet seat brings a solution to this problem.
A toddler toilet seat is an extra seat made of plastic to attach over the regular toilet seat that reduces the circumference of the ring of the toilet seat and makes it suitable for your kid to sit.
Adding a toddler toilet seat over the normal toilet seat prevents your kids from slipping beside giving them a feeling of confidence.
Top 8 Best Toddler Toilet Seat
1. Munchkin Sturdy Potty Seat
It is made of plastic and it has an oval shaped hole. Since it is made of plastic there is no possibility of liquid absorption and creating the bad smell of urine. This will significantly help in keeping the seat hygienic. And this type of plastic, which does not absorb liquids, is known to last longer than other low-quality plastics as well.
It is available in white color with a thin blue line at the edge. This is not a groundbreaker but kids do love colorful stuff. So this might keep your child curious and sit on it when it's time to poop. It is light in weight and so your little one can easily put it over the toilet by him/her.
The potty seat has a non-skid edge to ensure stability and there is also an ergonomic grip handle so that the baby does not get afraid and feels confident. You also can set up or take off the potty seat easily holding this handle.
It comes with a built-in pee guard and feet for easy stand-up storage. There is a deodorizing disc which removes the odor with the power of baking soda. So, your little one will not feel uncomfortable during potting.
Munchkin sturdy potty seat is designed to fit with most of the standard toilet seat. You can clean it easily and it also becomes dry quickly. There is nothing much that represents the cons of this potty seat. Overall, it's a good potty seat.
2. The Perfect Potty Ring by Fisher Price
No products found.
The perfect potty ring manufactured by Fisher Price is a great product to train your kiddo about how to use the toilet. It is a great way for your child to leave behind the potty chair and start using the conventional toilets. Its contoured shape gives your toddler extra comfort. It has been designed to give support to the toddlers.
The perfect potty ring is designed in such a way so that it can fit easily and securely with the regular toilet seat and you do not have to be worried about slipping or sliding once the ring is fitted. This adds to the safety of your child while he is attempting to poop all by himself.
Look at the ring and you will notice there is a handle to attach the ring with your toilet ring. You just have to push down the handle and it will be fixed securely with the normal toilet ring. There are no stripes or anything other than the simple handle to make sure that the frame is attached firmly to the toilet, giving you a hassle-free installment.
It fits so finely with the toilet seat that there remains no empty space between these two. Fisher price perfect Potty Ring consists of a high front guard that has solved this problem.
Fisher-Price Perfect Potty Ring comes with a hook. You can hang it from the flash tank with this hook. It also has an integrated flash guard to prevent a mess. Thanks to this feature your seat will now be protected from any hygienic urine on top of the seat.
3. Primo Folding Potty Seat
It is small in size and perfect for kids who have just started their toilet training. Because of the folding feature, it is excellent for people who travel a lot even with toddlers. It is made out of plastic and although it may look thin it is more than enough to hold the weight of a 2-year-old.
Moreover, if you have to travel a lot with your kids you should keep a set of primo Folding Potty Seat. You can easily carry it by folding in your travel bag. Not only that because of the small size and the foldable nature it can easily fit inside of most diaper bags for kids of ages 2 and up.
The truth is we all have to travel sometimes with our little kids, so I think it is better to keep a single set of Primo Folding Toilet Seat in our collection. Like I said earlier even if you are in a tight space in terms of bags, it only takes the size of a small diaper bag for the seat to fit in.
It consists of folding hinges that protects your kids from skin pinching. It also has handle grips so that your kid does not feel nervous rather feel confident during potting. The manufacturers are very concerned about hygiene. They have ensured that their product is free from BPA, Phthalate, and Lead.
Primo has designed their product to be fit only with American standard toilet seats including both elongated and round shapes. If you live outside of the US or your toilet isn't round-shaped, then you might have to look at other solutions.
4. OXO Tot 2-in-1 Go Potty for Travel
OXO has made an amazing product that provides you 2 benefits with 1 product. You can use it both as a potty seat and potty chair. And hence they named their product as OXO Tot 2-in-1 Go Potty for Travel.
It comes with legs lock for stand-alone use. These legs are strong and sturdy enough to hold the potty seat securely. It is an ideal product to use at the emergency moment as it is designed to open quickly.
OXO also provides 3 disposal bags for stand-alone use. Each disposal bag has absorbent pads to absorb liquid; refills are also available. To keep the disposal bag in the right place without any undulation this potty seat has a soft and flexible flap.
As I said before that you can also use it as a potty seat. Just fold the legs of this amazing 2 in 1 go potty ring and it is ready to fit on the regular toilet seat. To ensure its stability on the toilet seat the manufacturer has made a non-slip grip.
You can also carry it comfortably during traveling because its compact shape fits perfectly in your travel bag, compact storage in your car or stroller. All have to do is fold the legs inside and you have a circular object that you can fit inside any space quite easily.
It has a generous shield to prevent any kind of splatter. Its surface is smooth and so very easy to clean. It is designed to fit the small bottom perfectly. Your kid will feel easy and comfortable to use the OXO Tot 2-in-1 Go Potty seat.
5. Jool Baby Potty Training Seat
To ensure security Jool Baby has used non-slip plastic in their product. Moreover, it comes with a non-slip ring at the edge to ensure the highest security. Because the last thing you would want your child to experience while learning how to poop is, the trauma of slipping and falling into the toilet.
Both baby boy and girl can use this potty seat. For boys, it has a specially designed splash guard that prevents pee from spreading outside and helps to keep your bathroom clean. So you don't have to worry that your bathroom floor will become dirty after your son uses the toilet.
It is designed to fit any standard toilet. So, you do not have to worry about whether this potty seat will fit your toilet or not. Jool Baby assures that it will fit most of the toilets out there.
You can consider Jool Baby Potty Seat as an ideal product to use at the emergency moment because it is easy and quick to install. It also has an adhesive hook for easy stowing when not in use. It's not that big so if you wish you can carry it with you.
Since it has a smooth and sleek surface you can clean it easily and quickly using a forceful stream of water. It is very light in weight so your baby can also set it on the toilet seat. You can also carry it without facing any trouble if you need to travel with your baby.
6. Nickelodeon Paw Patrol Soft Potty Seat
Babies and adults have differences in their choices. To adults what seems aesthetically beautiful may not attract babies at all. Babies generally like something cute and colorful; especially they love to see their favorite cartoon character. That's why it will be perfect for your toddler to naturally come and want to use it.
Paw Patrol has designed their potty seat keeping in mind the choice of babies. It is a very cute potty seat with eye-catching color and there are so many paw patrols – one of the most favorite cartoons of kids, printed on the top part. Since Nickelodeon is a brand known for delivering quality content to children you can be sure that it will attract children.
Moms who are planning to start toilet training is a great product for their little kiddos. Its soft cushion provides the highest comfort to the tender skin of little babies. That's a feature you must keep in mind because if the child is hurt then it will never be encouraged to use it again.
The cushion is not fixed rather removable, so you can clean it easily whenever it is needed. As a result, it can easily maintain the hygienic part. Like all other toddler's toilet seats, it also fits properly and securely with standard (both elongated and oval) adult toilet seats.
The rubber splash guard comes separately; you have to fix it with the potty seat after receiving the product. Apart from that, you don't have to do anything else to get up and running with the seat. It should fit easily with most of the toilet designs as mentioned earlier.
7. Gimars Folding Toilet Seat for Toddlers
Gimar has brought an advanced product to make your babies toilet training period easy, comfortable and enjoyable. It's unique and cute owl-like design will easily attract your toddler. Also, there are vibrant colors that are proven to attract children.
You will be amazed to know that Gimars Potty Seat does not come with 2, 3, or 4 pieces pads, rather total 6 pieces of large silicone pads that have a great anti-slipping property. This ensures maximum comfort while pooping. It is a hygienic product made of non-toxic plastic. So, it is chemically impossible for the seat to harm your child's skin
To give your toddler highest comfort Gimars has ensured that when you set this potty seat over the regular toilet seat there will remain no friction area. They have enhanced the tightness of the joint in their product to prevent any gap that will cause pinching and make your lovin kid feel uncomfortable.
It is available in multiple colors. You can buy any one of your and your baby's choice. It's a long-lasting product. So, once you buy it you do not have to spend extra money on a potty seat for a long time.
You can stow it by folding when not being used. It's also a great potty seat for carrying during traveling. It comes with a waterproof storage bag with a zipper. It is easy to clean and a perfect product for babies about 3 years old.
8. Potty Toilet Seat with Step Stool Ladder by Alayna
Alayna's potty toilet seat is special and exceptional compared to another toilet seat because of its special features. To turn the adult's toilet friendly to cute toddlers, Alayna's potty seat is a perfect product. The colorful and protective mechanical design is everything you need for your toddler to start pooping on his own.
It consists of comfortable and anti-slip pads to protect the tender skin of your toddler from hurting. You can adjust it easily with any standard size toilet seat. Its height is customizable to be adjusted with most of the adult's toilet.
It is available in 2 attachments– one is for a shorter toilet and other is for the taller toilet. To ensure cleanliness it comes with a built-in splash guard. You will find this feature handy if you have a baby son.
The step of the ladder is made of a material that has good anti-slipping property. So you do not have to be worried about falling off your kids by slipping. There is also a pair of handles so that your kid can climb on the toilet seat easily.
It is a foldable toilet seat so you can stow it at any congested place easily. Although there is an extra letter attached it is not very difficult to set this thing up and even take it apart. It also assembles easily and quickly.
In spite of having several amazing features, it is not so costly. It is also a long lasting product of high quality. So, you can rely on Alayna's Potty Toilet Seat with Step Stool Ladder.
Best toddler toilet seats – bonus 4
This is a simple and effective toddler toilet seat – the EZY-Toilet Trainer Seat – from Dreambaby. It is available in gray color and has a soft and comfortable design that works well for most toddlers. The contoured shape keeps your child safe and secure during the whole potty training time. Its soft-touch material also adds comfort while allowing the habit-building process to complete.
Pros
Nonslip base
Lightweight and stable
Travel-friendly
Fits almost all round and elongated bowls
Contoured and comfortable for toddlers
Cons
Very small opening – so not suitable for all toddler ages
Splash guard could be made bigger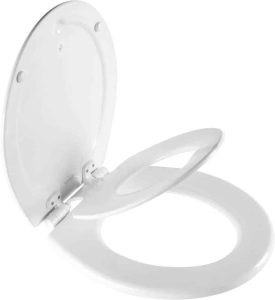 MAYFAIR 888SLOW 000 NextStep2 toilet seat is a 2-in-1 unit, featuring a normal toilet seat as well as a built-in toddler seat. It is compatible with round toilet bowls, and we really liked the dual function because it reduces clutter – and you no longer need to hang your toddler's toilet seat or carry it from one bathroom to the next! The integrated plastic seat attaches magnetically to the cover and stays conveniently out of the way when not in use. The overall enameled wood seat has a high-gloss finish for better durability, making both the seats last longer.
Pros
Slow-close lid and seats prevent slamming
STA-TITE Fastening System allows for quick installation and removal
Toddler seat stays in place and does not move
Resistant to chipping and other damages
Fits round toilet bowls such as Kohler, American Standard, and TOTO
Toddler seat can be removed permanently once training is complete – allowing you to continue using the adult seat with no trouble!
Easy transitions from toddler-to-normal seat for any kid
Cons
Longevity issues
Toddler seat tends to come off after a year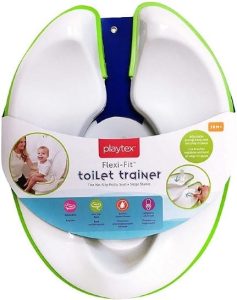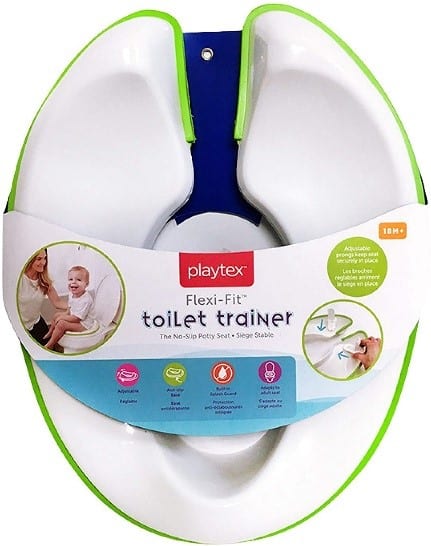 Playtex Flexi-Fit toddler toilet seat has flexible prongs to help you adjust the right fit for your toddler, which means that it is easily compatible with any toilet. This Flexi-Fit adjustment allows toddlers to remain safe and stable on the seat even if they wobble around on it. The soft, cushioned seat design adds comfort and also includes a front-mounted splash guard for cleaner training.
Pros
Easy to clean and air dry
Fits round as well as elongated toilet bowls – popular among users who want elongated options
Stable and durable
Nonslip design
All-plastic material eliminates issues with rusted screws
Cons
Lacks a hook
Lacks side handles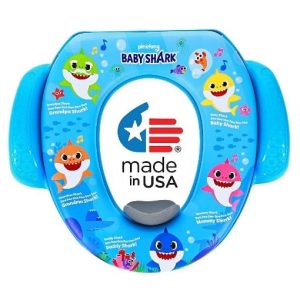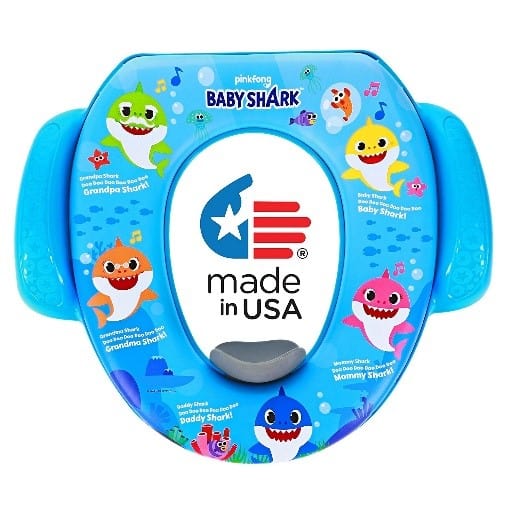 Nickelodeon has another great idea to help toddlers ease into their potty training experience. It features the ever-popular Pinkfong Baby Shark and has a soft-cushion design for maximum comfort. The seat is made of polypropylene, so it is quite durable, easy to clean, and safe to use.
Pros
Fits both round and elongated toilet seats
Patented easy-grip handles included for better stability
Detachable splash guard included
BPA and phthalate-free
Cons
Lacks a hook
Slides around
Some issues with toilet seat compatibility
Best Toddler Toilet Seat Buying Guide
Diversity is huge in material, design, shape, and features. But every hard task becomes easy if you get a proper guideline. A simple exploration will reveal the complexity in finding the best toddler toilet seat.
Here is a combination of some effective tips for you to guide you to take the right decision about buying the best toddler toilet seat.
Effective Tips to Buy Best Toddler Toilet Seat
Compatibility of the toilet seat with the age of your kid
Toilet seats have various sizes and each size is designed for the kid of specific age. So during buying a toilet seat for your kid check that for which age range the toilet seat has been designed and make sure that your kid's age falls within that range.
There are two types of toddler potty seats available in the market that are round and elongated. For various models, the variations in size are slight. Before purchasing, do not forget to check the type of toilet bowl you will be placing it on.
Whether your kid is a boy or girl, most of them allow for both genders. Most of the toddler seats you will see in the market can handle weight from 45 lbs up to 100 lbs. As for the age, potty training toilet seats are typically manufactured to accommodate kids over 2 years of age. In other words, when the child becomes a bit bigger and more confident.
Depending on the height of your toddler, you may come to find yourself opting for a suitable potty seat. The recommended idea is that you measure your home toilet seat first before installing the toddler seat.
The material of toddler toilet seat
Both comfort and hygiene go hand in hand with the material you choose. If you choose a toilet seat made of hard material it may cause strain and itchiness on the skin of your kid. So, choose smooth and soft material, sitting on which your kid will feel comfortable.
The materials used for manufacturing toddler seats are of two types that are plastic and cushion. Each type of potty seat has its own merits and demerits, so you should pick one based on the kid's comfort.
Plastic Potty Seats
Such potty seats are made out of molded plastic as a single unit. Its top is sloped which allows any residues to slide into the toilet. The plastic seats are much easier to handle and clean. Another notable aspect is that such potty seats are lightweight which allows you to conveniently take it anywhere. However, plastic potty seats can be uncomfortable for kids according to some parents.
Cushion Potty Seats
There is no alternative for cushion potty seats if you as a parent, prefer comfort for your kid. These soft potty seats are made with pillow and plastic layers that are sure to ensure fine comfort. However, on the downside, these thick layers make it hard to clean. This fact alone adds additional steps to the regular toilet.
The seat surface should have good resistance to the absorption of liquid. If it remains wet for a long time your toddler will feel uncomfortable to use a wet toilet seat. That is why the seat you buy must not accumulate water and should be easy to clean.
Simple Design
Toddler seats aren't meant to be kept set for the whole day. You certainly need to take them off. The toddler seat you are going to buy must be sleek and simple. Its design should be simple enough to fit almost all standard toilets. Make sure it is designed to hold your toddler securely in place. Moreover, the handle should be easy to grip and the edges should be non-skid. The bottom line is that you should aim for a potty seat that is simple in design where your toddler would feel safe and secure.
Fitting Properly with the Regular Toilet Seat
It is very important to fix the toilet seat of your toddler with the regular toilet seat properly. Otherwise, the undulation of the toilet seat may cause your kid to slip and an accident may occur. Choosing a potty seat made of anti-skid material is helpful to prevent such kinds of problems.
Travel-Friendly Toddler Toilet Seat
A kid's skin is very soft and prone to be attacked by germs. All of us have to travel sometimes with our kids and it is not safe to let the kids use a public toilet without using their special toilet seat. So, to protect your baby's health select a travel-friendly toilet seat. Maybe a foldable one would pave the way.
Special Features
Regarding toddler toilet seats, you shouldn't cheap out on special features. Many models come with such features that will reduce your hassle and ensure your toddler comfort.
Non-slip Liners
If you are planning to buy a plastic potty seat, placing it on a hard toilet seat can bring disaster. In short, it will just slip all over the place. That is why make sure the toddler toilet seat has a non-slip liner on the bottom. Such toilet seats are more secure and comfortable for your kid. This way you can avoid any chance of your toddler doing lateral slips.
Self-Standing
The toddler seat you will buy will not always be there on the toilet seat everyone uses unless your kid has a separate bathroom. So you need to choose a self-standing seat. You also have the option of choosing one with a storage hook for hanging.
Contoured Tops
We recommend you to get a toddler toilet seat that has contoured top and rear while the sides are relatively flat. This will provide more comfort and security to your kid. This feature also prevents any stool to spill out and ensures a clean environment.
Removable Cushion Design
If you are buying a cushioned seat, make sure it is removable for easy cleaning and maintenance. Many cushion seats offer you this very convenient feature.
Standalone Potty Chair vs Training Potty Seat
A standalone potty chair is also an option to deal with the potty training phase of your kid. These chairs are user-friendly and easy to use. There are lots of variations in their color. The features are unique and integrated to let the kid have a fun time. Kids can easily and quickly sit on it, so there is no extra work for parents to take them to the toilet and prepare the seat.
However, the annoying part is that you have to clean the chair off of the dump every time your kid uses it. It also takes quite a bit of space in the bathroom.
On the other hand, toilet seats don't require you to clean regularly. These seats can help the children to get familiar with actual toilets in general, so they won't be intimidated by it. However, height can be an intimidating issue for toddlers. You will also have to go through the trouble of arranging and taking off the seat when required.
Splash Proof
The most hassling issue happens when your toddler urinates. If the toddler toilet seat is not splash-proof, urine might splash here and there which can lead to inconvenience. That is why you need to buy a seat which has high splash-proof parts. Such seats are helpful for your kid to learn aiming and prevent urine from splashing.
Handle
The toddler toilet seat should have a double-sided handrail. But the design should be such that it has a comfortable design. The grips should be anti-slip and securely hold the toddler in place so that there is no fear of falling in.
Footrest and Backrest
Many toddler toilet seats have the sublime features of footrest and backrest. The backrest should be high enough to protect the baby's cervical spine. As for the footrest, make sure your aimed toddler toilet seat has one. With both of these features combined, your baby should have a fun time going through the potty training.
Ladder
Unless you get a ladder, your kid will have trouble reaching the high toilet basin which might seem intimidating to them. If your kid has barely started walking, it's suggested that you get a ladder. Many toddler toilet seats offer you an integrated ladder that is removable as well.
Lid
A toddler toilet seat should have an attached lid that can be used to cover the seat. The lid should be light and there must be no slamming. It should slowly and quietly close and open.
Cleaning and Maintenance
Cleaning and maintenance is an unavoidable task every parent has to do when it comes to toddler toilet seats. To facilitate the cleaning process, the toddler toilet seat should have a quality build that is very easy to clean. Make sure the cushion is removable and the seat has resistance against scratches and rust.
Cartoon Character
Cartoon characters add another layer of excitement in children. You can keep your kid engrossed in potty training by purchasing toddler toilet seats with cartoon characters. Many toilet seats with Nickelodeon, Peppa pig, and other cartoon characters are available in the market for you to choose from.
How to Install Toddler Toilet Seat?
The toddler's toilet seat is designed in such a way that literally you have to do nothing but put the toilet seat over the regular toilet seat after removing the lead.
If the matter is not clear, I will recommend you to watch the following video. You can also read the supplier's manual that comes with the product.
7 Safety Tips You Must not Ignore while Training up Your Toddler to Use Toilet
If your toddler has just been started the potty training, do not leave him/her alone. Keep him in a follow up for a few months.
Start teaching him/her the basic lesson of hygiene, the do's and don'ts and the risk of being unhygienic.
Check the stability of the toilet seat with proper care and do not let your toddler lock the door.
Clean the toilet seat immediately with a disinfecting liquid after using it and let it dry.
Do not allow your toddler to use a wet potty seat. He/she may become sick because of using the wet potty seat.
Always do a regular inspection for any stress or infection on the skin of your toddler. Also, inspect the toilet seat on a regular basis if there is any crack or damage because cracked or damaged part may harm your loving toddler.
Do not let your toddler play or do anything else with the toilet seat.
Frequently Asked Questions (FAQs)
Q. From when I should start toilet training for my baby?               
Answer:  When your baby reaches at the age of 2.5 to 3 years old you can start toilet training.
Q. What can I use to clean up the toilet seat of my toddler?
Answer:  Mild soap and water
Q. Can I use the bathroom cleaner to clean up my toddler's toilet seat?
Answer: No, they are very harsh and abrasive.
Conclusion
After reading about all the best products out there, it is now your decision to choose the perfect one for your toddlers. Because all we can do is just filter out the best options for you but in the end, you are the one who will choose the correct one that fits your requirements.
If the height of your toilet is a little bit more than the average height, then you might want to go for the Alayna one because that way you will get the ladder support for your toddler which you won't have in any other of the given choices.
Again, if you want to get maximum comfort then you should go for the Gimars one. It also has a folding feature. However, if folding is something that is a major concern to you then you can opt for the Primo folding potty seat.
You may also like to read –
best soft close toilet seat
Toilet Seats for Obese
wooden toilet seats
Best Heated Toilet Seat