Who knows how long nature's call will last? Compatibility with shape and size means a lot. Surely, the toilet seat designed for an adult is not suitable for children. In the same way, one that is used by skinny guys is not suitable for obese people. So, a specially designed toilet seat for obese people has been manufactured.
If an obese person uses a standard size toilet seat continuously, chances are there that they'll develop hip trouble. Nor will the toilet seat last long since each toilet seat has a limited load-bearing capacity and the pressure of extra load will decrease its lifetime.
There are varieties of toilet seats with different load-bearing capacities for obese people. You will find a collection of some high-quality and popular toilet seats for big people in this article and can choose the most suitable one for purchase from the list.
Top 5 Best Toilet Seats for Obese People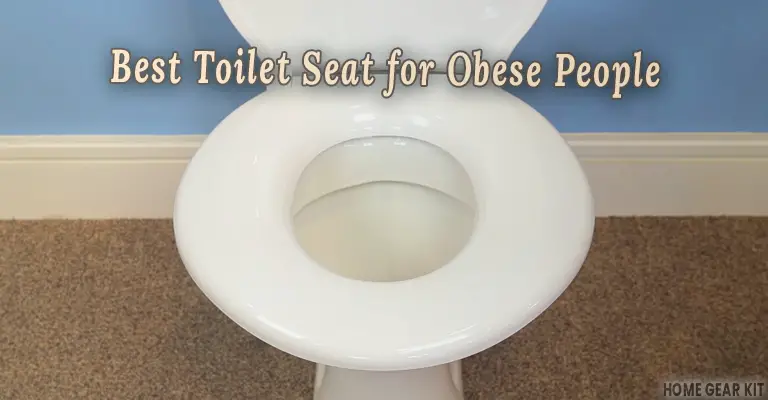 1. Big John 1-W Oversized Toilet Seat with Cover
Big John has great popularity for manufacturing high-quality toilet seats for obese people.  The white toilet seat is made of strong ABS plastic material and delivered to the customers with all the necessary installing material including an instruction manual.
The hinges provided with the toilet seat are made of stainless steel and the surface of the seat is spacious and stable. It can withstand over 1200lbs weight.
It shows good resistance against stain and so you do not have to spend extra time cleaning the stain. It also shows good resistance against chemical attacks. It is a durable product and looks new even after using for a long time.
The rubber bumper is included in this unit to eliminate the annoying noise of slamming shut of the lid. It also helps to keep the seat stable.
The Big John 1-W Oversized Toilet Seat has been marketed only for obese people but it has another important advantage you will be happy to know. It is a suitable toilet seat for physically challenged people also. So, it can also be used in hospitals and health care facilities besides residential use.
The designers designed this Big John 1-W to fit in any round or elongated shaped toilet seat. Though it is easy to install some find it difficult to install, in that case, you can take the help of a professional.
2. Big John 3-W Oversized Open Front Toilet Seat
Ergonomic design, larger and luxurious sitting, stability, great load-bearing capacity, and easy installation are the key features of Big John 3-W Oversized Open Front Toilet Seat. It is arguably one of the best toilets for a heavy person.
This 3-W model of Big-John has a great similarity with the previous model 1-W except for the design and load-bearing capacity. The front part of Big John 3-W has an open front whereas the front part of the 1-W model has a complete circular contour.
Sturdy plastic has been used to manufacture this product.  Hinges of stainless steel add extra strength to the unit. So, they do not bend easily like plastic hinges. The wide sitting surface of Big-John 3-W model can bear more than 1200 pounds of weight.
To prevent any kind of wiggling and to ensure the stability of the seat rubber with good anti-slip property has been used in the base. It uses a universal fit that has made it able to be fitted with both elongated and round-shaped toilets.
It is engineered to install easily within a short time. You just need a simple wrench or pliers. If you have little expertise you will not need more than half an hour. But, if you feel it is difficult to do, then we will recommend you to take an expert's help.
Except for the overweight people, people with a disability or physical illness can also use it. It is one of the most user-friendly toilet seats you will ever find in the market.
3. Big John Sx-0406964 1200Lb Toilet Seat
No products found.
Unlike other Big John product, Big John Sx-0406964 1200Lb Toilet Seat comes without any lid. It is considered one of the best toilet seats for commercial use.
It is giant in size and it may seem to you an incomplete part but that is not right. It is a complete toilet seat for a giant buttock. So, keep an eye on your kids so that they cannot try to try it out.
The plastic used to manufacture this Sx-0406964 model is very sturdy and can withstand 1200lbs. Like all other Big John toilet seats, this model also uses stainless steel hinges. So, there is no chance of getting rust due to the contact of moisture and also, they do not bend due to continuous use like plastic hinges.
A common problem of the obese toilet seats is gliding. To ensure stability, plastic bumpers have been used at the bottom part of the toilet seat.
Since Big John uses universal fitting in their product you do not have to think about your existing toilet seat. You can install it on both elongated and round-shaped toilet seats.
The ergonomic design of the Big John Sx-0406964 1200Lb Toilet Seat protects your backache from getting hurt. It is one of the best toilet seats for a heavy person.
4. Bemis 7800TDG000 Heavy Duty Toilet Seat
Bemis 7800TDG000 Heavy Duty Toilet Seat is a premium quality product designed for elongated shaped toilet seats such as- Kohler toilets, American Standard, TOTO toilets, and many more.
The injection molded solid plastic with non-corrosive stainless steel post has made this a durable product.  The nicely contoured seat with a closed front and fold down lid has a good load-bearing capacity.
It uses the latest STA-TITE fastening system. You can install it with a snap. There are a total of 4 bumpers on both the lid and the seat. If you install it on your toilet you do not have to face any problem of wiggling or loosening.
Ensuring hygiene is the most important thing for toilet accessories. Bemis has added the Duraguard feature in its product which provides protection from microbial agents. Cleaning and maintaining Bemis 7800TDG000 Heavy Duty Toilet Seat are very easy and convenient for overweight persons.
Its color is such that it blends with the color of your toilet very nicely if your toilet is white in color. The aesthetic beauty of this product is really eye-soothing.
You can use it in residential places, offices, or hospitals. This heavy-duty toilet seat is not so costly. If you are on a budget, you can highly consider this item.
5. American Standard Commercial Toilet Seat
American Standard is a renowned toilet accessory manufacturer who has a great reputation for manufacturing high-quality products with the latest engineering features and ergonomic design.
They have made the American Standard 5905.100.020 Extra Heavy-Duty toilet seat manufactured especially for rigorous commercial use.
This specially designed toilet seat has been made using strong and sturdy polypropylene plastic.  So, there is no doubt that this toilet seat can withstand great weight. And most of the great toilet seats for fat guys are made strong. Though the manufacturing material is very strong it is not uncomfortable to use.
Since it is made for commercial purposes, the lid or cover is not included with it. Because most people do not like lid or cover on the toilet of commercial or public space.
If you notice you will find that 5 out of 3 homes in America and so many hotels, airports, stadiums, etc. are using toilet seats made by American standards.
Its white color easily blends with the environment of your toilet. Its front part is elongated in shape and so you can install it on any standard toilet seat of elongated shape.
You can install it easily. Its strong hinges are a great factor in its long life. It does not break down or damage because of bearing a high load on a continual basis making it one of the best toilet seats for obese people.
Additional 5 toilet seat designs to consider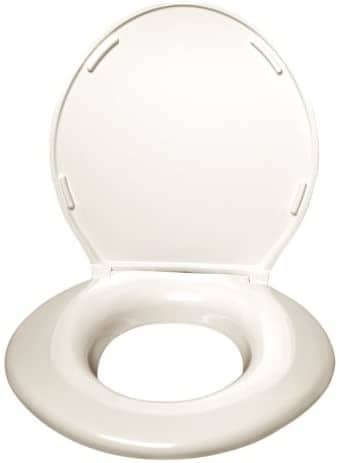 Big John's 2CR bariatric toilet seat is the best option for obese people. It has a round, oval shape and a convenient, oversized design that is both ADA-complaint and slip-proof.
Top features:
It comes with a 2½" rise and has a load-bearing capacity of 800-1200 lbs. depending on the original or standard seat your purchase.
The stainless steel hinges are quite durable and do not rust, so you do not require frequent replacements. Also, the seat's injection-molded ABS plastic features resistance to staining, impact, and chemicals – all of which simply make this the best toilet seat for obese and tall people.
The seat has a comfortable profile for various applications like homes, hospitals, healthcare, and commercial restrooms. It fits on standard round toilet bowls and is also available in open-front designs and different colors.
You can install the toilet seat easily within minutes, and it will stay in place for secure uses – thanks to the non-slip synthetic rubber bumpers that create friction on the porcelain bowl.
The design protects seals and prevents leaks, which is always helpful in keeping mold at bay.
Major limitations:
The toilet seat has wider or bigger sides that might be a little overlapping for some users.
It is also not as simple or comfortable to use as advertised in terms of quality.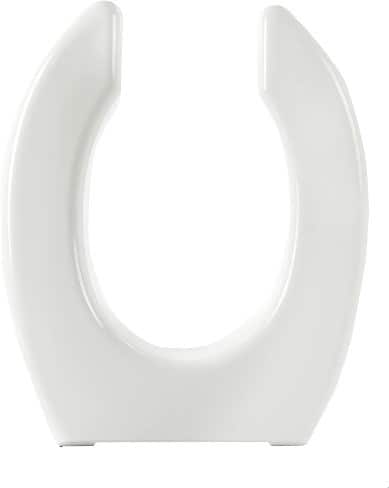 This is Big John's 7W toilet seat version that offers a universal fit in its open-front design. It is available as a standalone seat without a cover.
Top features:
The seat is made of acrylonitrile butadiene styrene and has stainless steel hinges. There are stabilizing synthetic rubber bumpers for added grip to keep the seat in place and avoid slipping.
You can install this seat on both round and elongated toilet bowls. It has a 1200-pound load-bearing capacity, so the broad weight range makes it suitable and safe for all plus-sized audiences.
The seat features easy ergonomics, comfortable uses, and a wide sitting area.
You will receive all the installation accessories to have this seat in place within minutes.
The added height is also very friendly for most users like tall people or those who have knee injuries.
Major limitations:
This single-piece, cover-less toilet seat from Big John can be too expensive compared to other seats with lids, especially if you do want a cover installed.
The higher price is also unreasonable considering the seat's flimsy design.
It is supposed to be easy to clean but there are complaints about faded color or quality that is hard to restore.
You might have to re-tighten the hinges more often as they tend to loosen up over time.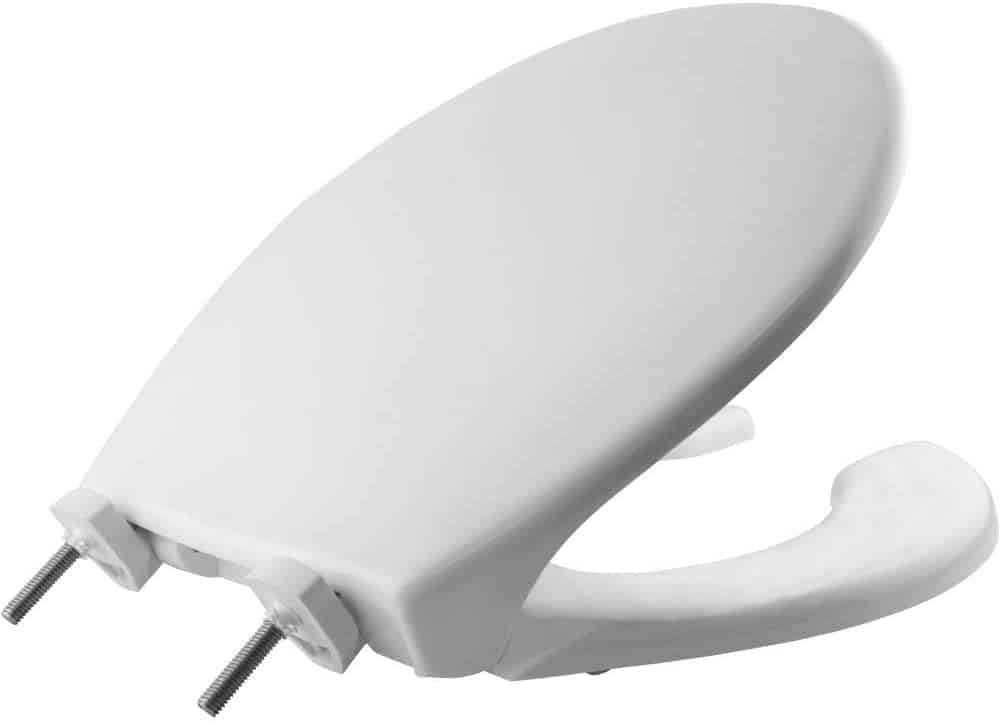 Bemis offers a commercial and heavy-duty toilet seat that has an open-front, round shape. The brand's toilet seats are popular among residential and commercial users both.
Top features:
This toilet seat has an STA-TITE Commercial Fastening System with a snap-install design that stays secured and does not come loose.
It is made of heavy-duty and injection-molded plastic that is resistant to damages and staining. The seat includes integrated bumpers. Its overall construction is quite suitable for commercial restrooms.
The stainless steel hinges are resistant to corrosion, which makes this toilet seat easily durable.
You can mount this toilet seat on various round toilet bowls such as those from Kohler and American Standard. Make sure to measure the size based on the brand's specifications for round and elongated bowls.
The seat has a smooth and non-porous finishing that makes it easy to clean and maintain.
Most residential users also prefer this commercial-friendly toilet seat for its sturdy construction and suitability for above 210 lbs. of weight.
Major limitations:
The seat tends to hit the back of the leg, especially if not installed properly.
The cover design is also troublesome and makes it difficult to sit comfortably on the seat.
There were complaints about the seat's non-compatibility with all round bowls – and the misleading product advertisement.
Centoco is a leading designer and manufacturer of plastic, wood, and other types of toilet seats. It has options for all residential, commercial, and institutional applications. This toilet seat design is one of the best toilet seats for obese people. It has a round and standard shape.
Top features:
Centoco toilet seats are tested for up to 300 lbs. of weight.
This seat is made of a molded, engineered wood core covered by a polypropylene shell – with a high-gloss and non-porous finish. Its overall construction withstands wear and tear, cracking, chipping, peeling, fading, and other damages.
There are corrosion-free hinges that absorb impact, and the seat's molded bumpers add the right grip for stability.
You can mount the toilet seat easily on all round toilet bowl designs such as Kohler, American Standard, and TOTO.
Slow-Close options are available with 700SC and 900SC toilet seat models.
Major limitations:
Some side-to-side movement can be expected, so it is best to check and tighten up the hardware more often.
There were some discrepancies in material quality and construction, as some customers commented that the seat was actually fully plastic and did not have any wooden core.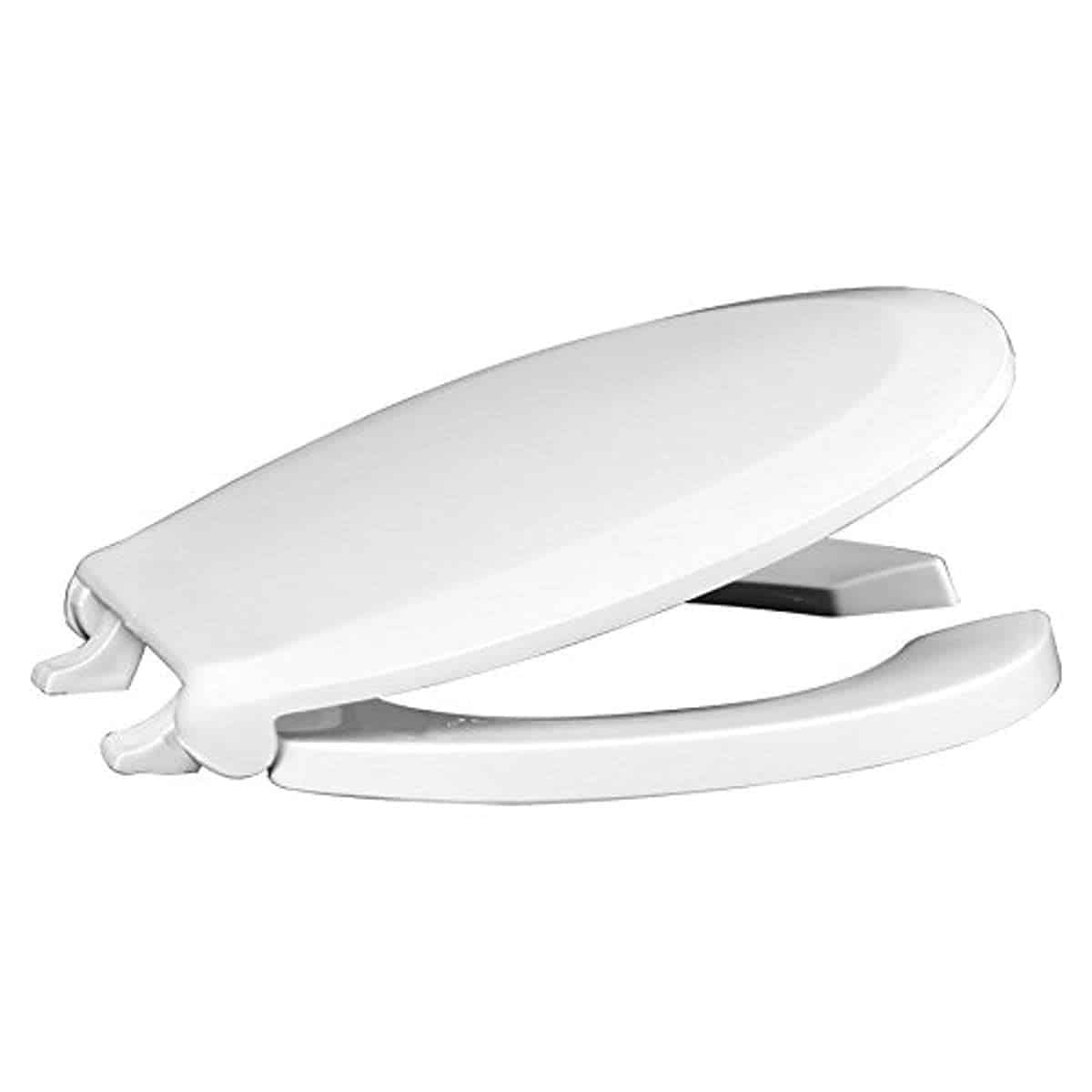 This is another toilet seat design by Centoco. It has a round, open-front shape and is available in different versions to suit commercial uses.
Top features:
The heavy-duty construction includes durable, non-porous polypropylene plastic with stainless steel hinges. It has a high-gloss finish to ensure maximum resistance to cracking, peeling, and fading, while the stainless steel material gives protection from rust.
The seat includes molded bumpers and is suitable to support weights up to 300 lbs.
The brand offers a range of hinge materials including plastic, zinc-plated, and self-sustaining stainless steel. You can also choose between antimicrobial and fire retardant features.
All the installation accessories like washers and nuts are included with this toilet seat to help you install it quickly.
Major limitations:
The seat is not wide enough for comfortable use. It also slips quite often and should be tightened up frequently.
Its cover can be a little flimsy and unreliable.
Conclusion
Using normal toilet seats for obese people could be fatal. Such practice not only lessens the lifetime of the product but also causes severe physical problems too many to count to the obese. The most renowned and immediate one is back pain.
Sturdy ABS framework showered with outstanding ergonomics of the Big John 1-W and 3-W would never set overweight resting fleshes to redness. Equivalent alternatives are quite a handful but except for the Bemis toilet seat we listed options are scanty if you wanna experience quite the same but with a reduced cost.
The most popular and top-ranked heavy-duty i.e. the best toilet seats for heavy people are listed in this article. You can easily pick up the best one for you from this list spending a little time. Lastly, as a safety precaution, you should also keep a toilet repair kit nearby in case any technical difficulties arise.
You may also like to read –
best soft close toilet seat
wooden toilet seats
Best Toddler Toilet Seat
Best Heated Toilet Seat