A toilet is a place we visit every day. It has a significant impact on our overall health. We must not ignore the matter of the toilet seat. There are two main types of toilet seats based on their materials: wooden and plastic.
Generally, solid wood, medium density fiber wood, and bamboo are used to make a wooden toilet seat.  Wooden toilet seats can be a classy addition to your bathroom. The wooden toilet seat also has other benefits, which will be discussed toward the end of this article.
You'll find great wooden toilet seats on the market but not all of them will suit your needs perfectly. So we've narrowed down the list of the best wooden toilet seats into just 7 to help you make a choice easily and fast. But it is ultimately your choice that will take precedence over all other factors in these seats.
7 Best Wooden Toilet Seats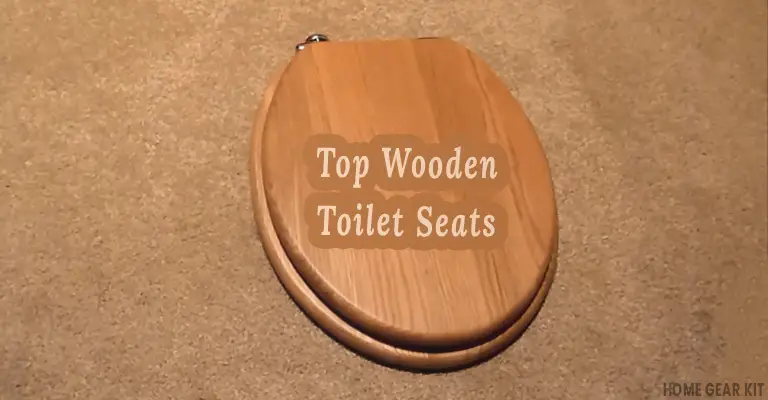 1. Natural Oak Finish Toilet Seat by Aqua Plumb
Natural oak finish toilet seat made by Aqua plumb is an elongated shaped toilet seat with an attractive design. The seat is polished and the finish is great. It is not rough and that gives the seat a smooth and soft feel. It is one of the best solid oak toilet seats available right now.
The beautiful wood grain of oak wood has introduced an extra dimension of aesthetic beauty in this wooden toilet seat. It's like nature has already painted a wonderful image on the seat for you. But of course, there are handmade designs too. On top of the design, the colors also look vibrant and shiny makes it look stunning.
It has metal hinges and a plastic bumper. Metal hinges ensure the firmness of the attachment, thus providing solid support for weight distribution. All of the hinges are coated with nickel. So there's nothing to worry about rusting. Mounting hardware is also included with this oak finished toilet seat. Contact your retailer if you don't find these.
The hinges are matched with the color and design of the seat, ensuring a consistent look overall. Many times you have these mismatches that completely ruin the look of the seat. But it's not the case with this wooden toilet seat. 
You do not need to use any oil or polyurethane on the outer surface of this toilet seat to retain its shine. This saves you some extra money that you can use for some other stuff. However, the plastic bumper is not that strong compared to the rest of the structure. 
2. Sanilo Elongated Toilet Seat by Sanilo
Another elongated wooden toilet seat is this one from Sanilo. This model is known for the variety of design options to choose from. Trust me when I tell you, there's a lot to choose from. There are more than 35 designs you can choose from. From chopped wood surfaces to cartoons and flowers, you will surely find your favorite one.
It is made from molded wood and designed to fit for any elongated toilet bowl. The elongation feature allows you to adjust the length from 16.9 inches to 18.7 inches. It has strong and long lasting hinges. The hinges appear to be of stainless steel. It has a shiny finish to it and looks strong. As it's not plastic, the hinges should serve for a longer period.
Its stable and smooth surface with spacers can take a great load. Sanilo claims that these seats can take up to 400 pounds of weight without any sort of damage. Sanilo provides all installation material with their product. So there should be everything you needed for installation inside of the box. With those items, Sanilo claims it to be easy and fast installable. 
Its lid does not hit the toilet seat at a great force during closing and so it can provide you service for a long time. This slow closing feature and a fine setup hinge make up for a quiet closing as well. Nevertheless, some seats were found to be fragile and couldn't take much weight on them.
3. Mayfair Molded Wood Toilet Seat by Mayfair
Mayfair has introduced the STA-TITE fastening system in their wooden toilet seat which keeps the seat stable on the bowl. Because of having the STAS-TITE fastening system you can install them easily and quickly just using a wrench. As a result, it will take you a little to no effort and time to install and uninstall the seat.
Hinges of this product are made of plastic but don't worry about their durability, because these plastic hinges are very strong and sturdy. Mayfair just had to ensure they used the best quality plastic in their hinges because it's at the heart of the STA-TITE fastening system. So you can be sure of the strength of the plastic.
However, unlike the previous two toilet seats that we've mentioned, this one isn't for elongated toilets. Rather, they are perfect for a round shaped toilet bowl. This may be like this because this is an American product and most toilets in the US are round. They fit all round shaped toilet bowls such as – Kohler, American Standard, TOTO and many more. 
It is made from enameled wood that Mayfair claims to be quite durable. While it might be durable physically, there are some rulings on the cleaning. You can clean this toilet seat using any kind of cleaner except Clorox bleach. It is because enameled wood is damaged by Clorox bleach. 
It is coated with glossy enamel that helps to resist any chipping or scratching. Its shiny and glossy black color gives you an elite looking bathroom. However, despite having a strong plastic hinge, the STA-TITE fastening system does not stay as tight as it was promised to be by the manufacturer.
4. WWY Resin Toilet seat 
To express your refined taste and choice, the wooden finish WWY Resin Toilet seat is a perfect choice. The crystal blue ocean theme of this WWY Resin Toilet seat looks amazing. There are 7 designs of that theme that you can choose from. All of them look stunning and would fit perfectly in any home, hotel, or restaurant.
It is made of premium quality solid wood. Formaldehyde resin is the material of the wood. Once you buy it for your toilet it will give you service for years after years. Besides, the material is environmentally friendly, so you'll really be doing the right thing if you use this one.
Designers of WWY have made their U-V-O Type Universal Toilet Seat with an ergonomic design. So, if you buy this product you do not have to suffer from any health issue that is related to the toilet seat. 
All the assembling materials are provided with the product.  Two types of hinges made from steel are provided with the product – one type fits from above and the other type fits from below the toilet pan. Be aware of what you've got in the box and then proceed to installation.
While installing it on your toilet bowl keep in mind that the installation process of the top and the bottom part is different. The slow closing mechanism is incorporated into this product.  It perfectly fits in any OUV type toilets.
5. Sanilo Round Wood Toilet Seat
This is the second wooden toilet seat we are recommending from Sanilo. However, this one is not elongated like the previous one. Rather, it is round-shaped for fitting those rounds or oval toilet bowls. It fits all manufacturers' round bowls. The length of the seat can be adjusted from 15.3 inches to 17.1 inches. 
The base model offers a shiny glittering gold finish that gives a premium feel to the toilet. If you wish to customize the look and get something different, there are about 44 different designs on display at Amazon that you can put on this seat.
Molded wood has been used to manufacture this toilet seat. While it may not be the best quality material for a wooden toilet seat, it is certainly one of the best ones out there. Its ergonomic design gives you highest comfort and ensures your good health. 
Sanilo provides all of the installation material with their product and it does not take more than 5 minutes to install if you are not very unskilled. Even if you are not a skilled person at these things, figuring it out within 10mins is good enough for you, thanks to the ease of installation of this seat.
The good quality wood and strong hinges with slow closing mechanism have made Sanilo Round Wood Toilet seat a long lasting product. Its golden color gives a gorgeous look to your bathroom. Its excellent workmanship featuring smooth surfaces gives you the convenience of easy cleaning within a short time.
6. Deluxe Harvest Gold Wood Round Toilet Seat
No products found.
Deluxe came up with this "keep it simple" approach with this Harvest Gold toilet seat. Because there aren't any fancy hinge designs or a large number of aesthetic designs to choose from. They focused on delivering something that looks good and most importantly, works well. 
However, the Gold finish looks absolutely stunning. Deluxe nailed it with the finish of the color and the overall outlook of the seat. It is a toilet seat of attractive aesthetic beauty that gives your toilet an aristocratic look. So even though there isn't any official customization on the design, what they deliver is a visually wonderful design.
The surface of the toilet seat is covered with multiple layers of long-lasting durable coating to beautify the molded wood. Without these layers, Deluxe wouldn't have been able to achieve this outlook only through the colors. It has good resistance to corrosion. It is primarily because of the molded wood and its long-lasting nature.
The cover and seat are perfectly aligned. This alignment results in comfort and a good experience overall. The seat comes with factory-installed hinges so that you are not burdened with installing the hinges anymore. 
With the pre-installed hinge and a good alignment, you can install it within 5-7 minutes using a screwdriver. You clean it easily and you do not have to use any special cleaner for this purpose. Just be sure to not use something that the box didn't recommend.
7. Deluxe Regency Toilet Seat by HowPlumb
Just like the previous one Deluxe also went with the "keep it simple" approach with this seat. However, the difference between this one and the previous one is that this is an elongated toilet seat. With this one as well, they are not trying to sell something groundbreaking but they have tried and delivered something that does the work.
If there is something similar to the previous one then it's the stunning finish on the top. They've used the Regency blue color with this one. Although it doesn't have the aristocratic look like the golden one, it is as equally aesthetic as the previous one if not better.
The molded wood seat is painted with a mind soothing regency blue color. The deep lustrous of this product adds extra beauty to your bathroom.  The rock hard enamel protects the glaze from fading and keeps the product glossy for a long time. 
This seat is made from molded wood. The seat and the cover are perfectly aligned in this one too. And just like before, the alignment helps to ensure a comfortable experience. The hinges of the seat come pre-installed. This takes the effort of installing the hinges off the back of new users.
Since there aren't any major differences between this model and the previous one, it is just natural that the installation time will be almost equal. That's why it takes about 5 or 10 minutes for the installation. You can use almost any type of cleaner to clean this one.
Top 7 wooden toilet seats for 2022
Mayfair from Bemis offers a natural oak toilet seat for round bowls. Its wood finish prevents splitting and cracking and allows the seat to last longer. The included stain-resistant chrome hinges enable a secure installation and simply look great with other metal fixtures in the bathroom. You can install this seat on any round toilet bowl such as those from Kohler, American Standard, and TOTO. It is recommended to clean the surface using mild soapy water only so that the finish stays durable.
There were some issues with the fixtures given with the seat. Some users found it tough to install them, and the screws were also noted to become loose more often. The veneer wood quality did not meet everybody's standards for long-term use.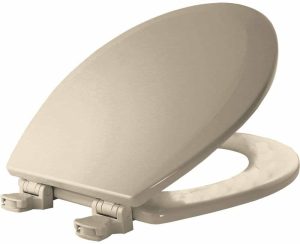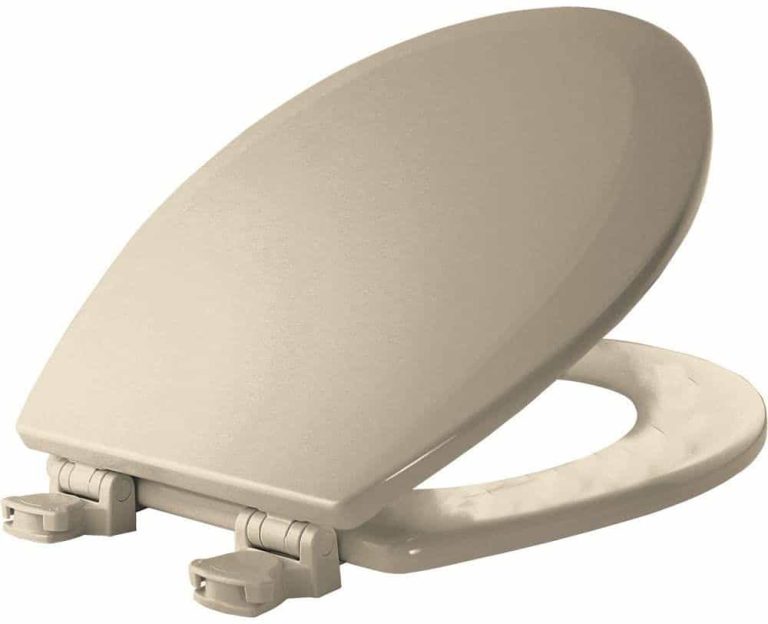 Bemis also has a round, molded wood seat in almond color, which is one of the best wooden toilet seats because of its enameled design. The multi-coat enamel finish is quite durable, featuring a high-gloss coating for extra resistance to chipping and fading. All the matching bumpers and non-corrosive hardware pieces are included in the package. You can install and remove the seat easily for thorough cleaning and replacements. Installation videos and guides are available by the brand to help you out. This seat fits various round bowls like Kohler, American Standard, and TOTO. It is among the lowest price ranges and still delivers a better quality compared to other brands. To allow the coating to last longer, make sure to avoid using harsh cleaning chemicals.
Some users faced staining problems over time. The seat's quick-release feature can also be more troublesome than useful, causing the seat to detach easily every now and then.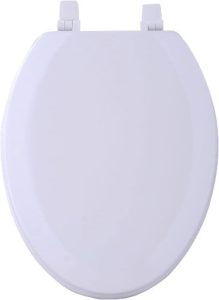 This elongated toilet seat from Achim Home Furnishings features deluxe molded wooden construction. It has adjustable hinges and allows for easy installation and replacement. All the required hardware accessories come with the seat – which speeds up the installation stage. The sturdy design makes a good replacement option for old seats and fits well with most elongated bowls. You can clean the surface with mild soap and water to let the finish stay strong.
In terms of longevity, this toilet seat is not very promising if you are looking for a long-term replacement. It is prone to damages and breakage over time, mostly due to the material quality. The seat also retains odors and though this is a common problem with wooden toilet seats, it only means that you will be replacing it that much sooner.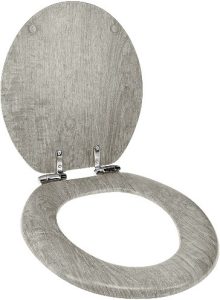 Ginsey's grey wooden and round toilet seat makes it to the top 7 wooden toilet seats for sure. It has a unique faux texture and a distressed grey wood design that is super durable. Protective bumpers and chrome-plated hinges are included. They enable simple installation and keep the seat securely attached to the bowl to prevent slipping and sliding. We also like its slow-close feature for closing the seat and lid slowly. The toilet seat fits all round bowls, is easy to clean and maintain, and can be adjusted for a secure fit. Overall, the reviews have been positive with nothing much to criticize yet!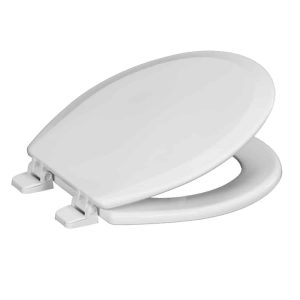 Centoco's white, round wooden toilet seat is another great option for enameled or molded designs. The wooden core is molded by a durable polypropylene shell, so the reinforced construction prevents cracking, chipping, fading, discoloring, and bending. This is also thanks to its non-porous, high-gloss, and scratch-free coating that creates a tough finish. The seat comes with impact-absorbing hardware and integrated bumpers that match your chosen seat color. They allow a secure fit and grip to avoid issues like sliding. You can install this toilet seat on Kohler, American Standard, and TOTO bowls. Centoco's patented Centocore technology is a huge bonus among satisfied customers who use the brand's toilet seats.
Some users found the lid of this seat too lightweight and flimsy as it does not always stay upright. It also develops a squeaky noise over time – all of which can limit the seat's ideal and sturdy design benefits.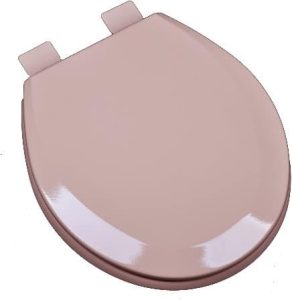 This Venetian Pink toilet seat from Bath Décor has got to be on our top-7 list. It is also available in a range of other colors like beige, blue, and yellow. The round, closed-front seat is made of molded wood construction and has adjustable release hinges that match your selected seat color. Featuring multi-coat and high-gloss enamel coating with sealer and primer, the overall construction becomes quite reinforced and durable. Its paint/coating also includes odor and stain-resistant chemicals – which is a major plus for wooden toilet seats! You just need warm soapy water to clean the surface. All the bumpers, rubberized pads, and fixtures are included in the package. Users particularly like the seat's sturdy, weighty, and tough design that clearly lasts longer than other products.
Apart from some color differences and chipped paint issues, Bath Décor's wooden toilet seat is a winner and makes a great choice for modern bathroom interiors.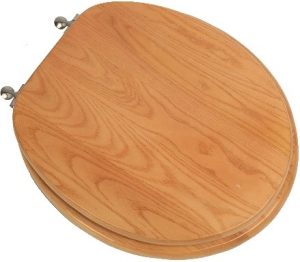 This is another natural oak option from Bath Décor. The round toilet seat has solid metal hinges and features a high-gloss finish for extra durability. The coating includes high-gloss polyurethane and is fully sealed. The seat's padded stoppers prevent sliding and hold it in place. It is an excellent higher-profile choice that works with bidet attachments. Apart from ease of installation and removal, most users preferred to buy this seat also because they found the natural oak color to match their oak cabinets. So, it is a great toilet seat if you already have wooden cabinets installed.
Sadly, this toilet seat is quite expensive – one of the most expensive options out there. The high price does not promise high quality which is a huge letdown. Since the seat arrives unassembled, you do need to put it together all by yourself. Some users struggled with proper installation and found the persistently loose screws very annoying.
Why Wooden Toilet Seat Used For?
In general, plastic toilet seats are better since plastics don't absorb liquids like urine. So why do wooden toilets exist in the first place? We all know wood has more water soaking power than plastic right? Well, here's what wooden toilet seats are used for.
More Premium Quality
Wood is more expensive than plastic- it's a fact. It automatically makes it more premium because of that. Moreover, the whole process of wood being collected and processed into the final product requires more effort and manpower. All of these factors contribute to the wooden product being more gorgeous and premium.
Aristocratic Look
Of course, with the extra money you are paying for a wooden toilet seat, it won't just be for the higher price of the wood. The wood is refined, painted with different designs, and polished to give a stunning shine and glaze, that's not possible to get from a plastic seat. People pay the big bucks to get this Royal or Aristocratic look inside their bathroom.
More Sturdy
Wood is denser in mass, compared to plastic. So it is naturally heavier than its counterpart. While this may be a little bit troublesome in case of carrying the seat, as far as keeping the seat firmly fixed at its position is concerned, plastic seats cannot even come close. Wooden seats don't wriggle that much.
Frequently Asked Questions (FAQs) about Wooden Toilet Seat
Q. What kind of cleaner can I use to clean my wooden toilet seat?
Wooden toilet seat does not require any special type of cleaner. You can use dish-washing liquid, hand-soap, antibacterial soap, hydrogen peroxide or rubbing alcohol to clean your wooden toilet seat.
But some wooden toilet seats forbid some specific type of cleaner. So, after buying the seat check it properly whether there is any restriction about the specific cleaner.
Q. Can I use an abrasive cloth to wipe down my wooden toilet seat?
No, the abrasive cloth can make a scratch on your wooden toilet seat. You should use a non-abrasive cloth or sponge to wipe down your wooden toilet seat.
Q. How can I remove the odor of urine from a wooden toilet seat?
You can remove the odor of urine from a wooden toilet seat by cleaning it with a paste of vinegar and baking soda.
Q. Can they be heated toilet seats?
Yes, some of the wooden toilet seats can be heated as well.
Conclusion
With all being said, now it shouldn't be a problem for you to get the best wooden toilet seat. Among the best available on the market, you just need to find out which one best suits your needs and pick it up without being misled.
However, if you want an elongated one, we suggest you take a look at the Aqua Plumb model. It's big, made from pure Oakwood, firm, and has everything a good elongated seat should have. For a smaller, round seat, you can choose the Sanilo one. It might not be Oakwood, but it gets the job done quite well.
You may also like to read –
best soft close toilet seat
Toilet Seats for Obese
Best Toddler Toilet Seat
Best Heated Toilet Seat