To retain the perfect temperature in your room thermal curtains are a very good option. These curtains can be a great medium of insulation in your home, only if you successfully choose the right one. A pair of best thermal curtains not only insulates but will also give you the perfect blackout room for morning sleepers.
The availability of these curtains made from sustainable fabrics is often limited. Nevertheless, the layers can still enhance the efficiency of our house or office as a whole when they work together. As much as 25 percent of the heat is prevented from escaping in the winter and 33 percent is reduced from solar gain in the summer.
In this article, we will share some of the most impressive thermal curtains on the market.
What Are the Thermal Curtains?
Thermal curtains are made of thick fabrics to keep your room well insulated as well as a blackout. This curtain usually consists of three layers of fabrics that helps prevent heat, light and UV rays entering the room. Due to these three layering fabrics, it is better than normal curtains in insulation and blackout.
How Well Do Thermal Curtains Work?
These kinds of curtains are effective in saving energy. It is able to reduce heat loss from the room up to 25%. Of course, you won't expect insulation from a curtain more than that. Because some pieces of curtain alone cannot guarantee you the total insulation of the room. Although too little to count, the air quality inside is affected by its surface fiber.
Now talking about blackout properties, it may be able to prove you 100% satisfaction according to the quality of the curtains. Black or similar color shades will make your room complete blackout. Do remember that lighter shades are not effective at all no matter how good in quality they are.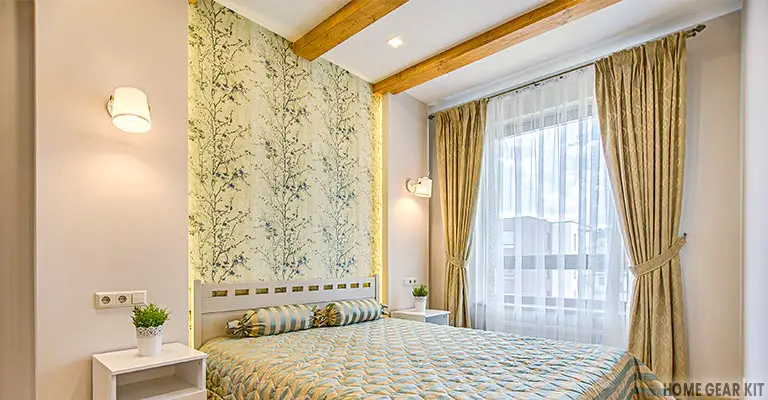 Top 8 Best Thermal Curtains Review
Yes, you could make a DIY thermal curtain but down below are 8 best thermal curtains from which you can pick out your best one. Each of the products is well described with pros and cons collected from genuine customers.
1. NICETOWN Thermal Insulated Grommet Blackout
This thermal curtain is made of 100% polyester with no other mixing materials. It includes 6 grommets top and measures 42" by 63". It has a diverse range of colors to offer you. Blue, white, black, toffee and many other colors that would completely blend with your room color or at least create a great contrast.
The package includes 2 identical curtains. The quality of the fabric is good and feels soft and smooth. It is heavy and durable. The curtain is a noise reducer. It prevents 88-95% of light and UV rays from entering the room. Note that, darker curtains work better than lighter ones.
It can be crowned the best thermal curtains for winter and summer as it prevents winter chills and sunny heats equally. Altogether, it traps three kinds of waves. Preventing summer heat will keep your furniture in a good state. The inner diameter of the rings is 1.6" which easily fits into standard size curtain rods.
The curtains are washable with cold water in the machine and also safe for tumble dry. Ironing and steam cleaners are also safe with this. This curtain is available in 15 different shades. The curtain is thick, doesn't let light enter the room and lets you sleep well.
It helps keep the room cool. The quality of the curtain is excellent. It looks simple but beautiful. Overall, the curtain is great in quality and performance. It works just like advertised.
Some of the drawbacks are the lighter color of the curtains allows some light and heat to enter the room, which means they are not capable of blocking heat totally. So, if you want to block the morning sunlight totally, then these curtains will disappoint you. Apart from this, they are very wonderful curtains. 
2. Deconovo Room Darkening Thermal
This curtain offers you 30 different shades to choose from. Each of them is very pretty to hang in your room. It is also made in 9 different sizes to perfectly match with any window or door. In each package, you will get one panel.
One single curtain contains 6 grommets that are silver in color. The grommets look very elegant and complement most curtain rods. The curtains are made of materials that have insulating properties. Hence, it saves energy to keep your room warm or cool.
It prevents sunlight heat from entering the room. It has 3 wave technologies that prevent the entrance of sunlight and UV rays. It also cuts down noise penetration. Darker color curtains are more effective than lighter ones. It is very silky and smooth to touch.
It looks very elegant and beautiful in any room with any color. It is easy to clean. You can machine wash it; temperature below 30 degree Celsius. It is recommended for gentle cycles in the washing machine only. Do not use bleach or tumble dry it.
The stitches of the curtains are very well crafted. The rings are large enough to fit into most curtain rods. The interior of the rings is 1.6" in diameter. The external diameter is 2.4" in diameter. It is very thick and the fabrics are of excellent quality. The rings are very long lasting.
It is perfect for those who love to complete blackout rooms. It looks very elegant. The width is slightly smaller for a standard size window. Otherwise, the curtain serves what it is made for.
But the problem is the color is not perfect as it is expected from the pictures given by the manufacturers. After all, It is perfect for those who love to complete blackout rooms. It looks very elegant. The width is slightly smaller for a standard size window. Otherwise, the curtain serves what it is made for.
3. RHF Wide Thermal Blackout Patio Door Curtain
This curtain gives you a good amount of choice by offering 10 color shades and 6 different sizes. It is made of 100% polyester. It has a high density and sandwich technology. Sandwich technology means three-layer fabrics. Has high-density black yarn with a top and bottom layer.
Therefore, it is a good insulator and prevents heat from entering the room. It also is a noise reducer. The darker color you choose the more effective it is. It is very effective in making the room complete blackout. The curtain size is ideal for standard size rods and windows.
The interior of the ring is 1.6" in diameter and the exterior is 2.4". It features antique bronze grommets that look very classy and elegant. It is machine washable and dryable. it minimizes the energy costs as it reduces heat and cold entering the room.
The fabric is very smooth and heavy, which indicates it is a good quality curtain.  It does have a strong synthetic smell which goes away after first wash. Works perfectly like advertised.
But the worst part of the curtains is that some lights enter the room from the sides of the curtains, though the product blocks light pretty well, but due to these lights, the room doesn't get dark. 
4. Best Home Fashion Thermal Insulated Blackout Curtains
It is made of 100% polyester and offers you 26 different shades. All of them are very beautiful and would contrast with your room very well. It also has 5 different sizes. It features 3 wave technologies that prevent light and UV rays entering the room.
It has dense black yearn between the two layers of the fabric. It is a perfect insulating material and prevents heat and cold to penetrate it. Darker colors are more effective than lighter colors. The fabric is very soft, light, and drapable.
It saves energy costs spent on heat and cold weather. As the fabric stops heat and cold to enter the room. It is lab tested and proven that it blocks cold. It also reduces the outside noise to give you a peaceful environment.
The size of the header is 0.5"; perfect for standard size rods. It has both a back tab and a rod pocket system. The package includes 2 identical curtains. It is very easy to clean inside a machine. Light colored curtains are not at all effective in the blackout. Black ones are very effective in controlling light and heat.
Some users complained about the color of the curtains, they said they got products in different colors most of the time faded color. So if you chose the product based on the pictures given by the manufacturers there are chances that you may not get the product in that color. 
5. NICETOWN Blackout Curtain Panels Window Draperies
This curtain is available in 5 different sizes, you can pick the one that best suits with your window. It is also available in 17 different colors. All of them are very pretty and blend very nicely with the interior. Choose the one that is most close colored to your room.
It is made of polyester. A single set contains 2 identical panels. It is featured with 7 back loops in each panel. The fabric is very high in quality and is also very soft and heavy. Both sides of the curtains are the same in color. It is also thread trimmed and wrinkle-free.
It has triple weave blackout technology that insulates summer heat and winter chills. Also, it doesn't let light or UV rays pass into the room. It is perfect for those who like complete blackout rooms. Note that the darker the color of the curtains, the more effective it is.
It also is effective in protecting your furniture and other stuff from sunlight. It can be styled in 3 different ways; pleated, shirred, or clip-rings. It is designed with both rod pocket and back loops. It is made to last in good condition for a long time.
It can be easily cleaned by machine with water under 86F. only mild detergents are recommended with no usual bleach. You can also iron it at low temperatures. You also get a 30-day money-back guarantee if not satisfied.
It blackouts the room, but not completely. The colors may not completely match what is shown in the picture. But it looks very good. Otherwise, the quality of the curtain is great and also reduces noises from outside.
6. Blackout Bedroom Curtain Thermal Insulated
This curtain is white in color with different patterns on it. It is available in 9 different shapes. One or at least another should match with your window size. It is made of microfiber polyester. It is made of triple blackout materials.
It does not contain any chemical coating but is effective in trapping sunlight and UV rays. This curtain is environmentally friendly and safe to be used at home. The fabric is a very soft touch and durable. This curtain is also a noise reducer, reducing noise from outside.
It helps to keep the room complete blackout; perfect for those who like to sleep in day time. It also has thermal insulating properties. It prevents heat and cold entering the room. Hence, it saves energy. The fabrics have beautiful patterns on them, which look perfect on almost every window.
You can use this curtain for both blackout and decorating purposes. It is just a perfect match for contemporary, traditional, vintage, rustic decoration. It has 8 years of warranty and 30 days guarantee. It offers refunds if you are not satisfied with its performance.
It has 3 layers of fabric for better performance; silk in the middle, display fabric at the top and inside fabric of solid color at the bottom. It also consists of antique copper grommets which are 8 in total. The interior grommet diameter is 1.6".
It is machine washable with cold water only and gentle cycles. The curtain is not good at blackout as advertised, probably because of the color. But it is very good at thermal insulation and does keep the room cool. Apart from these, the quality of the curtain is good.
7. HLC.ME Lattice Print Thermal Insulated Room Darkening
This curtain is also offered in 9 different sizes. It is also available in 11 different colors each of them having diversity in patterns as well. all of them are very elegant and versatile. It would look great in any window. The patterns and the colors make the curtain all together very beautiful.
The curtains are very sturdy and long lasting. It helps to block the light. It consists of triple weave technology. It is tightly sewn and the fabric is very thick. It is also great for insulating purposes. Hence, it is a great energy saver.
It claims to save up to 30% of your energy costs. It blocks heat and cold entering the room. It also reduces the loudness of the noise coming from outside or leaving the room.  The fabric feels very smooth and soft to the skin.
A single panel contains 8 grommets. A single packaging contains two panels. It is also very easy to clean. You can wash it in the machine with cold water. Do use mild detergent and gentle cycles. You can also use cool iron and tumble.
But do not use bleach. It is good at everything it claims to be; except for the blackout purpose. It doesn't black out the room completely. The reason behind it could be the light colors. It may also fade if dried in the sunlight.
Apart from this, the quality of the curtain is very good and looks beautiful.
8. H.VERSAILTEX Traditional Window Drapes Aqua Floral
It is made of 100% polyester only and no mixture. It is available in 6 different colors with different patterns as well. Each of them is very different from each other and the appearances are beautiful.
It is very soft and silky towards the skin. It is also formaldehyde-free. It has interwoven thermal technology that acts as a great insulating property. It prevents heat and cold entering the room. Therefore, the curtain is an energy saver too. It has no chemical coating; hence, it is safe for your home.
It prevents UV rays and blackouts' rooms. It is also capable of reducing the noise coming from outside the room. Each panel has 6 grommets which are made of nickel. The grommets make the curtain look more elegant and classy.
Curtains are easily washable in a washing machine with a non-chlorine detergent. It is also safe with tumble dry and warm iron. The quality of this curtain is very good. The thermal properties are also excellent. It is not effective in blocking out the light due to light colors.
Best thermal curtains – top picks for 2022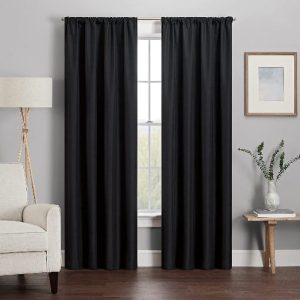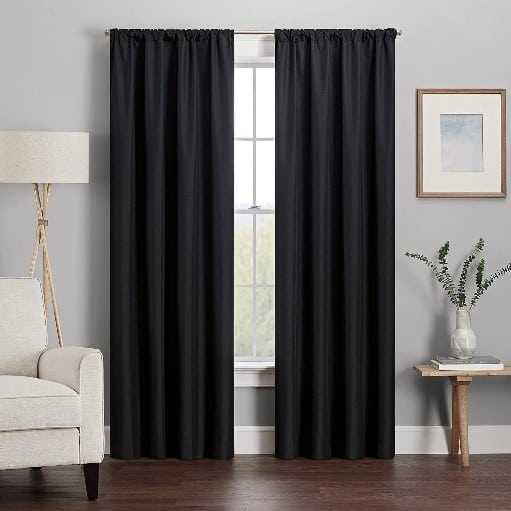 Eclipse brand has some of the best thermal curtains for maximum blackout – true to its name! This single-panel curtain measures 42 x 84 inches and is made of 100% polyester. It offers a blackout effect at 98% and more, which is supremely ideal for blocking sunlight and harmful UV rays. This also enables privacy in any room. The brand's patented Thermaback technology takes the credit for these features. It blocks out both sunlight and noise and even offers an insulated barrier during summers and winters. With such energy efficiency, you get to save up more on energy bills. The curtain comes with rod pockets for easy sliding and is machine-washable. Other colors in this collection failed to deliver the required blackout, so choose these black curtains if you are looking for reliable blackout results.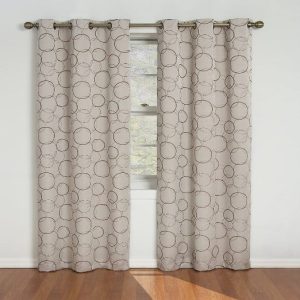 This is another thermal curtain option from Eclipse. The 42 x 84-inch single-panel curtain has a linen color with simple geometric circles in its patterned design. Made of 100% polyester, the stylish curtain offers maximum blackout by cutting away 98-99% of sunlight and UV rays. These curtains are a good choice for both blackout and privacy results in a non-dark color, so you can add a bit of decorative element to your rooms. They also feature the brand's patented Thermaback technology to block light as well as noise. The insulated barrier helps to keep away the summer heat and the winter chill from sneaking into your home, which allows your HVAC units to be more efficient, and you can reduce your bills with lower consumption. This curtain includes a grommet top header and is also machine-washable.
Some users noticed blemishes and unraveling fabric edges in their curtains. Make sure to inspect your received curtain panel carefully so that you can ask for a timely replacement if applicable.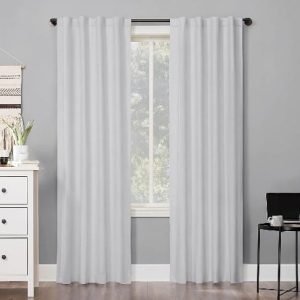 Sun Zero's white thermal curtains measure 40 x 84 inches. They are designed with blackout technology that blocks sunlight, offers privacy, insulates your room, and saves energy. This single-panel curtain includes hidden back tabs that can slide through rods with 1.5-inch diameters. Apart from blocking light, the curtain also reduces noise by up to 30%. It is easy to install and simply looks great in all room interiors. You might need a double rod for layering the curtain properly.
Light-colored thermal curtains always have some level of uncertainty in the blackout results they promise. This white curtain was also criticized for its flawed blackout technology. Its material wrinkles easily and does not look very appealing unless you can get rid of the wrinkles successfully.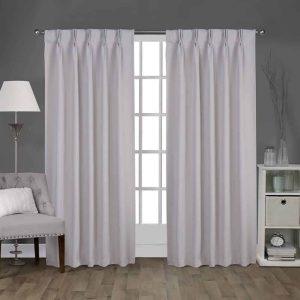 Speaking of a good light color with blackout perfection, Magic Drapes has a silver thermal curtain that is reviewed positively for its blackout effect. It is definitely a great choice for people who want something bright and fresh to go with their décor. These two-panel curtains have a custom size, so you need to specify the exact dimensions. They are made of 100% polyester, do not fade quickly, and do not wrinkle over time. The material is also a good insulator to keep your room at a comfortable temperature, which always helps to save bills. Apart from ideal insulation and blackout, Magic Drapes curtains offer soundproofing benefits. You will receive tiebacks and hooks to install these curtains. They also make a smart addition to any room where you want to protect furniture, flooring, or artwork from dust and sunlight.
How to Hang Thermal Curtains?
Thermal curtains are just like ordinary curtains and you can hang them just like you usually do. Hand them on the window or door rods. Here is a step by step guide to hang thermal curtains in your window.
Step 1: Gather all the necessary equipments together
To start the process, you need some specific tools ready to finish the whole process perfectly. Get the best-insulated curtains, some mounting brackets with set screws as well as curtain knobs. Another tool that will help you most is the power drill machine with a drill bit.
Some other small tools that will make the process easier is a measuring tape, set of screws and wall anchors. You can put a hammer ready, you don't know when it will be helpful. And at last, the mandatory thing is the well-measured curtain rods.
Step 2: Unpack your Blackout Curtains and make ready
Be very careful while unpacking the blackout curtains as they are more likely to be dirty within a moment. Dry wash them after checking the fabric level and also iron them so that they will look fine every time without having any wrinkles.
Step 3: Measure with tape
You never want to hang the curtains very high or low. So measure the rod position from a specific height let 5 inches ½ feet at most from the edge of the window and mark it there.
This measuring will also help to prevent light coming out from the sides. Also, make sure that the curtains will cover at least 3 inches from both sides. After that mark the position of the brackets.
Step 4: Begin Installing with tools
How time to install all the instruments with all of your tools. Use an appropriate size drill bit and make the holes in the right place. Keep them straight and put the wall anchors after drilling at the wall. You need to push the anchors with a hammer to ensure that they will not come out.
Now with some screws, install the brackets and make sure that they are aligned properly. You will need a screwdriver here to tighten those screws.
Step 5: Place Curtain on the Rod
Place the curtains on the rod in the exact pattern and then secure both ends with the knobs. If you have a bigger window, you can connect two rods to make it longer.
Step 6: Hang Rod on Window properly
Now, hang the rod over the brackets and make sure that they are set properly.
Step 7: Now time for the show
Now it's time to shut the curtains and enjoy a deep sleep in a dark environment.
Thermal Curtains vs. Double Glazing
Both of these things are a great medium of insulation. But there are some basic differences between them, each of them has pros and cons of its own. Let's check that out.
Thermal Curtains
Pros
It is ideal for both summer and winter.
Those drapes can be easily removed or replaced.
They are rich in elegance and add dimension to the room.
Also aids in a blackout the room if chosen wisely.
It doesn't let UV rays enter the room.
Cons
It does retain heat but not as much as a glazer.
It reduces the noise coming from outside but not as much as a glazer.
Double Glazing
Pros
It is very effective in saving your energy bill by retaining heat.
They do a better job of reducing louder noise coming from outside.
It filters out the harmful rays of the sun.
Cons
It is a poor option for the summer season; it traps and accumulates heat inside the room.
What to Consider Before Buying Thermal Curtains
From blocking out light, through reducing noise to thermal hindrance – a perfect blend of all three guides you towards the ultimate insulative curtain. If you want the best thermal curtain for your room and don't know how to proceed, down below are some tips.
Fabric: Triple woven fabrics are best for thermal properties. The thicker the fabric the better it will perform. Polyester is the prime option but proves to be even better if the texture of other yarns is incorporated. Cotton and silk are lighter alternatives but often are too unmitigated to block thermal effects.
Microfiber curtains come with enough insulation too. Most importantly they are greatly washable. Velvet and linen are the most popular as well as exquisite choices for texturing purposes.
Blocking Effect: Insulating curtains are, basically, brought into action for thermal and optical blockage. Seldom sheer curtains are advertised as thermal curtains which is a dire falsehood. Woven and blackout drapes offer the premium insulation towards both heat and light.
Curtains featuring blackout are rather sleek. These are quite perfect in official contexts. But as a fuzzier choice triple woven ones come with nicer textures. But to extract greater blockage use of liner is quite obvious.
Whatever the outer surface colors, a middle black layer is a must. About 90% blackout is recommended. But that's not often enough for thermal prevention. A sheet of foam is always in the equation to solve that. Though these accelerates cost, that's how we define "thermal curtains"
Color:  Darker colored curtains are better for both blacking out and insulating the room. Choose dark-colored curtains to get the best performance.  Do also make sure that it is color guaranteed and doesn't fade away quickly.
Black or perhaps gray and while shades are quite minimalistic. Often blue and ivory patterns blend greatly with traditional room walls. But as far as insulated drapes are concerned, brighter outer surfaces should never be your final choice unless multiple layers and liners are inserted.
Grommet vs Rod Pocket: The metal circular rings or grommets, unlike shower curtain rings, keep the curtain fabric out of the equation while hanging. If this is what you are going for, make sure the rods are well coated and thick enough. Pocket rods shouldn't be ideal for old hanging rods as they often comprise abrasions and scratches.
Grommets are to be about 1.5 inches in diameter as the rods are nearly an inch wide. If curtain rod color doesn't go well with the drapes and/or wall color, rod pocket ones are a good way to conceal them.
Size: Options are mainly two. You may cover up to the windowsill or opt for a full-length curtain. Thermal curtains offer a number of options in between 60 inches to 120 inches. For half wall drapes go at least a couple of inches below the windowsill. The other alternative should extend up to the floor but an inch or two short.
Straight out, measure your window dimensions, add 3 inches each on both sides, and 6 inches above. The lower cut depends on your choice. To add to aesthetics, keep the drapes about an inch in front. As a standard American room measures 8 to 10 feet in height, 108, 95 and 84 inches are some fine choices to make.
Quantity: To characterize great finesse, a puddled or gathered look proves the best. As the lion's share of windows falls within 50 to 55 inches in width, 2 pieces of curtains produce quite a decent look.
But if your case exceeds 60 inches, 3 panels set would be a better option. Fuzziness about symmetry may drive you to buy 4 sets, but that's not what we recommend.
Frequently Asked Questions:
Q: Do thermal curtains work?
Ans: The answer is yes! It is effective to use thermal curtains in the summer as well as in the winter. The reflection of solar radiation can reduce the amount of heat gained by 33% during summer when the curtains are medium- to light-colored with a thermally reflective backing. As well as window orientation, window size also impacts energy efficiency.
Q: Is thermal curtain good for summertime?
Ans: Yes, it is ideal to be used during summer times. These are the best curtains to keep heat out and prevent heat to enter the room.
Thermal curtains are made from heavy fabric that traps heat. Summer and winter are both good seasons to use them. When buying them, pay close attention to what you're getting.
By traveling through your windows, sunlight warms the air inside your home. Even though this may be great during the winter, it can be very annoying during the summer. Usually, you turn on the air conditioner to restore normalcy when that happens, don't you?
You may not need to use your air conditioner with thermal curtains. How can that be? Again, the curtain prevents the room from losing cool air. In this way, you'll also save money.
Conclusion:  
Thermal curtains are a great choice for keeping your energy bills down and insulating your room. Blackout is another good feature of a thermal curtain; perfect for day sleepers.
If you are looking for the best thermal curtains to keep heat out you can go for the Deconovo Room Darkening Thermal, they are pure blackout curtains and make your room really dark.
On the other hand, if your criteria is to have nice looking curtains with minimal light-blocking, then NICETOWN Blackout Curtain Panels Window Draperies could be a nice option for you. I hope that this article has helped you find the best thermal curtain for your room out of many.