How can you imagine a lively and active morning without a hot shower? A hot bath at the beginning of the day is a chance to restart and is the opportunity to wake yourself up. Now the question is what kind of heater is more suitable for making hot water?
Both the tankless and tank water heater are equally popular in the current market. Tankless water heaters are said to be on-demand water heaters, they are more efficient, have a larger lifetime as well as smaller footprint.
On the other hand, the tank water heaters avoid the higher initial cost, maintain cheap maintenance, and overall simple installation. Now you can understand which of these is better is a tough question. So, let's not delay and clarify through discussion which one is ahead and why.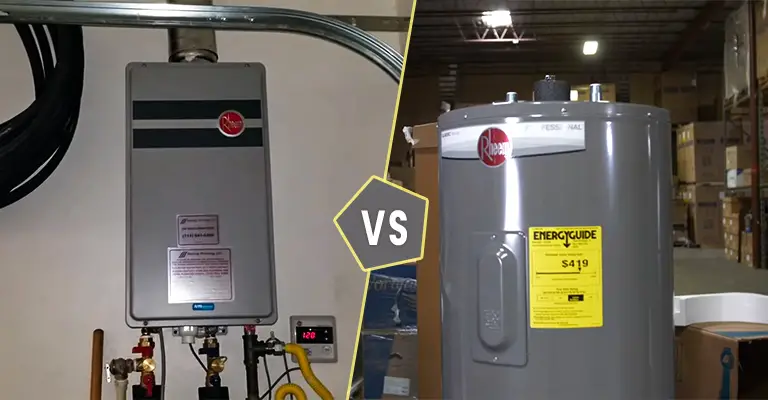 What Size Tankless Water Heater Do I Need for a Family?
The size of a tankless water heater varies with the number of members in your family. If your family increases, the size, and strength of the heater need to be increased.
For a Family of 3
You will need a 40-gallon electric/gas water heater for regular use and nearly 50-gallon for high use.
For a Family of 4
If you have a family of four members and want to make regular use, you should purchase a tankless electric heater of 50 gallons or a gas heater of 40 gallons. Otherwise, for high use, you have to take a tankless gas heater of 50-75 gallons or an 80-gallon electric heater.
For a Family of 5
The buyer should purchase a waterless electric heater of more than 80 gallons as well as a 75-gallon tankless heater powered by gas for high use and 80-gallon electric or 50-gallon gas tankless heater for low use.
Tankless vs Tank Water Heater
The features of these two heaters can be written page after page. In this section, we will compare these two heaters with the characteristics of an ideal heater and try to come to a decision.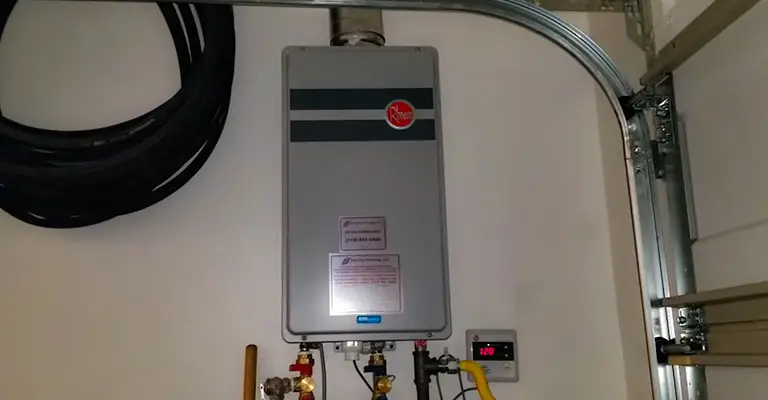 Efficiency
Tankless heaters are said to be 24 to 34% more energy efficient than an average tank heater. And if you use 86 gallons, you will get an additional 8 to 14% efficiency. However, a tank water heater powered by gas has an annual operating cost of less than $250 whereas an electric tank heater ensures less current consumption and its yearly cost is approximately $600.
Installation
Installing a tankless water heater can be costly, expensive equipment will be needed and you may upgrade the home's electrical system or gas line. On the other hand, tankless heaters are simple and easy to install, repair, and replace.
Working Process
A tankless heater uses high-powered burners as a heat exchanger. By going through it, the heater delivers hot water without storing it. And a tank water heater uses natural gas, electricity, or fuel oil to heat water and keep it in a tank. Propane tankless water heaters also cover a good portion of them. To extract benefit out of every corner going for a hybrid water heater would suffice you.
Versatility
It will take only 15 to 25 seconds for a tankless heater to make the water hot. In a minute, it can deliver two or three gallons of hot water. You can get unlimited hot water whenever you need it. But sometimes doing laundry and running multiple showers, it may fail to keep up with the demand. On the contrary, an average tank water heater supports three showers in a row.
Cost
The tank water heater bears the lower initial cost and less costly maintenance. But there are allegations against it that during cold weather, it drives either gas or electric bills higher. Conversely, tankless heaters have a higher initial cost but you can save more money over time. According to the research of the US department of energy, it saves $44 per year.
Footprint
If you have a shortage of space in your home, the tank water heater is not for you. An average tank of 50 gallons needs a minimum of 5 feet tall and 2 feet wide space. But a tankless one doesn't need too much space like that. Tankless water heaters are small and ideal to be installed in "tight quarters". Even you can set them on outside walls too.
Lifetime
An ideal tankless heater lasts for 20 to 30 years which is double a tank heater. But its lifetime will be reduced if you use them in "hard water" areas. However, the storage water heater has 10 to 15 years of life and needs to be changed more often. In that case, you should prefer a dedicated water heater for hard water.
What Are the Downsides/Dangers of a Tankless Water Heater?
Every household appliance has a safety concern and some limitations. The prominent downsides/dangers that can be seen in a tankless water heater are:
The primary cost of setting a tankless water heater is too high.
High pressure can affect electricity or gas lines and they may be damaged for installing the heater. So, do the installation by a professional plumber. 
If the heater runs on gas, the combustion of natural gas will produce carbon monoxide. This poison will diffuse by the leakages in the pipeline. The gas remains invisible and can cause diseases concerning the heart and other organs, even death. So, make your gas line is 100% leakage free. You should always check for the signs your water heater is going to explode.
The line has to be checked after a few days to avoid electric shock from a tankless heater run on electricity.
FAQ
Q: Can a tankless water heater fill a tub?
Ans: The larger the tub, the larger the heater size. If your tub is too large and you have a small-sized heater, then it will take a long time to heat. And if the suitable heater for your tub is not set properly and is very expensive, then you can use two smaller ones as well.
Q: How much water does a 20-minute shower use?
Ans: The use of water in the shower varies from person to person. If you want a low shower, you will need less water. And for a rain type shower, the amount of water will be a little higher. Generally, the water needed for an average shower is 5-litter per minute.
Q: Are tankless heaters soundless?
Ans: Electric tankless heaters don't make any sound but the ignition and gas burner inside the gas heater may make some sounds.
Q: How do tankless heaters save energy?
Ans: A tank water heater has to keep the total tank water hot by burning a huge amount of energy. But a tankless heater doesn't need to do that. It maintains a simultaneous flow and lasts for a minimum of 20 years. So, though it has a higher primary cost, it saves in the long run.
Q: Which brands produce top tier water heaters?
And: Market's saturated with brands but we found Bosch tankless water heaters and Ecosmart tankless water heaters quite dominant in quality, specs, and user-experience.
Conclusion
A water heater is needed to freshen up for a new life. The tankless heater guarantees more efficiency than any type of heater. Besides, it ensures advanced technology to reduce accidents and maintains a continuous flow of heated water. On the other hand, a tank water heater controls excessive initial cost by a margin and needs no gas/electricity line or circuitry changes.