If you're thinking that you need hot/warm water for baths only, you're in the wrong my friend!
Nowadays, you need these things for every single household task that you can think of. Then, why not go for old-fashioned tankless water heaters for a lesser price?
The answer to your question is, "They are bulky." They take up a lot of space in small apartments. So much so that it becomes hard to move around.
What should we do then? The fact that we need hot water in colder regions of the USA hasn't changed.
The answer lies in choosing the best electric tankless water heaters that you can find.
Despite what one may think, goods of this kind are trending these days. You get what you pay for and then some. The fact that electric tankless heaters were shipped 4.22 million units last year, tells you a story about their popularity. These things are easier to handle than their manual counterparts as well.
Interested in checking these things out?
Let's go over some of my recommendations in this article. Just to add the cherry on top, I'll be telling you some of my tips and tricks to find the ideal match for people who don't find these recommendations useful enough.
Top Electric Tankless Water Heaters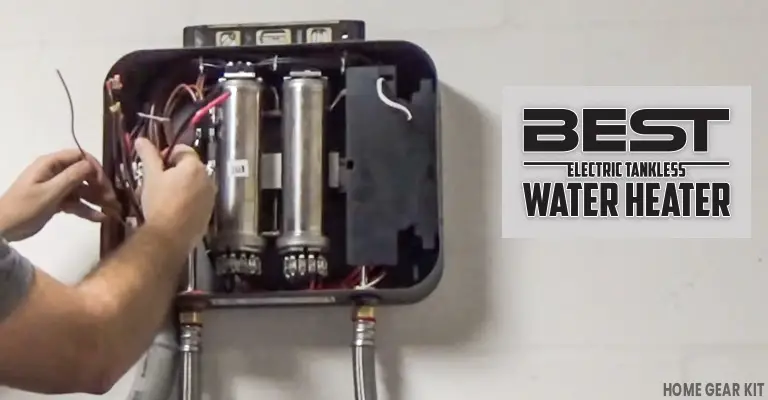 When you're searching for something this tiny, there're some mistakes waiting to happen. Especially, if you're not a pro at research. That's where I fill in. This section represents some of the best electric water heater brands and their models out there on the market. Dig in and read the short reviews to make your choices.
1. EcoSmart ECO 11 Electric Tankless Water Heater
Buying a large capacity water heater for a small home is like bringing out the big guns to hunt mosquitoes. Metaphors aside, a small apartment needs an equally small tankless water heater. That's why EcoSmart is the perfect choice one can come up with.
This little water heater is especially close to me.  Let me explain why.
First of all, it is equipped with the new patented self-modulating technology. This ensures that you are always saving energy, and money, without even trying to. The Self Modulating Technology saves up to 60% of your electricity utility bill that you were supposed to be paying for a heater in normal cases.
 This is also good for the environment as it costs less electricity usage. It is 99.8% energy efficient with a Uniform Energy Factor of .98. The water heater itself can become one of your tools in the fight against climate change. This feature made me opt for it right away.
The other thing that caught my interest right after I got it delivered to my place was the design.
The unique sleek and slim design makes it easy to install at any kind of interior and makes the water heater easy to carry around in case you move a lot. It's only 11.5″ x 8″ x 3.75″ in dimension and weighs just about 6.5 lbs, which makes it very lightweight and portable. Yes, people can go on vacation towing this around.
The small size of Eco Smart Eco 11 also allows you to install in any size of the apartment, big or small. You can use it in your household, as well as your college dorm.
Normally, additional tanks take up a huge amount of space in our interior. But this water heater is tankless. Thus, I never had to worry about cramping for space in my small apartment.
Now, for the most important question, how well does it work? How much water can it heat up and up to what degree? Well, the EcoSmart ECO 11 can ensure 2 gallons of hot water per minute, heated up to 67 degrees. Isn't that cool, I mean, hot?
A water heater that heats up two gallons of water real quick saves energy, and you can carry around. What more could you possibly ask for?
2. Bosch Electric Mini-Tank Water Heater
Another product that you ought to be checking out is the Bosch Mini. It is named mini, and it is mini, in the most literal sense of the term.
The dimensions of this thing are 13.75 W x 13.75 H x 10.75 D. What a tiny little thing compared to its counterparts! But don't go by its size, this water heater will deliver you the performance of a monster water heater, literally.
The tiny little heater fits under your sink right where you need it. Bosch Mini heats up 2.5 gallons of water.  It is equipped with the Bosch Thermo Technology that comes with mini-tanks that are easy to install under your sink. Not to mention 3 different size varieties allow it to fit in any kind of house interior.
Another cool feature of this water heater is that it has a temperature /pressure relief valve installed.
The valve makes water heating easy and efficient. While already being capable of heating 2.5 gallons of water, the heater also features a simple 120V Ac plug-in connection (1440 watts). And the thing itself weighs only 25.5 pounds. Yes, it may be a bit heavy for some users. Yet, it's worth every penny.
Speaking of longevity, the heater has a CFC free foam insulation that ensures a maximum level of energy efficiency and glass-tank durability. Even if people run it for long hours, the tank won't get hot or misbehave by any means!
I've noticed some benefits that make Bosch one of the most unique yet reliable tankless water heaters out there. For example, what happens to the cold water in the pipes once the heater is connected to the hot water line?
Well, once the heater is connected, the cold water that was already residing in the pipes run downstream and flows into the Bosch tank to mix with the hot water. If the cold water reduces the temperature below the Bosch tank set point then the Bosch tank heating turns on.
After installation, if you are wondering if it is necessary to connect an expansion tank just for safety?
I'd say, "Not necessarily." There is a pressure release valve on top of the heater to ensure your heater does not overheat or explode. Yes, makers have put this in place while giving Bosch CFC insulation! You don't have to worry about safety with this heater, Bosch already did the worrying for you.
3. StiebelEltron 224199 240V, 1 Phase, 50/60 Hz, 24 kW Tempra 24 Plus Whole House Tankless
While we're making a list of the best electric tankless water heaters, I must mention StiebelElfron. This bran has been making water heaters for a long time now, and when it comes to tankless heaters, they are just as good.
Let's go for the looks at first. This water heater is sleek and portable and fits in seamlessly into any kind of interior. The dimensions of this heater are 21.7 x 20.1 x 9.6 inches, which ensures that.
Stiebel Eltron 224199 weighs only 16.1 pounds.  People can carry it around the house and install in different places according to your requirement. I quite like the fact that it's easy to set up and you can do it in multiple places without batting so much an eyelash
New and upgraded German technology that's behind the creation of this heater is extremely eco-friendly. You can get hot water whenever you need it, but only when you need. No standby loss of power. The solid copper heating chamber keeps water hot for a long time. Until you use it, at least.
The Digital Temperature Control saves up to 15-20% of your electricity bill. You can see what temperature your water is heating at on the little LED screen on the face of the heater. Besides that, the Tempra series maintains the temperature of the hot water automatically. I never got burnt and saved my energy bills by putting it on "Auto-Pilot."
And the best thing about this heater is that it requires no venting. It disperses heat to the waterpipes while controlling it to make sure the water stays as warm as you like it. I couldn't see or feel smoke coming out or any kind of heatwave while I was near this device. Frankly, there was no need for any.
The dial is right at your fingertips so that you can adjust the temperature at any time. This makes it the most technologically advanced tankless electric water heater out there in the market.
The water heats totally silently. The tempra series doesn't jar people with vibrations either. No annoying mechanical sounds while your water heats. I could sleep peacefully and take my afternoon naps while it was set up in my bedroom. This little product is a blessing for the elderly and the kids.
It has a working pressure of 150 PSI and works at a voltage of 240W and 24amp. The simple single-flow sensor design and the hinged cover make it easy to access. Even a kid could operate Stiebel Eltron Tempra series with a push of a few buttons.
In the past, I used to struggle with deciding how much water I wanted once it got hot. I always ended up with much more than I could chew (er… handle). The Tempra Series from Stiebel has a smart counter to save you from burning yourselves. It's called, "The Advanced Flow Control Technology."
Yes, the makers have a way to control water flow as well. That too, automatically It further eliminates unpleasant temperature fluctuation. People won't have to lift a finger! I don't see why people won't like this awesome hi-tech water heater.
4. ECOTOUCH Electric Tankless Water Heater
If you want your water to get properly heated and if you want it fast, the ECOTOUCH Electric Tankless Water Heater is the one heater you ought to be checking out. I know how annoying it gets waiting for hot water to take a shower before you go to work every day.
This little heater is here to put an end to waiting.
The smart "Self-Adjustment Technology" ensures just the right amount of water in the right degree of heating so that you get a perfectly adjusted comfortable washing experience at any time of the day.
It does have the capability of heating water up to 116℉ as well. But… only if you want it to. Otherwise, you'll get perfect lukewarm water and won't scald yourself.
This is the era of going digital. Keeping that in mind, the manufacturers of this water heater have equipped it with a digital display and touch controls. Now you can easily set up the temperature using the control panel with just the tip of your fingers.
And, you won't even have to go through much of a hassle using it. Just turn it on and set the temperature; the smart unit will do the rest for you. No experiments needed. I liked the fact that it came with a guide for people describing how to operate this thing.
Also, depending on which variant you choose, there's a remote for you get. This little remote makes it easier for people to control the main device. I didn't have to mess around with the touch panel often. Instead, I pointed the remote towards the device and pushed some buttons.
The design of this heater is sleek (dimensions: 11″ x 7.5″ x 2.35″), which makes it easy to install, carry around when you're moving and fits into any kind of interior.
The versatile oatmeal box shape makes it easily installable horizontally, vertically or obliquely according to your preference. It's easy to set up. Everything you need is included in the box.
I could set everything up in 15 to 20 minutes. Pro tip from me: try to install it close to the power outlet to prevent energy wastage.
This little device is really safe to use in any kind of household, school, office, or even in a hospital.
On the inside, the water and the electricity lines run separately so that there is no overheating, scalding, short circuit, or any other kind of mishap. It is approved by the ETL and qualifies for UL, which not only ensures safety but also guarantees durability.
Last but not the least, this water heater is energy efficient in the sense that it saves both water and electricity; which is a huge factor for the environment, world economy, and well, your economy wink-wink.
5. Titan N-120 Tankless Water Heater
Here is one of the most used models of electric tankless water heaters in America. The Titan N-120, arguably one of the most popular models used in average-sized households. You might be wondering… why? I'll tell you.
The water heater will provide you "endless" hot water.  Literally! This is all thanks to its tankless feature. It will heat up as much water as you could possibly provide to it. And, it does all this while being an ultra-space-saving tool.
No more waiting for huge tanks of water to heat up, the heater will heat the water that flows through your pipes directly and efficiently.
Speaking of efficiency, this water heater is a big saver when it comes to energy. Since it only heats water when it is needed, it has no power loss in standby mode. This feature saves up to 60% of your electricity bill that you were intending to spend on hot water.
One thing about the heater that you ought to be considering though; it is designed for warmer climates. It only heats water that is a minimum of 65 degrees by default. This means you can't use it in the winter when it's freezing outside, but it's fine to go into your summer beach house or cottage.
And since the thing is portable and sleek, you'll have no trouble carrying it at the back of your car when you hit the road for a trip. 
The draw on this thing is 54 amps and requires a break of a minimum of 60 amps. It consumes electricity up to 11.8kW at 240V, but the self-modulating technology saves power by heating water only when you need it.
When it comes to power-to-flow ratio, this thing can provide a maximum output of 4GPM/15.14 LPM, and heats water up to 80°F/44.4°C using that little amount of power. It's not only energy-efficient but also friendly to your wallet. What more could you ask for?
6. Sio Green IR260 v2 POU Infrared Electric Tankless Water Heater
This water heater caught my eye for its unique minimalistic design. I have always been a fan of minimalism, and anything with a lot of buttons and dials repels me.
I don't expect quality performance from cheap materials. Yes, build quality does matter. The material used for making an ideal appliance affects its quality, durability, and performance. For water heaters, it's even more important because water heaters often tend to grow corrosion and chemical deposits.
Here's another thumbs up factor that made me fall for this product; the compact size of it. It's not as big as you think it is, after considering all its features and functions. It's less than 20 inches in length, and this ergonomic size makes it easy to place it anywhere you want in your home, workplace, or an RV.
Corrosion and limescale deposits can be a real bummer as well. The IR260 v2 is here to save the day as it is free from all coil metallic elements. Say no to any performance drops even after continuous usage.
Sio Green IR260 doesn't have a huge screen area and a whole set of buttons or the so-called 'control panel' to confuse the users. Instead, it just has a little round LED screen that indicates the temperature of the water and two buttons on the side indicating the increase and decrease of temperature.
There's a power button on the other side. That's all we have when it comes to the operating buttons. I personally liked this exotic yet minimalistic touch to the design of the heater.
If you have used a water heater before, you simply can't say that it's easy on your wallet. A whole year of maintenance won't make it easy on your bank balance either.
Why go through that traumatic experience when the IR260 can do the job without any kind of maintenance? Sounds too good to be true, right? Wait for it because it will only get better.
This water heater from Sio Green features 4 power levels so you can adjust the heating from 5 amps to 30 amps according to your needs. You can also moderate the water pressure using the Water Flow Regulator that comes with the package.
Hey, all this "Quality and Efficiency" talk won't be of much use if you don't get to use it the way you want to. Trust me, user-friendliness is something you ought to keep an eye out for, and I guarantee this amazing home appliance won't disappoint you.
Sio Green is pretty confident about its product as it offers a 100% money-back guarantee if you're not satisfied with it after a month of using it. They'll literally come to your place and replace it for free, no judgments made, no questions asked.
7. Eemax EEM24018 Electric Tankless Water Heater
Going for the looks might be a bad idea in most cases, but not when it comes to the Eemax EEM24018. Just look at it and you'll fall in love with it as I did. The sleek and shiny texture of the electric blue body makes it look like some futuristic machine taken out from the set of a sci-fi film.
That was all about the looks, let's dig deeper into the details that make it one of the best tankless electric water heaters, shall we?
The product itself is made from the finest quality materials that make it heat resistant, scratch-proof, and durable. What's even more interesting is that it is so compact and space-saving, that you won't even notice it in your home while it silently provides you warm water. It comes in a variety of sizes to fit into every kind of household.
And speaking of efficiency, the thing is a real big saver when it comes to energy.
We all know our planet is dying and people are marching protests to save it, while all we're doing is watching them on the news and tweeting about it. But the least we could do is contribute to this movement by purchasing products that help the environment.
The EEM24018 water heater helps you play your part in saving the environment by simply working just when you need it to, and sitting idle the rest of the time.
Its self-modulating technology can detect water flow in the pipes and starts heating water only when the pressure increases, meaning when you turn the water on. This not only saves electricity but also helps you save water.
Another great thing about this heater that attracted me was the simplicity of the control panel. As I said before, I'm a minimalist myself, and nothing attracts me more than stuff that is not desperately trying to catch my eye.
This water heater is just that. It has a control panel with an LED screen that shows you the temperature, and a dial for adjusting it too high or low according to your need. It's so simple that even kids can operate it, although I wouldn't recommend that for safety purposes.
Things to Consider When Buying The Best Electric Tankless Water Heater
Hey, just because I enlisted a few of the water heaters I liked, doesn't necessarily mean you'd like them too.
 If you're thinking of exploring other brands and models, let me give you a heads up on some important points you should be keeping in mind while purchasing the top tankless water heater for your home or office.
Size of the Heater Matters
Modern-day homes are becoming more compact and practical in design. And no one has a lot of space just lying around for no reason. So, one of the factors you ought to be checking out is how much space-saving the water heater is?
The whole concept behind making the water heaters 'Tankless' is so that it would save you pace. But on top of that, different brands and models have different kinds of designs and some even come in a range of sizes. Try to find the size that will be the most compatible with your interior.
Measure up Water Flow Rate
Flow rates are usually measured in GPM (Gallons per Minute). To determine the flow rates you'll require, you would have to decide the amount of water you'll be using at once. An easy way to do this is to divide the tasks you'll be executing that would require the consumption of hot water.
For example, you'll need hot water for doing the dishes, and you'll also need it in the shower. But would you be showering while using the dishwasher? I don't think so. Once you've decided on that, you can easily select the water heater which would be ideal for you based on its GPM.
Consider the "Temperature" Factor
This is a factor that would need some research to determine. The temperature of your area or locality affects the general temperature of the water that will be running through your pipes.
Some areas have higher temperatures than the others, and it would be a waste of energy to use a water heater with a high-temperature rise when your default water temperature is already high enough to almost reach the lowest point of the heaters.
For most of your household devices, you'll want your post-tank heated water about 120ºF (49ºC). First, find out the temperature of your region, and then choose your water heater that matches the threshold.
Keep "Condensing" Water Heaters in Your Shortlists as Well
What condensing water heaters do is they capture the heat from the unit's exhaust, saving time and energy of heating water from scratch. This not only makes them energy efficient but also cuts the cost of venting materials since exhaust gases are comparatively cooler.
Pay enough attention to my list and you'll find some water heater models that don't require any pathway for venting at all. Just like one from the Tempra series that I reviewed. Buying those can be a good start for Eco-Conscious people out there.
Recirculation Works for Water Heaters as Well
Recirculation is the process of looping the leftover cold water from the hot-water line back into the unit.
It kind of works like the human heart; it uses a pump to send back the cold water and pushes it through a dedicated line back to the heater. This ensures an instant flow of hot water right when you need it, without having to wait. This feature will save you valuable energy, time, and well… money.
Don't worry about the "Temperature" factor as these machines are automatic most of the time. You don't even have to lay a hand on the buttons to regulate how hot or cold your water should be.
Also, read – the best propane tankless water heater and water heater for hard water.
Before I Finish Things Up!
And… Whoosh! Before you know it, we're done with the recommendations. Yet, few of you might think that this guide is too long and I don't blame you. Researching and coming up with the best electric tankless water heater reviews took time. But the labor was worth every minute of it.
No matter how you look at it, you won't find many products that can compare to these devices that I put on my list. However, if you want to put your "Research" hat on, the buying guide is more than competent to assist you guys.
Pro Tip: Always check the packages for manuals and stuff you need to install these water heaters. The last thing you want to do is to shop for installation items after you've already purchased the heater.