Consumers have always found Ecosmart to be a cost-effective choice. Nevertheless, they never traded off quality for the sake of a smaller price tag. It's very own patented self-modulating technology is it's selling point. It's the self-modulating thing that keeps the electric bill low even after having a heater.
Ecosmart's market share says a lot about the quality of the product they manufacture. Nevertheless, these Ecosmart tankless water heater reviews will help you logically navigate the options at hand.
Comprehensive Reviews of Ecosmart Tankless Water Heaters
Ecosmart manufactures a wide range of water heaters to meet the needs of different users. They produce a set of the best electric tankless water heaters of recent times.
One thing they always give the top priority while designing is the condition of inlet water and the demand for outlet water. That's why you've to dig deeper to know which one best suits you. This is where this detailed review comes into play.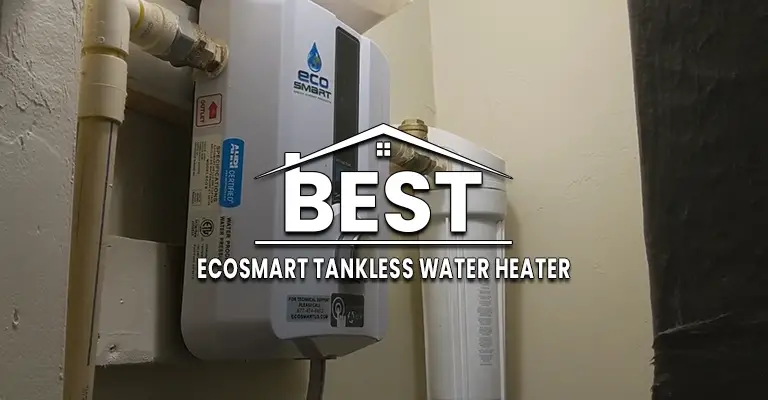 1. EcoSmart ECO 27 Electric Tankless Water Heater
Why You Need This?
To begin with, we have an option that deals with the middle segment of the market. Ecosmart has made this model perform its duty in not so cold or not too warm regions. You can operate it, at a considerable performance range, in the northern part of the United States where the water temperature can reach at lowest of 37 degrees Fahrenheit.   
Under the hood, this unit has 3 identical cylinders where water is passed through. This is where the electric heater stands out of the crowd. All these three cylinders are not fired at a time. Rather it allows water to enter in one of the cylinders and heats up. Then it shuts down and water passes through another cylinder.
As the system is not at the maximum power all the time, it saves electricity. You can wire one cylinder and leave the other two non-functional if you don't need that much hot water. The individual heater will draw 9Kw power and saves electricity in the warmer weather condition.
A digital display is given to control the temperature setting at the 1-degree interval. There's a noob to facilitate this task. Outlet water temperature can be set somewhere between 80°F – 140°F.  
As the heater senses 0.3 GPM water flowing through it, it turns on automatically. Desired water temperature is achieved within a short period. So, you don't need to wait for long. This unit weighs 13.75 lbs. and is compact enough to be set anywhere in the house. 
Drawbacks
A high amp rating requires a separate place in the breaker box.
Not suitable for extra-large houses. 
2. EcoSmart ECO 11 Electric Tankless Water Heater
Why You Need This?
Eco 11 variant is one of the entry-level units that can be fitted in smaller houses. It runs at 13 KW (240 volts). If you're planning to use the heater for limited outlets, it can be a good consideration regarding its energy usages.
Eco 11 is designed to operate in such regions where the inlet water temperature is above 67° F. That means this unit can effectively be used in the southern part of the United States. It's a good choice where the space is limited and demand is not that high.
2.3 GPM is the maximum operating capacity of this heater at 67 degrees. You can use this heater for a shower and a sink at this temperature. This unit can push itself to 3.1 GPM at a higher temperature than 77 degrees. Then two fully opened showers can be used.
Considerably small space is needed to house this unit. 3.75 x 8 x 11.5 inches is the required space, to be precise. Besides, it weighs much less (6.5 Pounds). It means no huge arrangement is needed to install this unit.
One thing that has to be noticed is its energy efficiency. This model is 99.8-percent energy efficient with a Uniform Energy Factor of 0.98. That's why this variant is 60 percent energy saving than others in its class.
Other essential features such as temperature control and digital display are the same as its larger counterparts. Lifetime service is guaranteed because of its rugged construction and quality materials.
Drawbacks
Use is limited in small apartments or houses in a comparatively warm region.
The limited temperature difference between inlet and outlet.
3. Ecosmart ECO 36 Electric Tankless Water Heater
Why You Need This?
This is the largest version of tankless water heaters manufactured by Ecosmart. It's enough for serving the need for a large-sized home for a single-family. With different technologies onboard, this unit is a good choice for a comprehensive yet cost-effective heating solution. This one is a classic embodiment of the fact why the former should dominate in a tankless vs tank water heater debate.
When the water is relatively warmer, this unit can operate at 6 GPM (gallon per minute). It means it can heat water for fully opened 4 water-saver showers and 2 hand-sink faucets. While in the lower operating condition, it can cope up with about 2.7 GPM, running 1 shower and 2 sinks at a time.
Like the smaller versions, it has separate compartments. This time it is 4 separate vertically placed cylinders. The working principle is indifferent. Water enters from the inlet tube and stays in the first compartment for heating and after being heated by a considerable state, water enters the next.
This process ensures fewer energy consumptions and better control of the heating process. You can use all four cylinders or less according to your demand. Each cylinder is rated for 9KW.
The digital display ensures proper modulation of input. As usual, the temperature can be increased by 1-degree choice. The top cover ensures proper protection and renders an aesthetic look which makes the heater fit for placing in front. Not much space is needed for the heater to be fitted and can also be fitted at hidden places for decoration purposes.
Drawbacks
The circuit breaker to be added must be rated for 200 Amp.
Requires thicker wires for installation.  
Frequently Asked Questions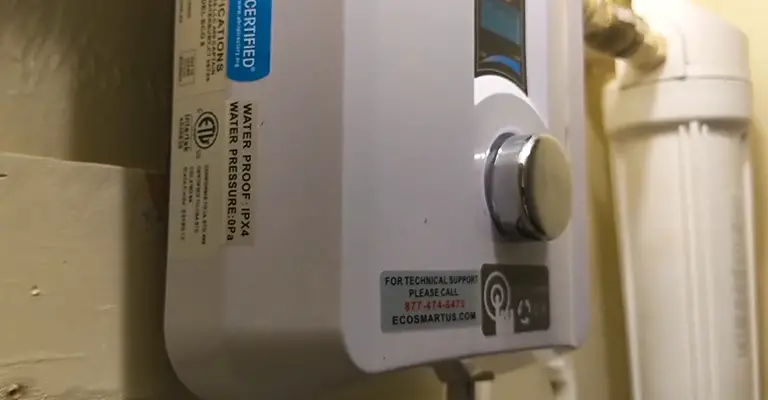 Q: Should I clean the heater often?
Ans: Actually, the heater doesn't require that much maintenance. It's okay to clean the cylinders every year to be sure they're not affected by any waterborne threats.
Q: How much time is needed for getting heated water?
Ans: It depends on the temperature and demand for water. In low temp and high demand, the heaters perform average and exact opposite on warmer days. On average it takes a few minutes to get desirably heated water at the outlet.   
Q: Are they safe to use?
Ans: Yes, they are safe and can be used both in-home or office. But always be careful about the signs your water heater is going to explode, and in case of any of these take necessary steps.
Bottom Line
Hopefully, Ecosmart tankless water heater reviews have been helpful to make your way towards your goal. It's not that difficult for you to determine which one is the best choice for you.
To sum up, it can be said that you need Ecosmart ECO 36 for high demand usages. Eco 11 is enough for small apartments in warmer regions. But EcoSmart ECO 27 is a middle-of-the-road solution for all types of usages.  
You may also like to read:
Tankless Water Heater of Bosch
Only Guide to Best Water Heaters for Hard Water
Propane Tankless Water Heaters for You