Consumers have always found Ecosmart to be a cost-effective choice. Nevertheless, they never traded off quality for the sake of a smaller price tag. It's very own patented self-modulating technology is it's selling point. It's the self-modulating thing that keeps the electric bill low even after having a heater.
Ecosmart's market share says a lot about the quality of the product they manufacture. Nevertheless, these Ecosmart tankless water heater reviews will help you logically navigate the options at hand.
Preview
Best Buy
Nice Pick
Editors Choice
Title
EcoSmart ECO 27 Tankless Water Heater, Electric, 27-kW - Quantity 1, 17 x 17 x 3.5
EcoSmart ECO 11 Electric Tankless Water Heater, 13KW at 240 Volts with Patented Self Modulating...
Ecosmart ECO 36 36kw 240V Electric Tankless Water Heater
Best Buy
Preview
Title
EcoSmart ECO 27 Tankless Water Heater, Electric, 27-kW - Quantity 1, 17 x 17 x 3.5
Nice Pick
Preview
Title
EcoSmart ECO 11 Electric Tankless Water Heater, 13KW at 240 Volts with Patented Self Modulating...
Editors Choice
Preview
Title
Ecosmart ECO 36 36kw 240V Electric Tankless Water Heater
EcoSmart tankless water heaters – what makes them popular
On-demand heating
EcoSmart tankless water heaters rely on a patented self-modulating technology that provides on-demand hot water – just when you need it! There are 2 types of EcoSmart tankless heaters you can buy: the ECO series and Point-of-Use (POU) heaters. The ECO water heaters operate on the brand's Flow Sensor technology. You can adjust the temperature controls at 1°F from 80-140°F. This enables a super convenient and reliable set-and-forget water heating system to meet your needs. The heaters include copper or stainless steel Emerson Electric heating elements. They are also equipped with an automatic thermostat for self-regulation, and all units are designed for ease of use and functionality.
Tankless convenience
All EcoSmart water heaters have a signature tankless style that offers space-saving convenience in limited areas. They also last for more than 20 years compared to storage tanks that have a 10-year lifespan. There are tankless gas water heaters as well as tankless electric water heaters that you can use. Gas units use either natural gas or propane (LPG) and operate by burning the gas, which makes them more expensive. Electric units have a much better energy efficiency of 99.8%. You can install these tankless water heaters in any residential, commercial, and recreational context like homes, offices, RVs, boats, etc. With EcoSmart tankless units, you get to save up to 50% on water heating which is a huge relief when compared to using hot water tanks – as we will see below in detail.
Energy efficiency
So far, we know that EcoSmart excels at on-demand heating and tankless convenience. Using these 2 features, let us zoom in on how EcoSmart tankless water heaters save so much energy.
You only get hot water on demand, which means that you save up more on utility and no energy is used for unnecessarily heating up water for tank storage. We mentioned earlier that EcoSmart tankless water heaters are of 2 main (electric) types: the ECO series and Point-of-Use (POU). The ECO heaters usually work for whole-home water heating solutions where hot water needs to be delivered to multiple faucets, showerheads, etc. from a central point. In comparison, a POU water heater provides hot water for just a single "point of use" like a single sink faucet. Thanks to the tankless design, the compact unit can be installed very close to such a single point of use, thus reducing the time it takes for hot water to reach the outlet.
For this reason, electric tankless water heaters cut down what is known as Stand-by Loss and Cycling Loss. Stand-by Loss occurs when stored water in a tank slowly dissipates heat as it sits in there with the thermostat turned off. Then, once you open the hot water faucet and the stored hot water starts to flow out, cold water from the supply fills in to take its place. The mixed water is now obviously colder than before. So, this calls for a new heat cycle to repeat and is known as Cycling Loss. The heating elements turn on again and keep reheating the water as you use it, which is not energy-conscious at all. A tankless unit eliminates all these problems and focuses on targeted hot water delivery – in other words, on-demand heating without needing to store any water. The result is that you save up to 50% on utilities with up to 99.8% energy efficiency.
Versatile water heating
EcoSmart tankless water heaters are available in different models to suit different heating purposes and coverage. You can refer to the sizing guide or map on the brand's website to understand which unit would be the most suitable one for you. You just have to find your location on the given map, note your color block, cross-check the desired temperature rise and flow rate, and then confirm which water heater specifications apply. Correct sizing is important for on-demand optimization. Otherwise, you will end up with a non-compatible water heater that is either too small to provide enough hot water or too big for energy saving in a small home. Here is a glimpse into the EcoSmart family of tankless water heaters:
POU 4T and POU 6T: ideal for single-sink handwashing purposes in cooler climates and can be used in a bathroom, breakroom, and other small-sink/low-flow applications.
POU 3.5 and POU 6: the 3.5-kilowatt and 6-kilowatt options are great for point-of-use handwashing purposes in a bathroom, a doctor's office, a boat, and an RV. They are both suitable for single-sink applications only and should not be used with multiple fixtures.
ECO 8: the 8-kilowatt option can be installed for small applications too like in a bathroom with a small sink, a breakroom, and other limited uses.
ECO 11: the 11-kilowatt unit is ideal for both cooler and warmer climate applications like handwashing, showerhead supply, and kitchen sink supply.
ECO 18, ECO 24, ECO 27, and ECO 36: these are all designed for use with whole-home water heating solutions in larger apartments, condominiums, or townhomes.
EcoSmart tankless water heaters – reviews for 2022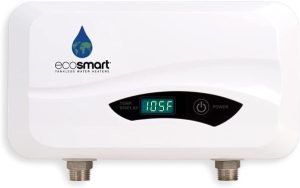 Ecosmart POU 3.5 electric tankless water heater works at 3.5 kilowatts and is suitable for hot water supply in a single sink. It has the following specifications:
7″H x 11″W x 3″D dimensions
0.5 gallons per minute (GPM) flow rate
0.5 GPM sink aerator
1 x 30 A breaker
1 x 10 AWG wire
29 A amperage
120 V voltage
max temperature rise of 47.8°F @ 0.5 GPM
80-140°F digital temperature control
3.95 lbs. weight
UL-499 and ETL Listed
The POU 3.5 unit has a compact design for space-saving efficiency and can support under-the-sink installations too. It uses EcoSmart's self-modulating technology for various point-of-use handwashing purposes in a bathroom, a doctor's office, a boat, or an RV. It should not be used with multiple outlets because it is not equipped for that kind of coverage.
Some users noted heating inconsistencies with this EcoSmart tankless water heater. It was not easy to install for DIYers and often stopped working in a few weeks. Make sure to confirm with the sizing map and the store if this unit should only be used in a warmer climate where people need warm water occasionally – as this seems to be the main issue for heating inconsistencies among the users.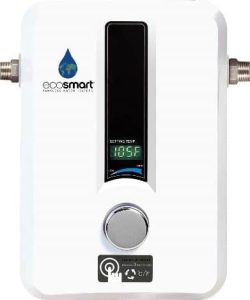 EcoSmart ECO 8 electric tankless water heater works at 8 kilowatts and is also suitable for small-sink applications. It has the following specifications:
11.5″H x 8″W x 3.75″D dimensions
0.8 and 1.9 GPM flow rates
1 x 40 A breaker
1 x 8 AWG wire
33 A amperage
240 V voltage
80-140°F digital temperature control
5.3 lbs. weight
UL-499 and ETL Listed
This EcoSmart tankless water heater also operates on the patented self-modulating technology and can be used for low-flow water heating solutions in a bathroom or a breakroom. You can use the unit with one showerhead or one sink. It works best for climates with an incoming water temperature of 67°F or more, but it can also be installed in colder climates to support point-of-use applications as well.
The unit did cause faulty heating for some people and was not the easiest to install using the given hardware. You might want to buy a size up to get enough warm water supply.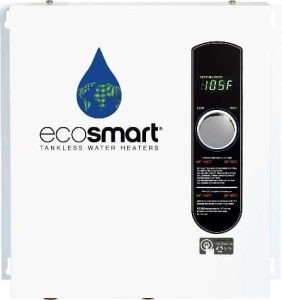 Ecosmart ECO 24 electric tankless water heater operates at 24 kilowatts and comes with the following specifications:
17″H x 17″W x 3.625″D dimensions
2.4 and 5.8 GPM flow rates
3 x 40 A breakers
3 x 8 AWG wires
100 A amperage
240 V voltage
80-140°F digital temperature control
14.25 lbs. weight
UL-499 and ETL Listed
Featuring the standard self-modulating technology, this EcoSmart unit provides a much larger hot water coverage for whole-home purposes and can be used in apartments, condominiums, and townhomes. It is suitable for climates with a low incoming water temperature of 37° which makes it ideal for homes in the Northern U.S. and Canada. The tankless water heater can meet the high demands for a big tub or a big home depending on how much instant hot water you need. This unit was much easier to install compared to other options and had excellent instructions to guide the user.
There were still some complaints about tub incompatibility, so make sure you confirm the specifications before buying if you do want a water heater for your tubs.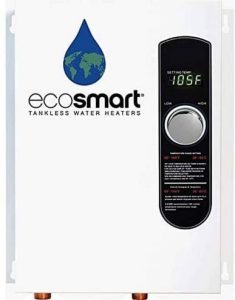 EcoSmart ECO 18 electric tankless water heater works at 18 kilowatts and is also another good option for whole-home water heating applications. It has the following specifications:
17″H x 14″W x 3.625″D dimensions
1.8 and 4.3 GPM flow rates
2 x 40 A breakers
2 x 8 AWG wires
75 A amperage
240 V voltage
11.7 lbs. weight
UL-499 and ETL Listed
This EcoSmart unit can work for both small and large homes/apartments. It is designed for optimum results in climates that have an incoming water temperature of 62°F or more – assuming that you will need one showerhead and one sink. Regions like South Texas and Arizona with warmer climates that have incoming water temperatures of 70°F or more will be able to run 2 showers at the same time.
The major setback of this tankless water heater was its warranty. According to the comments, if you have a hard water supply in your home, chances are that the mineral buildup inside the unit will interfere with the heating function. So, you will have to clean the heating elements and parts twice a year at least to remove the buildup and rust – soaking in vinegar was also suggested. The unit does seem to need more frequent maintenance than others if the water supply has minerals. For this reason, it is recommended not to use ECO 18 in hard water homes/applications. Any damage resulting from hard water could potentially nullify the warranty.
Comprehensive Reviews of Ecosmart Tankless Water Heaters
Ecosmart manufactures a wide range of water heaters to meet the needs of different users. They produce a set of the best electric tankless water heaters of recent times.
One thing they always give the top priority while designing is the condition of inlet water and the demand for outlet water. That's why you've to dig deeper to know which one best suits you. This is where this detailed review comes into play.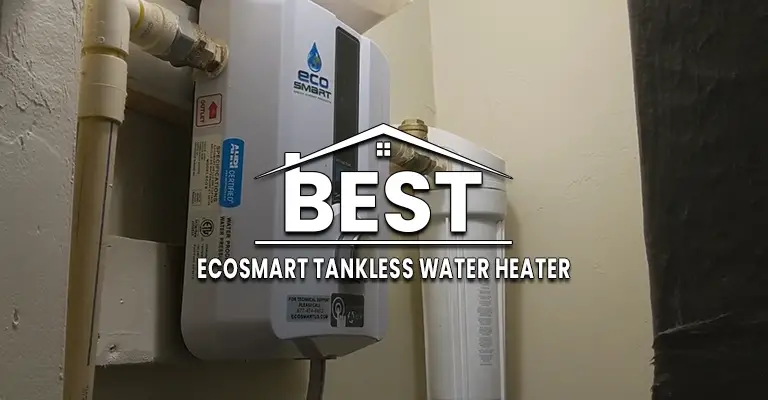 1. EcoSmart ECO 27 Electric Tankless Water Heater
Why You Need This?
To begin with, we have an option that deals with the middle segment of the market. Ecosmart has made this model perform its duty in not so cold or not too warm regions. You can operate it, at a considerable performance range, in the northern part of the United States where the water temperature can reach at lowest of 37 degrees Fahrenheit.   
Under the hood, this unit has 3 identical cylinders where water is passed through. This is where the electric heater stands out of the crowd. All these three cylinders are not fired at a time. Rather it allows water to enter in one of the cylinders and heats up. Then it shuts down and water passes through another cylinder.
As the system is not at the maximum power all the time, it saves electricity. You can wire one cylinder and leave the other two non-functional if you don't need that much hot water. The individual heater will draw 9Kw power and saves electricity in the warmer weather condition.
A digital display is given to control the temperature setting at the 1-degree interval. There's a noob to facilitate this task. Outlet water temperature can be set somewhere between 80°F – 140°F.  
As the heater senses 0.3 GPM water flowing through it, it turns on automatically. Desired water temperature is achieved within a short period. So, you don't need to wait for long. This unit weighs 13.75 lbs. and is compact enough to be set anywhere in the house. 
Drawbacks
A high amp rating requires a separate place in the breaker box.
Not suitable for extra-large houses. 
2. EcoSmart ECO 11 Electric Tankless Water Heater
Why You Need This?
Eco 11 variant is one of the entry-level units that can be fitted in smaller houses. It runs at 13 KW (240 volts). If you're planning to use the heater for limited outlets, it can be a good consideration regarding its energy usages.
Eco 11 is designed to operate in such regions where the inlet water temperature is above 67° F. That means this unit can effectively be used in the southern part of the United States. It's a good choice where the space is limited and demand is not that high.
2.3 GPM is the maximum operating capacity of this heater at 67 degrees. You can use this heater for a shower and a sink at this temperature. This unit can push itself to 3.1 GPM at a higher temperature than 77 degrees. Then two fully opened showers can be used.
Considerably small space is needed to house this unit. 3.75 x 8 x 11.5 inches is the required space, to be precise. Besides, it weighs much less (6.5 Pounds). It means no huge arrangement is needed to install this unit.
One thing that has to be noticed is its energy efficiency. This model is 99.8-percent energy efficient with a Uniform Energy Factor of 0.98. That's why this variant is 60 percent energy saving than others in its class.
Other essential features such as temperature control and digital display are the same as its larger counterparts. Lifetime service is guaranteed because of its rugged construction and quality materials.
Drawbacks
Use is limited in small apartments or houses in a comparatively warm region.
The limited temperature difference between inlet and outlet.
3. Ecosmart ECO 36 Electric Tankless Water Heater
Why You Need This?
This is the largest version of tankless water heaters manufactured by Ecosmart. It's enough for serving the need for a large-sized home for a single-family. With different technologies onboard, this unit is a good choice for a comprehensive yet cost-effective heating solution. This one is a classic embodiment of the fact why the former should dominate in a tankless vs tank water heater debate.
When the water is relatively warmer, this unit can operate at 6 GPM (gallon per minute). It means it can heat water for fully opened 4 water-saver showers and 2 hand-sink faucets. While in the lower operating condition, it can cope up with about 2.7 GPM, running 1 shower and 2 sinks at a time.
Like the smaller versions, it has separate compartments. This time it is 4 separate vertically placed cylinders. The working principle is indifferent. Water enters from the inlet tube and stays in the first compartment for heating and after being heated by a considerable state, water enters the next.
This process ensures fewer energy consumptions and better control of the heating process. You can use all four cylinders or less according to your demand. Each cylinder is rated for 9KW.
The digital display ensures proper modulation of input. As usual, the temperature can be increased by 1-degree choice. The top cover ensures proper protection and renders an aesthetic look which makes the heater fit for placing in front. Not much space is needed for the heater to be fitted and can also be fitted at hidden places for decoration purposes.
Drawbacks
The circuit breaker to be added must be rated for 200 Amp.
Requires thicker wires for installation.  
Frequently Asked Questions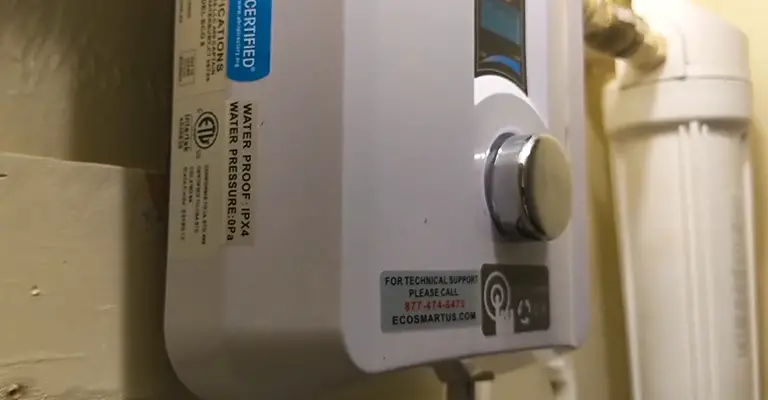 Q: Should I clean the heater often?
Ans: Actually, the heater doesn't require that much maintenance. It's okay to clean the cylinders every year to be sure they're not affected by any waterborne threats.
Q: How much time is needed for getting heated water?
Ans: It depends on the temperature and demand for water. In low temp and high demand, the heaters perform average and exact opposite on warmer days. On average it takes a few minutes to get desirably heated water at the outlet.   
Q: Are they safe to use?
Ans: Yes, they are safe and can be used both in-home or office. But always be careful about the signs your water heater is going to explode, and in case of any of these take necessary steps.
Bottom Line
Hopefully, Ecosmart tankless water heater reviews have been helpful to make your way towards your goal. It's not that difficult for you to determine which one is the best choice for you.
To sum up, it can be said that you need Ecosmart ECO 36 for high demand usages. Eco 11 is enough for small apartments in warmer regions. But EcoSmart ECO 27 is a middle-of-the-road solution for all types of usages.  
You may also like to read:
Tankless Water Heater of Bosch
Only Guide to Best Water Heaters for Hard Water
Propane Tankless Water Heaters for You