It is quite a tricky job and requires a lot of energy to rearrange your furniture. Or just cleaning under the furniture before a big party or event at your home. Things can get around very messy while you are into such a big task. But most importantly getting someone to help you or this task is so difficult.
But things can get better if you have the best furniture lifter with you. Furniture lifters can make the redecorating of your home very easy. Cleaning under the furniture would be less messy.
One of the most attractive things about furniture lifters is that they can be operated by one person almost every time. You won't need to ask anyone to help you rearrange your apartment; you can do it all on your own.
You can get the best furniture jack from online or in a departmental store. Lifters are widely available everywhere. They are found to be in different shapes and sizes, the weightlifting capability does vary also.
There are small lifters with minimal lifting and are also quite large ones to lift or relocate a big bed or refrigerator. Some are made to lift medium-weighted furniture others can lift the heaviest furniture in your home.
What is Furniture Lifter?
Furniture lifter is a tool that you can use to lift your furniture for any purpose. Furniture lifters can be used to lift the furniture to clean underneath it or to rearrange it. It makes the lifting process of the furniture very easy and effortless.
The main component of the furniture lifter is a long stick like a thing which is actually the lever. The stick can either be fully straight or slightly bent in the middle.
At the top part of the stick is provided a foamy or soft plastic cover for a better and comfortable grip. And the lower end of the stick contains a base tray like a thing that will slide under the furniture and keep it anchored while you are lifting it.
Furniture lifters can come with two different kinds of sliders. Sliders are used to move the furniture from one place to another. As the name implies, it slides the furniture very easily and smoothly with a gentle push. Two different kinds of sliders are sliding pads and rollers.
Furniture lifters can be provided with different sizes and shapes of sliding pads. It can be round, square, big or small. It looks very thin and can be made of plastics or rubber.
Whichever material it is made of it has to be very smooth and slippery to slide over the floor. A single furniture lifter can contain a variety of pads with it. You are going to choose the perfect pad according to the furniture you are about to move to.
To place the sliding pads, you have to level up a single corner of the furniture at a time and place the pads under it. When you are done placing the pads the furniture is ready to push to be relocated.
The rollers are also made to move the furniture from one place to another. The roller contains a flat base at its top and wheel at the bottom. Again you have to lever up the corners of the furniture and gently place the rollers under it. When all the corners are placed above the rollers it is ready to move.
Best Furniture Lifters We Recommend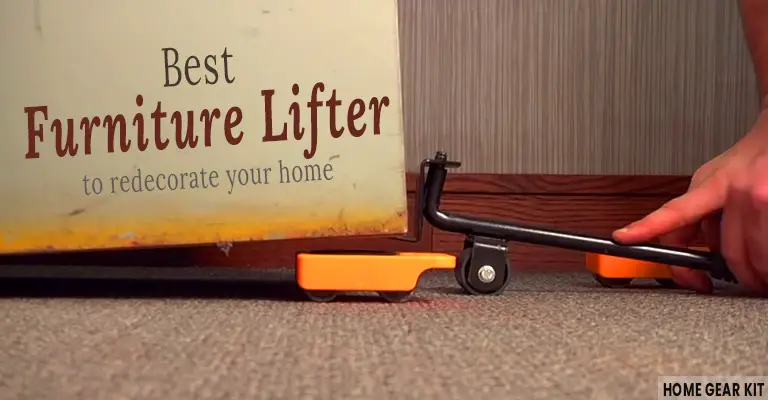 Being confused around the market is usual as there are tons of options in front of you. That's why we have gathered the top-notch furniture lifters in the market so that you can make sense of all the specifications to make the right choice. Let's get right down to business.
1. Evalots 24″ Long Handle Furniture Lifter
It's not easy to get a firm grip on all the furniture in your home while moving. More often your back goes through a hell of pain through the whole moving process. Evelots have introduced a 17-piece set that includes a mover tool & 16 mover pads to help you relocate all the furniture & appliances efficiently.
This professional model furniture lifter can lift up to 330lbs. It works while you are standing, so a good lifter for people who have back, knee, and leg problems.
This furniture will let you lift furniture leaving one hand free for furniture slides, blocks, etc. It is around 24" long. It will also let to place rugs under your furniture and clean under appliances. The same goes equally well for whether it be rustic area rugs, abstract rugs, or rugs for hardwood floors.
Its legs are adjustable according to your desired level. Heavy-duty material frames for the best heavy duty furniture lifter. Has foamy cover over the handle for a comfortable grip.
It has a fulcrum point which slides up and down with different height differences according to your need. It has a 30-day easy return policy and 100% money back if not satisfied. It can move heavy furniture very easily. Will enable me to move the sofa very comfortably.
Apart from the specifications, there are some flaws that you should be aware of. The pads are extremely thin, so under heavy pressure, they do not glide as well as others. The furniture lifter jack is also a bit small & will work with furniture that sits close to the floor. Otherwise, you need small bricks or woods to get the right height.
2. Evelots Furniture Lifter
If you are looking to lift heavy furniture in your home best lifter like this helps to move them, then this unit from Auroon is recommendable. The whole unit consists of a furniture lifter & 4 mover packs to go underneath the furniture to move them. With a durable steel body of the lifter, it is extremely easy to operate to put 4 rollers on 4 corners of the furniture.
To operate this lifter, you have to put it under the furniture and it will be able to lift the furniture 2 inches high. You will require lifting the furniture 1/8 inch above to let the furniture lifter slide under it.
It contains a PVC plastic spraying handle making it a non-slip grip to prevent accidents. 360 degree formable and rotatable pads hold the legs of the appliances securely.
You can easily move your heavy furniture with this lifter. It is very easy to use and rolls very nicely. It is compact making it easy to store. Lightweight for the convenience of caring for it. It is lightweight but very powerful. It works really great for heavy furniture grips the roller firmly. They offer a full refund if you are not satisfied or a replacement if you need them.
Many users have found that they did not get enough space to fit the roller pads. Even if they manage to fit the pads, you can't turn the lifter because the wheels are unidirectional. When you go over an uneven path, the pads slide off forcing you to start over the whole process again. They offer a full refund if you are not satisfied or a replacement if you need them.
3. Furniture lifter and 4packs 3.9"X 3.15" furniture slides
If you are looking for a do it yourself furniture lifter then the EZ moving system by Allstar Innovations might be the one you are looking for. Their furniture moving system includes 1 EZ moves furniture lifter & 8 furniture slides.
The whole unit is compatible for all types of floors whether its every carpet flooring or hard surface floors. You just need to lift, place & slide!
No furniture is too large or heavy for you to move because the lifter is capable of lifting objects up to 250 lbs. No matter what flooring you have in your house, you can lift & move the furniture on your own. If you are looking to just clean the underneath the furniture, you can easily do it with very little effort using the steel constructed lifter.
The sliders have a variety of options for different types of flooring. If you have carpeted flooring, then the plastic sliders will do good. The felt sliders go great if the floors are hardwood, tiles or linoleum. You can use the more efficient option for the flooring you have with even the options for size & shapes.
The slippery pads work very nicely & provide very little friction to easily slide the furniture across the floor. As the lifter takes up the whole weight, it makes it possible to lift a sofa or a medium-sized bookcase or bed very efficiently.
If you have hard floors then you might need to work slowly. Because the smooth plastic side is under the furniture & often slides off you do the work in a hurry. You need to be cautious as the sliding off might damage the floor of the furniture.
4. EZ Moving System With Lifter Tool & 8 Slides
Rearranging your furniture all by yourself can become impossible if you don't have the right tools with you. There is even some furniture that exceeds 300 lbs. in weight. That's why Power Crane Kingkong has presented a moving system of its own to help you out. The whole unit consists of a lifting bar & 8 moving pads.
The strong steel body constructed lifter is capable of lifting up to 330 lbs. You will be able to get the leverage to lift any furniture with one hand without any strains at all. The other hand is free to put the moving pads on every corner of your furniture. It doesn't leave any sort of scratches on hard floors keeping your floor safe.
The round part of the moving pads are about 3 inches in diameter & can swivel for the ease of turning. If you need to move furniture with legs that range from 2 to 6 inches, you have adjusters that are in two sizes that help you meet the height of the legs to lift the furniture.
And to move the furniture from one place to another; lift up the furniture with the supporter or lever and place the power cranes under every corner and slide it to the place you want it to be.
The only downside of this amazing unit is that it is best used on hard floors or tiles. It is not recommended to be used for soft floors or carpets. You might also need to change the direction of the rollers if you stumble on to a corner.
5. Furniture Lifter Mover Power Crane King Kong Set
Can Lift up-to 330lbs weight. It will let you lift heavy furniture with one hand without any strain or injury. You have to put the supporter under the furniture to lift it up.
And to move the furniture from one place to another; lift up the furniture with the supporter or furniture lifting lever and place the power cranes under every corner and slide it to the place you want it to be. It doesn't leave scratches on the wooden floor or carpet keeps them safe during movement of the furniture.
It is very strong. Well designed. It can make lifting furniture very easy for cleaning. It is difficult to get a perfect level if the furniture has legs. It doesn't go easily from a hard floor to a carpet or something similar to that. The discs on the top part roller peel off very easily.
You know, how a hand truck also can help you to move furniture? Read more about the best hand trucks.
Best Furniture Jack Buying Guide?
Every Furniture lifter is made of different structures and they have different purposes also. Some will be made with a lifting capacity of under 150lbs others can lift more than 350lbs.
There are lifters which are very well designed to move your furniture smoothly and some might not be as effective as you would have expected. So keep some key knowledge before you buy the best furniture jack and lifter for your furniture.
Weight Lift Up Capacity
Before you get your best furniture lifter tool to be sure that it will be able to lift the furniture. You will get to know about its lifting capacity on its packet, which is usually written on the backside. Always buy the lifter which has more lifting capacity than the approximate weight of your furniture.
For example, if your furniture is around 200 lbs you should buy a lifter with a capacity of 250 lbs or more. The capacity written on the packet is the maximum a lifter can take. If the capacity and the weight are the same the lever might get bent.
Material Quality
The materials used in the levers to lift furniture have to be of steel; quite simple as that. Its work is to lift heavy furniture, if it is made of other metals like aluminum etc. it will experience wear and tear very soon. If it has rollers then ABS plastic is what we recommend as the cheaper alternative, although steel wheels are always at the top preference.
Steel wheels add lump to the overall weight while plastic ones tend to lose friction over time. And if it has pads make sure the bottom is slippery enough to make the furniture move smoothly. The handles are always preferably designed with enough ergonomic bumps on them. Market competitive lifters come with PVC plastic handles in most cases we've encountered.
The Perfect Size According to Your Need
Buy a lifter with which you will not need to bend while you are lifting the furniture. Try matching the height of your thigh or waist from ground since that's the jackpot here. Well, wider pry plates would lessen your effort to a great extent.
The size of the pads or rollers also take part in the equation. Make sure they are made large enough to fit the corners of the furniture into them. Note that, usually the lifters don't allow you go far beyond a couple of inches to avoid tilting.
Make Sure the Rollers Don't Damage Your Floor or Carpet
Some rollers might tend to leave a scratch or rips on your wooden floor or carpets. Make sure the rollers are made smooth enough to not leave any scratches.
Make Sure it Multiples the force effectively
Obviously, if you want to work all by yourself you need to get the power of 3-4person in yourself. For that, the level of the lifter must be designed very well to split the power of one person into many.
It's common that all levers will increase the force exerted. But there are levers which will require more force than others. Get the one which minimizes the working load from you.
If you keep these simple things before buying a lifter hopefully you will get to find the best furniture lifter that suits both, your furniture and your needs.
Why is a Furniture Lifter Used?
The answer to this question is very simple; now you might not want to spend a lot of energy or time to do work which is possible to finish within moments without being tired. A furniture lifter is used to make lifting of the furniture very easy. It will make cleaning under the furniture very easy.
All you have to do is just lift a corner of the furniture and wipe off the dirt under it. You can complete the cleaning by repeating the step in every corner of the furniture. This process is more appropriate for light or medium-weighted furniture. If the furniture is too heavy then you can place pads or rollers under every corner and move it aside and clean the dirty place.
You can use it for relocating your furniture. Just like the same process during cleaning you will level up the corners to slide the pad or roller under it and push it to the place you want it to be.
The rollers or pads decrease the friction between the furniture and the floor. So, when you push the furniture it moves very smoothly without the exertion of huge force. You can move furniture very effortlessly with it.
When you use a furniture lifter to lift furniture the lever usually reduces the pressure needed to lift it. The lever actually multiplies the pressure you created. It does make lifting very easy. So it prevents strains or injuries which can form if you don't use it.
You won't need to bend over to pull the furniture; a good tool for those who have back problems or want to avoid it. The most attractive part of a furniture lifter is that you wouldn't require others to help you. Not even when you are lifting or moving a refrigerator or a medium-sized bed. You can do all by yourself.
Before concluding the article, let's talk about something different. Is your apartment small and you lack space? Is your home cluttered with too many accessories? Life is like this for us. You're not alone! Consider my advice and change your perspective! Don't use your floor or corners, but rather use your walls.
Conclusion
As most furniture lifters look alike, it's very difficult to distinguish between them with the naked eye. That's why we are here to help you give our expert opinion on the matter so that you can make your money worthwhile.
No matter what type of floor that you will be working on while moving the furniture, then the EZ moving system would be a great choice for all of them. Due to their large weight lifting & slider variety according to the floor, it's a top choice. The Evelots Long Handle Furniture Lifter is not far behind because of the ease of operation with a strong lifter & tons of moving pads.
Furniture lifters are designed to make the lifting and the moving of your furniture more convenient and effortless. Before you buy them to make sure they are the best furniture lifters, and obviously satisfy your needs. Keeping the key points to buy a furniture lifter will help you buy the best furniture lifters.