Jostling for space with a small apartment? Too many accessories cluttering your home? This is the story of our lives. I feel you! Take my advice and change your perspectives!
Instead of going for the floor and corners of your rooms, utilize your walls. Trust me, a few shelves in the right places can help BIGTIME in removing the clutter and organizing your houses.
For example, kitchen counters are often messy and hard to navigate. Get yourselves one of the best kitchen shelves and free up some "Much needed" counter space.
Maybe it's time you put your children's books on a wall shelf rather than piling them on the floor. I call these things floating shelves. These help me in keeping my utensils organized.
Preview
Editors Choice
Best Buy
Nice Pick
Title
WALI Floating Entertainment Center Shelves, Holds Up to 17.6lbs, TV Shelf with Strengthened Tempered...
EWEI'S HomeWares Ewei ' S Homewares Floating U Shelves Whc 1004 Cd WHC1004CD-ES, 17 in x 4 in x 4...
Love-KANKEI Floating Shelves Wall Mounted Set of 3, Rustic Wood Wall Storage Shelves for Bedroom,...
Editors Choice
Preview
Title
WALI Floating Entertainment Center Shelves, Holds Up to 17.6lbs, TV Shelf with Strengthened Tempered...
Best Buy
Preview
Title
EWEI'S HomeWares Ewei ' S Homewares Floating U Shelves Whc 1004 Cd WHC1004CD-ES, 17 in x 4 in x 4...
Nice Pick
Preview
Title
Love-KANKEI Floating Shelves Wall Mounted Set of 3, Rustic Wood Wall Storage Shelves for Bedroom,...
Don't worry. These things won't make drastic aesthetic changes to the house. Instead, they'll increase your options. How do I know? I own several of these things.
Since I had a bunch of wall-hugging storage options, I decided to look for the best floating shelves for my readers as well. As luck would have it, I found quite a few. In this article, I'll be telling you about a few of these accessories in short reviews. I'll also let you in on my personalized buying guide at the end. 
A List of Top Floating Shelves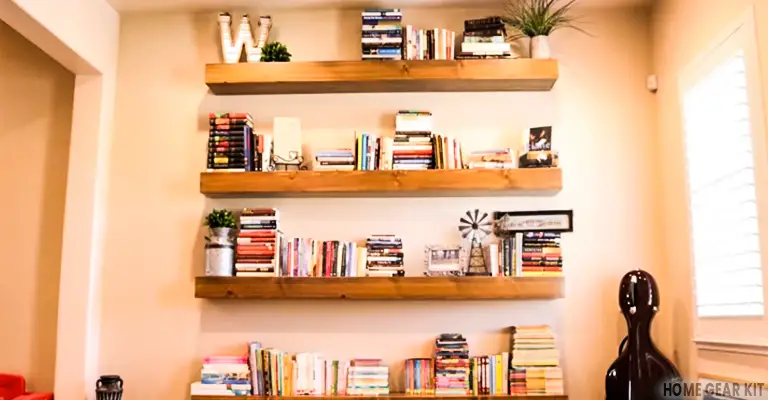 If you're determined to make the most of whatever little space you have at home and looking for wall-hugging shelves to buy, the following list will prove to be a big help. Go over my short floating shelve reviews where I dissected some of the reputed brands and their products.
1. WALI Floating Shelf with Strengthened Tempered Glass
A big part of the appeal of floating shelves is the design. I prefer shelves that blend in with the design of my room. Here's where WALI floating shelf comes in! It has tempered glass that makes it strong and durable. At the same time, the design is sleek. It won't feel bulky or take up too much space at all.
I measured the entire thing while using it. The dimensions turned out to be 15 inches long, 11 inches wide, and 5mm in thickness for each of the glasses. 5mm glasses are pretty hard to break or get stained. You can rest assured that this thing is here to stay for a long while.
When I say thick, I'm not joking. 5mm thickness can support a lot of things. One can rest anything that happens to have up to 17.6 lbs. of weight on these shelves.
Very often, we tend to mount speakers, DVD players, Playstations, old-fashioned TVs, etc. on these shelves. Guess what all these things have? Yes, they have cables. Cable management can be a headache for many consumers. Well, not for me! 3-inch wide wall-hugging wall plate solves the issue.
The wall-hugging plate stuck out from the wall when I installed it. Fortunately, it measured up to 19mm in width. That much is enough to conceal the cables while not being a blunder in style.
The frame in question here is sturdy as you can probably tell. This is a "V-Shaped" frame. The design does well to evenly distribute the weight. Also, high-quality steel makes it super durable and resistant to damages.
Worried about weighted accessories on top of the shelves? Don't sweat! WALI Floating shelves come with rubber tops that connect glasses with the frame. I said it's stable, remember? You have rubber connectors to thank for that.
Can it handle speakers, amplifiers, and additional accessories for audiophiles? Yes, thanks to proper balancing and weight distribution, you can use this as a media hub keeping speakers and amplifiers on the shelves.
Surely a product like this takes hours to install, right? No! It takes minutes. 15 minutes to half an hour to be precise. You don't have to move a muscle outside to get the supplies. Everything from the shelves, the frame, mounting kit, and necessary tools are included in the package.
Planning to remove and set it up elsewhere in the future?
I have two suggestions for you. Don't install the plastic cap and put the shelves on top of the mounting sockets for the screws. Or, use electric tape instead of the plastic caps. Don't worry, people won't find out a thing about the tweak. You can effortlessly remove the entire floating shelf in the future.
2. EWEI'S HomeWares 3 Floating U Shelves
If you're looking for a budget-friendly floating shelf… I've got just the thing! Let's try MDF and laminate instead of steel as the material here. Let's go for EWEI's HomeWares U Shelves. You get three of them under $30. So, that's a bargain for people!
One thing good about using MDF and Laminate here is the fact that they look and feel like wood. But they are not real wood. They're wood and resin combined to be exact. That's why these U Shelves are lightweight and stylish.
You have three different shelves in the package. One large, the other one is medium, and the last one is of small size. Let's go even deeper while I mention the dimensions of each of the shelves. The large one has a length of 17 inches, a width of 4 inches, and a thickness of 4 inches.
The medium one has a length of 13 inches, a width of 4 inches, and a thickness of 3.5 inches. When we come to the smallest of the three… the length changes to 9 inches. The width remains the same at 4 inches. It's 3 inches thick. That's why you can stack the small one first and the large one last on the wall.
Three different sizes for the shelves mean that you can keep books, small appliances like CDs, coffee makers, cups, toys, awards from schools or colleges, etc. One thing I liked about these shelves is the fact that you can try out any pattern while hanging them on the wall. Possibilities are endless.
Just to make sure that these things go along with any kind of paint or aesthetic in the house, the makers painted the MDF (wood and resin combo) furniture in "Walnut" colors. These are good fits for your living room, bedroom or the children's room for that matter.
Trust me, it's not a tedious process when mounting these things at all. All you need is a screwdriver. To make things easier, the screwdriver comes along with the package itself. Even if you find it difficult to install them, there's an instruction manual for you guys to take advantage of.
Now, you need these to hold up their end of the bargain being strong and sturdy. How can you make them? Just install drywall anchors along with the screws to keep them in place. Your pursuit of "Dry Wall Anchors" might take you to a hardware store. People have used "Push Pins" and 3M tapes as well.
3. Love-KANKEI Floating Shelves Wall Mounted Set of 3
When discussing the best floating shelves, we seldom bring up colors. Yet, colors are important. Interior decorators say that every room of your house has a personality. Floating shelves can be hanged anywhere and in any room of our houses. They ought to match the vibe of the room.
So, colors, in this case, are important. With Love-KANKEI, you have quite a few choices. Feel free to experiment with different colors setting the shelves up in different rooms of your choice. Which rooms can you put these in, you ask? Well, set them up in the living room, bedroom, toilet, or kitchen.
Will the brackets of these shelves succumb to rust when they're set in a bathroom?
No. The black powder coating on the brackets saves them from rust.
Unlike the previous option on my list, this one is pure wood with a good finish. The texture provides you a good feeling when you touch the thing. All in all, you get "Retro-Style" piece of furniture with the purchase of this wall floating shelf.
One thing good about the furniture is the fact that you can put this in a different order and with different attachments. Yeah, this floating shelf can be a wall-hugging thing, can act as a stand, can be four-legged furniture, etc. Try different combinations. You may involve a furniture lifter or not; the possibilities are endless!
People might frown a bit here. Different styles of assembling might require different screws and bolts, right? Wrong. Everything comes included in the package. You have brackets that fit screws and wall anchors. The brackets are made of steel. They are coated in black powder to avoid rusting as well as I said earlier.
There's an instruction manual to make things easy for you guys. You have three wooden boxes that are distinct from one another in terms of dimensions. The large one comes with 17-inch length, 4.7-inch width, and 4.7-inch thickness. The medium one is 13 inches wide, 4.7 inches in length, and 4 inches deep.
The smallest shelf accounts for 9 inches of width, 4.5 inches of length, and 4.2 inches in depth. These shelves (medium and smallest ones) are great as kitchen floating shelves.
This doesn't mean that you can't use these shelves outside. You can! But remember to maintain the furniture properly. Otherwise, the moisture in the weather can warp the wooden surface or make it damp. Before you know it, the furniture will go bad within a year or two.
If you ask me, the different styles I could use or different patterns I could create with this furniture opened up possibilities. I can vouch for the fact that it can match any style of interior décor that you may have going on inside the house and compliment it for years to come.
4. InPlace Shelving 9084650 Floating Wall Mountable Shelf with Invisible Brackets
This is a single piece of a wall-hugging floating shelf, unlike every product that came before. Dark expresso color gives it a certain aura of the aristocracy. Setting wordplay aside, this thing is sturdy, classy, and easy to install. Once you know what you're doing, everything becomes a breeze.
InPlace shelf is made of MDF wood. This type of wood doesn't soak water and bulk up during the rainy season. Expect a long service. Can you paint it in any other color than espresso? Yes, sir! Just make sure to prime the thing before you start to get good results.
This little thing has a square edge of around 2 inches. People can use this in bedrooms, children's rooms, bathrooms, laundry rooms, and living rooms to organize things. Say goodbye to all the clutter that's there. If you think that you need more than one shelf, you can buy additional ones to stack these up.
The weight of InPlace Shelves can vary from 6.4 lbs. to 9.5 lbs. The extra weight gives this furniture some much-needed durability. This thing can make way for children's toys, bathroom accessories, towels, plates, awards, and trophies, etc.
I could stack some heavyweight speakers on top from my home theater as well.
Mounting this piece of furniture is rather easy. You just have to mount one side of the thing into a wall stud. Don't have any? Simply use wall anchors instead! The next step is to place the backplate (which is supplied with the package) against the wall. Make sure it's perfectly parallel to the ground and secure it with screws that are already there curtsy of the package.
The next step is to slide the shelf into the backplate. I'd advise people to use the level again. This will ensure that the shelf stands straight and is not skewed while in use.
Wait, there's one more thing you have to do! Notice the bottom holes of the shelf. Align them with the tubes of the backplate. Then secure these holes properly with tight screws.
I always hear people asking, "Can we use tape with the accessory?" My simple answer is, "No, my friends." There's a reason for that as well. No matter how strong tapes like Coleman are and how much weight they can carry, the design of the shelf won't allow you to.
The shelf has "Hollowed" part in the middle. You'll get steel or black oxide-coated rods from any hardware store out there. in case of multiple shelves, you'll need it. Make a frame with it or insert the rod through the middle for added strength. This is a better solution to the problem than a "Tape."
5. BAYKA Floating Shelves Wall Mounted, Rustic Wood Wall Shelves Set of 3
The reason for me to include BYKA on my list is the fact that it is the perfect set of wall-mounted shelves for our houses. Be it a bedroom, bathroom, kitchen or any other place… people can stack things without worrying about sudden accidents. These shelves are wider and have more length than others.
These shelves are made of MDF laminate wood. In layman's terms, these are wood and resin combined. The materials provide aesthetic beauty along with resistance to rust. These shelves are waterproof to some degree as well. These shelves don't swell up and soaking water or sweat.
Among these three shelves, you have the large one sitting at a length of 16.5 inches, a width of 6 inches, and a thickness of 4.8 inches. The medium one sits at 14.2 inches in length while the width and the thickness of the shelf remain unchanged. The small one has a length of 11.4 inches.
Case and point? 6 inches of width gives these shelves room for better storage capacity and load balancing.
These shelves go perfectly with the powder-coated brackets. I understand you guys being skeptical about MDF chipping away where the shelves meet these steel brackets. But it won't be the case here. Even if you do paint on these items, the paint won't fall off.
The material is pretty sturdy when you think about it. Paulownia wood is durable enough. Then you have brackets that hold these shelves together. Then, you have the screws that keep the shelves in place. All in all, the furniture is durable AND lasts a long time when you think about it.
Can you put stains on this wood? Well, it isn't sealed. So, yes, the wood gets stained over time. Just use a cloth, some water, and a cleaning agent in the mix to get the stain off.
People might think that I'm going overboard but I must speak my mind here when praising the shelves. I'm in love with the triangle brackets. These are great in the sense that they give me two options to customize the design. I could very well put the shelves on top or even below the brackets.
Of course, there are left and right brackets. You'll have to keep an eye on them and put them in place accordingly. Also, before you drill on the wall for anchors, make sure to use a level ruler so that the shelves are put straight and don't dwindle when using.
Trust me, it may sound complicated but it's easy to put this thing together.
The brackets are nicely welded in places. High-quality steel and triangular design helps to strengthen the shelves in a manner that they don't dwindle or fall off if something goes wrong.
6. Mkono Floating Shelves Wood Wall Shelf Rustic Wall Mount Pine Shelf Set of 3
Top floating shelves are minimalistic. You don't get to see more than you have to. Yet, these things contribute to the aesthetic beauty of your house without you realizing it. These pinewood shelves have invisible brackets that support their weight while keeping them in level with the ground.
You'll find these shelves to be rustic in design. I like the conscious choice. Sometimes, these things blend perfectly with the aesthetic of the house. Other times, they take your interior decoration to a level higher than before.
The pinewood was a no brainer for the makers when it came to choosing the material. This is sturdier than MDF wood. So, it can withstand more punishment than usual. You have a set of three shelves as a part of this package. The longest one is 17 inches in length, the medium shelf has 13 inches of length. The smallest one has 9.4 inches of length.
Want to know the USP of these shelves? They are handcrafted. These things bear the mark of craftsmanship all the way through.
Don't worry, installing Mkono shelves is not something you'll ponder over for too long. People have all they need to install these things on their walls. Every piece of hardware (from wall anchors, ropes, brackets, and screws) is included.
That's right! There's no frame included with the package. Instead, you have ropes if you want to experiment with different ways of hanging or mounting these shelves. Thus, users can arrange these shelves in any pattern they like.
These shelves can make way for photographs, trophies, towels, clothes, plates, etc. One can use these things to hold moderate-size speakers as well. I'd not advise my readers to put more than 10 pounds worth of weight on the shelves. This is just to be on the safe side. Also, anchor them to the wall correctly.
One thing I need to tell you is the fact that you need to use the hardware carefully and as instructed. Otherwise, the bottom shelf won't sit at a level with the wall.
7. Wallniture Denver Modern Design Floating Picture Display Ledge Wall Mount Shelf
Wallniture is the "Go to" shelf if you want something modern in your house. Although one can use Walniture for various purposes, I'd advise people to use these shelves to keep photo stands, towels, and other lightweight objects on this floating wall mount shelf.
These wall-hugging shelves are made from MDF woods. MDF is less susceptible to water damages, surface chipping off, and other types of hazards. That's why the makers ensured us that the shelves are here to stay with us for a lifetime without needing a replacement for that matter.
This is minimalistic furniture. One can set it up in multiple ways just to make use of the walls of his/her house. While you're doing that, you can sort all the clutter of your house and keep things organized for the better. Everything takes a little over 20 minutes to set up and use. That's great!
As you're experimenting with the set, it allows you to save space in your apartment as well. As a result, people can use this furniture in studio apartments, cramped spaces, and bunkers (I'm joking) as well.
Feel free to use it in your kitchens. I'd keep my coffee beans stashed on these shelves. A great place to use these shelves can be children's bedrooms or nurseries.
If you fancy an additional storage space in the kitchen, these shelves are perfect. They'll turn these walls into holding places for your coffeemakers, grinders, blenders, and cutlery items.
However, be wary about the maximum weight you can put on these shelves. People go up to 14lbs. But I won't advise my readers to go beyond 12lbs. when you're putting things on these shelves.
One very good reason for me to limit the weight is the fact that the shelves aren't that much wide. Yes, it's 46 inches long but with a width of 3.6 inches. Always make a "Single File" while stashing stuff on these shelves just to be safe.
Trust me, Wallniture is one of the top floating shelves you'll find for the money. It seamlessly blends in with your home décor and complements the paint job. No, the shelves won't nick or chip off the painting when you install them on your walls. Don't be worried or least bit paranoid about that.
Oh, and this thing can go with pretty much any frame you pair it with. So, go wild with the customizations!
However, it's good to take regular care of these things. Regularly wipe dust clean from these shelves. When you do, make sure to use a thin, dry cloth for the job. I see people asking, "Can I use a detergent?" The answer is, "No, you can't."
My Very Own Bag of Tricks for These Things
I know you guys are thinking, "Where did he get all these products?" Let's put your minds at ease. I researched, bought some of these products, and documented my experiences with them. Let me share my secret tips for selecting the ideal floating shelves for your houses.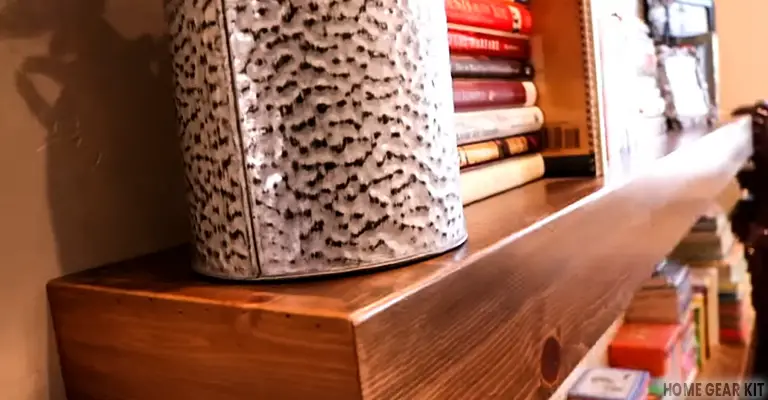 Choose the Material You Want Your Shelves to be Made of 
Broadly speaking, one can pick from two types of materials. The first one is solid wood. The other is MDF or Medium-Density Fireboard. I could also mention plywood but didn't. Let's face it, MDF is a step up from plywood. In my experience, MDF is durable, sturdier, and less susceptible to damages.
MDF is made from wood and resin. It has some benefits over wood. For example, it won't warp or swell up by soaking water. It's perfect for areas like the bathroom where moisture prevails. You won't feel any grain when running your hands over it. Also, it's cheaper than wood. So, MDF shelves cost you less money.
Now, wood has its own set of benefits. It's more durable than MDF. You can very easily tell that it's meant for floating shelves for heavy objects. Wood grants you the privilege of coloring the furniture properly. Wooden shelves are heavier than MDF ones.
Naturally, both of these types have their differences as well. Make sure to choose the right material that suits your needs. You can always read a proper article on MDF vs. Wood Comparison before you decide on which of these two to buy.  
How Much Can Your Shelves Hold?
In simple terms, "What's the capacity of the shelves you're buying?" This is an important question to ask before you decide on purchasing one. If you have several things clogging your apartment and want them organized, go for long shelves. Anything in the realm of 40 inches can accommodate several items.
If you want something medium in size, go for things that are 30 inches in length. Remember, length alone won't get you over the line. The width of these shelves should be more or less near 6 inches. Only then can you rest thing upon this furniture knowing that objects won't tip or fall over.  
The material is important too. Shelves made of MDF boards can't withstand too much weight. Put anything beyond 2 pounds and they'll start to tire. Sometimes, the furniture might even bend or crack if the material can't support the weight of household items you stack on it.
If you want something reasonably sturdy with good carrying capacity, go for EWEI'S HomeWares Floating Shelves on my list. Each shelf can support 8 lbs. of weight.
If you want the ideal floating shelves for heavy objects, look into solid wood or tempered glass as the making material. Wood is heavier than MDF. That's why it can withstand more weight than normal. Tempered glass is heavier than wood and has a reasonable thickness that supports the added weight.
A 40-inch long wooden shelf can hold books, kitchen cutlery, valued photographs, trophies, and even wall-mounted sound systems. Case and point: Love-Kankei Shelves.
Furniture like WALI Floating Shelf can be a good option because of the additional strength of tempered glass at play.
I know people who can't get enough space to organize things on a shelf. The solution is simple. Go for more shelves. A set of 3 shelves is quite common these days. Some of the brands even go for four shelves as well.
Choose the Ideal Shelf for Appropriate Rooms
The problem with us users is that whenever we buy something, we buy it in bulk. That goes for mounted shelves as well. We buy a bunch of shelves for each of our rooms. But we don't look into the fact whether that specific set of shelves is suitable for that room or not.
For example, to a naked eye, wall mounted shelves for kitchen and bathroom may seem alike but they aren't. Our kitchens need to have stronger furniture that can hold coffeemakers and cutlery. On the other hand, bathrooms need shelves that can hold lightweight items. They need to be waterproof as well.
Case and point: different rooms require different types of wall-mounted furniture. Be sure to keep that in mind before keeping them in your shopping cart.
Mounting Hardware Should Be Top Notch!
Make sure to thoroughly check the package to verify that every tool necessary is there. If you come up short, run an errand to the nearest hardware shop. Wall-mounted shelves will have brackets to hold them straight, screws, and drywall anchors to properly connect the shelves to the drywall (if you choose to).
When using drywall anchors, use a drill machine and do it carefully. Don't go to barehanded. Read the instructions if you are new at this. Otherwise, you might end up damaging the walls.
Wall brackets are the most important things among the accessories. They hold the entire weight of the shelves. Make sure they are leveled with the ground. Use a level ruler for the job if you have to. I'd advise people to go for black oxide coated brackets. These things don't catch rust or dust that often.
Buying These Shelves is Easier Than You Think
No, really! You'll find many products when you search for the best floating shelves online. That too, within your budget. Very often, people think that these objects intrude with your home décor. This is hardly the case. These items are great when you think of creating additional space for your items.
Plus, these shelves are well-built. They have attractive color options, and they can carry the load as well. All in all, you get a piece of great furniture for the money you spend. All you need to do is to choose the right thing for the job. Also, set it up in a proper way. I think this little guide of mine will prove to be helpful.