Hardwood floors are precious, beautiful to look at, and cost a lot for installation too. Protecting that floor with area rugs is obviously a good idea. A good area rug, in reality, can be your floor's best friend.
And a great area rug not only adds color or texture, but it also changes the overall aesthetics of a house. Choosing the best area rugs for hardwood floors is, therefore, a decision of great importance to exude luxury and comfort to your home.
Hardwood floors are a big investment, but the floor tends to be more fragile than its alternatives. They develop scratches and blemishes really easily, thus requiring something more to keep it protected, especially in high traffic areas.
Best Area Rugs for Hardwood Floors
Getting an area rug is an investment that deserves a well thought out plan. Here, we have shortlisted five great area rugs and rug pads for your precious hardwood floor. Feel free to choose what suits you the most.
1. Ottomanson Contemporary Bordered Modern Area Rug
The first area rug that we highly recommend comes from Ottomanson. After having it, we don't think you'll have a single regret from spending the money.
Ottomanson prides itself on the best looking area rugs with a contemporary design and minimal patterns. The definite brown border of this neat looking carpet gives it an edge with the visual too.
One of the greatest problems that any rug user face is the stain on their hardwood floor. It will become an irony if the stain is from the rug you brought to protect your floor. This contemporary bordered modern rug has stain resistance ability like no other.
As you use a rug for a prolonged period of time, the color is bound to get faded someday. But the color of this Ottomanson rug has been made fade resistant so that it could be long-lasting.
If you are tired of getting slipped on your previous rugs, then this contemporary bordered carpet could be of great use. Its non-slip rubber back grips the floor tightly, resisting any slips that might have come in your way. Perfect area rugs for bathroom or any slippery places.
Moreover, the non-shedding threads keep the rug looking new even after using it for a couple of years. Don't worry about the thread pulling out from the sides either since the rug is tightly bound all over for the cleanest look, which prevents unraveling as well.
All in all, this home area rug from Ottomanson is built with 100% nylon, which makes its longevity better than most other rugs.
Pros
Simple design yet elegant looking
Anti-fade and anti-stain features to keep looking new
Non-slip rubber back grips the floor tight
Cons
Cannot be dry cleaned or machine washed
2. RUGPADUSA Premium Comfort Rug Pad
A good pad can make a difference in the longevity of both your area rug and the hardwood floor. If you just found your area rug with a perfect spot in your home to put it, don't go home without having a rug pad.
RUGPADUSA has always been creating rug pads to safeguard rugs and hardwood floors for years. The Premium Comfort Rug Pad has all the important features you need under the rug.
This pad has an 8'x10′ dimension with approximately 1/3″ thickness throughout. Made with 100% recycled dense and thick felt, this comfort rug promises to provide protection to both your rug and the floor from any scratch.
One of the major benefits is the soundproofing it gives you on a hardwood floor. When you have a lot of people tramping over the rug, a little bit more soundproofing goes a long way. The risk of overheating is very low as the felt also gives great insulation.
It is also needle-punched, preventing moisture buildup, which is extremely important if you don't want to see a stain on your hardwood floor. The rug is chemical and adhesive-free, making it odorless and hypoallergenic and usable as a rustic area rug.
As the name suggests, this rug pad gives your feet comfort with zero extra bulking. Other than hardwood, it is also very much safe for stone, tile, concrete, and bamboo floors too.
On the downside, it doesn't contain any rubber to prevent slipping. Therefore, it should only be used under large rugs anchored by furniture.
Pros
Dense and thick felt shields the floors from scratching
Great soundproofing and insulation feature
Chemical and adhesive-free
Doesn't emit any odors
No extra bulking gives comfort
Cons
Absence of rubber backing to prevent slipping
3. Mohawk Home Dual Surface Rug Pad
If you want your area rug to last longer and protect the hardwood floor from scratches or stains, make sure you get a good rug pad. The Dual Surface pad from Mohawk beats a long list of rug pads in terms of cushioning, excellent grip, and many other features.
When there is no padding used underneath, abstract area rugs become more susceptible to wear downs. The dense felt used to make this Mohawk Home rug pad can be placed under any type of rug to protect it from teardowns on the underside.
It is made with a ¼-inch-thick pad, which improves the feel of any flat-woven or high-pile rugs by providing great cushioning. This dense cushioning is manufactured with felt constructed from the carpet fiber cutoffs that can hold the shape of your area rug for years.
When rug pads are made with felt backed with rubber, they give better cushion underfoot as well as great gripping on the floor. Dual surface means this rug pad from Mohawk Home has felt on one side and rubber on the other.
The fiber side has a rough feel, so the rug doesn't slip. On the other hand, the embossed patterned rubber side excels at gripping the floor. Both sides together prevent any slips, keeping the whole thing stable.
Made in the USA, the Mohawk Home Company has utilized decades of knowledge within the home furnishing industry to provide the best area rugs for hardwood floors. Aside from keeping the rug in place, the pad saves your area rug from most wear and tear and keeps it going for years.
Pros
Dense fiber compatible with all rug types
1/4″ thickness gives great cushioning
Embossed rubber backing keeps the rug in place
The rough felt side gives a great grip to the rug
Cons
Has a rubbery odor in the beginning
4. DoubleCheck Products Area Rug Pad
When you use an area rug, one of the main concerns is the mark that is left on your hardwood floor. This mark is made due to dust accumulated under the rug over the years.
Another mark that is left on the floor is due to the fact that the area underneath the rug doesn't get enough sunlight or air circulation, making it darker than the areas open to the environment.
This rug pad from DoubleCheck Products is designed in a checkerboard pattern with extra thickness so that there is sufficient air circulation under the rug. It prevents stains and marks from getting onto the floor and dust getting stuck.
The double checker pattern of this rug pad keeps the floor dry, reducing the possibility of swelling. Also, the circulation makes the task of vacuuming a lot easier too.
No one wants their area rug shifting places whenever someone walks on it. To help keep the area rug where it belongs, you might want to have this rug pad from DoubleCheck. Its non-slip pad keeps the rug securely in place all the time. Gone are the days of slipping over the rugs with this checker designed pad.
Aside from giving you protection, this rug pad also keeps the area rug in shape for years. It is also very easy to customize the shape of this rug with a sharp pair of scissors. One just needs to follow the line instead of the checkerboard pattern.
Pros
Thick padding enhances grip and cushioning
Doesn't stain the floor
Ample air circulation under the rug
Easy vacuuming feature
Cons
Little susceptible to tear for the checkerboard pattern
5. GORILLA GRIP Original Felt and Rubber Area Rug Pad
If you don't want your rug to fly across the room, then you want this rug pad from Gorilla Grip for sure. Designed to hold tightly against any slippage, this pad is also a great defense against wear and tear of the rug.
Made with original felt and rubber, this pad contains no VOCs or gassing. The non-staining pad also protects the rug and the hardwood from stains and discoloration.
Some people are highly sensitive to different materials. That is why rug pads that are designed to be hypoallergenic are great for people who are particularly susceptible to allergies. This hypoallergenic rug pad is, therefore, safe for those people.
Being mold, mildew, and moth resistant, the Gorilla Grip pad keeps the underside of your area rug clean for months. With the superior quality of 0.25 inches condensed needle punch, this felt and rubber pad saves the carpet from early wear and tear and the floor from different damages.
The felt and rubber combination also gives great insulation from heat and helps reduce sound. It also makes the vacuum cleaning very easy. In addition to providing thick cushion, the pad also makes your feet feel great comfort.
All things considered, Gorilla Grip is well known for its quality rugs, and you can be sure that this Felt and Rubber Rug Pad will hold up to their high standards.
Pros
Firm rubbery grip with the ground
Felt pad keeps the rug in place
Hypoallergenic with no gassing
Heat insulation and sound reduction
Cons
Not suitable for other surface types
Guide to Buy the Best Area Rug
Having an area rug inside a room speaks a lot about your house's aesthetic appeal and décor. So, it is essential to consider a few things before you pick the perfect rug.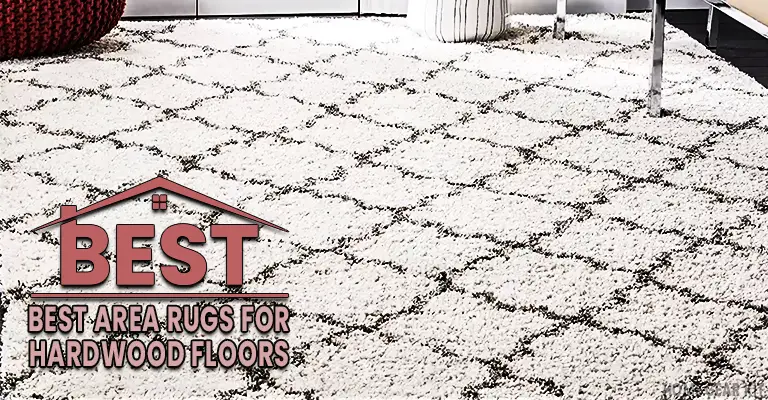 Pick the Right Rug Size
When you pick the right sized rug, it makes the room look bigger. A room with furniture, such as a living room or dining room, is best anchored by a big rug. Try to pick the size which will cover the sitting area or space where the furniture is placed.
And if you buy a rug pad, make sure to have one that is slightly smaller in size, so that it is not visible.
A Rug that Complements the Room
A rug with the right color and design is a must to compliment the room's décor. Every home is different and unique with its own theme. The color of the floor and wall, the decorative elements inside the room, like furniture and wall hangings, all contribute to its overall theme.
So take a look and keep in mind the tone of the room décor and make the right choice.
What's It Made of?
The rug material could be the difference between a stained and a perfect floor. Picking the right material is as important as the rug itself. Traditionally woolen rugs have been used for hardwood floors for decades due to its long-lasting durability.
Besides, there are multiple other types that would offer other benefits as well. Besides wool, the other materials used are mainly cotton, silk, natural-fiber, and various synthetic materials.
Comfort for Your Feet
Your feet feel the rug more than your hands do. Whenever you cross the room, sit on the sofa, or eat at the table, it is your feet that rest on it all the time. There can be no compromise when it comes to comfort.
So, when you pick your rug, look for the most comfortable one. Try to feel it with your feet if you have to.
Water-Resistance Is a Must!
Every hardwood floor owner knows maintaining the floor is surely a piece of work! One of the main concerns is the swelling of the floor due to water seeping into it.
It really doesn't take much to ruin the floor other than plain water on its surface for an extended period of time. Eliminate this possibility with waterproof rugs to keep the hardwood floor safe and dry.
Don't Stain the Floor
The importance of a non-staining area rug on a hardwood floor cannot be overstated. Sadly, the color and dye of many rugs tend to bleed onto the floor after getting damp. If this kept happening for a long time, it would surely ruin your precious floor.
Make sure to check the label to see if the rug is stain-proof. Usually, synthetic fiber and woolen rugs are more stain-proof.
Look Out for Scratches
You must know that most rugs do scratch the hardwood surface a lot. Rugs with rough back and seedy underbelly make scratches over a long period of time. Besides, dust that settles under the rug can scratch up the floor and worn down finishes.
Choose rugs with the decent quality that won't make lines out of your wooden floor. Another good way of doing it is to have a rug pad underneath.
Let the Floor Breathe
It is better if you find a nice-looking rug with perfect color, shape, and design with a woven backing. Setting a rug with synthetic or latex backing is nothing short of torture for your hardwood floor.
Latex tends to trap moisture and doesn't let the floor breathe at all, thus causing stains and could also strip your hardwood finish. Wool or woven rugs are better for such floors as they give them room to breathe.
Frequently Asked Questions
 Q: What is the best type of area rug pad?
Ans: Rug pads that do not cause any stains on the hardwood floor and do not let the rugs move about are more popular than other types. The pads which provide these benefits are usually made with felt and rubber back.
Q: How long does a good area rug last?
Ans: Generally speaking, rugs last from 5 to 15 years, depending on the material it is made of and the usage. Rugs in high traffic areas tend to last for a relatively shorter period of time.
Q: Can I use rugs only without the pad when the carpeting leaves no bare flooring?
Ans: We don't think that is a good idea. Rug pads keep the carpets cushioned and provide support in holding its shape. Besides, most rugs could also stain the hardwood floor.
Q: How do I clean my rug and rug pad?
Ans: Almost all types of rugs and rug pads can be cleaned by vacuuming. While some thinner materials can also be washed by hands, we don't recommend machine washing for either of these two.
Q: Are the non-slip rug pads safe for hardwood floors?
Ans: It is always better to check with the manufacturer before buying a rug pad. Nowadays, almost all rug pads that come with rubber backing have passed the test of hardwood flooring and doesn't cause any problem, such as stains.
Final Words
With so many types of rugs and rug pads in the market, one can easily get confused on which one to buy. Choosing the right one will also help you preserve your hardwood floors. But knowing about different types of materials, with which they are made, gives you an edge in choosing the best area rugs for hardwood floors.