Bathrooms today are no longer given the last thought in interior decoration. This is probably the most intimate room in the entire home. As such, they have become a major focus for the interior designing opportunity.
No matter how small it is compared to other rooms of your home, the bathroom should be a place of freshness as well as calm and order for relaxing after a hard day. Therefore, if you want this corner of the house to seem special, it is good to highlight the interior with details.
Using area rugs for bathrooms completely revamps the look and feel of the space. A rug not only adds a powerful and underlying element in the design of the bathroom but also is extremely important in preventing slipping and injury.
Preview
Best Overall
Nice Pick
Editors Choice
Title
HEBE Extra Long Bath Area Rug Runner for Bathroom Extra Large Non Slip Microfiber Bathroom Mat...
Secura Housewares Soft Microfiber Bathroom Rugs, 47 x 28 Inches Non Slip Bath Mat for Door, Bathroom...
Turquoize Bathroom Runner Extra Long Blue Chenille Bath Rug Non Slip Shaggy Bath Shag Shower Mat,...
Best Overall
Preview
Title
HEBE Extra Long Bath Area Rug Runner for Bathroom Extra Large Non Slip Microfiber Bathroom Mat...
Nice Pick
Preview
Title
Secura Housewares Soft Microfiber Bathroom Rugs, 47 x 28 Inches Non Slip Bath Mat for Door, Bathroom...
Editors Choice
Preview
Title
Turquoize Bathroom Runner Extra Long Blue Chenille Bath Rug Non Slip Shaggy Bath Shag Shower Mat,...
Best Area Rugs for Bathroom Review
As you will see, with all of the options in the market, it is often confusing for many homeowners to find the right rugs for their bathrooms. To ease that process for you, we have picked five options after an extensive research. Let's have a look!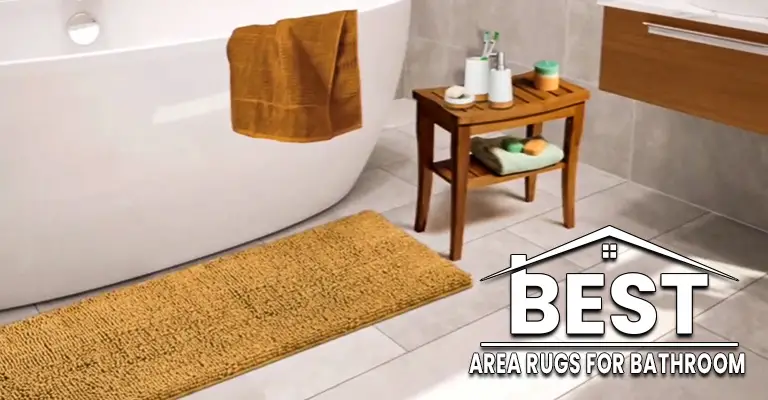 1. HEBE Bath Rug Runner
If your bathroom is long and narrow, runners would be a great pick. Runner creates a type of walkway and covers a long and thin floor space. If your bathroom space is not circular or square, a runner will look fantastic on it.
The first runner we will suggest comes from HEBE. It is made of microfiber which absorbs water but dries in no time. So even after using many times or after a shower, you will be able to feel the dryness on it.
Speaking of safety, it also has a non-slip rubber backing which is made of TPR material. These are usually a bit heavyweight therefore giving more slip resistance than conventional rubber backings.
When it comes to cleaning, this bath rug runner is totally machine washable. So, you can wash it many times without worrying about the color fading. Its unique fiber-locking technique also keeps the fibers from dropping while washing.
Pros
Water absorbing and dries quickly
Slip-resistant rubber backing
Machine washable
Anti Dripping fibers
Cons
Smaller sizes tend to move a little
2. Secura Housewares Bathroom Rug
This great bathroom rug from Secura Housewares is our next best pick. With a dimension of 47 x 28 inches, its size is just perfectly right to cover a mid-sized open space in your bathroom.
After a shower, the first thing your feet touches is the bathroom rug. There are possibilities of serious injuries if no rugs are there, and the floor is wet.
Therefore, a good slip-resistant bathroom rug is a must if you want to avoid that horrible outcome. Its chenille content absorbs a lot of water and can be dried very easily as well, which is roughly 7 times more than cotton!
One of the best features of this rug is its ultra-plush shag. They are made with thick and velvety microfiber chenille texture, which pampers your feet making you feel relaxed.
This bathroom rug has also been tested and labeled as machine washable. It can be washed in both warm water or air-dried and will cause no problem whatsoever. You don't even have to worry about shedding or shrinking too.
Pros
Perfect size for mid-sized bathroom
Extra slip-resistant
Machine washable
High water-absorbent
Cons
Should be placed on the clean and dry floor to avoid slipping
3. Turquoize Bathroom Runner
This fancy-looking bathroom runner has the perfect size to cover the entire space in front of your bathtub. Made from chenille, this rug from Turquoize is definitely one of the best in the market.
The microfiber of chenille fabric is thicker than most other rugs and capable of absorbing more water. So, your bathroom floor remains entirely dry and clear. Also, the material does not let mildew or odor to form on it.
When it comes to the bathroom interior, a great designed rug can uplift the décor manifold. Its solid stripped formation creates an aesthetic look with a premium feel. The soft turfed surface it provides will give you the nicest feeling to your feet.
With a posh outlook, this Turquoize rug also gives you protection from slipping inside the bathroom. Its anti-skid backing grips the floor even when it is wet. The backing is created through the hot-melt spray that is high technology SBE.
If you're wondering about cleaning, the rug is also machine washable and can be air-dried. Since it doesn't let the dust settle on its fibers, you can just simply pick it up and give it a shake. This will freshen the runner good as new!
Pros
Great size covering entire bathtub front
Thick chenille fabric absorbs more water
Mildew and odor resistant
Anti-slip backing
Machine washable and can be air-dried
Cons
Cannot be cleaned with softener or chlorine bleach
4. Lifewit Bath Runner
If you're looking for something relaxing while standing barefoot on a bathroom rug, then this bath runner from Lifewit is the one to pick. Standing on it for a long time will make your feet not only happy but also pampered.
Sometimes, getting ready in front of the mirror in the bathroom takes longer than usual. It puts a lot of pressure on your feet to stand at the same place for a long time. Its high-density premium chenille distributes your body pressure evenly so that you can stand comfortably without any fatigue.
Moreover, due to its high density, the fabric absorbs water faster than any other rug and thus leaves no opening for water leakage. Also, this Lifewit rug is more absorbent than standard cotton bath rugs.
Its expensive TPR rubber backing is also much stronger and durable for lasting usage. In addition, this rubber backing is slip-resistant – reducing the risk of slipping by holding the mat in place when you step out of the shower.
Pros
Rubber underside gives great stability
Absorbs water faster and dries quickly
High-density fabric gives comfort to feet
Cons
May interfere with some doors
5. ITSOFT Shaggy Bathroom Rug
Last but not least, one of the coolest and fast water-absorbing bath rug comes from ITSOFT. This rug gives you extra soft feeling with a great visual. Standing on it, you can feel it pampering your feet so much that you don't want to step away.
This bath mat absorbs a lot of water, which is vital in a house where children live. No one wants to step into a wet and slippery bathroom. A good bath rug keeps the bathroom clean and dry. This shaggy rug gives you just that.
The backing of this rug is made with skid-resistant PVC, which is non-toxic and odorless. On the other side, the fabric made from chenille has a unique fiber-locking formation eliminating any fiber-dropping. Moreover, its thick formation also increases the water absorption area.
And guess what! This shaggy looking rug from ITSOFT is composed of not just two but three layers. Between the upper fabric and bottom anti-skid, there is another soft sponge layer that can withstand hundreds of washing cycles and increases the overall softness of the mat.
Pros
Great water absorption capability
Skid-resistant PVC backing
Three-layered formations with a middle sponge layer
Able to withstand hundreds of washing cycle
Cons
Becomes too heavy after absorbing much water
Best area rugs for bathroom – 2022 reviews
Lavish Home has some of the best area rugs for bathrooms. This navy trellis bath rug runner is made of 100% cotton and measures 24 x 60 inches. It features a transparent anti-skid latex backing and has a very soft and absorbent material on top. The plush design is a great combination of Mediterranean and European vibes to match both kinds of décors.
Pros
Machine washable
Anti-skid backing adds safety and stability
Super absorbent
Durable
Cons
Poor color quality – fades after washing
Contained snags right out of the packaging
Sheds after being washed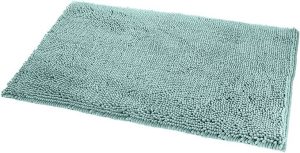 This microfiber bathroom area rug from Amazon Basics measures 21″ x 34″ and is available in a nice seafoam green color. It is made of 85% polyester and 15% polyamide. The shag rug is very plush and absorbent and simply looks great in a wide bathroom.
Pros
Soaks up water fast and dries up even faster
Nonslip backing creates foot stability
Machine washable and can be tumble dried
Easy to clean
Soft and lightweight
Cons
Does not always lay flat
Requires a lot of adjustment to keep it in place
Not the best nonslip feature – traction is minimal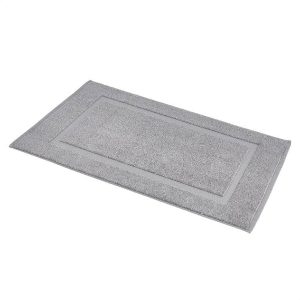 This is another great option by Amazon Basics. The banded bathroom rug mat measures 20 x 31 inches and is available in a powder gray color. Its 100% cotton terrycloth material is comfortable to stand on and allows the floor underneath to dry up quicker. It is ideal for placing right in front of the shower or bathtub areas to absorb maximum water immediately. You can also place it in front of your vanity.
Pros
Soft and super absorbent
Fast-drying material
Lightweight
Good price – so can buy a pair to cover both the vanity and bathtub areas
Double-stitched edges have a banded design for extra durability
Machine washable and easy to clean
Towel-like material much friendlier for machines
Cons
Lacks a backing (and this can be both a pro and a con depending on personal preference, washability convenience, and quick-drying results)
Not the best rug-type quality if you want something thicker
Might need to place on top of a rubberized mat for stability – which means twice the cleaning!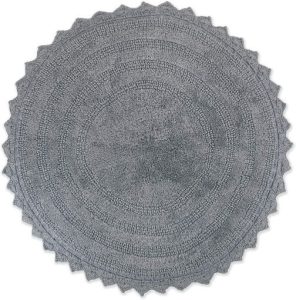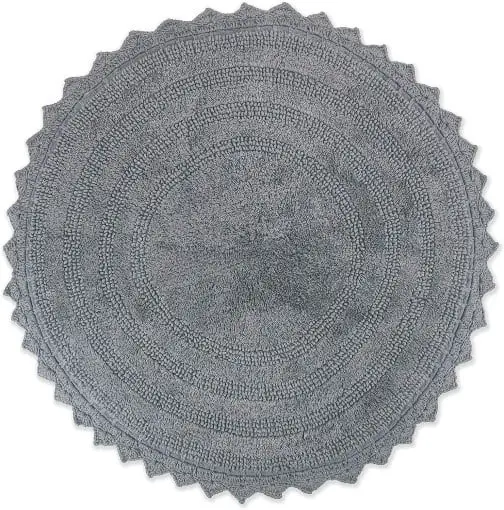 DII has a round and reversible bath rug in its Crochet Collection, so if you are tired of square or rectangular types, try out this convenient round alternative. It has a 27.5″ diameter and is available in gray color. The rug can be placed near the bathtub, shower stall, or vanity to add a bit of color and shape to the interior – apart from absorbing water quickly. It has been woven with a durable material to last longer. Make sure to avoid bleach while washing this rug as the strong chemical can affect its quality and color.
Pros
Soft and reversible
Machine washable on gentle cycle, with low tumble drying
Durable
Good for small bathroom spaces
Cons
Not very absorbent
Lacks a backing, so you need to place a rug liner underneath to prevent slipping AND color bleeding
Prone to unraveling after being washed
What to Look for Before Buying?
You might assume, it doesn't require too much thought for choosing the best area rugs for bathrooms. But nothing could be far from the truth. Picking out a perfectly suitable rug makes all the difference between adding aesthetics to space and leaving it to look ordinary.
Therefore, consider the following tips before you finally decide to buy one for your washroom.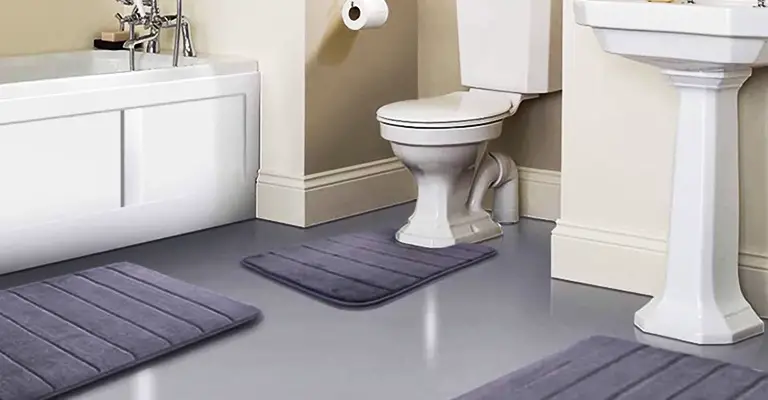 Size
Start by measuring the entire bathroom and also the floor space where you would like to place the rug. Covering the entire bathroom wall-to-wall is not an option. You definitely want to give the floor some space to breathe.
If your bathroom is small, a rug consuming the entire floor space will make it feel cramped and small. On the other hand, a rug that is too small will only make the bathroom look disproportionate, defeating the purpose of having an area rug in the bathroom.
Rather, the rug should be of an appropriate size so that it is not too small, allowing water to spill over onto your floors. And it should not also be too large, making it look out of place.
Material
One of the most important steps is choosing the material. The best material for bathroom abstract area rugs or just area rugs is one that is soft and dries quickly. Because bathrooms are the most humid of all the rooms in a house and are often a very tough environment for rugs.
You don't want to step on a wet rug every time you enter the bathroom. So look out for rugs made out of synthetic materials. Because they do not absorb much water, making them quick-drying and long-lasting.
Non-Slipping
Bathroom rugs should also provide a slip-free zone since water from tub and basin are bound to drip, making the floor wet. Do not forget to buy a rug with non-slip backing to prevent it from shifting and any accidents from happening.
You must consider the safety features of your bathroom rug for you as well as your children since they tend to slip a lot.
Frequently Asked Questions
Q: What is the best material for bathroom rugs?
Ans: Bathroom rugs are usually made from cotton or chenille. Both have their positives and negatives. However, we have suggested chenille based rugs for extra durability.
Q: Where should bathroom rugs be placed?
Ans: The most common placement of bathroom rugs is the front of the sink and the bathtub. Runner works best for the bathtub while a rug or a mat is suitable on the front of your sink.
Q: How often should I wash the bathroom rug?
Ans: We suggest washing the rug at least once a month with cold water. It is better to shake it before washing to get rid of the dry dust. And instead of machine washing, flushing is better for a rug's durability.
Q: Are bathroom rugs pet-friendly?
Ans: Most household nowadays owns at least one pet. And rugs are probably their most favorite place to sit on. So, rugs are made with natural and odorless material to keep it pet-friendly.
Q: Can I use a regular rug as a bathroom mat?
Ans: You can if you want to. But keep in mind that regular rugs are not able to withstand the harsh conditions of bathrooms. As a result, they need to change regularly. Besides, their sizes might make the rug look out of place in the bathroom too.
Final Words
Finally, considering all the important features that need to be present, we have shortlisted only five area rugs for the bathroom so that it becomes easier for you to pick. We hope this piece was helpful to you, providing the information you needed about bath rugs.