How many days have you been annoyed with your clogged drain pipes? Obviously, at least once every few months. It can turn into several times if you have kids or long-haired members at your home. A drain hair catcher might've prevented that but what to do now?
There is a range of toilet drain cleaners on the market that can easily handle this disturbing situation. With the right toilet drain cleaner, you can eliminate clogs from the pipe in a very effective and easy manner.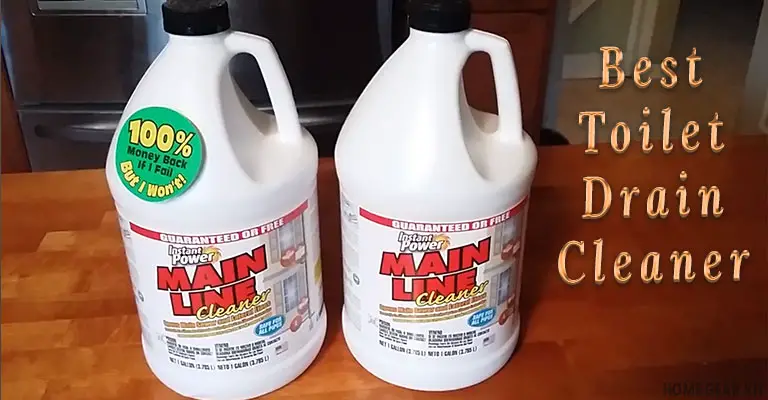 What Is Toilet Drain Cleaner?
Toilet drain cleaner is a liquid or powder form substance, specially formulated to dissolve the clogs inside drain pipes. These are specifically made to liquefy hairs, papers, soap scum, grease, food particles, etc inside the pipes. These are ideal for kitchen pipes, sink pipes, toilets, etc.
Toilet drain cleaners are also very easy to use. All you would do is pour the optimum level of liquid over the clogged pipe and wait the amount of time instructed on the label. After that, you will pour hot water over it. Your pipes would be ready to use again.
If it is a powder formula; first of all pour some water and then add the powder over it. And then wait as instructed. After that, pour hot water over the pipe. You will get the best results if the cleaner is set there overnight.
Toilet drain pipe cleaners are either acidic or enzyme particles. Acid ones are more tough and risky to use. As if they come in contact will the skin; may irritate very badly. Also, it gives of bad smell and fumes. This kind of drain cleaners are corrosive and may damage certain types of pipes especially metals. This must be handled with super care.
On the other hand, drain cleaners that are made of enzymes or organic substances will dissolve clog with care and is also eco-friendly. Also, it is much safer to use on any kind of pipes as it doesn't damage much.
Top 7 Best Toilet Drain Cleaner Review
You will find tons of toilet drain cleaners in the supermarkets and online. All of them would claim to provide the best quality to you. Now obviously, there is a mixture of both good and bad cleaners in them. And it is way too puzzling to sort out the best and the worst out of them.
If you have not been able to fish out the best toilet drain cleaner yet for your drain pipes, you can check out these 7 drain cleaners selected by us to minimize your effort and time.
1. Green Gobbler GGDIS2CH32 DISSOLVE Liquid Hair
This green colored liquid is designed to dissolve all the hair, soap, paper and dirt stuck in the drain system. The organic formula effectively can remove all the clogs in any sanitary pipe. The thick formula evenly covers all the surface area and cleans it along.
This cleaner is safe to be used in toilets, pipes, tubs, sinks and showers. Using this cleaner is very simple and efficient, no extra hassle required because of the 2 chamber sectioning. For sinks and pipes you will pour liquid from one chamber only, and, for the toilet use both the chambers at once.
No specific measurements are required. It is also safer than ordinary sodium hydroxide cleaners. And also works faster than usual due to its thick formula. It is biodegradable; hence, it is safe for environment and doesn't hurt the marine creatures.
For most customers it worked really well. It did fulfill all the things it advertised for. Some did complain that it was not fast enough but was effective. And wait overnight before running the boiling water through the desired pipe.
2. Liquid Clog Remover By Green Gobbler
This cleaner is designed to dissolve any type of clog in your sanitary pipes. Any clog containing grease, hair, paper, soap scum; it is able to remove all of them. This formula is organic and very effective. This liquid is green in color and very thick.
The thickness of the liquid makes it effective enough to dissolve clogging hair very nicely. It also claims to be very fast and show results within minutes. This drain opener is suitable for sinks, tubs, toilets, pipes, and showers.
It is very easy to use; all you will need is to pour optimum amount of liquid over the clogged pipe. It comes in a big 1 gallon measuring bottle, so, you need to be careful not to pour too much.
Again, it is not like other sodium hydroxide drain openers and is safe too. It is non-corrosive towards pipes and avoids damaging it. And it is safe enough to be used every day. It is ideal for any shape or size of pipes.
The thickness of it evenly spreads all over the pipe. It is great for those who want to remove the hair clog in their tubs. It doesn't smell nasty like ordinary cleaners. It does work very quickly in small clogs.
3. Green Gobbler Ultimate Main Drain Opener
This drain opener has a non-corrosive formula that doesn't damage the pipes and in completely safe. It is perfect for sinks, toilet, tubs, shower and other pipes. It is effective on pipes of any shapes or sizes.
It effectively dissolves soap scum, hair, paper, dirt, baby wipes, feminine products and oils. It has high-density which means it is thick. The thickness makes it more effective on the clogs. Also it is odorless and doesn't bother the user.
It is great for cleaning purposes as well. It is also effective on cleaning sinks and tubs but mostly effective on metal junks.  In fact it is more useful in cleaning purposes than removing the clog.
4. Roebic Laboratories, Inc. K-97 Main Line Cleaner
It is designed for sewer and septic tanks. It is organic and breaks down clogs naturally. Therefore, it is safe to use. And also doesn't harm your skin. It is able to dissolve paper, fats and grease. It is most suitable for main sewage lines and low-flow toilets.
It is not corrosive and doesn't damage pipes. Hence, you can use them on any category of pipes. This cleaner is environmental friendly and safe. It does remove clog but partially. So, you will need to keep cleaning very often. A negative point of this drain opener is it is too pricy compared to its performance.
5. Green Gobbler Drain Opening PAC'S
It contains 5 packets of drain opener and a hair grabber tool. The tool is to let to pull any hair trapped on the pipe. It is extra long which is 22' in length. Also it is reusable. It is suitable for sinks, tubs, toilets, septic tanks, grease traps, tubs, shower, etc.
The separate packets make it easy to use. Rip the packets and pour it over the clogged pipes and wait as directed. It is very fast and effective. It is non-corrosive and doesn't damage pipes or septic tanks.
It is biodegradable and hence, doesn't harm the environment. Due to small separate packages to avoid the extra hassle of measurements. This drain cleaner is formulated to break down and liquefy grease, hair, paper or any other organic materials. It is able to clean clogs as quick as 1 to 2 hours.
With a little bit of water it cleans really well. But it is not effective on toilet pipes as the sinks and other pipes. It does smell very bad especially when combined with hot water. Hair isn't dissolved with this cleaner as advertised. Instead the hair grabber tool works perfect for clogged hairs.
6. XIONLAB Safer Drain Opener
Its innovative formulation is fast-acting in dissolving hair and grease. It is non-splash and very thick. The thickness cover the pipes every nicely and evenly. Which in result removes the clog very effectively which lasts long. It removes clog consisting fat, soap scum, hair and tint.  
Please note that it is not effective in clogs resulting from plastic, paper or food particles. Its liquid formula is biodegradable and doesn't harm the environment. It dissolves hair very effectively. It doesn't give of bad odor and is non-inflammatory.
It is suitable for pipes with any shape. It has more strength than acid drain openers and less corrosive too. It is ideal for kitchen and bathroom drains, pipes, toilets, tubs and sinks. The formula is also safe to be used in a septic pipe.
The whole package is eco-friendly and recyclable. It has 100% money back guarantee if you are not satisfied by the drain cleaner. It has perfect balance between power and safety. This drain cleaner is very easy to use.
Slowly pour 16 Oz of liquid over the clogged pipe. Then wait 30 minutes and after that pour hot water over it. The clog should be gone by then. Note that it gives of heat and gas during this process; it is normal and nothing to worry about.
It is safe for all kinds of pipes and materials. It should be kept away from children and pets as it burns when in contact with skin. It isn't non-toxic as mentioned and it also states that it contains acid as one of the ingredients. It takes longer to remove clog than stated; but is very effective.
7. EcoClean Solutions Inc GGPP-2 Powder Plunger Toilet
This is a powder formula powder formula and should be used with hot water. It avoids the extra hassle of measuring and mess. The packets are already measured in a standard amount. It claims to dissolve paper, hair, feminine products, soap scum, very effectively.
It is very easy to use; just cut the packet and pour the solution into the clogged toilet and wait 30 minutes. For best results you can also wait overnight.  It is formulated with crystallized technology that doesn't give off bad smell. And most ideal for toilets, pipes, sinks and tubs.
The crystallized formula gets activated once in contact with water or similar liquids. It dissolves clog very quickly and effectively. For tough clogs it is advised to repeat the treatment for better results. Due to its powder formula, it is safe when it contacts your skin and doesn't irritate.
A customer found it worthless and claimed it increased the mess. But most customers reviewed that it very effective and works just like advertised.

Safety tips
Drain openers are made of a variety of chemicals that are harmful towards skin and eyes. So, always keep them away from kids and pets. If you accidentally spill the cleaner over your hands or any area, rinse it with water as soon as possible. And if it enters your eye, see a doctor as soon as possible.

Best Toilet Drain Cleaner- Buying Guide
To get the best toilet drain cleaner for your clogged pipes, you need to gain some decent tips. And if you follow them accordingly, hopefully, you will own the prefect cleaner for your drain pipes.
Dissolving Ability
Drain cleaners are all about dissolving. If it is unable to dissolve properly, it isn't a good cleaner. The best drain cleaner would have the most powerful technology to dissolve away the clogs fast and effectively.
Before buying, make sure it has ability to liquefy the object that has clogged your pipe. Most efficient toilet drain cleaners should be able to remove clogs resulting from hair, paper, tint, soap and sometimes food particles also.
Easy to use
As they are intended to be used at home and not by professionals it should be very easy to use. And the instructions should be easily understood and performed by non-professionals.
Safe and eco-friendly
It should be safe to be used. Some formulas of the cleaners are tough and very risky to use. Avoid them, especially if intended to be used at home. Biodegradable formulas are always preferred, as they are safe towards environment and also non-inflammatory towards skin.
Non-corrosive
Unfortunately, there are some strong drain pipe cleaners that may damage your metal pipes. Most of these kinds are made of acid. So, if you have metal pipes avoid the acidic drain pipe cleaners. Even if you own marble fitting that may come in contact with the cleaner; avoid them.

Frequently Asked Questions
Q: How much caulk do I need for a bathtub?
Ans: You will need a very little amount of caulk around the bathtub. Make a thin line around the tub with it.
Q: Are biodegradable toilet drain openers safe towards by skin?
Ans: Most organic or biodegradable toilet drain openers are safe for your skin. But do remember that they contain a lot of chemicals too. So, it's better to wash the area it has come in contact with.
Q: Can I wash sinks and tubs with toilet drain openers?
Ans: Although, toilet drain openers are intended to remove the clogs from drain pipes; they are very good cleaners too. You may use them to clean your sinks and tubs too.
We have other post on how to unblock slow draining toilet
Conclusion
Clogged drain pipes are something that we all face once in a while. This results in slow drainage systems. A best toilet drain opener could be the perfect solution for that. It eliminates the need for a plumber for such small, yet annoying situations. And of course, saves your money too which you would have spent on the plumber. Do make sure you own the best opener for your home to avoid such inconveniences.