Space is very valuable nowadays and most of us like to allocate comparatively smaller space for a bathroom, so it is very important to make the best use of the space of our bathroom. Most of the time, we do not feel the necessity of using the corner of our bathroom which is really wastage of space.
Thanks to corner toilets that allowed us to make the best use of the corner space of our bathroom.
A corner toilet is much like a normal close coupled toilet but there is a little difference in the shape of its cistern. The cistern is triangular shaped that projects diagonally out of the corner of our bathroom.
In this article, we will review the 5 best corner toilets that are dominating the market along with a precise guideline to purchase the perfect corner toilet to save space of your bath and powder room.
Our Top 5 Best Corner Toilets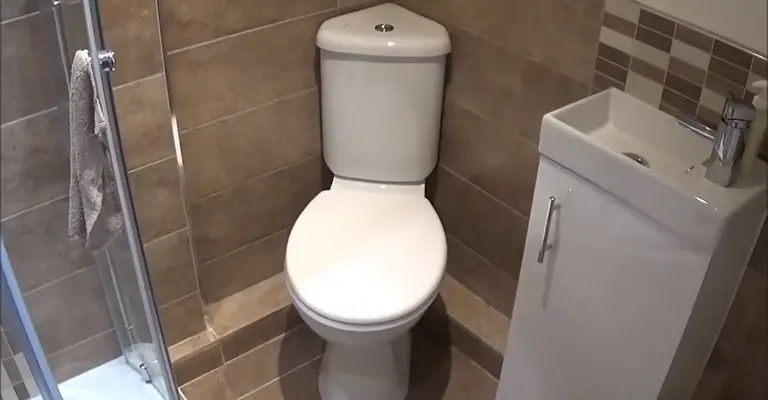 1.  American Standard 270BD001.020 Corner Toilet
Who does not want to install a toilet with smarter design and higher performance? American Standard 270BD001.020 Cadet 3 Corner Toilet is a product having all the basic properties that a good corner toilet must have. Moreover, it possesses some additional attractive features that made it one of the best sellers item.
The front part of this high-quality toilet is a round shape. The ultra-advanced WI smarter design of this model has been brought it one step ahead compared to the performance of another toilet.  To assure you about its high quality I would like to inform you that it meets ADA compliance. 
It uses only 1.28 gallons of water in every flash which means great savings of water and consequently money. The toilet unit includes a large flash valve with the chemical resistant flapper. All of these made the cleaning mechanism easy.
Like the conventional toilet, it just does not provide enough water for cleanliness; rather it ensures a high level of hygiene by incorporating antimicrobial agent in its seat. These antimicrobial agents prevent the inhibition of any microbial organisms.
This finely packed two-piece toilet is shipped to the customers in two separate boxes. It is a durable and user-friendly toilet unit that fits the corner of your toilet perfectly and makes more leg-space inside your narrow bathroom.  
2. American Standard 270AD001.021 Corner Toilet
American Standard is a well-known toilet brand who is doing business for a long time with good will. The American Standard 270AD001.021 Cadet 3 Corner Toilet is their great invention.
American Standard provides the corner toilet in two separate packets. In one the tank is packed and in other, the bowl is packed. So, you can understand that this unit is a two-piece corner toilet.
American Standard always never compromises with the quality and convenience of their customers. Their smarty designed corner toilet of cadet 3 series is ADA compliant. The elongated shaped bowl provides more comfort to its users.
Since it is constructed at right height you will feel comfortable to use it.  You will remain protected from the attack of microbial agents at a great extent because they incorporated antimicrobial agents with their toilet which inhibits the growth of microbial agents strictly. 
The tremendous flushing performance of this toilet ensures proper cleaning. Reading the term "Tremendous Flushing Performance" if you think that it uses a lot of water for flushing, then it will be a great mistake because it spends only 1.28 GPF water. If you compare it with 1.6 GPF model you will find it a great water-efficient product.
The strong and durable toilet unit can bear a high load for a continual basis without any deterioration of its quality. Its installation process is also easier. The toilet seat is not provided with the tank and bowl. You have to purchase it separately.
3. Renovator's White Porcelain Corner Toilet
Renovator's Supply White Porcelain Corner Toilet is a well-designed space saving toilet of beautiful aesthetic beauty. Some people like the style in the cover of simplicity, this model can be a great choice for them.
Vitreous china of grade-A has been used as construction material for this toilet. The candescent white color of vitreous china can easily blend or adjusts with the toilet of any color. It literally adds an extra dimension of beauty to your toilet.
Its higher resistance against scratch and stain keeps it as a new toilet for a long time. The super smooth RenoGloss finish of this toilet prevents dirt to adhere to its surface or body.
Unlike a conventional toilet, it uses the dual flush option that reveals the user-friendliness of this model. Depending on the amount of dirt you can choose any of the options – one option uses a higher amount of water for flushing and the other uses less amount of water.
The elongated shaped bowl is placed at an ergonomic height and so, most adults of normal or regular height feel comfortable to use it.
The installation process is also easy. You have to assemble only a few parts to install the Renovator's Supply White Porcelain Toilet at the corner of your bath or powder room.
4. Renovator's Supply Elongated Corner Toilet
The stylish Renovator's Supply Bone China  Elongated Corner Toilet is a great innovation of Renovator's supply.
Bone china is used as construction material which is considered as valuable material in the ceramic world. It shows the highest resistance against scratch and stain.
If you want to keep some difference with the toilet of your neighbor, this Renovator's Supply Bone China Corner Toilet will give you that scope. Because like other toilets, it is not white in color, its biscuit color the easily blends with a bathroom of any color and creates a glowing toilet environment.
The bowl is designed in an elongated shape which adds more room compared to a round shape bowl. For the convenience of your sitting and standing up from the toilet, a convenient height is fixed. 
It is easy to clean and maintain. Unlike the traditional toilet, it looks new even after using for months. It is a user-friendly toilet that gives you dual options of flushing. This water efficient toilet lets you choose either 0.8 or 1.6 GPF water per flush. According to your need, you can decide how much water you have to spend.
It is not so expensive. The price is kept reasonable considering the ability of maximum customers. So, you can easily afford this long-lasting Renovator's Supply Bone China Space Saving Corner Toilet.
5. Renovator's Supply Round Corner Toilet
No products found.
Researching on the taste, choice, and requirements of customers Renovator's Supply is bringing various types of corner toilet. The Bone China Round Corner toilet is their popular invention having a subtle difference with Bone China elongated Corner Toilet.
This toilet fits at the corner of your bath and powder room and adds more leg space. If you have a tight bathroom, this stylish model can be a good choice for you.
The dual flush mechanism of Renovator's Supply Bone China Round Corner toilet is water efficient that saves your cost to a great extent. Depending on your need you can either choose to spend either 0.8 gallons of water per flush or 1.6 gallons of water per flush. They strictly maintain the EPA water efficient guideline.
The upscale bone porcelain finish made it a product of Pantone color which easily matches with the color of any existing features. The special RenoGloss finish has made it a scratch resistant product. It also has a high resistance against the adherence of stain.
To increase the existing beauty of your bathroom, the Renovator's Supply Bone China Round Corner toilet is an unrivaled model. 
It is easy to install. Once you install it at the corner of your toilet you can use it for a long time without spending more money on the toilet. Its price is also reasonable to afford.
Corner Toilets Buying Guide
Here is guideline including some effective tips to choose the perfect corner toilet for your bath and powder room.
Dimension
Corner toilets are compact but not all corner toilets are of the same size and dimension; some are bigger and some are comparatively smaller in size. So, while buying a corner toilet, carefully check the dimension of it.
Seat Height
Seat height should be compatible with the height of the main users. If the seat height is not compatible with the user's height toilet experience will be painful and you may also grow physical illness like back pain, knee pain etc.
A chair height toilet seat is compatible with the height of tall or regular sized people. But, if you are short, you should choose a toilet seat of shorter height.
Flushing Technology
It is better to choose a corner toilet with the latest flushing technology that does not consume so much water rather saves a significant amount of water. Do you know about the bathroom doesn't require any water. Read the full post here.
Material
Construction material has a significant effect on the overall quality and durability of the toilet. So, do not forget to check the construction material of your corner toilet. Vitreous china, bone china etc. are the widely used and high-quality material used for toilet manufacturing.
Certifications
Certifications provide the surety of some special features of toilet unit. For example, Toilet units with EPA water sense certification reveal that the toilet does not consume so much water than it is needed. So, while purchasing a toilet unit do not forget to check the certifications.
Frequently Asked Questions (FAQs)
Question: Can I install corner toilet at any other place of my toilet except the corner?
Answer: Obviously, you can install it at any place of your bathroom since it has a main drain and water supply connection. But, a corner toilet looks best at the corner part. Either, you could think to install one from KOHLER toilet.
Question: If I want to renovate my bathroom with a corner toilet do I have to move the main drain?
Answer: You must have to connect the main drain with your toilet and if the distance between the main drain and the corner part of your bathroom where you are going to install the toilet is big, you have to move your main drain.
Conclusion
To make the smaller bathroom look roomy corner toilets are the best solution. Corner toilets of best quality offer you many more advantages that made it a worthy product to be purchased.
For example, since corner toilet helps to free up space you can install showers and bathtubs there. They include all the features of a normal toilet with an additional smart advantageous design.
Among various brands of corner toilet, the American Standard and the Renovator's Supply are the most popular brand. We have picked up 5 best corner toilets from them to prepare this efficient list.