Toilet cleaning is an important task which many find difficult. It will help in keeping germs, bacteria and other pathogens away. It is also essential to get rid of the smell and prevent the occurrence of molds. The right cleaning tools can bring a great difference in the overall cleanliness of the toilet and will also make your work easier. With the right tools, you can also save much time. In this article, we will see the tools that can make your cleaning work easier.
Toilet Cleaning Tools List
Toilet Cleaner
Toilet cleaners are chemicals which are designed specifically to be used in cleaning the toilet bowl. They are usually used in conjunction with a toilet brush. The original toile cleaner was invented by Harry Pickup, who then came up with the brand Harpic. Nowadays, you can have a variety of toilet cleaner based on different formulations.
Automatic Toilet Cleaners/ Drop in Toilet Cleaners/ Tablets
There are automatic toilet cleaners available in the market, which are attached to the rim of the toilet bowl and with every flush, the toilet is cleaned automatically. They also add a fresh scent to the toilet, keeping it smells good all the time. As a result, you may have to scrub less often, however scrubbing is indeed essential. Many find them not to be sufficient.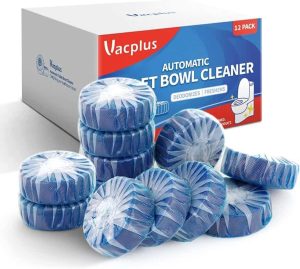 Vacplus Automatic Toilet Bowl Cleaner Tablets is an effective option to have. They are convenient and easy to use. A single tablet may last for 5-7 days.
These are solution based. You need to apply it to the bowl and scrub with a toilet brush for effective cleaning. The solutions have powerful formulations and require less quantity. They can keep the toilet clean and stain-free instantly. Those with angled nozzles let you reach hard areas.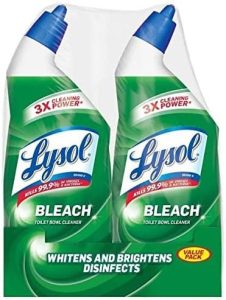 Lysol Disinfectant Toilet Bowl Cleaner comes with 3 times cleaning power and has the ability to kill about 99.9% of germs, bacteria and viruses. With the power of bleach, it can disinfect the toilet and also brighten it.
Powder formulations are usually water activated and need to be sprinkled and then cleaned with a brush. Pure borax is a great option to have. You may have to use gloves for sprinkling the cleaner as this will protect your hands from chemicals.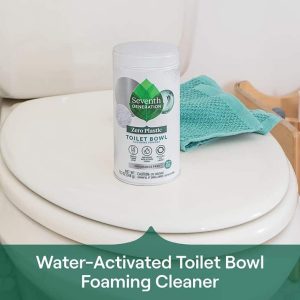 Seventh Generation Zero Plastic Toilet Bowl Cleaning Powder comes with environmental ingredients. They offer water activated foaming and expanding cleaning powder. It is unscented.
Gel cleaners have a gel like thick consistency. You can squeeze the contents into the rim area and clean them with a brush. They are also available in gel disc form which needs to be fixed to the rim and with every flush, the toilet gets clean, similar to automatic toilet cleaners.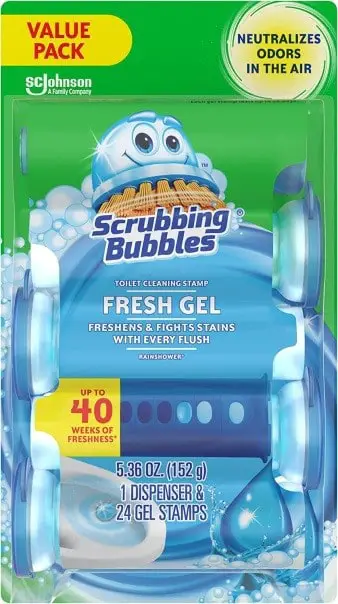 Scrubbing Bubbles Fresh Gel Toilet Cleaning Stamp cleans the toilet bowl in every flush. It will keep toilet rings and limescale buildup away. It also neutralises the odor in the air. The disc needs to be stamped on to the rim area. It can last up to 12 days. Another conventional option is the Lysol Fresh Cling Gel, the leaders in disinfection offers powerful stain removal with long lasting fragrance.
Eco friendly Toilet Cleaners
These are chemical free toilet cleaners. They do not have harsh chemicals. They avoid the release of toxins. Though gentle, they can act tough against the pathogens.
Ecover Toilet Bowl Cleaner uses plant and mineral based ingredients. It can remove tough stain. It can also decalcify and freshen up the toilet bowl. They also have fragrances form essential oils.
Toilet brush
The toilet brush can be used for scrubbing the toilet bowl, thereby keeping it clean and hence controlling the spread of germs. These bristle brushes are usually held in a holder. The brush and the bristles are in most cases, made of plastic. There are also toilet brushes with wire bristles, however, they can damage the toilet. Keep the toilet brush clean. You can clean the toilet brush once in a while with a disinfectant and let it drip dry before keeping it back in the holder.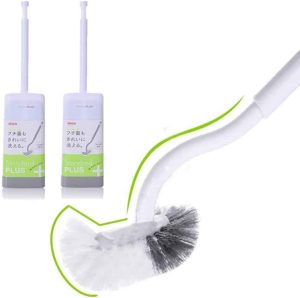 Marbarsse Bathroom Toilet Bowl Brush and Holder is made from ABS and PP. It is flexible and durable. The hemispherical head design allows for deep cleaning and can even reach hard to reach areas. With the comfortable non slip handle design, you can have quick and effective cleaning. The space saving design can fit into tight areas. The toilet brush is strong and durable and will not wear out or change its shape. You can hang the toilet brush for air drying. The holder is more airy and vented so there won't be any bad smell.

OXO Good Grips Compact Toilet Brush & Canister features toilet brush with sturdy, tapered brush head which allows deep cleaning. The shape of the handle is such that it offers a comfortable grip. The canister door will open automatically as the toilet brush is lifted and it neatly stores the toilet brush when not in use. The canister drip tray has ventilation slots allowing water to quickly evaporate. With a compact footprint, it is ideal for small spaces.
Rubber gloves
Toilet is one of the filthiest places in your home. With rubber gloves on, you can involve in the cleaning activities without worry. They will offer the much need protection to your hands from germs and the used chemicals.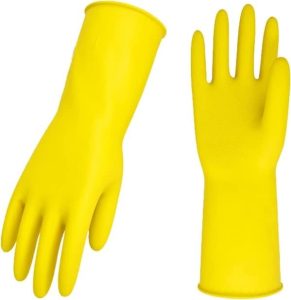 Vgo Pack of 2 Reusable Long Sleeve Household Gloves can be used for multipurpose applications like toilet cleaning, dishwashing, fishing, gardening, etc. They offer heat and cold resistance. It is made with highly flexible and waterproof rubber and offers great comfort as well as dexterity. With the anti-slip embossed palm, you get an excellent grip. The rubber smell will be fine after airing them out. They are available in many color options.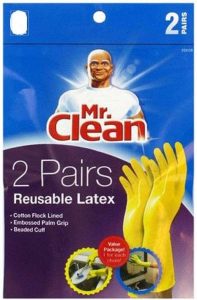 Another great option is the Mr. Clean Reusable 2 Pair Latex Gloves which also includes a cotton flock lining for best protection when involved in the cleaning activities. It also features embossed palm grip.
Disposable Toilet Cleaning Systems
Disposable toilet cleaning systems makes the cleaning process easy. There will be little clean up involved. You may not need a dirty toilet brush in your toilet. They feature disposable prefilled cleaning heads. The wipes included in these cleaning systems can have pleasant fragrances. However, if the toilet has much stain, then this would not be sufficient.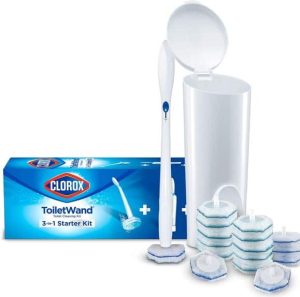 Clorox Toilet Wand Disposable Toilet Cleaning system includes 1 toilet wand with a storage caddy, 6 original disposable refills and additional 10 Rainforest rush scented refills. It can effectively kill 99.9% of bacteria and viruses. The disposable toilet cleaning system can work well with any toilet type, even the low flow models. The scrub pad refill heads click onto the toilet wand. You can swish and scrub using this toilet wand for effective cleaning.  The disposable scrubbing pads are preloaded with disinfectant Clorox Cleaner which can deep clean and remove stains, thereby eliminating germs to make the toilet bowl feel clean and fresh. The sponge heads have a hexagonal shape which can reach hard to reach areas and offer a fast deeper leaning eliminating calcium, lime stains and other possible dirt. The disposable toilet cleaning system will eliminate the need to store a dirty toilet brush. The convenient caddy can store the toilet wand and refill heads and be the all in one toilet cleaning system.
Dropable Disposable Toilet Cleaning System includes a handle, hanging hook and 48 flushable refill pads. You need to immerse the disposable flushable pad in water and swish, this activates the cleaner. After that, you can scrub the bowl. It is easy to use. You can scrub away toilet stains and flush the dirty pad away into the toilet after use. The disposable toilet cleaning system can remove bacteria and stains. It will leave a fresh lemon scent on cleaning. The hanging hook let it to be stored in a compact space.
Paper Towels and Rags
If the outside area of the toilet bowl seems much dirtier than the inside, then you can go for paper towels, rags, etc. to clean it up. They are not much effective. However, they be used as an immediate course of action to can clean up the dust and liquids. You can use an all purpose spray cleaner along with the paper towels or rags for effective cleaning. Rags need to be thoroughly cleaned after use and dried. Paper Towels offer easier cleaning and they can be discarded after use. They also offer great absorbency.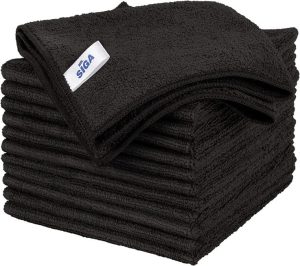 MR.SIGA Microfiber Cleaning Cloth is made of highly absorbent microfiber. It is of multi purpose use. Being ultra soft, it offers scratch free cleaning. The rags are super absorbent and can soak up water without leaving streaks behind. You can use them to dry your hands or clean surfaces. You can dust off the surfaces and keep the mirror clean of fingerprints. They have high quality stitching and hence durable to withstand many numbers of washings. They are also lightweight. It is easy to clean these microfiber rags and you can also machine wash them. They will dry up quickly and can be reused.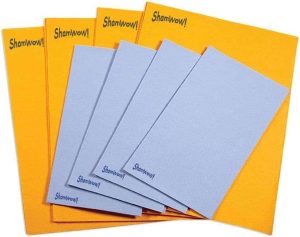 The Original Shamwow – Super Absorbent Multi-Purpose Cleaning Towel Cloth is like an all in one Chamois (Shammy), Towel, and Sponge. The large ShamWow towels are 20 x 23.5 inches and the small ones are 15 x 15 inches. You can cut the large ones in half to use and use for soaking up the water. The rags are super absorbent and can soak up to 10 times its weight in any liquid! It doesn't drip and so no further mess. It is great for drying and cleaning bathrooms, mirror, kitchen, car, even dog or cat. Being non abrasive, it will not scratch any surface. It is also bleachable and machine washable. The rags can last up to 10 years.
Grout brush
You may not be cleaning the grouts every time you clean the toilet. But it is good to scrub them off occasionally.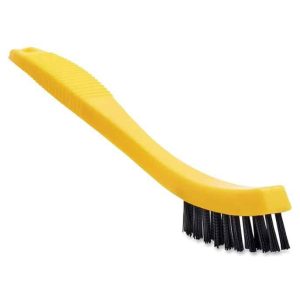 Rubbermaid Grout Brush has a mix of natural and synthetic bristles and is found to be good for scrubbing grout lines, floors, etc. This is a durable option to have.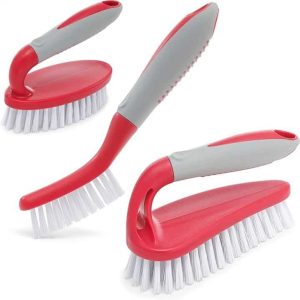 Trazon Grout Cleaner 3 Brush Set is convenient to use. They feature an ergonomic rubber handle with extra durable polymer bristles. It can reach the most hard to reach areas and bring about effect cleaning. It can be used easily without slipping.
Grout and tile cleaner
Grout cleaner can help in keeping the grouts free of stain and dirt build up.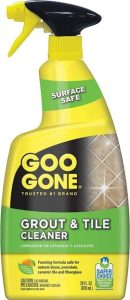 Goo Gone Grout and Tile Cleaner can break down the toughest grout stains caused by soap scum, mold, mildew, and hard water. It can remove dirt build up from tiles. It is a foaming formula and is safe to use.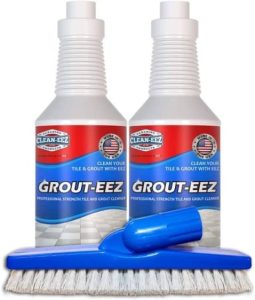 Clean-Eez Grout- Eez is of professional heavy duty strength and can remove grease and stains from grout and tiles. It is easy and fast to use. It will brighten the surface. Grout brush is also included. It can fit into any standard broom pole and hence can be used for cleaning without bending on your hands and knees.
All-purpose cleaner
You can spray down the hard surfaces like the sink, the counter top, etc. using all purpose cleaner.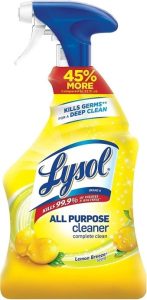 Lysol All Purpose Cleaner kills germs and offers a deeper clean. It can disinfect and sanitize hard surfaces. It also eliminates the odor.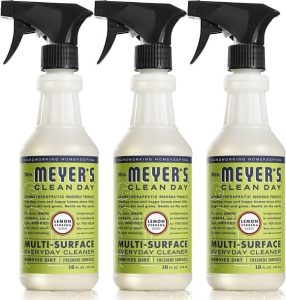 Mrs. Meyer's All-Purpose Cleaner Spray can be used on multiple surfaces. It removes the stuck on dirt. It also refreshes and removes odors.
Glass cleaner
Glass cleaner can be used to clean up the mirror which can accumulate dirt due to splashes from the sink. They can deliver streak free shine to the mirror. It is advised to use a small amount of glass cleaner and wipe it off with paper.

Windex Glass Cleaner can clean up your mirror and offer a streak free shine. It can also work on smudges and fingerprint.
Clorox Glass Cleaning System is another powerful option. The bleach free cleaner is ammonia free and can be used around kids. It can remove dirt, fingerprint, smudges, etc. from the mirror effectively.