We talked in detail on another article what is mason jar, how to find the best and what are the best mason jars. Now let's learn how to preserve food in mason jars and the different ways to do this job.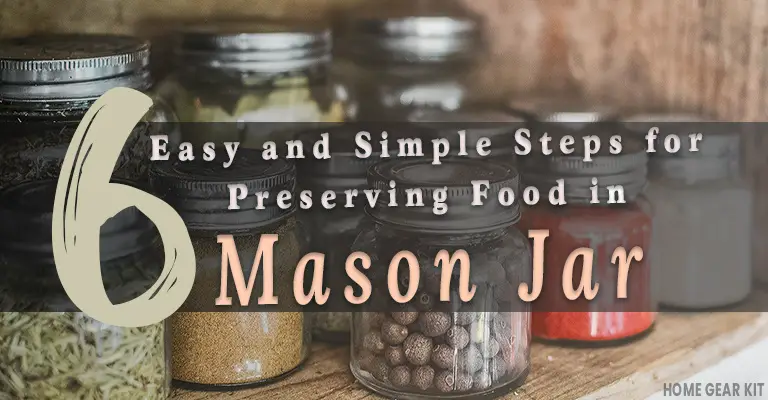 You can easily preserve vegetables, fruits, jams etc. for a pretty long time by performing 6 easy and simple steps:
Step 1: Sterilize Your Mason Jars
At first, keep the empty jars right-side-up in the large pot. You can use this same pot for the boiling water bath when you fill the jars with jams, fruits, tomatoes or pickled vegetables to preserve.
Then pour hot water (but not boiling) water and cover the jars completely—make sure that the water is one inch above the top of the jars. Then increase heat and start boiling gradually.
Cautioner
If you poured boiled water at first, then the Mason jars had been shuttered due to thermal shock.
The ideal boiling duration to sterilize Mason jars is 10 minutes but there is an important thing of concern you must know about sterilizing Mason jars by boiling.
The fact is – altitude affects the boiling temperature of water. The boiling point of water becomes lower at higher altitude. For this reason, if you live at a higher altitude you have to adjust the time of sterilization – you should add one additional minute of boiling time for each 1,000-ft. increase in elevation.
For example, you have to boil the Mason jars for 10 minutes at Sea level to 1,000 feet; for 11 minutes at 1,000 to 2,000 feet; for 12 minutes at 2,000 to 3,000 feet; for 13 minutes at 3,000 to 4,000 feet; for 14 minutes at 4,000 to 5,000 feet and for 15 minutes at 5,000 to 6,000 feet.
After boiling for certain time turn-off the heat.  You can leave them in the hot water for up to one hour if you are not ready to begin the canning recipe,.
Then using jar lifters or tongs remove the jars from the pot, drain well, and set aside to make them dry. Do not forget to make sure that the surface on which you are drying the jars is a clean surface.
Cautioner
Do not forget to make sure that the surrounding area is properly cleaned otherwise sterilization will be pointless due to contamination.
Try to proceed to can as soon as possible after finishing the sterilization process. If you wait more than one hour, you have to sterilize the jars again before starting the canning recipe; otherwise, very less time will be needed to go all of your labor in vain.
 Step 2: Prepare Your Food Items
The second step is to process your food items for preservation. It is a good practice to can fruits and vegetables immediately after harvesting.
Prepare vegetables and fruits by slicing and dicing, prepare your jams and preserve using your favorite recipes and before placing vegetables in the jars pickle them.
Maintaining the pH level is very necessary to retain good quality for canning tomatoes. Adding citric acid is useful to keep the pH level above 4.6. So you can use lemon juice or any other fruit juice that contain citric acid for this purpose.
In case of canning fruits, the common problems that you may face are browning the color of the preserved food. As a solution of this problem, you can add ascorbic acid as it prevents browning of fruits and helps to retain good quality for a long time.
You should not use iron, aluminum and, copper while preparing your fruits and vegetables to can because these metals can deteriorate the quality of the food by causing discoloration.
Step 3: Fill Your Mason Jars
After slicing, dicing and pickling now it is time to fill your Mason jars. There are a few things you must remain conscious about while filling your jars.
Do not fill the Mason jars completely because the produce swells during the boiling process, so keeping some free space inside the jar helps to prevent leakage and make a mess.
After filling the Mason jars with produce, (except canning jams, jellies and, preserves), submerge the produce by pouring liquid and make sure that there is no air bubble inside the jar.
Finally, wipe the rims of the jars down with a clean cloth and cap with the plane sealing lids and rims.
Step 4: Process the Mason Jars
Lower the Mason jars filled with produce carefully into the canning pot. You may have to remove some water from the pot as you put the jars in it.
Once the water begins boiling start your timer. Now the processing time is not 10 minutes like before, actually, it varies from recipe to recipe. After boiling for certain period, remove the Mason jars from water bath immediately using tongs or jar lifters.
Step 5: Cool the Jars
Now place the Mason jars on a clean surface let them cool. You can use wood or a surface that is covered with clean cloth for this purpose.
You will hear ping sound soon after removing the Mason jars from the pot. From this sound, you can understand that the seal formation is complete. You will also notice that the center of the lids has become concave which is another symbol of vacuum seal formation.
When the jars become cool to room temperature, remove the bands and test the seals. You can do this test by holding the jar by the edge of the lid and gently lifting it one inch or two off the countertop.
If any jar is not sealed properly then you can store it in the refrigerator and finish as soon as possible.
Now remove the rings and wash the jars properly to remove any sticky residue.
Step 6: Labeling and Storing
Label the jars with the contents and the date. You can label by writing on the lid with something sharp or can use a printed paper piece containing necessary information as a label.
Then store the jars in a cool, dark place until you are ready to enjoy (but do not delay more than 1 year).