In the last 6+ decades, as soon as food production became heavily industrialized and we, the work freak busy people, became habituated to the full-service grocery store, the practice of home canning became a neglected art from a seasonal necessity.
Thanks a lot to the soft economy that raised a consciousness over industrial food safety and a desire among many of us to have more control over what is in our food has made home canning more popular once again. So for the help of can lovers we have bought this can-directory where you will get the necessary information about best Mason jars.
Canning not only helps you to enjoy preservative-free food but also cuts down your waste and saves your money. It is a safer and affordable kitchen kit to preserve food in Mason jars. Mason jars are made of glass, so they do not contain harmful BPA (bisphenol A) like plastic jars. Furthermore, your food looks very pretty inside Mason jars, adding an extra touch of beauty to your kitchen.
Basics of Mason Jars
The most important features of a Mason jar are its two-part top consisting of a lid with a rubber ring on the underside, which creates a vacuum seal to save your food from bacterial attack and an outer band with screw threads. You can reuse the jar and band, but the lids can be used only once.
The basic mechanism is to heat the jar containing the food at a certain temperature for a certain period so that microorganisms are destroyed. Air is ejected from the jar during this process, and a vacuum seal is given after cooling. Vacuum seal prevents the further entrance of air. A jar opener can be bought along with a bunch of these jars and this comes a lot handy.
Best Mason Jars Review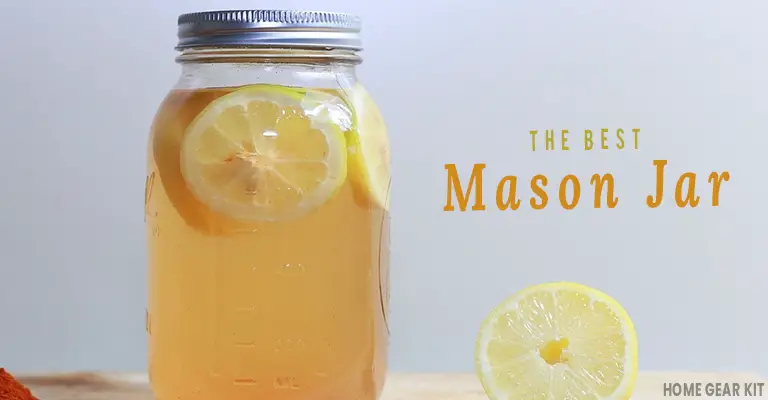 1. 12 Ball Mason Jar with Lid by Jarden
12 Ball Mason Jar with Lid – Regular Mouth – 16 oz is one of the best Mason jar sets manufactured by Jarden – an Australian brand famous for manufacturing canning products. There are 12 jars in this set, and each jar includes a tin-plated steel canning lid.
These preserving jars of Jarden are perfect for fresh preserving recipes such as syrups, salsas, sauces, fruits, and vegetables. These Ball Mason jars are great to help you with serving, creative décor, and gift-giving.
These ball mason jars by Jarden hold up well in the microwave, and you can clean them easily as they show no problems while cleaning with a dishwasher and no rust on tops.
The capacity of each jar is 16 oz. That means 1 Pint. So, 12 jars have a capacity of canning a total of 192 oz. of food. The pots have a lid and band that ensure a properly sealed jar that keeps your food fresh.
The best part is you can choose n between two colors, one is transparent, and the other one is purple. You will also be able to see inside through the purple shade. Some of the major drawbacks are they are hard to clean, especially with just a hand. If you don't wash them regularly, it will get rust.
2. Ball Pint Mason Jar
Another popular best Mason jar set is Ball Pint Mason Jar, Regular Mouth, 16 oz. This iconic set is made by a manufacturer of the USA. It comes with two sets of jars made of colorless glass material.
Each jar contains a band and a lid. The lid is not entirely made of metal; there is cardboard in the middle of the lid. Ball pint Mason jar is safe to preserve food such as salsas, syrups, sauces, fruits, and vegetables because it does not contain harmful BPA ((bisphenol A).
They are leak-proof as they come with good quality seals that do not allow oxygen to penetrate into your canned product. You can also use these jars for creative décor and gift-giving.
Some customers claim that sometimes these Ball Pint Mason jars get rust and smell bad even after washing properly. Because of the carelessness during packaging, sometimes you may get broken jars, and in such a situation, you can complain to the authority to provide you a new flawless set of products.
3. VERONES Quilted Crystal Jelly Jars with Lids and Bands
VERONES 4 OZ quilted crystal jelly jar set is high quality and very wonderful that you can use these for get together, wedding, or any other party besides regular home use. If I do not think about other characteristics still I would like to keep 1 set of VERONES quilted jelly jars only because of its amazing aesthetic beauty.
But, VERONES care for its customers more than you think. That is why they have ensured the safety of their products by producing them using food-grade materials. Their products are corrosion resistant and safe to microwave. So using VERONES 4 OZ quilted crystal jelly jars, you can enjoy safe canning without any tension of contamination.
Each package contains a total of 25 jars made of clear glass with bands and lids made of silver. VERONES also offers ten golden lids, ten silver lids, and 30 chalkboards for labeling. So you do not have to worry about recognizing sugar and salt or milk powder and flour or this type of food.
Each retro shaped jar has the capacity to contain 4-ounce food. Since each jar has a wide mouth, you can keep jam, jelly, sauce, flavored vinegar, honey, spices, etc. inside the jar and use them from the pot without any trouble.
4. Golden Spoon Mason Jars
Golden Spoon Mason Jars made of clear transparent glass have an eye-catching design. Each package comes with six sets of jars, each having a capacity of 10 oz. The jars are reusable and free from BPA. You can wash these jars using the normal dishwashers.
Golden Spoon Mason Jars come with two types of lids that are made of silver. The regular lid is perfect for preserving canned food, and lids with straw holes are perfect for drinking your favorite cocktails and smoothies. Drinking these nice jars in parties will give a classy style.
You can turn these jars into beautiful home décor by painting and crafting. You can add extra vibe to your parties by filling them with colorful rocks and turning into party-light. Golden Spoon Mason Jars can also be a good option of gift-giving to your near and dear ones.
Golden Spoon Mason Jars (10oz.) do not consume much space to be organized. You can organize them within a small space in your kitchen or storeroom.
5. Ball Wide Mouth Pint Glass Mason Jar with Lids and Bands
If you wish to can jam, jelly, sauce, salsa, syrups, fruits, and vegetables for more than one year then Ball Wide Mouth Pint Glass Mason Jar can be a good option for you as they ensure you to keep your food sealed for up to 18-Months in a good quality. They are safe to freeze up and free from BPA.
The package comes with 12 glass jars, 12 mouth lids, and 12 bands. If you do not know how to use Mason jars properly, you can easily learn it from the package as there are step by step instructions written on the body of the package.
Because of having a wide mouth, these jars are comfortable to wash; putting food in and taking food out from them is also trouble-free. Turning them into a creative décor, you can increase the beauty of your own home or can present to your friends and family.
The USA is the manufacturing country of these jars, and the company is very careful about shipping. The products are sent triple-wrapped in thick bubble wrap and surrounded by the air packs too. So there is a very low possibility of breaking.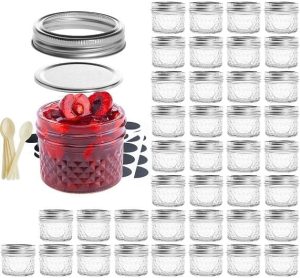 This is one of the best mason jar collections by SXUDA. Available as a pack of 40 jars with a 4-ounce capacity, the small jars are ideal for food storage and DIY gift ideas. They come with silver screw lids, and the package also includes free 10 rewritable chalkboard stickers, a writing pen, and 40 plastic spoons – the perfect set for labeled and organized food storage! You can store desserts, jams, marmalade, spices, herbs, honey, cookies, candies, and other snacks. The small size makes these mason jars the best choice for party or wedding favors, and you can also get creative with homemade candles and stationery organization. The jars are BPA-free and dishwasher-safe.
As noted by most customers, the mason jars are not suitable for food preservation and canning due to the non-sealing lids. However, you can safely store dry ingredients and snacks like cookies and nuts.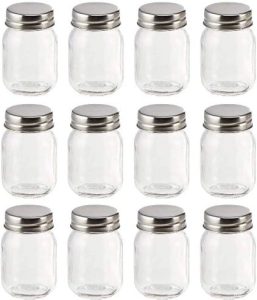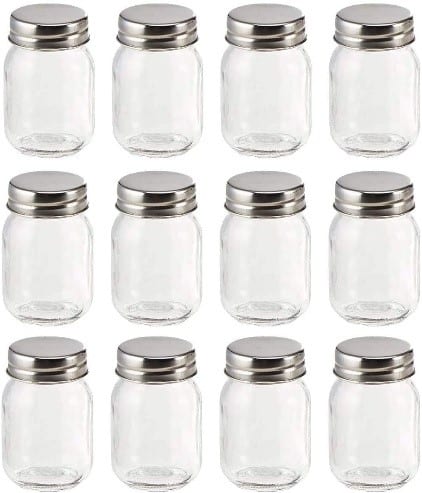 Kate Aspen's pack of 12 mason jars is a great option for food and stationery organization – mostly because of its clear glass design. The jars are made of high-quality glass with screw lids. They have a wide, easy-access rim and are BPA-free, food-safe, and also dishwasher-safe. You can store around 3 ounces of liquids and handfuls of treats like Hershey's Kisses and M&M's. Any dry ingredients and snacks will look great stored in clear glass jars, especially on open shelving. You can also organize beads, rocks, pins, thumbtacks, paper clips, and similar small objects for easy access and visibility. The jars are the perfect size for party favors, candle-making hobbies, and crafty decorations.
These jars are not ideal for canning and food preservation as their lids do not seal for airtight storage. So, you can use them for DIY projects instead and get creative with different possibilities.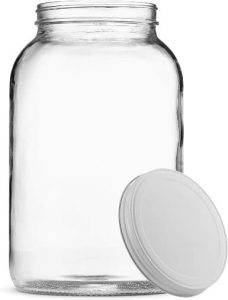 This is one of the best mason jars from Paksh Novelty. The single-piece pickling and brewing jar is made of clear, soda-lime glass that works well for storing pickles, kimchi, and other recipes that require tracking progress. It is food-safe and BPA-free and has a capacity of 1 gallon. The large size is ideal for various make-and-store foods and beverages such as immunity drinks or brewed sun tea. You can easily store spaghetti, pasta, cookies, beans, oats, and other snacks – a collection of such jars will look great on your pantry shelves. This mason jar has a 4-inch wide mouth, so you can store large fruits and vegetables as well for pickling and making jams. Its airtight white metal screw-on lid comes with a plastisol liner for a secure seal that keeps out moisture and prevents leakage, allowing your stored/canned foods to last longer.
Although the jar can be used for canning purposes, its plastic-coated lid might be prone to some damage. The coating tends to flake off over time, so you might want to use compatible metal lids as replacements. Some users also complained about the jar shattering in the fridge, so make sure you confirm its usability for refrigeration before buying – not all mason jars can be refrigerated, only shatter-resistant or fridge-safe glasses are good to go.
Paksh Novelty's pack of 10 is another good choice. Each mason jar in this collection has a 16-ounce capacity and is safe to be used in freezers, microwaves (minus the lids), and dishwashers. The jars' soda-lime glass is lead-free and food-safe, with metal rims and plastisol-lined canning caps making it easy to increase your food's shelf life. The regular mouth is wide enough for easy access, cleaning, and refill. There are capacity markings on each jar, which come in handy for storing liquid combinations in measured amounts. You can use these jars for storing, fermenting, and canning applications. They are perfect for dry kitchen staples too like beans, coffee, rice, sugar, etc. You can also indulge in some festive decorations using fairy lights inside the jars – or simply use them for stationery organization.
Some users commented that the sealing is actually not airtight and limits the way these jars can be used for canning. They can instead be used for dry ingredients and DIY hacks only.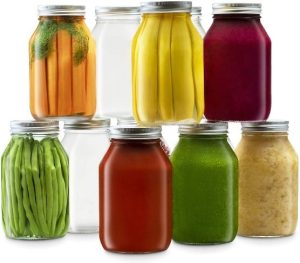 This is another option from Paksh Novelty. The 12-pack set has 32-ounce mason jars with clear soda-lime glasses that allow easy tracking and visibility. The glasses are all food-safe and lead-free. Their regular mouth measuring 2¾ inches in diameter is wide enough for large fruits/vegetables, quick access, easy refills, and thorough cleaning. Each metal lid has a plastisol lining for airtight efficiency. These large jars are popular for storing an assortment of homemade pickles, jams, jellies, sauces, broths, etc. You can use them as dessert jars for parfaits or keep them for meal prepping applications. Dry foods such as pasta, cookies, candies, oats, flour, crackers, etc. also look great when stored in clear glass jars on your pantry shelves. Apart from kitchen uses, these mason jars are ideal containers for party favors and general organization around the home. We do like their anti-slip bottom that helps you use them safely on countertops and place them on shelves without worrying about accidentally tipping them over.
Once again, the canning lids do not deliver their intended purpose – which we found to be a common problem among mason jars. The lids are single-piece screw lids that are not enough for canning applications. You do require two-piece sealing lids to be able to preserve foods for a long time.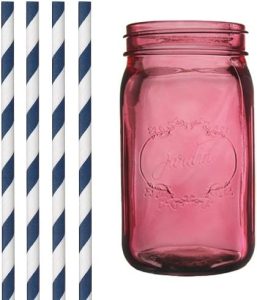 If you are not into food preservation but do enjoy the creative glass aesthetics of mason jars, then Dress My Cupcake has something you would like. This 32-ounce mason jar is not food-safe and is only intended for decoration, DIY hacks, and organizational use. A collection of such lid-free jars with different colors can be used as centerpieces on wedding/dinner tables, picnic benches, and other festivities. You can pair the jar with the brand's accessories or pick your own tools to make each decoration piece stand out. It will also work effectively as a DIY lantern and wind chime for your front porch or back garden.
Since the jar is not food-safe, we found it a little confusing that it comes with 4 straws – although you can always use them with something else. The glass is not actually tinted like shown in the images and appears to be painted over, which is a huge letdown in terms of aesthetics. Make sure to confirm the color and finishing before you buy it.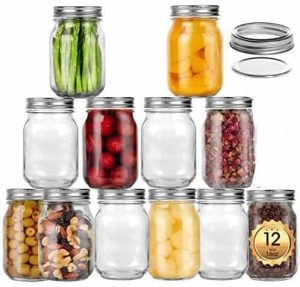 SIMPLI-MAGIC has some of the best mason jars in a pack of 12 that checks all the major boxes for food safety, leak prevention, canning efficiency, and refrigerator-friendliness. Each jar has a 16-ounce capacity and comes with a silver lid that ensures a tight seal. You can store jams, jellies, honey, maple syrup, baby food, spices, herbs, and dry ingredients. You can also get creative with homemade cosmetics, candles, and lotions – which inspire a whole range of DIY gifts you can give to families, friends, and neighbors. The jars can be painted over and combined with fairy lights for a decorative and welcoming porch design.
Apart from some supplier issues like an incomplete set or broken pieces, the collection received positive feedback overall and is a clear winner among users.
3 Things You Must Know Before Buying Mason Jars
1. Types of Mason Jars
Mason jars or ball jars are available in varieties of sizes and shapes. For instance, verones vs ball mason jars. So before buying the best canning jars, you must have some basic idea about its types so that you can choose the right one for you and make the most efficient use of your wallet.
These glass jars are basically categorized in 2 ways:
Category based on capacity – measured in half a pint, pint (1-pint equivalent to 16 ounces or 2 cups), quart, ounce, half a gallon, and gallon.
Category based on mouth diameter – wide or regular. In the United States, standard-size Mason jars come in two sizes: regular mouth, 19⁄8 in (60 mm) inner and 11⁄4 in (70 mm) outer diameter, and wide mouth, 3 in (76 mm) inner and 27⁄8 in (86 mm) outer diameter.
Each category comes in a variety of shapes and colors. Many of the best mason jar brands put names and images on their body while others feature plain smooth sides.
Some Common Category of Mason Jars
For preserving sliced fruits and vegetables, juices, and pickles, you can use regular-mouth quart jars, and for canning chilies, pickles, and smaller size foods you can use regular-mouth pint jars. They have an opening of 2-⅜ inches, which is considered as the standard size.
For the convenience of filling your jars with produce and taking them away from the jars, you can choose wide-mouth quart jars. This type of jars has an opening of 3 inches. The 12-ounce quilted jelly jar and wide-mouth ½ pint jars can be a good option of the wide-mouth jar.
For canning juices and large volume foods, wide-mouth ½ gallon jars are a great option. These types of jars tend to have poor heat penetration, so heating the jar to the center sometimes can cause a problem.
If you are looking for small Mason jars as a gift, then you can choose½ pint jelly jar. People generally use ½ pint jelly jars for canning butter, jams and jelly. You can also choose a 4-ounce quilted jelly jar for gift giving or canning a small amount of food.
2. Types of Lids of Mason Jars
Lids of Mason jars are available with both plain and decorative motifs. According to the USDA's National Center for Food Preservation's recommendations two-piece, threaded, self-sealing lids are the tops to use for both regular and wide-mouthed Mason-style jars.
Although rings are reusable, you can use traditional metal lids for only once. However, there is another wonderful alternative that is Tattler reusable canning lids. Tattler reusable canning lids were first developed in the 1970s. These are simple to use and have some significant advantages over the metal type lid.
Tattler lids are made of hard plastic and use a rubber gasket for sealing purposes. The rubber gaskets wear out with time, however, you can normally get 20 to 30 uses out of each and sometimes more.
Moreover, Tattlers are reusable lids that do not contain BPA and like the metal lid, they do not get rusted in the damp basement or humid garages.
3. Estimating the Number of Mason Jars You Need
Take a writing pad and pen in your hand and make a list of all the items that you wish to can. Also, make an estimation of the size each item will be processed.
Some items we consume in winter, some in summer, some throughout the whole year, and some we consume occasionally. So depending on the rate of consumption, make an estimation of how many of each type you need to can.
To avoid a shortage, you can overestimate by a small percentage. Can lovers who would like to eat locally all year round will find that keeping enough canning jars, and planning ahead is helpful to save both time and money.
Use of Mason Jars
Except for traditional uses, Mason jars have many more useful and exceptional uses. From kitchen to shower, garden to party – where cannot you use it!!!
Kitchen uses are prevalent, and I have already discussed kitchen uses, so now I am going to tell you about other uses.
If you have a Mason jar in your house, you do not have to do extra spend to buy a soap dispenser. You can turn them into soap dispensers using a soap dispenser pump. You can also store other bath and body products in Mason jars.
You can give your personal garden a unique look by planting your favorite herbs in crystal-clear Mason jars. You can hang these Mason jars on your wall and give a great look to your house. They can be a good option to store seeds also.
You can store your sewing kits in Mason jars. Making a small hole in the lid, you can easily take twines out. The colorful twines inside crystal clear mason jars add an extra beauty to your house.
If you want to add an extra flavor to your outing, you can turn your old Mason jars in Tiki torch. You can also use them as light-source at your home by making a cute chandelier.
There is just no end to the way mason jars diversify your homemade assortments and allow your DIY projects to stand out. DIY enthusiasts have walked out with at least one mason-jar-inspired quarantine and lockdown hobby simply because of how beautiful everything looks inside the jar. For example, mason jar snow globes! Everyone loves the enchanting, glittery world trapped inside a snow globe. Take a few mason jars, glitter, and your favorite baubles, and you have your very own DIY snow globe at home. This also makes a fun activity for kids to indulge in during lockdowns. With Pinterest boards and inspirations, you will never run out of ideas! Make sure to visit some mason jar ideas on Pinterest to discover DIY potential and test out new projects.
It is the best place to brainstorm décor methods – you can turn a plain mason jar into a variety of charming centerpieces for party tables and garden lights.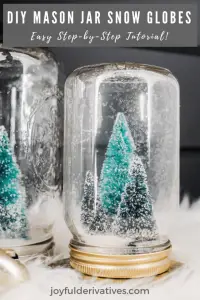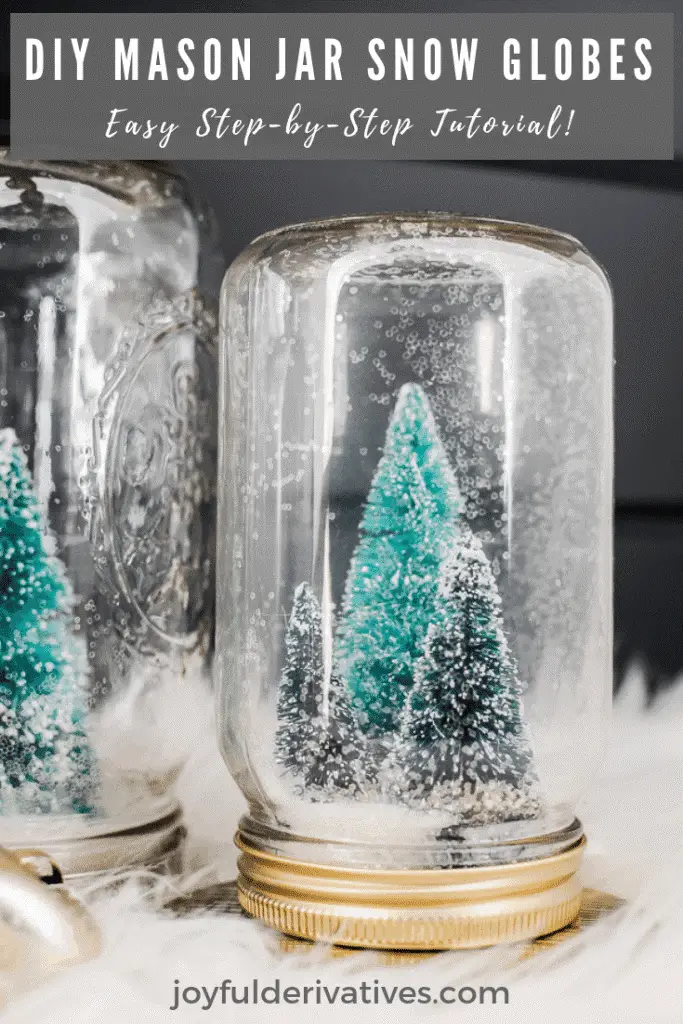 Image credit: Joyful Derivatives
Now, we did not mention quarantines or lockdowns to spoil the otherwise colorful mood of this article. It is just to express how people have found ways to be creative, busy, and productive with the simple power of a mason jar when everything else came to a halt. They got into food preservation, started an herb garden, discovered new hobbies like vegan candle making, experimented with new scents/flavors, and so on. It is refreshing to browse Pinterest and Etsy collections and see the different ways people are encouraged to think outside the box using a set of mason jars. Apart from these sources of inspiration, you can always come up with unique and personal ideas for the project at hand. The only caution you need to take is to check the jars' compatibility with heat or coolness depending on what you are creating – you do not want a shattered mess to clean up later!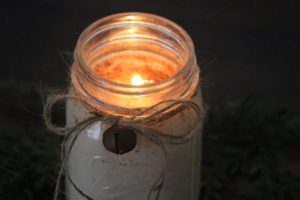 Image credit: She's Crafty and She Knows It
Mason jars can be put to a variety of other creative and artistic uses, which brings us to our next example: beach memory jars. It is a great hobby for those who love traveling, vlogging, and simply love documenting experiences. Beach memory jars will make a remarkable addition to your photo album and journal shelves. There is nothing like collecting sand and seashells/rocks from your favorite beaches as a tribute to special memories. You can label the jars with the place name, beach name, and dates for a more documented organization. You can also layer different colored sands in the same large mason jar, with names written like measurement markings. Some people choose to place a standing photo inside – the possibilities on this glass canvas are simply endless!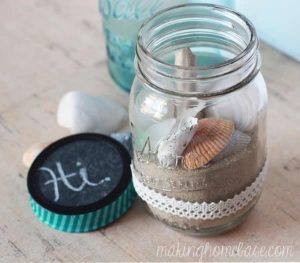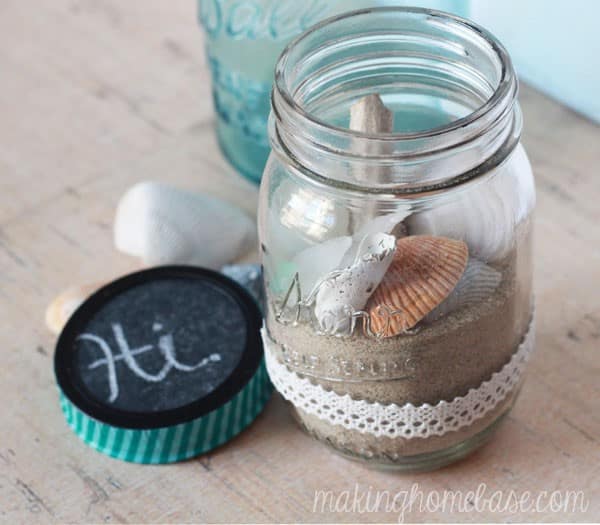 Image credit: Making Home Base at Mom 4 Real
Mason jars are the best containers for handmade gifts, so if you like giving out your DIY creations, consider using a mason jar with tie ribbons.
Their clear glass adds a unique edge to the gift and is much more creative and authentic than wrapped boxes. You can create wind chimes, handwritten notes, homemade treats, etc. without worrying about fancy decorations like you would with a package. Even the snow globes, candles, and beach memory jars discussed so far will make excellent gift ideas with a more personal and thoughtful feel about them.
Other miscellaneous ways to use mason jars include neat organization in kitchens, bathrooms, and workshops. You can organize spices in small jars lined up on a magnetic strip for simple access and retrieval. Artists, writers, and dressmakers can keep small items separate and organized in different mason jars. This includes beads, pins, paper clips, ribbons, laces, buttons, paint tubes, and paintbrushes. Mason jars look perfect on open-shelving interiors as they keep the contents visible and add an element of colorful decoration, which is amazing for pantry storage and studio organization. Some people prefer painting different-sized jars and using them to store toothbrushes, utensils, pens/pencils, etc.
Mason Vs. Plastic Container – Which One is Best?
No doubt that plastic is lightweight; do not break if dropped and easily portable, but when foods are packaged in the plastic container, it adds some risks.
Plastic can release monomers or other harmful chemicals by breaking down gradually. Sometimes plastic contains much smaller molecules. These molecules are free to move and contaminate your food when coming in contact with—moreover, plastic releases harmful bisphenol-A (BPA) and phthalates when heated.
Because of the health risk issues involved with the plastic container world is tending to find alternative material as food containers that are too inert to cause pollution, and glass is a better example of such a container.
Glass does not degrade as fast as plastic to cause chemical pollution. It has a porous free surface that creates a strong barrier to the penetration of germ.
You can warm your food in a glass container without any risk as it takes a very high temperature to cause chemical degradation of glass, but if glass experiences thermal shock it can be shattered. Glass can break-down if drop-off and taking glasses from one place to another is not as easy as plastic.
But, taking into consideration food pollution and health issues, glass is better than plastic as a food container.
9 Canning Utensil Kits You Must Need
Out of all the tools you may need to prepare your food to store in the Mason jars, we wanna extract only nine to name.
Wide-mouth Jar Funnel and Ladle
Wide-mouth jar funnel helps you in pouring and packing of liquid such as – sauces, jams or jellies, and small food items into the mason jars easily and comfortably. You can also use a ladle to fill the jars.
Magnetic Lid-Wand
It is risky to remove lids and rings from boiling water. Your hand may get burned by coming in touch with hot water. Magnetic lid wand helps you to remove lids and rings from boiling water easily and safely.
Large Pot
To sterilize jars before and after filling with food (such as jams, fruits, tomatoes, and pickled vegetables) to preserve, you can use a large pot. It will make your work more easy and comfortable.
Tongs or Jar Lifters and Knives
Rubberized lifters make removing cans from their water bath less slippery; in that case, a good pair of tongs can be a good option. You need knives and chopping boards to cut the food in the required size for preservation.
Narrow and Flat Spatula
Before sealing, you must remove all the air bubbles from the Mason jar; otherwise, your food will get rotten within a few days. Stirring the food, especially the liquid ones with a spatula, is very useful to remove air bubbles completely.
Timer or Clock
It is very important to sterilize the jars before and after filling with food properly; otherwise, the quality of your food will deteriorate with time. So you must not compromise with sterilization time and temperature. You can use a timer or a clock to maintain time properly.
Clean Clothes
During pouring or placing food in the Mason jars, some of the food can stick-up the outer body of jars. Using a clean cloth, you can wipe down jars, lids, and rims of jars.
Besides the above mentioned essential utensils, there are many more canning kits available in the market, such as- apple slicers, cutting spoons for coring and pit removal, corn cutters, and fruit skinners, etc. to make your canning easier and more comfortable.
FAQs
Q. Will Mason jars break in the oven?
Answer: Most of the manufacturers do not use tempered glass to manufacture their Mason jars. So there is a huge possibility of breaking down if you heat them at a high temperature. Though you can sterilize them in the hot water you have to make sure that the glass is not experiencing thermal shock, otherwise, it will burst.
Q. Can Mason jar hold hot or boiling water?
Answer:  If you pour boiled water immediately after removing a jar from the refrigerator, there is pretty much a possibility of shattering. But if you warm up the jars before pouring boiled water then the possibility of shattering becomes less.
Q. Will Mason jars explode in the freezer?
Answer:  When you freeze up your Mason jars, the food items inside it expand. So you should keep some free space at the top and for freezing up it is better to use wide-mouth Mason jars.
Q. What is a quart Mason jar?
Answer: The word "Quart" indicates the capacity of Mason jars. Mason jars with a capacity of 1 quart (1 quart equals 2 pints or 4 cups or 32 fluid ounces equals 2 pints or 4 cups or 32 fluid ounces) are called quart Mason jars.
Conclusion
Mason jars can make a wonderful pastime for you and your family. Mason jars have so many uses and types that you will fall in love with them once you start using them. For preserving fresh recipes, 12 Ball Mason Jar with Lid by Jarden is the option for me.
If you do some research about the best Mason jars you will find the perfect one to meet your needs at an affordable price.