You have gone to some formal place or your girl's home and unluckily you have to go to loo very badly. And, the matter that you fear most is going to happen as you stink there. Your impression is going to be worse for good. What would you do? All of these fears can remain as your imagination if you have one bottle of poo-pourri. We are going to talk about the product and make you known about the features, benefits, defects; give you a perfect poo-pourri review.
Poo-Pourri Review
The poo-pourri works like a savior for those who stink terribly in the toilet. It is made up of natural oils and compound chemicals. The working principle is quite simple. You have to spray this awesome toilet bowl freshener spray on the surface of the water. Then, you go for your work. The poo-pourri will make a layer of a protective barrier on the water surface and won't allow the stink and bad odor to come outside.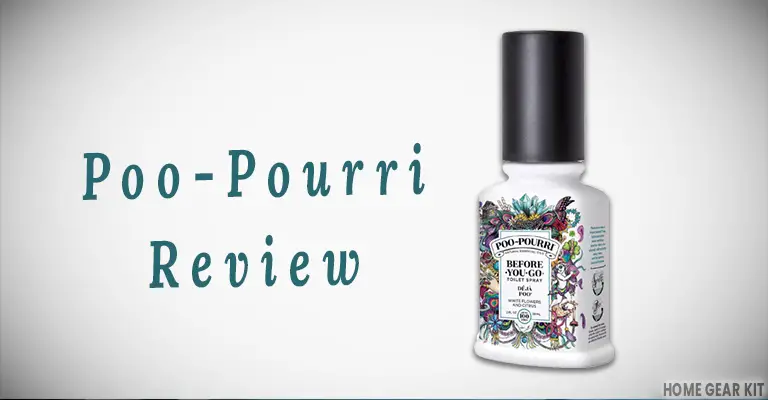 There are a number of flavors and sizes you can buy. It is effective in most of the circumstances.
You can use anybody's toilet without embarrassment and with confidence. No one will ever know your evil deeds. All they will get is the refreshing scent of poo-pourri. The poo-pourri has no harmful ingredients like aerosol so that you can breathe easy.
Scent flavor and size
The poo-pourri come up with multiple flavors like fresh and clean, floral, fruity, masculine, earthy, holiday. You can choose what scent suits your odor. Some are very strong and some are not so, but all are effective. Choose according to your likings.
Although there are many sizes, most interestingly you can carry even the larger one in your bag or a smaller one in your pocket. It's like a safety measure to take with you in your office, friend's house, in-laws house and so on.
Odor blockage
After spraying 3-5 sprays on the water surface of the toilet bowl, you will get a strong scent. When you will start you toilet works, the scent of poo-pourri won't vanish rather you won't get your personal odor. The protective barrier of chemicals will block the unpleasant odor beneath the layer. After finishing your work, you will experience a scent friendly environment in the toilet.
It is far better than a conventional crap duster.
Durability and price
If you buy an 8-ounce poo-pourri bottle and use it at the rate of 3-5 sprays each, you can use it 400 times. So, we would say it has enough durability.
The price depends upon the weight of the poo-pourri bottle. Frankly speaking, you would pay very less compared to the amount of embarrassment the poo-pourri will save you from. With that perception, it's actually cheap because of the quality of the product.
No HarmFul chemicals
The Poo-pourri doesn't contain any harsh chemicals or parabens or phthalates or aerosol. It only contains all stink-fighting good chemicals.
What We Don't Like
What we don't like is the design and engineering structure of the bottle.  The angle of the spray and the size of the bottle is such that you can't really spray this on the toilet water without lifting the seat for a not obstructed and more upright spray. The problem is that you have to keep the bottle upright to spray.
Remember another thing that the poo-pourri doesn't work like air freshener. It will only block your bad odor and make the toilet friendly enough to reuse immediately.
Do You Really Need Poo-Pourri?
You might think that you like your odor and you don't have any problem with it. Then, why you should you buy it. Firstly, don't be so selfish, mate. You may like your personal odor, but your friends, family, colleagues don't want to experience that horror. Think before you stink. You shouldn't punish other for your own wrong choices.
What You Shouldn't Do
Don't use poo-pourri after finishing your toilet work. Always use it before you go. If you use it afterward, it would be less effective than before. The working principle of the product is so that it will be most effective to use before you go.
Conclusion
The poo-pourri gives you the confidence to use others' toilet. You should definitely have one of it always with you. We have tried to guide you by giving the poo-pourri reviews in an easy way.
You may have trust issues, then, start buying from a smaller one which is very cheap. Use it and I am sure that you are going to love it. It will become your one true companion and friend. As the philosophy says, "A friend in need is a friend indeed".
You may also like to read –
and the effectiveness of a shower chair
References: https://www.poopourri.com/