Outdoor mats are a key element when it comes to staging multi-million dollar mansions. You can't move it out of the picture and not having one will be disastrous than choosing a ridiculous one. Outdoor mats are an absolute necessity for wet weather, otherwise you'll be leaving behind footprints like a dog.
There's a quota of expectations that must be fully filled when choosing the best outdoor doormat. For starters, it has to be slip-resistant, the mat can't be sliding around like a robotic vacuum. 
Outdoor doormats are very different from indoor door mats. They don't have to trap in the amount of dirt that the one outside has to. Neither do those have to swallow chunks of muds on a daily basis.
Best Outdoor Doormat Reviews
Here are the top best outdoor doormats we picked and reviewed.
1. Best Outdoor Mats for Dirt
This mat is versatile and comes in different shades and sizes. You will have a lot of options to choose from. Some of them are brown, grey, red, welcome, and a lot more. Its diversity makes it ideal to be used in any environment and any home.
The dimension of the mat is around  24" by 36" which is a bit smaller than usual. The thickness of it is 1.8". It is extremely durable and perfect for any weather outside your door. The durability makes it ideal to be used outside your front door, garage, porch door, garden, exterior patio entryway and anywhere outside.
It is featured with an already built-in non-skid rug runner pad and natural rubber at the back to provide maximum grip. It is recommended to not to be used under a roof or patio deck which is covered.  The low profile design of the mat doesn't mess with the door.
The durable polyester of the fibers is very effective in scuffing of the dirt, mud, grass, snow and readily absorbs any moisture. You can clean with a mat with a garden hose or by brushing it. It can also be vacuumed and cleaned. If you decide to wash it with water; hang it to dry afterward.
A 30-day guarantee is also offered, which is a refund or a replacement opportunity if you are not satisfied. The antibacterial system of the mat doesn't let it rot or fade. The patterns of the mat are innovative and have no noticeable defects.
It does smell bad for the first few weeks but the smell goes away afterward. The variations of the mat stand out perfect for different style homes. The non-slip technology is excellent and prevents unwanted falls. Overall, it does fulfill promises as advertised.
2. Best Front Door Mat – DII Outdoor Doormat for Patio
This mat comes in different patterns and mostly saturated in vibrant colors. These colorful mats will excite anyone at your front door. Each of the mats has its own positivity. All of them are made to suit different personalities and categories of home. It is made of 100% coconut coir fibers.
The measurements of the mat are 30"X18", which is perfect for most of the homes. The thickness is only 1.2" and lets the door easily pass. Along with your front door, it can also be used in the garage, entryway, patio, etc.
The mat is perfect to dust your foot before entering the room. It is very strong and durable. It is able to combat any weather and wears or tears of excessive usage. It is just perfect for any season to be outside of your doors.
Some users of this mat did comment that this mat is more of a table placement than a sturdy doormat. And also the packaging system creates permanent creases to it. It is mostly a fun-to-have mat that an actual doormat. Doesn't perform well as advertised.
3. Kempf Half Moon Shaped Rubber Scroll Doormat
This mat has a perfect blend of elegance, modern and classiness to it. Its perfect size is measured by 18"X30" which is almost ideal for any front door. The design of the mat can impress anyone at your door.  The black design of the mat very much resembles wrought-iron scrollwork.
It is a perfect piece of the mat for those who want to decorate their outside as well as inside of the house. The open patterns of the mat trap any dirt and debris very well. It is made of tough rubber and very durable. So it can be considered as one of the best door mats to keep dirt out.
The durability lets it fit in all seasons. Their rubber consistency also prevents it from slipping away. It can be washed by spraying water with a garden hose and it will look as new. The thickness of it is only 0.5"; no chance it will bother your door.
Although it measures just perfect to be placed outside any home, the half-circle shape makes it look smaller than ordinary. As it is non-absorbent it might not be good for winter or rainy season but perfect for summer and dry regions. Looks really pretty.
4. MPLUS Pure Coco Coir Doormat
These coconut coir mats are available in different colors and patterns including the natural color of the coir. There is no mixture, only 100% coconut coir used to make it.  It measures 18"X30". The fibers are very strong due to its natural properties.
Light shedding is common with it when you unpack it for the first time. Although it is natural but very long lasting. It has no common defects with which you can see through the bottom. It is naturally resistant to bacteria and fungi. It requires very low-maintenance and is water resistant.
So it does dry quickly after getting wet. Along with that, there is no risk of growing mildew or molds. You can quickly clean by vacuuming it. It's an all-rounder when it comes to indoor and outdoor and can score a home run everywhere. It can withstand any season very nicely.
It absorbs water very quickly.  But it does leak water due to the coir. No shedding was noticed while vacuuming or cleaning. It holds a lot of water after rain. The quality of the mat is very good and best for outdoor placement purposes.
5. Front Door Mat Large OutdoorEntrance Doormat
It is made of high-quality polypro pine. It is water resistant and can withstand high temperature.  Ideal to be used the whole year without worrying about the weather outside. Also, the material resists bacterial pilling up on the surface. The charcoal color of the mat has its own boldness.
Its measurements are 18"x30" and low profile which doesn't let it be trapped by the door. It is durable and tough; ideal to place it in front of the door. It is very easy to clean just spraying it with water will make it clean like new.
It can trap dirt very well but not water. As it doesn't absorb water it won't require much maintenance during rainy days. The polypropylene fibers feel very soft to the feet. It won't smell bad after you take it out of the packaging.
The non-slip technology of the mat keeps a nice grip to the floor. Looks really attractive and blends with any house perfectly. Having durability that lasts for about a decade, certainly has quite the immortality.  A customer had commented that it smells bad but most of them found it to be very good.
6. Best Outdoor Doormat for Rain 2-Pack
No products found.
As the name has said already the package comes with two identical ashy mats with a black border. It has a very classy and bold look. Ideal to be used indoors or outdoors. The ribbed polyester fibers absorb water quickly and help in keeping the floor clean. It is the perfect choice for the rainy and winter season.
The top-class doormat for rainy weather measures 17.5" X29.5". You can clean it with a hose, sweep or simply shake. The fabric is heavy-duty and expected to last very long. It won't break or tear up easily. Its authorized sellers provide a refund if you are not satisfied with the mat.
It is made of recycled plastics and rubber and therefore, environment-friendly. It is a thing and will not bother your door much. Some places mostly welcome this mat are bathroom entry, door entry, kitchen, garage entry, etc. due to woven patterns, it easily absorbs mud, dirt, snow, etc quickly.
It has a heavy-duty non-slip rubber at the bottom which is water-resistant and keeps unwanted falls at bay. Arguably it is the best doormat for rainy weather.
7. Natural Coir Half Round Doormat
This mat is very appealing. Would suit any front door quite nicely. It is made of 100% natural coir fibers which at the same time are durable too. It measures 18"x30"; the most precise size. The coir fibers are surrounded by rubber edges that prevent mildews and mildews.
It also helps to keep fibers at its place. It easily scruffs off dirt, mud, grass, snow, and dust. It is also very easy to clean; you can vacuum it, sweep it, shake it or spay water with a garden hose. It is heavy-duty and perfect for outdoor usages.
It perfectly combats any season and stays fit all year long. Hence, it is ideal for garage, laundry, garden, porchway, etc. the rubber patterns on the edges make it non-slippery and prevent any unwanted falls. It offers you a mat with different patterns as well. You can pick the one which most suits your home.
Although the coir is durable the rubber edges may soon fall apart. So if you are looking for a mat that lasts long, this is not for you. The thickness of the mat is just satisfying and traps dirt and mud efficiently. The "paw" design on the top will fade away soon according to the customer responses.
It sheds a lot of fibers, which is not very convincing for a mat. It is lightweight compared to other mats. Overall, according to the reviews, it is a good mat for short time use only.
8. Best Welcome Mat – Apache Mills Door Mat
This door mate is made of recycled rubber that means it is not only a durable one but also good for the environment. Old scrap tires are recycled and they are converted to this beautiful mate. But never be tense, it looks really well and beautiful. 
The fibers are flocked together and trap dirt and mud very well. The front part is very beautiful and very classy. The in-between deep channels in the fiber trap the dirt. It is stain-resistant. The fibers are mostly rubberish and don't soak water most.
The door mate is stain resistant and that removes all the possibility of it being damaged. So there is no hesitation to use the mate for outdoor use. It is made in the USA and ensures the best possible quality. The size of the door mate is perfect and it will cover the area. 
Although the mat is vibrant in color it may get faded very soon. It will easily be burnt by sunlight; definitely, it is not suitable for all weather. It is also very difficult to clean. Things like feathers can easily get stuck to it and hard to remove. It requires high maintenance to keep it fit.
9. GrassWorx Clean Machine Omega Doormat
No products found.
It is a very elegant-looking black color mat. The color and the mat itself can blend pretty well with any home environment. This particular mat is able to grab, hold and hide almost one pound of dirt.  The Astroturf blades are very effective and don't let dirt enter your home.
The materiality of this mat is ideal to be placed in a garage, laundry, door, decks, etc. it is durable and doesn't get mildews or molds. It effectively absorbs snow, dirt, mud; scuffs off grass, leaves, and other things.
It is also very easy to clean; you would just shake it off and spray water with the water hose. It has rubber edges which make it non-slippery and safe to use. It measures about 24" by 36". It is satisfyingly larger than ordinary mats.
It isn't as durable as advertised according to a customer. The rubber edges may fall apart very soon after it is placed. But most customers found it very good and durable. It looks very pretty.
10. Best Doormat for Snow – Stripe Doormat
No products found.
This strip style mat is available in four colors. Which are black olive, charcoal, root beer, and desert taupe? Again it can grab, hold and hide one pound of dirt per week. It is made of Austro Turf blades that keep dirt at bay from your home.
It is durable and again mildew and mold resistant. It effectively removes grass, leaves, sands, and absorbs snow, moisture, rainwater, etc. it is also very easy to clean. Just shake it off or hose water. It is larger than ordinary and measures 24"x30".  It is ideal for the garage, laundry, doors, porch, entryway, etc.
This product is particularly very much helpful especially for large doors. The size is good and covers both the large and medium-sized doors. It is better than any other door mate you can get. 
It was reviewed as a very thin and non-durable mat. But to some customers, it was fairly good to use. The product is comparatively heavy, which is really a big problem to carry and clean. On the other hand, it fades in case of direct sunlight on the door mate.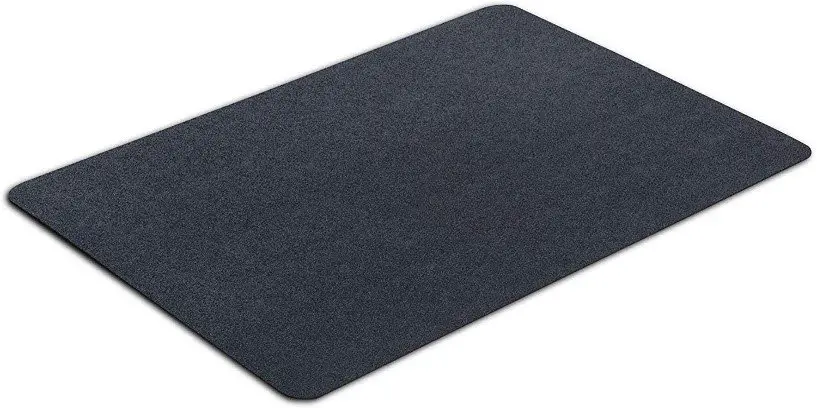 The is one of the best outdoor doormats by VersaTex. It measures 24 x 36 inches and has a commercial-grade design that works for both indoor and outdoor uses. The waterproof surface texture easily traps dirt, mud, water, grease, and debris so that none of these get a chance to sneak into your home. Maximum traction is achieved by the doormat's non-absorbent and recycled rubber material which creates an overall safe walking surface – not to mention the highly sustainable value it adds. You can keep this doormat on your patio to mark the entryway or place it under the grill to catch food drips/spills and avoid any of that mess inside your home. The mat also makes a convenient boot tray on your porch. It is resistant to microbial growth, stains, chemical damages, fading, and the usual wear and tear, so you can rely on its durability. You can simply clean the mat with a cloth or spray it down with a hose.
The major criticism that this outdoor doormat received was the use of lead in its construction – as it poses a health risk. It does not have grips or anti-slip backing to keep it stable on the floor. This causes the mat to slip a lot due to the lack of friction, which is very dangerous to use.
You might want to layer it on top of a larger and more stable rug to avoid this problem. The mat's thin profile makes it curl up at the edges right out of the box, so it can be difficult to keep it flat on the ground.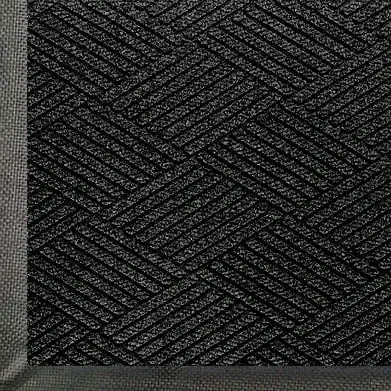 First things first, WaterHog's polyester outdoor doormat is Prop 65-compliant. It measures 3′ x 2′ and has a bi-level surface for retaining maximum dirt. Its textured design helps you scrub your shoes clean and leave shoeprints with moisture, mud, debris, and sand away from your home. The surface traps all dirt and moisture easily and stays flat without curled-up corners. It also features a water dam border around the main surface to contain any water buildups, which is a very impressive doormat detail. If you are all about eco-friendliness, then this is the best outdoor doormat for you! Its stain-proof PET fabric has been constructed from 100% post-consumer, recycled plastic that comes from discarded bottles – so this is a genius way for keeping the plastic traffic out of our landfills and oceans. Furthermore, the doormat includes an SBR rubber backing made of 20% rubber that is reclaimed and recycled from old tires. The overall construction is reinforced for added durability and also has the National Floor Safety Institute (NFSI) high-traction approval.
One major design flaw is that the surface grooves are quite deep and will trap anything small that falls into them. This also makes it difficult to clean the doormat as the trapped debris, beads, etc. remain stuck and cannot be vacuumed out either – you might need to extract them by hand or use a brush. Shallower grooves will be quite optimum in comparison.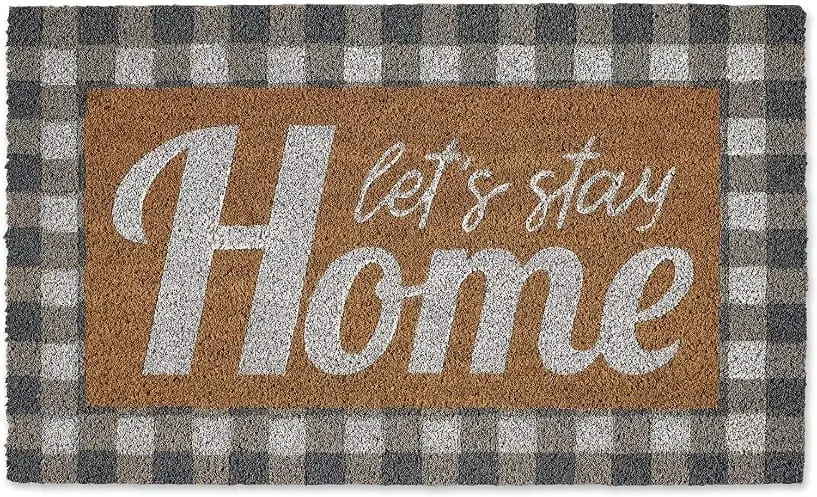 DII offers natural coir outdoor doormats with a range of creative greetings on them. They are available in different colors and even include seasonal themes. This Let's Stay Home version is one example – and it makes the perfect gift for your work-from-home friends and family members! The 100% coconut coir fiber is quite abrasive and easily removes dirt and debris from shoe soles. The doormat measures 18 x 30″ and has a low profile for ideal door clearance and trip-free passage. It includes a nonslip PVC backing for extra stability and friction. You can always layer up your doorway mats by placing a larger rug underneath this coir mat – which is a clever porch-design detail that simply looks great and welcoming. Natural coir is a very friendly material to work with and maintain. You just need to shake the doormat and dust off the dirt in no time.
The only precaution here is to make sure that your doormat does not get exposed to water from rain, shower hose, leaks, etc., as natural coir becomes permanently stained due to wet surfaces.
This is one of the best outdoor doormats by Fab Habitat and is available in a range of color combinations – this one is called Lhasa Kilim. It is a very eco-friendly product made of natural, woven coir and features water-based pigment paints. The coir fiber makes this extra-thick doormat fully biodegradable and compostable and checks all the boxes for going green! Fab Habitat specializes in handwoven and handmade doormats, so each design on the catalog has a very artisanal feel about it. You can clean the doormat easily by either shaking it or using a brush to remove dirt and debris. It works perfectly for both indoor and outdoor settings. The naturally anti-bacterial construction is also resistant to mold and mildew. The thick profile adds weight and keeps the doormat stable in its place.
However, the extra thickness can also interfere with door clearance or cause people to trip over the mat. It is made of natural coir all the way through and lacks a nonslip backing, so you might want to consider the brand's nonslip versions – or simply place this doormat on top of a larger rug if your doorway allows for it. The mat might also begin to shed in just a few months from heavy foot traffic.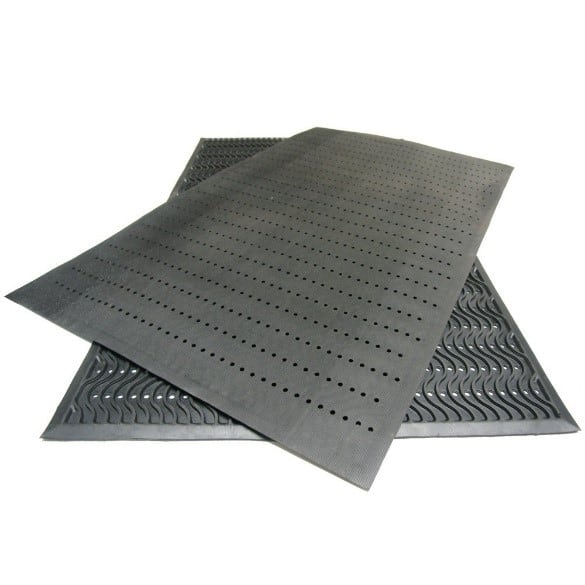 This indoor/outdoor doormat from Rubber-Cal has a commercial-friendly design that also works for homes. It is made of reclaimed rubber and features a wavy pattern for improved traction and maximum dirt retention. The overall construction prevents slipping and keeps the doormat in place. You can quickly scrub away dirt and debris from your shoe soles before entering your home. This mat is designed for heavy foot traffic based on commercial uses, so it will easily last long on your porch as well. Its perforated surface allows water to drain through and evaporate so that there is no risk of slipping – or walking in with dirty shoes. The perforated design also makes it super easy to wash the mat with a hose and let it dry faster. We really like the all-season benefit of purchasing this doormat. It is safe to say that the reclaimed rubber material keeps a check on both your shoeprint and carbon footprint!
The top criticism about Rubber-Cal's outdoor doormat was regarding the quality of the received product. There were a few comments mentioning that it just began to fall apart right out of the box.
Things Need to Considered (Buying Guide)
We lack attention to details, that's quite normal. Not all of us are designers or interior designers. But to keep that aesthetics under check, we're gonna be making a checklist. Tick everyone to have a match and it won't be like tinder. 
Durability
World's best outdoor mats are usually made of PVC, polyester and coconut coir. And if the mat contains plastic or rubber edges do make sure that they hold together nicely and have no risk to fall apart.
Coir Mats
Coconut coir, being a non-synthetic material, helps produce affordable yet the best dirt trapping door mats. You can wash them to brand new with thin soap and even then those mats won't allow static electricity to vex you around. The best coir doormats are water resistant and allow neither molds nor salts to deposit in chilly winters.
Polyester Mats
Vibrant colors aren't that feasible for materials other than polyester. Yes, in addition to scrubbing the mud and dirt, the best doormat for outside would surely enhance your front door decor.
PVC Mats
Those mats are great choices as the best welcome mats. Tiny PVC coils in them result in a sleek finish and keeping that unaltered can absorb a decent amount of outdoor moisture. So eventually it's found in the best indoor door mats too.
Rubber Mats
Scraping mud and snow is the easiest using rubber outdoor mats. They offer innumerable patterns to sooth your eyes but won't let water, grime or grease to linger. Though non biodegradable, these should find a place near the entrance if you reside close to or in Nebraska or Dakota pairs.
It's nothing new that rubber will crack when it's snowing or it's freezing outside. Yes, it works great to some extent, it comes at a reasonable price but it looks terrible most of the time. Still some half-moon ones can be listed among the best outdoor front door mats for excellent layouts.
All Weather Resistant
The best outdoor mats for wet weather are those made of coir, rubber or plastic.  If your house is faced with extreme temperatures like that of Seattle, Dallas, or Phoenix, you better stay away from full rubber mats. Garage or other indoor usage is fine but a bad winter may crack it straight to the bin.  
Smell
As plastics and rubber are used to make the bottom part or the edges mostly, for that reason it can sometimes give off bad smells. Be sure that your one doesn't smell much and is made of good quality rubber or plastic.
Fibers
Do clarify that the fibers are compact and don't shed off. Else, this will lead to spots and defects. And also to make sure they are durable and effective in scuffing off the dirt and absorb moisture.
Rubber Bottom
It's hard to find an alternative to rubber if you want the mat to be safe and non-slippery. Make sure that the bottom rubber has an extra thickness to be heavy duty. This qualifies rubber mats to be used round the year and reduces the risk of opening up. Otherwise, during winter it starts to crack like lips
Surface Texture
Scraping surface is a must-have trait for any mat you intend for using outdoors. Among the numerous patterns, tiled, furrowed and irregular ones puts off the thick doggy filths. 
Often scrap tires are converted into cheaper yet thicker doormats to accomplish the same. Half moon ones with decorative motifs ensure enough aesthetics and gifts the best outdoor doormat for cleaning shoes.
Perfect Size
A door mate can be found in different sizes, but you don't need all of them. It would vary depending on your door width, as well as free space before the door. The mat should cover at least 3/4th of your door otherwise it will look bad as well as there are chances that dirt will be inserted. 
Thickness
Thickness is another fact that is also dependent on the door size. If the doormat is thin that will create problems and will be stuck when you try to open the door. So it is wise to use a thick door mate unless you have a large hole under the door. 
Color Guarantee
As outdoor mats have to tackle lots of weather changes; there is an uncertainty that you will get to see the exact color on it months after. Bright sunlight and sometimes rain can also fade away the color of the mat you laid outside. Look for a color guarantee as well.
You may also love to read other types of doormats like the indoor doormats or doormats for sand reviews.
Conclusion
Choosing a doormat might not be rocket science but there are certainly quite a few parameters that you do have to keep under check. You'll be confused by many brands promoting their product to be the best. The marketing bonanza has turned out to be much of a scam these days.
Nevertheless, I can shorten them for you if you still have confusion. If you are looking for the best doormat for dirt, then you can use a doormat from GrassWorx that features a layer that helps remove dirt from your shoes. 
Meanwhile, if you're looking for a doormat for removing mud, then you can choose the Apache mills, which will get rid of all the mud and help you to keep your home clean. In the end, you should also consider your choice and door size.