Doormats are a very good solution to avoid sands entering your house. Simply placing a doormat to the front of the main door will rescue you from extra cleaning hassle. Fortunately, some brands offer you the best doormats for sand, especially for your front door. You can easily get one for your home.
What Are Doormats for Sand?
Doormats that are usually placed in front of the front door are known as doormats for sand. These mats scuff of the sand from the shoes so that it doesn't enter the house and make it look dirty. There is no specific form of doormats for sand. You may find a lot of varieties and designs of these mats.
Best Doormats for Sand Review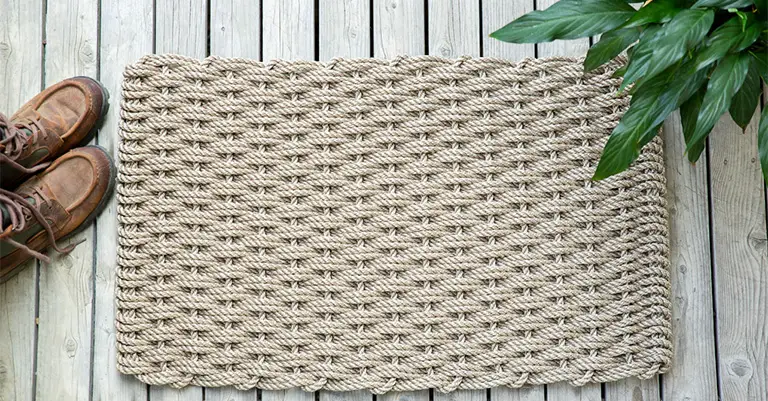 Here in this article are listed 7 best doormats for sand. Along with the description, you will get and positive and negative sides of the mat; gathered from actual users.
1. GrassWorx Clean Machine High Traffic Doormat
This doormat is available in 3 different colors; these are charcoal, sandbar, and desert taupe. It consists of a triple cleaning action. It can hold, grab and hide up to 2 pounds of dirt into it. It is made of AstroTruf scraper blades.
The blades and sharp and scuff of dirt from the shoes and holds it. It helps in keeping the home clean from dirt. It is perfect to be used at the entrance of the door, garden, patios, deck, etc. it is durable and resistant to mildew and molds.
It is very good to remove grass, mud, snow, sand, leaves, and dirt. So it is perfect for all seasons. This doormat is also very easy to clean. All you will need to do is shake it off and wash with a garden hose.
The doormat has a perfect size of 18"X30". The low profile of the mat doesn't bother the doors. It is a very good door mat. Actually keeps dirt away from home. But according to a customer, it shows the dirt on the mat and doesn't hide it. Otherwise, the mat works perfectly fine.
2. Durable Dura-Rug Recycled Fabric Outdoor Entrance Mat
This doormat is available in 3 different sizes. You can look to the website and check the size that perfectly fits into your need. It is made of recycled tires. And have a fabric top.
Hence, it is a very durable and long lasting. And also doesn't harm the environment. It has carpet like wave design and mesh construction that traps and absorbs dirt and mud very effectively. It is tough against wear and tear. This doormat can be easily rolled up for easy storage.
It is also very easy to clean my a garden hose. And it takes very little time dry for plastic body. It has a low profile and it doesn't hassle with the door. It looks very attractive and is ideal to be used outside the front door, garden, etc.
It is not recommended for places where there are oil and grease in great quantity. It is very easy to use and maintain. It is molds and mildew resistant. It is very studied and the performance is excellent.
3. Gorilla Grip Original Durable Rubber Door Mat
It is available in 9 colors and 3 different sizes. You can choose the one that best appeals to you. Each colored mat has each different pattern as well. it is constructed with 100% rubber originated from recycling.
It is very durable and strong. Also lasts very long. Also, the upper portion is soft and flexible and serves its purpose very well. The upper pattern is woven with polyester fabric. It is perfect both indoor and outdoor usage.
It absorbs water, mud, and dirt very well. it also holds dirt within it. The doormat is slim and doesn't hassle the door. It is also very easy to clean. You can clean it with vacuum or shake it off. For deep cleaning, you can rub it with a wet cloth and mild soap.
And of course let it air dry, not machine dry. Do not use bleach with it. It has 10 years no question warranty. It looks very good and overall works very well too. don't roll it, as it may stay curved for a long time.
4. Durable Heavy Duty Rubber Outdoor Entrance Mat
Again, this doormat is available in 6 different sizes. A lot of options to choose from! It has a finger type design that scuffs of dirt and mud very effectively. It is available is just one color; black. Also, it holds the mud and dirt within it.
It is very easy to clean as well; all you need to do it shake it, vacuum it or just wash it with a garden hose. The corrugated pattern at the bottom of the doormat keeps it rooted to the floor.
The four sides of the mat have beveled edging that is safe to use. It is very durable and mildew and molds resistant. It is made of 100% rubber. It is perfect for outdoor purposes. To clean it use a garden hose. Or you can use the vacuum as well.
Unfortunately, the mat is not as durable as stated. The fingers break off soon after you start using it. But it scuffs off the dirt in the first few months.
5. My Doggy Place – Ultra Absorbent Microfiber Dog Door Mat
It is available in 8 different beautiful colors. Each of them is equally attractive. It is a microfiber doormat. The mat soaks up water very quickly as well as mud and dirt. It has 5 times more absorbency than ordinary mats.
It is very tough and durable. The back part of the mat keeps it rooted to the floor. It is also machine washable and dryable. It also dries very quick and keeps your home clean. It works perfectly. But it isn't as extraordinary absorbent as advertised.
6. ClimaTex Dimex Indoor/Outdoor Rubber Scraper Mat
It is available in black and three different sizes. It effectively traps mud, sand, dirt, and water. It helps keep the floor very clean. It is perfect for both indoor and outdoor purposes. It is heavy duty and withstands heavy traffic efficiently.
It is made of recycled rubber only. It is featured with non-slip technology that keeps it rooted to the floor. It is very easy to clean as well. you can wash it with a garden hose and it should be cleaned as new.
It is ideal to lay outside the front door, garden, patio doorway, etc. it is long lasting and satisfying. It is a slim profiled and doesn't hassle with the doors. Once rolled it stays curled for long. Overall the doormat works perfectly like advertised.
7. 2-Pack Indoor Outdoor Floor Mats for Entryway
This doormat has a combination of two colors; the body is grey in color and the border is black. It is made of ribbed polyester grooves that clean the dirt from the shoe effectively. It soaks water and holds dirt.
It can scuff off dirt, mud, grass, snow, etc from the shoe. Hence it is perfect for every weather. It is durable and lasts very long. And effectively battles wear and tears from heavy traffic. It is also very easy to clean; you can shake it off, sweep or hose it with water. And then dry it.
Due to its polyester body, it dries very faster than usual. It is very strong and doesn't fade or break off. Now, if you are not satisfied with the product you can ask for a money return. The dimension of the mat is 17.5"X29.5". also it is low profile and doesn't stick by the door.
The lower portion of the doormat is made of recycled rubber that keeps the mat rooted to the place is supposed to be. It is versatile and can be used in the kitchen, garden, front door and anywhere you like.
The waves of the doormat scuff the show very well. it works just like it is supposed to be. Overall the product is perfect.
Best Doormats for Sand- Buying Guide
When you start looking for the doormats you will notice that almost each and every brand claims to be the best one. Don't get fooled by believing them. Now, obviously, some of them are best than the others. But the advertising makes thing very complicated to decide.
Here are some tips that will keep you away from fake and bad doormats for sand:
Durability
Durability is very important when you are looking for mats that will be placed outside your door. Because it has to survive through every season and thousands of footsteps.
Rubber Base
The lower rubber base of the mate should be of good quality. It will keep the mat rooted to the place it should be.
Fiber/wave
The fiber or the wave pattern of the mat should be sharp enough to scuff of the dirt from the shoes. Also, make sure that the fiber doesn't fall off.
Easy to clean
It should also be easily and effectively cleaned. Otherwise, it will become worn out very soon.
FAQ:
Q. Can I machine wash my doormats?
Ans: It depends on how the doormat was manufactured. Some doormats are machine washable while some are not. It is better to check the packaging for an accurate answer.
Q. How do I straighten my curled rubber doormat?
A: The best and the quickest option is to roll up the doormat the other way round. And leave that for 1 day. If should be straightened.
Q. How the doormats for sand is different from outdoor and indoor doormats?
A: The doormats to trap sand is a type of outdoor doormat, you know. but there is some significant difference with the indoor doormats. Have a look this post.
Conclusion
It is wise to have some research to reach too your best doormats for sand. Listed above were 7 well-known doormats. Hope it has helped you to land to your best doormat for sand.