A bathroom that smells bad can be the worst experience ever. It can make it uncomfortable to use the bathroom. Bathroom exhaust fans can solve these problems. They keep the unpleasant odors and moisture in check. Ductless/ Ventlesss bathroom fans are a popular category of bathroom exhaust fans. Many people have confusion regarding their functionality as to whether they can keep both odor and moisture under control. In this article we will see about ventless bathroom fans, their functionality, their pros and cons, how they work and some of the best options to have.
What are Ventless Bathroom fans and how they work?
Ventless bathroom fans, also known as ductless bathroom fans are special types of bathroom fans, which don't have a duct. They require no ventilation to remove odors. Wonder how they work? They kind of process the air so as to remove the odors easily and quickly. They are equipped with a charcoal filtering system which is capable of removing the unpleasant odor without the need for ventilation. Now, the ventless bathroom fans usually have a lower blade speed which captures a large quantity of air into the filter. Air is circulated through the stated charcoal filter, which then eradicates the dust particles and the odor. Thus it makes sure that the air is fresh. Once the smells have been removed from the bathroom, air is recirculated into it.
Hence they will serve their intended purpose of removing unpleasant smell. However, they are not meant for removing moisture from the bathrooms. It is practically impossible to remove moisture from bathrooms using ductless bathroom fans. Hence, they are not designed for rooms with showers or bathtubs.
The ventless bathroom fans are designed for such cases, where installing an entire duct system to get the air outside is an impossible task. And so with no ventilation, they lose the ability to actually eliminate the moisture from the room. So if to be used in rooms with baths or showers, then the bathroom may have to be paired with open windows or bathroom door which can eliminate trapping of moisture after you bath or shower. However, this can cause privacy issues. Or else you may have to use a dehumidifier to remove the moisture or go for vented bathroom fans. However, they will work well for small toilet and sink-only rooms, which require effective odor control.
Before installation, be sure that you are permitted to have them installed as per the building codes. It is better to take professional help for the installation procedures. This can prevent any electrical hazards.
Pros and Cons of Ventless Bathroom Fans
Now let us see what are some of the pros and cons of having a ventless bathroom fan.
Pros of a Ventless Bathroom Fan
Ventless bathroom fan doesn't need ducts and are easier to set up due to this reason. Hence you don't have to test the ducts, figure out where they end or have a track on building codes. This will reduce the work when renovating a bathroom or you move into a new building.
They will last longer and are easy to replace too.
Being duct-free, they are much easier to install. It can be installed within minutes if you have the necessary electrical connection to the area. This holds true even for ventless fans with light. They can also be changed and relocated with ease.
Ductless bathroom fans are found to be quieter in their operation.
Ventless bathroom fans are found to be more affordable.
Cons of a Ventless Bathroom Fan
Doesn't work with moisture
May require little work when used in areas where no previous fan was installed.
What to look for when buying ventless bathroom fans?
Fan Capacity
Fan capacity is an important factor when looking for any bathroom fan. Identified in CFM (cubic feet per minute), it will give an idea about the speed that your fan is operating at. As a rule of thumb, you need 1CFM for each 1 square foot of your bathroom.
Filter Replacement
As ventless bathroom fans use charcoal filters to clean the air, you should look into the quality of the filter, and other details like how often it requires a filter replacement and the associated costs.
Noise Level
Ventless bathroom fans are found to be quieter. However, you need to make sure that the noise level stays within your preference. Usually people go for noise of 4 sones or less. But this is subject to your own preference.
Maintenance of Ventless Bathroom Fans
The maintenance of ventless bathroom fans will be different from those with vents. For optimal performance, the charcoal filter needs to be changed from within the recommended periods. The motor and other controls may also require regular cleaning and maintenance.
Best Ventless Bathroom Fan
Here we present some of the best options of ventless bathroom fans: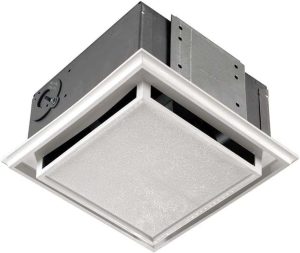 Broan offers a wide variety of bathroom fans. The ventless bathroom fan, Broan 682 comes with a charcoal filter and white plastic-grille. The recessed mount type ventless fan is easy to install and require no duct work and can be a perfect solution in situations where ducting is not possible. You can install it between ceiling joists. Minimum construction space of 2 inches x 4 inches is required. It circulates the bathroom air past replaceable activated charcoal filter. The charcoal filter will last longer and is also easy to replace. It can be used for keeping odors in check and for circulating the air. However, as expected it is not going to work for you in moisture control.
 The ventless bathroom fan features a patented, fast snap-in metal housing installation which saves time and money. It offers whisper-quiet operation (less than 1 Sones). The UL listed ventless bathroom fan offers below 80 CFM. The white molded grille has a dimension of 8-1/2-inch square. It is attractive and the polymeric grilles are paintable and will blend well with any home decor. As the grille is self-adjusting, it conceals the interior of the fan. It features a torsion spring grille mounting and hence no tools are required for removal/ installation. The ventless bathroom fan also features a plug in, permanently lubricated, removable motor assembly with a polymeric impeller offering high quality operation. The motor snaps in and out allowing easy cleaning. It will cost you below $50. Reviews find it easy to install and built to last longer. The model does not include lights. 1 year limited warranty is offered.
Replacement parts and charcoal filter

The flush mount type ventless fan can be installed between wall studs or ceiling joists. It has other features similar to Broan Nutone 682. The versatile fan helps to eliminate odors and can be used in spaces where ductwork is impossible. They are not capable of moisture control. So they are best used in half baths or rooms where humidity will not be a concern. It can be installed between wall studs or ceiling joists. The efficient fan circulates air through activated charcoal filter and recirculates air. The charcoal filter is easily replaceable. With the fast snap in housing, installation becomes a breeze. The white polymeric grilles offer a decorative dimension to the ventless fan. They also feature the plug in type removable motor having polymeric impeller wheel which can deliver high quality operation. They are also whisper quiet. Lights are not included in the model. 1 year limited warranty is being offered by the manufacturer.
Replacement Parts and Charcoal filter
Broan Nutone also had two lighted versions of the ventless bathroom fan: 682L and 682 NL, which are discontinued as of now. If you already own one in the range and is in search of replacement parts, then you can have them in their website.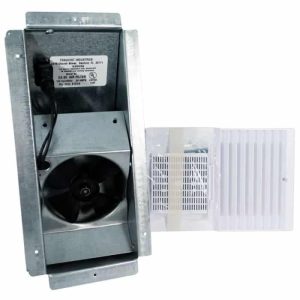 The Rush Hampton CA-90 ductless fan is a perfect choice for locations where ducting is not available or impractical to have. It circulates air through the odor absorbing filter which is also replaceable. The powerful odor absorbing filter can last for up to 90 days. The low cost replacement filters are easy to reinstall. They are also available in scented varieties as well The white grille and matching unscented filter is designed to fit almost any contemporary design. The metal housing is easy to install. The motor is ultra quiet and drives a long lasting fan. It offers 90-110 CFM with a Sone level of 3. A 1 year warranty is also offered. Priced at around $65, two color options are available: white and beige.
Replacement parts and charcoal filters
So we have seen some of the best options for ventless bathroom fans. In case if it is impractical or impossible to have duct network, then you can switch on to the ventless bathroom fans. They can absorb odors and keep the bathroom well off. However when it comes to moisture control, they are not the ones you might need. These are also affordable options to have.