If your hair feels weird or dried after the shower, then it's an indication of a much larger problem. Water from the municipal water system contains a significant amount of chlorine & other contaminants that may result in skin & hair damage.
Why expose your skin & hair to such contaminants every day? Culligan WSH-C125 wall-mounted filter has come with s smart solution to not only eliminate the contaminants from the water but also give you a relaxing shower without the hassle of cleaning the head often.
Let's get a better idea about the WSH-C125 & see if it's a good choice for you.
Contaminant Removal
The Filtration system that comes with the Culligan WSH-C125 eradicates all sorts of adulterations in the water that can eventually result in dry & itchy scalp. It also reduces the scale of the water giving you more hydrating nourishment for your hair, scalp & skin.
There is a patented filter media bacteriostatic that works on limiting the amount flow & growth of bacteria. So, say adios to any bacteria or germs that can cause distress to your sensitive hair.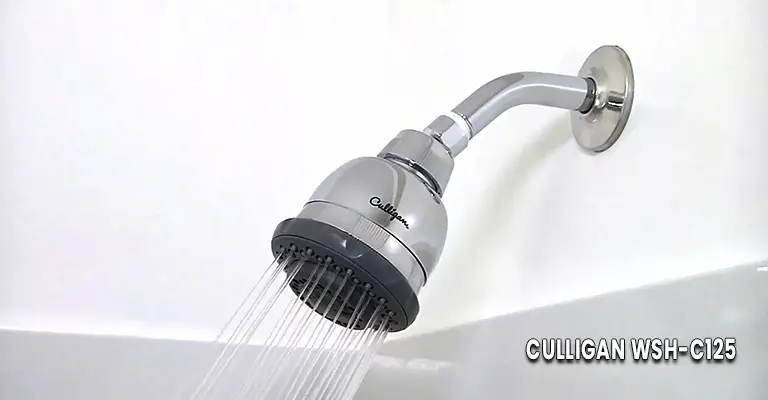 Five Spray Settings
One of the more interesting features for this showerhead is the different types of spray settings it offers. If you want a full-body coverage with a high amount of water flow then the Full body spray settings are applicable. Many people enjoy the soft rain spray to their skin, so there's the setting of rain showerhead to sport smooth relaxed water flow. 
You can even have a combo on both the full-body & rain while bathing. The invigorating pulse setting allows you to have a relaxing massage on your skin to new energy. There is also a combo for this one & the full-body as a pulse combo.
Chlorine Removal
Municipal water supplies often have a significant amount of chlorine in their water. Constant contact of chlorine can result in dry hair & eventually hair fall. In order to protect from that, a certified solution is the most valued answer. That's why the WSH-C125 filter system is tested and certified by IAPMO against ANSI Standard 177 to decrease the amount of chlorine.
That's why the Culligan WSH-C125 has a WHR-140 filtration system that is tested to remove 99% of chlorine from the water while you finish your shower. It also removes the rotten egg smell of sulfur from the water. In short, your skin & hair is fully protected from these pollutants.
No Scale Build Up
Surely you've come across damp and hard layers called scales on metal surfaces near any water source. This hard residue created in showerheads by the constant flow of water. This is a very slow process that results in the clogging of your showerheads. So common showerheads need routine maintenance on this issue otherwise it would get clogged.
Who wants to clean the showerhead after a long day at work? But the Culligan is equipped with a unique system that reduces the number of scales inside the showerhead. So, you no longer have to worry about cleaning your showerheads often. Just enjoy the smooth flow of water & relax.
Capacity
Showerhead capacity indicates the maximum number of gallons of water the filter can refine in its average lifetime before the filter becomes ineffective. With the WSH-C125, Culligan has rated an effective usage of the filter for six months or for up to 10,000 gallons of water.
But this amount solely depends on the usage of the filter. The larger the usage, the sooner the filter can expire. You might get close to the six-month mark if you use it in average amounts. After that, you need to change the filters.
Flow Rate
The standard flow rate for showerheads in the United States is 2.5 gallons per minute or less. The Culligan WSH-C125 has a flow rate of 2.0 gallons per minute. That does not mean that the flow of the Culligan is sluggish rather it's more moderate than the standard. Besides, low flow showerheads have found a rising demand these days.
You can enjoy a controlled flow rate with different spray settings. But if you have noticed a slow flow than usual, then maybe the head needs some backwashing. It is made of a material that can easily be wiped to eliminate the mineral buildup. Luckily with the Culligan, you have to clean the head very few times.
Easy Installation
Culligan WSH-C125 has a stress-free installation procedure. You just need to remove the existing showerhead & wrap the arm with Teflon tape. Then you need to screw the WSH-C125 in place & your job is done. The Teflon tape comes with the whole kit.
But be sure to run water through the showerhead before use. 10-minute water flow will ensure that the filter cartridge is soaked properly before use. It also cleanses out any loose filtering media from the head.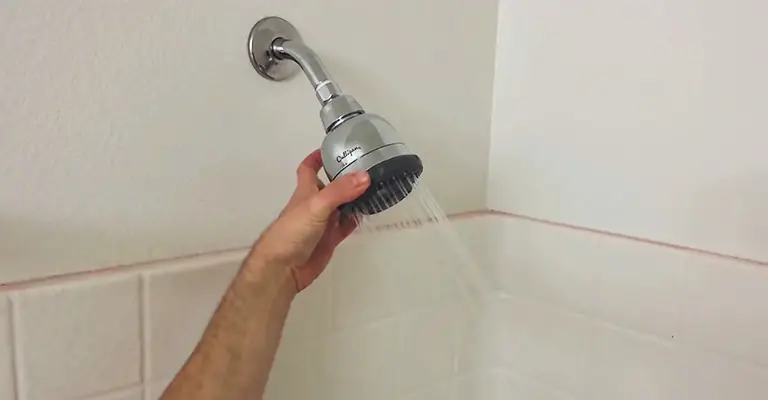 Longevity
Culligan has great longevity coming with their showerheads. You won't need to change the head for a long time due to its impressive built. It even has a 5 year long warranty period. If you have any issues between this time, you are bound to get a replacement from the manufacturer.
The filtration system is also certified by NSF that indicates that you can trust in the safety of the filters. EPA WaterSense certification is also ensured for maximum water flow. As for any filtered showerheads, be sure to change to filters in time; otherwise, the water may get contaminated.
But, Disappointments…
WSH-C125 is not designed to filter hard water that contains heavy metals. If the showerhead is tightened, then you may need a wrench the remove it. As the shower filter here is not a separate one, the maintenance cost, being a downside, may go up with replacing filters often.
Conclusion
Culligan has been a household name in water treatment for some time. Ever since their emergence in 1921, it has been uphills from there. They provide smarter upgrades to your household which results in lessening your work.
If you want an inexpensive solution to your water filtration problems, then the Culligan WSH-C125 would be a great choice. For any sorts of questions or queries, you can always contact their customer care team by phone or email.