Caulk is primarily used to seal gaps by forming a bond between different types of building materials. When used exterior, they can seal seams in windows, doors, roofing tiles, brick, concrete, etc. This will ensure that your home stays waterproof and away from bugs. When used interior, they seal the joints where the tub meets the wall or fill cracks in the shower floor, thereby keeping dirt, air and moisture away.
In this article, we will see some of the best waterproof caulk for your interior and exterior projects. Before proceeding further, let us see some of the basics regarding caulks.
 What is a caulk?
As described earlier, caulk is a waterproof material with the property to fill and seal joints between building materials or two different surfaces. They are made from flexible polymers or polymeric combinations. Waterproof polymers like latex, rubber, silicone, etc. may be used as they won't crack and have the capability to expand with temperature changes while absorbing vibrations as well. 
Often confused with one another, caulks and sealants, both serve the same purpose of filling seams and joints, while they differ in terms of elasticity. Caulks provide a more rigid hold when compared to sealants. So sealants are better when you need more flexibility in the connecting spaces like for example, in the case of windows.
Caulks are available in clear, white as well as in colored formulations. The fast drying options of caulks can completely cure and become waterproof in less than 24 hours. While regular ones may take more than 24 hours to cure completely.
Types of Caulks
Caulks are available in different types to be used inside and outside the house. Some of the major types are: latex caulk, silicone sealant, polyurethane foam and specialty caulks like butyl-rubber caulk. 
Silicone Caulks
Silicone caulks are highly durable and can repel water and moisture. They can withstand extreme temperature changes. Thus they can be used in areas which are exposed to Sun as well as in damp areas like kitchen and bathrooms. The silicone caulks can be used around bath, showers and sinks. They can used to seal the haps between shower tiles, around the base of toilet, in bath fixtures, between sinks and counters. These caulks meant for kitchen and bathroom use may also incorporate mold and mildew resistant additives. Paintable silicones are used in exterior doors a, windows, etc. They are flexible and can last longer. Silicone caulks are also expensive. For clean up, you may require solvents other than water.
Latex Caulk
The latex caulks or acrylic latex caulks are inexpensive and durable. However, they are not that good against sudden changes in temperature as well as moisture. They can be used with wood and masonry works and drywall. They can serve well in indoor door and window projects. Latex caulks meant for bathroom and kitchen projects are fully waterproof. They seal without odor and are easy to use. They can be cleaned up with water. Latex caulks used in tub and tiles have mildew inhibitors incorporated in them.
Expandable Foam Caulk
They are mainly used as exterior caulks. The foam caulk has the property to expand and fill larger gaps and holes. They offer not only great sealing properties, but are also good when it comes to insulation and dampening sound.
Butyl-Rubber Caulk
This specialty caulk is meant for outdoor use only. They create a strong, water tight seal and can withstand extreme temperatures. Hence it is found to be great for roofing construction and repairs. They can be used with concrete, aluminium, rubber, plastics, exterior wood, etc. Cleanup can be extremely difficult.
Caulking Tools
In most cases, caulking jobs can be done without tools, however, in case of large scale caulking jobs you may need them.
Caulk gun: It can come handy in big caulking projects. This will let you have an even application of the product without dripping and arm fatigue.
Caulk strips: Caulk strips are pre-shaped rolls of sealant with peel-and-stick installation. They can be used in place of traditional caulk or can be used over caulked areas to give a finished appearance.
Caulking spatula: It helps to remove the old caulk without scratching the surfaces.  It can also help in providing a smooth finish to the applied caulk.
Caulk Backer rods: They provide extra insulation and can fill large gaps before caulking and results in the usage of less caulk.
What to look for when buying waterproof caulks?
Here are some of the considerations when looking for the best waterproof caulk.
Waterproofing
Caulks made of pure silicone or siliconized latex/acrylic (i.e., latex or acrylic caulk with added silicone) are found to be the best options in the category. They can adhere well to most materials including porcelain, ceramic, stone, fiberglass, and glass.
Caulks with pure silicone components are found to be more waterproof. They are more durable and flexible. They are also shrink and crack proof. They can last over 40 years. However in most cases, they are not paintable and can be a little more expensive compared to others. Clean up may require options other than water.
Siliconized latex/acrylic caulk is easier to apply and correct, but is less moisture resistant. They can also be susceptible to cracking over time when compared to pure silicone counterparts. Hence they will last a little less long compared to silicone caulks. However, they are paintable in most cases. They also require easy clean up only with water.
Other options are comparatively less waterproof.
Mildew and Mold Prevention
The pure silicone and siliconized latex/acrylic caulks includes mildew and mold resistant components, which makes them more useful. This minimizes the formation of stain-causing mildew or mold on the caulk and can make it rot proof and last longer. Check the packing if it says mold and mildew resistant and the years of protection being offered.
Color Options
Pure Silicone and siliconized latex caulk offer color options like clear, white, cream, and brown, etc. Paintable caulks can give you more options of coloring.
Dry and Cure Times
Dry time is referred to as the time taken for the caulk to dry to the touch. For pure silicon and siliconized latex caulks, this may range from 30 minutes to 12 hours. Cure time refers to the time taken for the caulk to fully set so that it can be ready for use and water exposure. For pure silicone and siliconized latex/acrylic caulks, the cure time can be somewhere around 2 hours to 10 days.
Packaging Options
Caulks usually come in small squeeze tubes or large cylindrical cartridges. Cartridges are well suited for large scale caulking jobs. They contain more caulk by volume and can let you have more precise application in large scale caulking jobs. However, they may need use of caulking tools like caulking gun in which they are dispensed by pressing down on the gun's trigger.
Squeeze tubes are better for small-scale caulking projects. They have less caulk by volume and are well suited for smaller coverage area. They can be squeezed from the tube and applied easily with hand.
Best Waterproof Caulk

The number one best seller from Amazon is the best option to have. Gorilla Waterproof Caulk is silicone based and seals out water, air and moisture. The waterproof caulk is also resistant to mold and mildew. It won't shrink or crack or get yellow over time. The all weather caulk features a flexible formula and can be used both indoor and outdoor. It is great for kitchen, bath, doors, window, auto, marine plumbing, gutters and many more! The silicone caulk won't turn yellow, or shrink or crack over time! This waterproof caulk is not paintable and not to be used on wet, frozen or other contaminated surfaces. It is also not to be used for underwater applications, on corrosive metal surfaces, cement materials, etc.
It is easy to use and comes in cartridge. You may have to use backer rod in case the gaps are larger than ½ inches. For storage, you just have to replace the cap tightly which will prevent the material from curing and store in cool, dry location. For clean up, you may have to use isopropyl alcohol. It will be rain or shower ready in 30 minutes and the recommended cure time is 24 hours. It is available in clear and white. It is also affordable and comes with lifetime guarantee.
The White BioSeal Silicone Sealant Caulk comes with a 100% silicone formula which can offer ultimate protection from water damage. Two variations are available: Kitchen and Bath Grade and the General Purpose one. It can provide a reliable seal in areas prone to consistent water exposure. It is shrink and crack proof and hence can withstand extreme expansion and contraction resulting from temperature fluctuations.  There will be no odor and color change. It can provide strong adhesion to glass, aluminium, tile, cultured marble, etc. The caulk can be used in glass, window, bathroom and kitchen top. Even after drying, it maintains soft flexibility and hence capable to bear vibrations from sins, tables, etc.
It comes in an easy to apply cartridge and is white in color. The product offers 7 year mold protection. After application, it will be water ready in just 30 minutes time. The cure time is also less. The waterproof caulk can provide about 50 years of protection.
GE Supreme Silicone Caulk Sealant

Being 100% waterproof, they offer excellent protection to the moisture prone areas. The waterproof caulk also offers long lasting protection from mold and fungus growth. They are not only permanently waterproof, but resistant to heat and UV rays. Hence they are ideal for both interior and exterior projects meant for waterproofing and weatherproofing. Two variations are available: Kitchen and Bath Silicone Caulk and Window and Door Silicone Caulk. The waterproof caulk offers great adhesion to most materials. It won't blemish metals. The waterproof seal created is permanently flexible and offers 7 times more adhesion. It is shrink and crack proof. It is great for projects which can be subjected to high expansion and contraction.
It comes in cartridge form. The caulk can be water ready in about 30 minutes. Cure time is 24 hours. The durable caulk is scrubbable. They also offer lifetime guarantee and low odor. It is available in white, clear and almond colors. The caulk is non paintable. For clean up, you may require mineral spirit.

The 100% waterproof silicone formula offers ultimate protection in areas prone to consistent water exposure. They offer about 40% more flexibility and 5 times stronger adhesion. It won't blemish metals. It can withstand extreme after effects of temperature fluctuations. It is shrink and crack proof.
The squeeze tube makes it easy to apply with hand. 10 year mold free product protection is also offered. The waterproof caulk is available in clear and can be ready for water exposure in about 30 minutes. Bearing a neutral cure formula, there is low odor during the curing. It is backed by lifetime guarantee.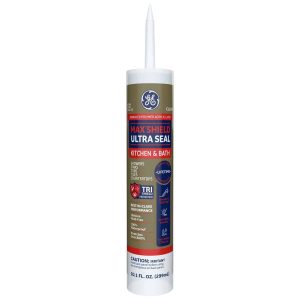 The siliconized acrylic latex caulk is water based and is made from acrylic resins. They are paintable and 100% waterproof. Once cured, they become rubber like and offer excellent adhesion to common kitchen and bath surfaces. With the inclusion of silicone, they are more moisture resistant with flexibility and durability when compared to standard latex caulks. Protection is offered from mold and mildew. Lifetime mold free guarantee is offered. It can last longer without cracking. It is great for projects subjected to minimum expansion and contraction. The waterproof caulk can be cleaned up easily with soap and water.
Available in clear color, it requires a dry to touch time of 2 hours.  It can be water ready in 24 hours and full cure time is about 10-14 days.

The latex caulk comes with an advanced formula that is fortified with silicone. This ensure moisture protection with can cater to long-lasting flexibility and excellent adhesion. This results in a watertight seal around kitchen and bath fixtures with ultra-smooth, satin finish. The caulk can adhere to most surfaces like marble, glass, wood, metal, fiberglass, plastic, etc. Hence it is a great choice for bathtubs, showers, sinks, countertops and fixtures. The caulk is paintable. Mold and mildew resistance is also offered.
Available in 3 color variants (white, clear and bisuit), it offers a durable seal with good discoloration resistance. It is also easy to apply and requires clean up with soap and water.

The multi-purpose caulk provides exterior and interior protection around windows, doors, and other areas and is paintable. The flexibility and adhesive power is increased with the addition of silicone. It won't shine through. The caulk when cured will be resistant to mold and mildew. It is crackproof and shrinks less. They feature low odor.
The surface will be paint ready in about 30 minutes. It is easy to apply. It cleans up with water. 40 year durability is offered.

DAP KWIK SEAL plus premium kitchen and bath siliconized caulk comes with microban antimicrobial product protection which fights stain and odor causing bacteria, mold and mildew. The waterproof caulk can seal out water and moisture around tubs, showers, sinks, faucets, counter tops, vanities and fixtures. The waterproof caulk is low in odor.
The surface is paintable after curing. It will be shower ready in about 24 hours. It is easier to clean and requires less maintenance.  You can clean up with water.

The Loctite TITE FOAM Gaps & Cracks expands to fill, seal, and insulate effectively around gaps and cracks up to 1 inch in size. The polyurethane based foam caulk has the ability to seal out air, moisture and pests. It provides strong adhesion to most materials like wood, metal, PVC, concrete, etc. The insulating foam caulk can be used in basements, plumbing penetrations, HVAC ductwork applications, etc. It offers superior flexibility by withstanding building and material movement while not compromising the seal. It can withstand UV rays and hence will last longer. It is waterproof, however, there is chance of accumulating moisture over years.
The caulk is easy to apply and comes with a straw applicator. The recommended cure time is 24 hours. It is also sandable and paintable.

The butyl rubber caulk comes with superior exterior weathering properties and can be attributed to the blend of age resistant polymers. It offers excellent adhesion to a variety of clean surfaces. The water tight caulk can withstand joint movements even during extreme weather fluctuations. The added UV agents can offer prolonged life. It offers excellent adhesion to most surfaces like wood, metals, masonry and glass. It can be used under aluminium siding, between metal building panels, siding and gutters and wall-mounted air conditioning units.
 The recommended paint time is 24 hours. However, it is not recommended for use in sealing areas where physical abuse is encountered.