Toilet is something important that everyone has to deal with every day. Standard toilet seats come with a weight limit and this is somewhere around 200-300 pound on an average. This can be way too uncomfortable for a fat person. In USA, around 42.4% adults are obese. So there is a need for toilet seats meant for heavy person which can solve the issue and make them feel secure and comfortable. In this article we will see some of the best toilet seats for those people who are on the heavier side.
What to look for when buying a toilet seat for heavy person?
Be careful when choosing the best toilet seat for heavy person. The following points may help you in finding the best option for you:
Shape, Size and Compatibility
Toilet seats can be round or elongated. The shape you need to look for will depend on the shape of your toilet bowl. A round seat will work well on a toilet bowl that is round and an elongated one will work great on an elongated toilet bowl. There are also open front styles which make way for a much more hygienic use. Look for the compatible ones. The toilet seats also come in different sizes. Larger seats can accommodate a larger girth. Larger seats are available for both these shapes and hence you are left with quiet a good amount of options.
Weight Capacity
Weight capacity is obviously a factor to consider when dealing with toilet seats for heavy person. If not capable of handling the heavy weight, the toilet seat can break easily. Standard toilet seats have about 350 pound capacity. In case of toilet seats for heavy person, this may range somewhere around 400 to 1200 pounds. So look for such options which can exclusively meet the needs of the obese. Look for the one which is well suited for the largest person in your home.
Material
In most cases, plastic is the material used in the construction of toilet seats. However based on the quality of the plastic used, the durability and strength can vary. It should be capable of withstanding every day wear. Look for durable and strong options of plastic material which are stain and scratch resistant, which will also resist chips and cracks and will work longer without breaking. Look for options that can facilitate cleaning. Most common materials are ABS plastic, polypropylene, duroplast, etc.
Seat Hinges
Good seat hinges can add to the overall durability of the toilet seat. You need to look for a heavy duty toilet seat with heavy duty hinges. Hinges can be of plastic, chrome or stainless steel. Stainless steel is considered to be the most durable one with great stability. Chrome is also rust resistant; however it is much cheaper than stainless steel and is also lightweight. Plastic hinges may not last longer and it is better not to go with one when looking for toilet seats for heavy person.
Additional Features
You can also look for additional features like padding which will give you a cushioned feeling that can make you way more comfortable. Also, soft closing seats without the slamming noise are quiet when they close. Bumpers can add more stability to your toilet seat. The non-slip bumpers, installed between toilet seat and bowl will ensure that the toilet seat will not slide beneath you. You can also look for options with bidets instead of self wipe. These are designed to clean your bottom regions after you use the toilet so that you don't have to use toilet paper. You just have to sit on the fixture and turn on its faucet; a stream of water does the job. Toilet seat risers can also favor obese. This can make you sit comfortably and will also make it easy to get on and off the toilet.
Best Toilet Seat for Heavy Person
Now as we have seen the important considerations before buying a heavy duty toilets eat, let us see some of the best options available in the market.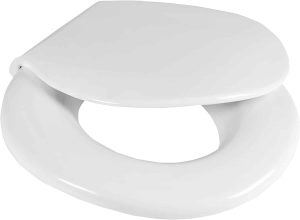 You get a larger and more luxurious sitting with the elongated style oversized 1-W toilet seat. It fits on all standard round or elongated bowls. It has an ergonomic design, ideal for plus size customers and the elderly and physically challenged. The contoured, 19-inch wide sitting surface is comfortable and accommodating. Rated for over 1200 pounds, it is made of injection molded high impact ABS plastic which is strong, durable, stain and chemically resistant. They are secured with solid stainless steel hinges that will not rust. The stabilizing synthetic rubber bumpers grip the bowl thereby minimizing shifting. The toilet seat for heavy people also offers a 2.5 inches rise than standard toilet seats which make it easier to get on and off. The toilet seat can be installed with ease. You need minimum tools and your work will be completed in about half an hour. It is made in USA and ADA compliant. All this comes at almost half the cost. Reviews rave about this excellent product, which also comes with a year manufacturer warranty on defects.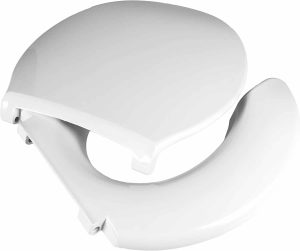 If you are someone more interested in an open front design, then this option is for you. Manufactured in the United States, it is made of injection molded ABS plastic which is strong and durable. It also features stain and chemical resistant properties. The heavy duty toilet seat has a weight capacity of about 1200 pounds. The 19 inch wide contoured sitting surface offers a luxurious seating space. The toilet seat for heavy people can fit both round and elongated toilet bowls. The stainless steel hinges offer great strength with durability. The rubber bumpers provide the necessary grip. The 2.5 inches rise is an added advantage. The toilet seat for heavy people is easy to install and it just takes a span of 30 minutes to get your work done. The model is claimed to be "comfy, study and easy to install".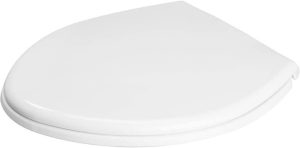 Made in USA, the BEMIS Heavy Duty Oversized Closed Front Toilet seat uses commercial grade plastic which is capable of withstanding the everyday wear, chips and stains. It is sturdy. The 300 series stainless steel posts and hinges make it non corrosive. It has a weight capacity of about 1000 pounds and an oversized width of 16.5 inches for the round shape and 18.5 inches for the elongated one, thereby making a good choice of toilet seat for heavy people. The toilet seat for heavy people will fit all round and elongated toilet bowls and almost all brands. It also uses the STA-TITE Commercial Fastening System, which installs with a snap and will not get loose. It also keeps the toilet seat steady. It is also easy to clean; you can use mild soap and water for the purpose. Reviews claim that it is "big, flat and beautiful" and "seat won't break". There is a warranty period of 1 year for defects in material and workmanship.
Another option from Big John has a weight capacity of about 800 pound and width of 19 inches making it a good choice for people who are obese. Made from high impact abs, it is highly durable and can fit either elongated or round toilet bowls. They feature high impact abs hinges. They have oversized bumpers that grip the porcelain thereby keeping the seat from shifting and adding stability. The 2.5 inches of lift makes it easy to get on and off the toilet. The toilet seat which is meant for heavy people is easy to install and easy to clean. They also come with a 1 year manufacturer warranty on defect. The toilet seat is claimed to be strong and comfortable by the obese customers.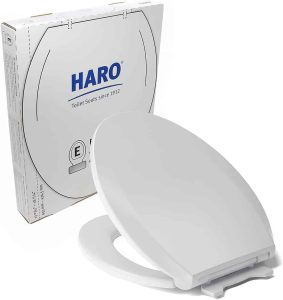 The Haro Heavy Duty Toilet Seat is engineered in Germany. The heavy duty toilet seat with width of 14.5 inches and loading capacity of 550 lbs offers great stability to be used by heavy persons and fits all standard round toilet bowls. There is also the elongated model available. The ergonomic design makes it reliable in daily use. It can fit toilets with standard mounting hole spacing 5 ½. Made from duroplast, they are comfortable to sit on. Duroplast is also hygienic, chemical and scratch resistant, antibacterial, UV resistant, ember and fire resistant. The Slow Close Toilet seat is closes without slamming. The Quick release toilet seat comes with FastFix mounting system making way for easy and fast installation. They feature adjustable hinges. The non slip rubber bumper offers perfect grip. The toilet seat has soft and round edges and makes it easy to clean. The hygiene oriented design comes with a small lid overhang which makes it easy to open without touching the seat ring. Also, the night light function is retrofittable and there is no need to change the seat. Reviews claim that the high quality toilet seat is easy to install and offers great comfort.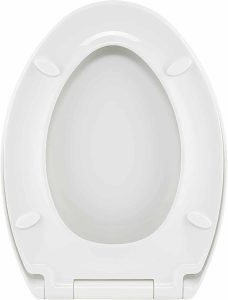 The Bath Royale Premium Elongated Toilet Seat comes with a width of 14.25 inches and tested 400 pounds weight capacity. The toilet seat for heavy person is made of polypropylene which is stronger and is the best toilet seat material in terms of stain resistance. It also comes with a beautiful high gloss finish. The solid color will not fade or peel easily. It can scratch easily, however with proper care and cleaning, it can last for years. The stainless steel mounting hardware will keep the seat firmly in place. The seat bumpers will distribute the weight. It fits all major toilet brands with elongated toilet bowls. Round toilet seat is also available. It can also fit non standard mounting spaces of 4.5 to 6.5 inches. With Slow Close, there is no loud slamming. It also prevents accidental pinched fingers. If the closing is too slow, then you can also be forced closed. It is easy to install with the good quality instructions. The toilet seat can be cleaned with ease. The QUICK RELEASE button quickly detaches the seat/cover from the toilet for thorough cleaning. It is available in 3 color options. A 2 year warranty is offered by the manufacturer which is double when compared to others. Based on the review, this toilet seat for heavy person will work beyond expectations.
If you are looking for a heavy duty toilet seat which can also offer great comfort with good hygiene, then open front elongated toilet seats can be a good choice. This open front elongated toilet seat with 14.6 inch width and has a tested weight capacity of about 400 pounds. It creates a comfortable toilet space for men and can be used by women with proper hygiene. It is made from high quality polypropylene material which offers great durability and strength. It won't fade or turn yellow. It can last longer without crack or peeling. The elongated style open front toilet seat is designed to fit elongated toilet bowls. You can also check the round toilet seat option available. They also come with the perfect accessories for easy installation. There are 2 optional set of accessories for 2 mounting modes. There are plastic screws and nuts and metal screws and rubber nuts, so that you can start either from the bottom or the top of the bowl. The choice will be of yours. The rubber pads offer additional protection to the hinge. The smooth surface of the heavy duty toilet seat makes it easy to clean. You just need to wipe the surface with a soft towel. The soft close toilet seat with advanced hinge system will close slowly, thereby eliminating the loud slamming noise or accidental damage. The product is claimed to be of perfect fit.