Having a hot water bath can be relaxing, especially during the winter times. However, if you live in the areas with hard water, then normal water heaters can get damaged. So there is need for water heaters for hard water. In this article we will see some of the best electric water heaters for hard water.
What is hard water?
At first let us see what hard water is. Hard water contains high mineral content. Hardness of water is due to the amount of dissolved magnesium and calcium ions in them. It can have certain benefits when it comes to drinking hard water. However, in industrial settings, it can cause huge damages. It can cause costly breakdowns to equipment.
Effect of Hard Water on Water Heaters and how to tackle the problem
If using ordinary water heaters without any hard water specific features, it can cause great damage. The three main components of a water heater: water tank, heating element and the thermostat. It is the water tank that holds the water. The heating element does the job of heating the water. The thermostat is like the operating system and decides when to turn on/off the water heater. The hard water will create white scaling in the inner tank of the water heater. It can also cause damages to the heating element. The pipes and other fittings can also corrode. The elements may corrode faster and this can lead to frequent maintenance and repair activities of the water heater. In some cases, you may also have to replace the water heater within a short span of usage. All this can cause loss of money and energy.
In such cases, you may have to use a water softener in addition. Here, the hard water first goes through the water softener. The water softener removes the elements of hardness of the water. Hard water gets converted to soft water. The hardness causing elements in the water like magnesium and calcium ions are converted into softer forms. The resultant softened water is then passed on to the water heater, thereby tackling the effect of hard water on the water heater.  This avoids limescale formation and damages to the heating elements in the water heater.
Another option is to look for water heaters with hard water tolerant features. In this article, we will be dealing about this in detail.
What to look for when buying water heater for hard water?
Before setting out to buy a water heater for hard water, you need to have a clear idea about certain basics which can lead you to make the best choice. Below mentioned are some of the considerations you need to make before buying a water heater for hard water.
Type of Water Heater
The first thing to consider before buying any water heater is the type of water heater you want. There are both tankless and storage water heaters out there in the market. The Tankless water heaters deliver on-demand hot water. They consume less space and are easy to install. They can offer better energy savings and cost savings.
On the other hand, storage water heaters are better if you have more demand for water at a time. They are bulky and may not be that straightforward to install.
Heat Source
There are both gas and electric water heaters. While natural gas water heaters are more cost-efficient to operate, they may need gas supply connections which make it tough to install. Electric water heaters on the other hand can lower the utility bills and can be installed with ease as they not require gas supply connection. However, they can be costly when compared to gas heaters.
Hard Water Inhibition Features
As you are looking for heaters for hard water, you have to look for features that will make the heater work well under such conditions. You may have to look for limescale inhibiting factors in the components of the water heater. This information is no readily available as not many manufacturers give such details in depth. Water Heaters for hard water incorporate limescale inhibition technologies which prevent the minerals in the hard water to deposit within the heating elements and components of the water heater. In some cases, the heat exchanger may be made of materials which are resistant to limescale formation. Copper is one of the best materials used for heat exchanger in such cases.
Energy Efficiency
Energy is spent in the heating procedure. The energy source can be gas or electricity and based on the usage, they will cost you money. So it is better to look for energy efficient options which can heat up the water in quick time with less energy and less heat losses.
There are many models available in the mark which can provide you high energy efficiencies above 95% and hence you are never short of options. Uniform Energy Factor is another factor related to energy efficiency. The higher it gets, the water heater will be more efficient.
Water Heating Parameters
Some of the important water heating parameters to look for are:
First Hour rating: The number of gallons of hot water that the heater can supply in an hour is termed as first hour rating. This parameter is applicable only to storage water heaters. Higher the value, the better will be the water heater.
Recovery Rating: Amount of hot water the water heater can provide in a given period of time is termed as the recovery rate. Higher the value, the better will be the water heater.
Water Flow Rate: Water Flow Rate is crucial with respect to tankless water heaters. Higher values of water flow rates will guarantee uninterrupted supply of hot water. However, when compared to storage water heaters, the flow rate will be less in the case of tankless water heaters. For tankless water heaters, the flow rate should be at least 2 GPM (Gallons Per Minute), whereas with storage water heaters, this value can be as high as 20 GPM.
Best Electric Water Heater for Hard Water
So far we have seen some of the basics regarding the effect of hard water on heaters and how we can tackle the problem by selecting heaters with hard water specific features. Now let us see some of the best options of electric water heaters in this category.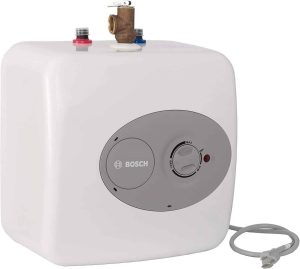 This electric water heater from Bosch looks best with the sleek and attractive design and also serves the purpose of the best electric heater for hard water. The 1.4KW electric mini heater offers a superior thermal efficiency of 98%, ensuring that only a small portion of the generated heat gets wasted. As the premium high quality heating components of the unit are specialized for use with hard water, they can work well with durability under such conditions. The heavy duty materials can provide protection from limescale formation for many years to come. The premium glass lined material delivers long lasting quality and also makes it easy to maintain. The thick CFC free foam insulation offers maximum energy efficiency.
These point-of-use electric mini-tanks are available in three sizes: 2.5 gallons (ES2.5), 4 gallons (ES4), and 7 gallons (ES8). It is compact and lightweight and can be floor-standing or wall-hung. The Bosch Tronic 3000 T water heater can be used for three different applications. It can be the sole water heating source for a single sink. It can also act as a supplement to an existing heater located far from the sink. For tankless water heaters that experience intermittent cold water (cold water sandwiching), the Tronic 3000 T can also act as a buffer installed in-line with them.So there is great flexibility in the way you can use the water heater.The convenient mini-tank water heaters is the perfect solution for a wide range of applications such as small homes, offices, garages and anywhere you need hot water produced at the point-of-use.
The electric water heater is easy to mount. The model can be wall, shelf or floor mounted and comes with the included bracket. You just need to simply tap into the cold water line and install the water heater near the sink after providing an electric connection. The models ES2.5 and ES4 have a 120 VAC plug-in connection, while ES8 needs to be hardwired. The temperature or pressure release valve can enhance your safety. There is a 6 year warranty on the unit and 2 year warranty on the parts (applies if installed from authorized dealer). The water heater comes with a modest recovery rate and shorter cord length.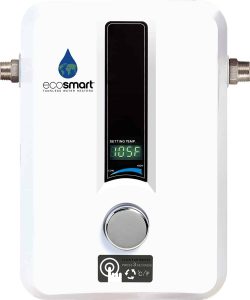 Made in China, the EchoSmart Echo is one of the popular tankless water heaters in the market. This is an affordable water heater for hard water where the heating components can act well against the limescale forming effects of hard water. With a dedicated water softener, the performance can be further optimized. The available options are: Eco 8, Eco 11, Eco 18, Eco 24, Eco 27 and Eco 36. You can select the one based on your hot water requirements. They range from 8 kilowatt to 36 kilowatt. The tankless electric water heater is ideal for providing hot water for a small sink, bathroom, office breakroom and other point-of-use applications. For example, Eco 11 can provide about 1.3 to 3.1 gallons-per-minute depending on the inlet water temperature. This can be more than enough for regular households. With about 99.8% thermal efficiency, they can save much energy. The self-modulating feature allows control over energy output and hence is an eco-friendly approach. They have the capability of saving about 60% on energy bills which makes it an excellent choice among electric water heaters available in the market.
All EcoSmart tankless electric water heaters are 90% smaller than traditional tank heaters and may be installed on wall or at point of use. It can be easily installed.
You get endless on-demand hot water when needed. With continuously monitored water temperature along with controlled flow rates consistent performance within 1 degree of selected temperature is ensured, that too with efficiency. They also offer good recovery rate which is also something worth mentioning. The models feature simple to use controls. There is limited lifetime warranty, however, there are some negative reviews regarding warranty claims.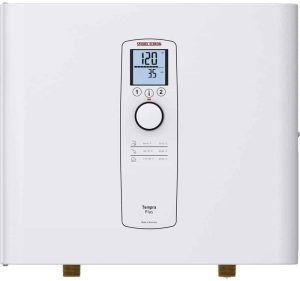 Another great tankless heater is the Stiebel Eltron Tempra Tankless Heater, however on the expensive side. With the modern, sleek look, they are very attractive. They offer continuous on demand, unlimited hot water supply with high efficiency and less wastage. With the copper sheathed heating element housed in the copper cylinder, they offer the best protection from hard water minerals. The hard water minerals are less likely to adhere to the copper surface. They are available with power options 12, 15, 20, 24, 29 and 36 kilowatts. They are designed for residential as well as light commercial water heating. The German company offers two types in the range: Tempra Plus and Tempra Trend. Though they look the same, the Tempra Plus is a much more advanced version. The Tempra Plus incorporates advanced features like Advanced Flow Control, energy monitor showing cost savings and present temperature memory buttons. With self-modulation, they can save much on energy costs. They also offer virtually quiet operation in the absence of mechanical parts. Stiebel 36 Tempra Plus has about 8 GPM for 30°F Temperature Rise.
The design is space saving and no venting is required. It can be installed with ease; however professional installation is recommended so that warranty claims don't go void. With the self-diagnostic system, the user is informed when a problem is encountered making trouble shooting way more easier.
The company offers 7 Years leakage and 3 years parts complete warranty. They have mostly positive reviews from the users. So it is worth every penny that you spend.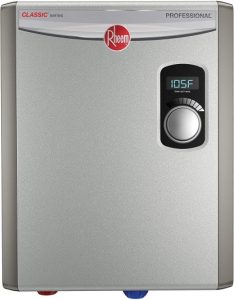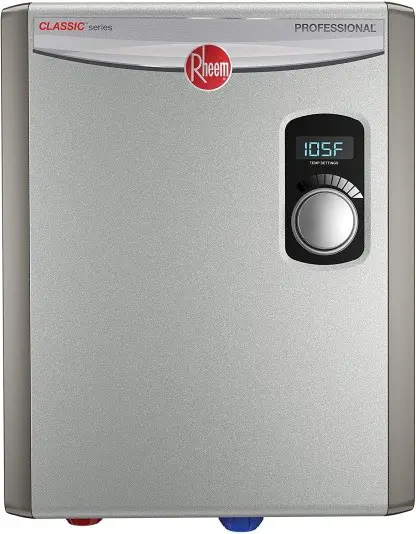 Rheem RTEX models, made in USA are small electric, tankless water heaters designed for on-demand water heating, capable of delivering an endless supply of hot water in both point-of-use and whole-house applications. They have a stylish appearance and feature a lightweight design with efficient operation and accurate temperature control. The energy efficiency is close to 100%. They can result in savings of up to 50% in the energy bills. The tankless electric water heater is available in 6 sizes and delivering power of 3.5, 6, 8, 11, 18 and 24 kilowatt. Upgraded electric panel may be required for high power models. The RTEX water heaters use high-quality immersion heating elements which are made of corrosion-resistant copper and brass termination which makes them mitigate the effects of hard water and offer durable operation. Also, the heating elements have threaded ends and hence allow easy replacement and services. The models RTEX 18 and RTEX 24 are self-modulating and hence allow power adjustment as per hot water demand. The models other than RTEX 04 and RTEX 06 feature digital thermostatic control allowing precise temperature control. The digital LED display shows the outlet temperature. The 24 KILOWATT model can provide about 5.9 GPM flow rate.
It is easy to install with the provided electric cord and side or bottom water connections. The electric models require no venting and can be installed anywhere in the home. It can offer reliable heating for years with less maintenance.
The Rheem RTEX tankless electric water heaters comes with a warranty period of 5 years on heating elements and 1 year on all the other elements.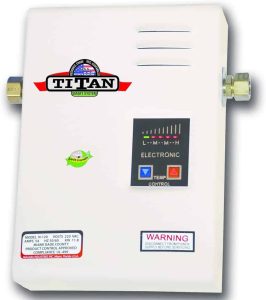 The Titan SCR2 Electronic Digital Water Heater is advancement to the Titan-ATC Electronic Tankless Water Heater. It offers great reliability in performance. It can supply the hot water needs of homes and apartments. The water heater is well suited for hard water as it features shielded heating elements (dual copper or Nichrome) and copper & brass casing.The models incorporate the new space age technology with a faster, more accurate temperature sampling system. There is a manual resetable thermostat and an advanced air/water deferential analyzing system preventing the dry starts (major problem with tankless systems). Water is heated only as it is needed thereby eliminating the need for bulky storage water heaters that heat water frequently. This can reduce water heater energy bills up to 60% over other conventional electric water heaters. The TITAN®-SCR2's have high efficiency of about 99.5% which can be dedicated to the digital microprocessor that samples input and output temperatures 21 times per second and analyzes the data and manages power usage for maximum efficiency with temperature stability. They are available in seven models: N10, N 42, N 64, N 75, N 85, N100 and N 120 X.  The 120 X model features about 10 GPM flow rate.
They require no venting and have a compact size, allowing them to be installed anywhere. Installation is extremely easy and quick. They feature 10 progressive LED indicators for letting you know how hot or cold the water is. You can adjust the temperate with the blue down button and the red up button. There is no temperature display.
The TITAN-SCR2 Tankless Water Heater offers a 10 year warranty on all water-carrying components and a one year warranty on all other parts.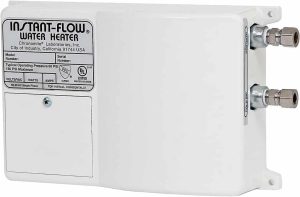 Designed specifically for point-of-use application, the Chronomite Instant Flow Water Heater can be installed under your kitchen sink, utility room, shower, or garage for instant access to hot water. They feature super-fast heating element and is fast when it comes to heating. The exchanger is solid, heavy duty and well-built with protection to elements like limescale formation and hence suitable for use with hard water. With advanced microprocessor, you can have high energy efficiency. Available in a wide variety of sizes, the flow rate is low and is below 2 GPM.
They provide dual installation options adding flexibility. You can mount them vertically standing up or horizontally. Being small and lightweight, it is easy to install.

The Rheem ProTerra Electric hybrid is the smart tank electric water heater model. With heat pump technology, it is the most efficient water heater on the market. The stainless steel elements prevent build up. Brass drain valve allows easy draining. With self cleaning, sediment build up can be tackled which leads to improved tank life. With higher efficiency, there is more energy savings. Being energy star certified, it is also energy rebate eligible. With the built-in WiFi and the EcoNet app allows hot water management. It has an UEF of 3.75. It is sustainable and reduces Carbon footprint with about 75% reduction in energy use. They are available in 40 gallon, 50 gallon, 65 gallon and 80 gallon capacities.
With the easily accessible electrical junction box, it allows convenient hook up and hence easy installation. A 10-year warranty is offered with 1-year in-home labor warranty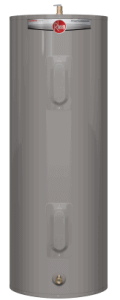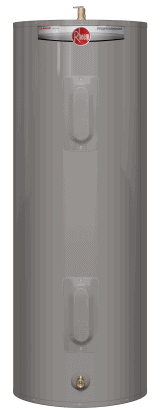 These water heaters are designed for longer life. They can tackle the effects of hard water. They feature resistored heating elements: copper upper element and stainless steel lower element. EverKleen self cleaning device delivers a high-velocity spiraling water stream which prevents harmful sediment build-up with. It improves tank life and helps achieve operating efficiency by saving energy and money. The premium grade anode rod offers durable protection to the tank. There is an enhanced flow brass drain valve. The isolated tank design lowers the conductive heat losses. They have about 0.90-0.93 UEF. The Professional Classic Standard Electric Water heater is available in 19.9 to 55 gallon capacities. They offer a flow rate of 45- 67 gallons, based on gallon capacity with a recovery rate of 21 GPH at a 90° F rise. The diagnostic system comes with glowing LEDs so as to verify the heating element operation. They will let you know the exact location of functioning or non-functioning heating elements. With over temperature protection, you get great protection under excess temperature situations. The water is kept at the desired temperature with the automatic thermostat.
For easy installation, the electric junction box is located above heating elements. 6 year primary warranty is being offered.