More than 50% of the furnace repair calls has a sole reason. And that is building up of dust and dirt. But the airborne dust has a greater threat.
Substandard indoor air quality is considered to be among the top five risks to public health. In addition to that, it reduces the lifespan of your furnace and other HVAC systems. The bills escalate due to them
A quality furnace filter is the one easy prevention. But how do I choose the best furnace filter? If that is your question, then this is the exact place you are craving for.
What Is the Furnace Filter?
We use furnaces in our houses to tackle the freezing Mother Nature, don't we? They are expensive. But do you know what the biggest threat to this kind friend of ours is? Dust and dirt!
It is furnace filters that help the furnace and its blowers prevent getting filthy over time. They extend its life. And guess what's more expensive than furnaces? It is our health.
Especially those who suffer from allergies and other respiratory diseases need filters direly. Good furnace filters filter away allergens and contaminants from indoor air. Thus they save our lives too!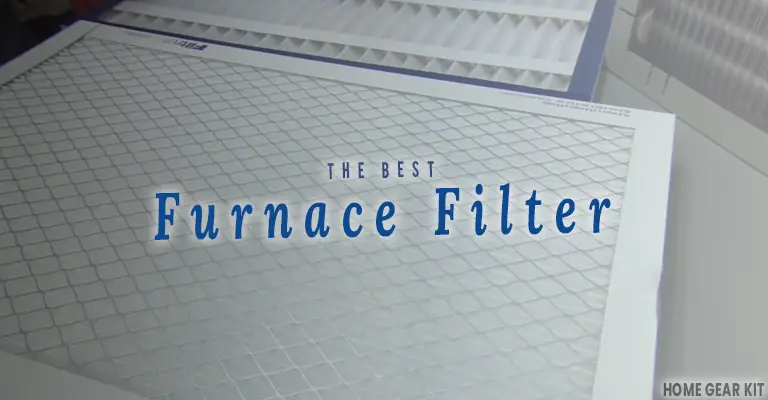 Best Furnace Filters
---
1. Filtrete Healthy Living Ultra Allergen Reduction AC Furnace Air Filter
Why should you get one?
Electrostatic
Filtrete makes it available to use electrostatic technology to capture the airborne disturbances. Whether it is as large as lint, pollen or dust or be it too tiny as virus, bacteria or smoke- nothing escapes healthy furnace filter.
3 in 1
This absolute filter attracts and pulls in the unwanted particulates. And you know what it uses to do so? The 3 in 1 technology along with the electrostatic features are kept busy for it to offer you a pure breathable air. Thanks, 3M for that.
3X better
How standard it is to use such a furnace air filter that can capture particles of the even sub-micron level. Yes, Filtrete has managed that. Wanna hear the number? It's 1 to 0.3 micron!
MERV 12
Basically, this furnace filter has got a rating of 1500 MPR (Microparticle Performance Rating). That's a great number of microparticles to deal with when you discover that it is equivalent to 12 in the MERV scale.
Guaranteed 3 months
This furnace filter would serve you tight up to a period of 90 days.
Drawbacks
May capture less: If you have pets, fireplace or habited to smoking then you may need to count extra bucks. These filters are not gonna last the termed 90 days with the situation you are in!
Price strikes: The product is evidently, more or less, pricy. Disposable filters should discount the bills they ask for.
Not reusable: Washing is not a solution to these filters of Filtrete.
2. Nordic Pure 16x25x1 MERV 12 Pleated AC Furnace Air Filter
Why should you get one?
Microbial Growth Prevention
Nordic is not going to kill the microbes of your house. Well, it would definitely serve you will good quality indoor air preventing the growth of molds and bacteria. So, don't get choked with irritating chemicals with a view to getting rid of nasty microbes. Have a relief!
1500 to 1900 MPR
The furnace filter can attract and trap spores, pet dander, smog and what not. According to 3M, it is more than 1500 MPR whereas according to the ASHRAE unit it is MERV 12. That is, it can handle nearly 90 percent of the submicron airborne particles of up to 0.3 microns. For the larger ones, the percentage is even higher!
Anti-allergenic
If you are asking for a high-quality furnace filter that takes care of your respiratory troubles, you're right on the money! These filters of Nordic pure are there to ensure an antimicrobial and hypoallergenic HVAC system.
Pleated
The product of USA is carefully pleated to fit as much filtration surface as possible on the face of air contaminants. Keeping your residential or commercial zone filled with so superior air quality is Nordic's revealed goal.
Electrostatic
The filter media is made of fine synthetic material. As soon as it is in action, it drags in the unwanted particulates by being statically charged. This filter is a great combination of the pleated and electrostatic technologies.
Drawbacks
Airflow restrictions: As we know, having a good MERV rating is a curse many times. This is the case here too. Customers have been regularly seen to complain about the time and money they've wasted due to the receded flow of air.
Smaller practical dimensions: Often the filter comes with dimensions at least as less as 0.125 inches each. Such a filter would not seal thoroughly the junction it is put into.
3. FilterBuy 15x25x1 MERV 8 Pleated AC Furnace Air Filter
Why should you get one?
Beverage Board Frame
This package of filters urges top quality. To tackle a wide range of indoor and weather conditions the frame of the furnace filters are made of beverage board. Neither humidity nor temperature (up to 200 degrees F) can have an effect on its stability.
Synthetic Filter
Cotton media in filters have proved to be inefficient. On the other hand, synthetic media, which is the case here, plays a great role to get rid of allergens.
Pleats in a Foot
Every inch of the filter encounters a pleat. A good number of pleats like this can have control over more unwanted particles. Moreover, it reduces the trouble restricted air flow to some extent.
Better IAQ
If you can get 90 percent of the dirt flying around you eliminated, that's definitely hygienic. Don't get panicked with the dust and debris, just change the prevailing filter as soon as 3 months complete.
Long Lasting
This Alabama product id gonna ease your life for 90 days. It's easy to put it in and out. The interval should not exceed the count of days.
Drawbacks
Smaller size: A lot of customers get into trouble due to the mismatching of the size advertised and that of the product arrived. It serves as a cause of the HVAC system not being airtight.
A bit noisy: Loose filters, in most of the cases, create whistling. No matter what step you take, it is an irritating issue.
4. Honeywell FC100A1037 Ultra Efficiency Air Cleaning Filter
Why should you get one?
MERV 11
High efficiency is at the prime focus of every filter customer. Honeywell has well managed that to fulfill. MERV 11 is a high rating which you can certainly rely upon. Some may refer this product to be MERV 12.
Static Pressure Drop
The greater the MERV rating of a filter, the greater is it's pressure drop. The pressure drop appears due to the resistance it faces due to the media. In case of this filter, the value is only 0.23 was at 500 FPM air flow despite having 11 in the MERV rating.
Better Efficiency range
Efficient air cleaning means efficiency in removing allergens from the air. This is what these ultra-efficient furnace filters are made for. It locks up airborne particles from 10 microns to 0.3 microns within ranges of E1 (small), E2 (medium) and E3 (large).
Easy to Install
The dimensioning is done prejudicially. The polypropylene made filters are enough stiff to keep themselves locked in their positions. But they are not too stubborn to slide in or out.
Pleated
More the filtration area the dust go through, the more they are trapped. With the same concept in the back of the mind, Honeywell has pleated their product well.
Standard Composition
The filter is magnificently made of polypropylene. It is the same material that is used to manufacture the food containers and straws. So, hygiene is the focus of Honeywell once again!
 Drawbacks
Larger size: Some customers are found to point their fingers at the measurements. They are larger in size and that's where things may worsen.
5. AIRx ALLERGY 14x14x1 MERV 11 Pleated Air Filter
Why should you get one?
Absolute Allergen Tackle
AIRx Filters are solely directing their focal point towards your respiratory tract. They are gonna fulfill their pledge by resisting pollen, mite debris, pet dander or even smoke. Can't we call it a standard for protection from allergies?
Energy Efficient
This 16 x 20 x 1 filter is highly energy efficient. It knows its job to be done in a better way than traditional 1-inch filters. And by the better way, I mean letting you fewer bucks to throw away.
More Pleats
An additional number of pleats ensures better indoor. The greater number of microbes it takes off from the airflow and puts on itself. At least you will have a larger number of pleats there that the common retail filters.
3M MPR 800
The rating of this "allergen terror" is certainly high. It is a MERV 11 filter which is comparable to MPR 800 of the 3M Filtrete filters. As far as the Filtrete allergen is concerned, it reaches MPR 1200. Isn't that really terrifying for allergens out there?
Better Airflow
Hindrance to airflow is always a bad appearing from good for filters. Especially, it is more certain for the filters having such a high allergen eliminating efficiency. But, this filter has been found to be well aware of the fact beforehand.
 Drawbacks
Low durability: Though not all, some of the users are disappointed since they need to change them before the period they ought to serve completes.
No option for exchange: If you are getting the product shipped all the way to you, take great care to read the specs well. If you are, by any chance, unlucky then no other option will be there except for returning.
6. X6673 Lennox 20x25x5 Merv 11 Filter Media 2 Pack
Why should you get one?
2 Filters Package
Two filters equal to one year. Yes, that's the equation of your furnace filters when Lennox is your choice. It comes up with a carton of two inside.
Synthetic media
The surface area offered by the pleated synthetic media is appreciable. Contaminants, whether it be pollen, dust mites or pet dander, cannot find a place in the indoor air due to its presence.
MERV 11
Considering all the aspects regarding a furnace filter, a wise person cannot deduce 11 to be a low rating in MERV. Despite being a 5-inch furnace filter Lennox X6673 rates 11 in MERV scale. That means a lot of floating debris capture with almost no pressure drop.
Minimal Air Hindrance
As classified to UL 900, this set of filters is not a resistor of your HVAC breeze. Its only task is to stop the contaminants to irritate you. It does its job so efficiently.
6 Months Longevity
If you keep your filters under normal usage indoor environment, Lennox is ready to treat you well for nearly half the year. Certainly, that's a relief to anyone in this busy world. We don't have all our time just to change the filters of our furnaces on a monthly basis!
Drawbacks
Lacks advertising credibility: It is advertised that the filters contain foam corners. But customers didn't find any insulation like that. The tapping and size are disappointing issues too!
Fewer pleats: Users call it "cheapening" to reduce the number of pleats by Lennox for this product. They think it may affect the performance of the filter to a great extent.
Best Electrostatic Air Filter
---
1. Electrostatic Air Filter Replacement (16 x 20 x 1) | Washable
Why should you get one?
Washable
Like most electrostatic furnace filters, Trophy Air presents their washable filter. If you are a disposable filter user, then these appealing products are for you. Get relieved from buying filters on a regular interval. Get yourself and your HVAC system relaxed!
Charming Air Flow
Filters are not there to take away your air and so does this one. Refusing pressure drop to a greater extent, it is gonna ensure proper and efficient ventilation of your home.
Feedback for Reviewers
Most of the filter companies lack their focus on customer reviews. Trophy Air is totally an exception on this regard. They have already taken steps against the complaints on the sizing of their products. Certainly, they've cooked up a warm relation with the mass.
Sturdy External Design
The basis of the filter is its composition- both external and internal. This filter is made of Quad layer Aluminum frame from an external point of view. Yet it is not that resistive that it offers trouble in the air flow.
Dual Media
Yes, you have heard it rightly! Two electrostatic units are put inside that aluminum cage. And of course, you have rightly guessed too. It filters a handful of dust and allergens from the air you are breathing now.
Drawbacks
Lacks Instructions and Warranty: Customers do not find any instructions about how to install the item at the desired position. Though it's easy to install practically, many may seem it informal. Moreover, no warranty paperwork was found along with the product.
Filters less than expectations: Filters are not used to keep them tidy. But if you find them so while washing, that's gonna disappoint you a lot. That's the case with this one for a number of customers.
2. Air-Care 16x20x1 Silver Electrostatic Washable A/C Furnace Air Filter
Why should you get one?
5 Stages Filtration
The filtration process of this filter consists of 5 layers of media. It gets harder for allergens to get through such a back upped barrier. You will certainly notice a fair reduction of filth in the air of your apartment.
High Percentage Trapping
You may compare this filter of Air-Care with any of its like with high MERV or MPR rating. And why not when it traps 94% of the allergens and dust flying around you? Even the best of the disposable filters may take off 90% of the air duct. You can rely on it, at least on the percentage.
Robust Construction
The stunning galvanized steel frame of this furnace filter gives it a strong base. What you get additionally is its slick and stout appearance. The durable finish of the product may persuade you too.
Washable and Non Disposable
No need to buy a filter at every interval. Take the "dust enemy" out, check whether it can be called dirty, sink it into the dishwasher or hose it off and then reinstall it. Save your money in the long run!
Anti Microbial
Furnace filters are there only because of health issues. And this filter of USA has a good degree of attention to address the fact. Its performance is trusted by EPA since it has got registration from them. Why not trust them!
Natural Cleaning
The electrostatic process is a safe way of cleaning, trust it. The static electricity used in this process is totally a natural process that has been adopted by Air-Care in this filter. The filter media attracts airborne disgusts like a magnet. You can wash it away with an ease later.
Drawbacks
Lacks flow arrow
Flow direction arrow is kinda part and parcel of the markings on a filter. This individual does not have one.
May whistle a bit: Some talked about the noise it creates while running the furnace. But this may be fixed by using a simple prop or support e.g. cardboard.
3. 6 Stage Electrostatic Washable Permanent Home Air Filter
Why should you get one?
Durability in the Core
Durability has been embedded into this filter through the installation of two media layers. Additional layers are furnished by aluminum.
Removes Many Odors
Apart from eliminating airborne contaminants, this device helps you get rid of the disgust of the bad smell from the house. Trapping even fine particles of the smoke of any kind it accomplishes its job.
Greater Stage Filtration
This 16 x 25 x1 filter has 4 layers of aluminum along with 2 electrostatic media layers. Totaling to 6 mighty stages of filtration overall. The 2" one has practically 7 layers of filtration including 5 layers of expanded aluminum and 2 layers of media.
Abundant Airflow
Having so many layers doesn't restrict the air flow at all. Customers have almost no complaint about the air flow through the output side. Not all good filters with good dust count have this feature!
Easy Washing
The filter is nondisposable and reusable. You need to wash the filter through rinsing and drying it afterward.
Drainage Holes
Electrostatic filters are special for their washing purpose. But what keeps this furnace filter a step forward is the set of water drainage holes. These holes guide the washed out water all the way out.
Drawbacks
Stage Missing: The specs of the product were advertised to have 6 stages of the filtration unit. There are some customers claiming to find one layer less. This may lead to low count of airborne particle capture.
Smaller Dimensions: Check carefully the size of the furnace filter you are ordering. Bear in mind that the 20" x 20" is actually 19" x 19".
General Buying Guide to Buying the Best Furnace Filters
Aren't furnace filters cheaper than the furnace itself? But spending a bit more bucks on the filter may prolong the lifespan of your HVAC unit.
You are going to buy a filter for your furnace. Okay. But what are the things you need to consider to get the best furnace filter? Let's have a glance at those parameters in brief.
Dimensions
The first thing is the size. As you search for filters in the market this is the most troublesome factor. So take great care to measure the size of the filter dispenser. And of course, keep the reviews in mind.
Furnace filters vary a lot in dimensions. The length covers a range of 20 inches to almost 36 inches. Width stretches from 10 inches to all the way up to 20 inches. And most importantly, the thickness swings within 1 to 6 inches. Round up your measurements.
Check the Type of Furnace Filter

Next, you have, basically, three options.
1. Disposable Fiberglass Filters
Let's start with the cheapest ones- the disposable fiberglass ones. This is just a mere protection to your furnace, not for you. Nor are they intended for a real filtration purpose. You know, mold and pollen get right through them.
2. Pleated Media Filters
Pleated filters are composed of denser materials. If you buy any one of them, do buy those with synthetic media in them. They are better at trapping particles and better in technology.
Filters having pleated media vary in the rating of efficiency quite proportionally to their thickness. That is, a 4" pleated furnace filter is definitely harder working than the 1" ones.
3. Passive Electrostatic Filters
The passive electrostatic furnace filters develop a static charge. This helps them attract more dirt, dust, and allergens. Sweeping away the contaminants they provide better quality indoor air.
Rating
After you choose the type of filter, you need to direct your focus to its ratings. MERV rating is the most popular one. Ideally, the higher the rating, the more efficient they are at removing tiny particles. So, take the highest rated one you can afford.
Air Flow Restriction
But beware of too high rated filters unless you are prescribed by experts. The more traps particulates from the air, the more is its surface against the air flow. So definitely due to a drop in air pressure, the flow gets hindered.
For this, try not to get beyond MERV 13 or at best MERV 14. Medical necessity does not fall under this domain though.
As far as flow restriction is concerned, electrostatic filters are the better ones. They ideally offer less restriction. But, keep an eye on the reviews too.
Usage
If you live somewhere too cold or hot, your HVAC system runs more often. This would definitely decrease the life of your filter. Because the more the furnace runs, the more the airflow through it, the more the filths it collects.
So, the temperature and your usage rate would determine the longevity of your filter. If you live in harsher environments buy filters having a better lifespan. And of course, discount the longevity marked by the advertisements.
Number of Pets
Buy filters that go more when you have pets in your house. More pets are sources of more pet dander. It is a serious contaminant, at least, from the health point of view.
Other Airborne Contaminant Sources
There are several other sources that pollute your indoor air. You yourself need to inspect the environment around you- both indoor and outdoor. This will come to a lot of handy while choosing your filter.
What Is Minimum Efficiency Reporting Value (MERV)
MERV stands for Minimum Efficiency Reporting Value. To put it forward in a simplistic way- MERV rating is the measure of how well your filter can handle small particulate, contaminants, allergens or other airborne particles that hover around in the air.
It is a determinant of the quality of your indoor environment (I.A.Q or Indoor Air Quality). MERV ratings range from 1 through 16. The higher its value, the better the air you breathe in.
MERV Rating 1-4
Disposable filters mostly provide such ratings. They do not promote I.A.Q. So they'll serve you with least filtrating experience.
MERV Rating 5-8
They cover pleated filters that you would find in the market. Such filters are able to trap small particles of about 50 percent. Good IAQ is quite guaranteed with them.
MERV Rating 9-12
Most popular pleated filters bear this range of rating. If you are an allergy sufferer you better find one of them. It is because they capture particles and germs of about 3 microns. The percentage of trapping is about 95%. They promote better air quality.
MERV Rating 13-16
The best furnace filters and the most efficient among them are rated within this range. They promote excellent air quality by collecting even submicron particles. The only trouble with them is their high prices.
What Is the Best MERV for Home Furnace Filters?
Best filters have 3 basic objectives- keep the furnace healthy, keep you healthy and have less restriction to the air flow. The higher the MERV rating, the better the filters are to fulfill the first two.
MERV rating ranging from 8 through 13 should be best for home furnaces. What about those having higher dust capture? The answer is the third objective. Too high MERV rating chokes the air flow.
What Is Electrostatic Furnace Filter?
Electrostatic filters are filters that make use of electrostatic charge to attract the airborne particles and hold them thereby. The charge, here, is essentially the result of air flow through the maze of the fibers of the filter.
It is very useful as well as cost effective to use them. Well, you need to keep your eyes open while buying them since they are not always useful to use.
Conjunctions having high capacity furnaces are the places where using an electrostatic filter is definitely detrimental. In other words, if your furnace is meant to be used for large accommodation electrostatic filters won't let adequate penetration. Though you would not get a bad quality air, the trouble is with the volume of air needed to satisfy- it would recede.
How Does an Electrostatic Furnace Filter Work?
An electrostatic filter contains at least three layers. The pre-filter traps the larger mechanical particles. The middle layer consists of two parts- ionizer and collector.
The ionizer is a positive electrode that repels the particles. On the other hand, the collector being a negative one collects them. Finally, an after-filter provides fresh breathable air.
Electrostatic Furnace Filter vs Traditional Furnace Filter
Better things cost you more money. But, you may not need things termed "better" by others. Let's find out what situation you are in.
If you want low cost and are not bothered with regular replacement then the 1-inch pleated traditional filters are good for you. But you have to promise that you are going to replace them on the regular.
The 4 inches media filters are a step above these ones. They are much efficient and are gonna serve you for about half the year. And in most cases, they come up in a pair. They urge an annual budget for them.
But if you are a farsighted person then the electrostatic ones are for you. These furnace filters are potential enough to save money for you in the long run. They are not disposable and mostly washable.
Few Frequently Asked question
Q. Can a furnace be run without a filter?
Ans: Do you want to damage the system and pay multitudes of the bill together? Both of these notorious incidents will happen at the same time if you lack a filter.
The blowers and heater coils will collect piles of dust and disgusts. This will lead to more power consumption. Eventually, the furnace is gonna die.
Q. Can I put the furnace filter backward too?
Ans: The result will be the inefficient operation of the system. The filter will additionally drop air pressure. The furnace would require more energy to blow air. Utility bill will get higher.
Q. How much may the furnace temperature increase due to dirty filters?
Ans: It may even catch fire! Beware of filthy filters.
Initially, the temperature rises due to the overheating of the coils. Gradually the temperature rises unsteadily. Check the variation of the bill for the furnace. This may help a bit.
Conclusion
Numerous types of furnace filters are there. All types may not suit you nor can you afford. But the choice you make is crucial for both you and your furnace.
Don't hesitate to pay for the best furnace filter that goes with your situation. You may need more bucks in the long run otherwise.